Do you need a portfolio website right now? There are a variety of online tools and templates that can help jumpstart the process so you can feature your work online quickly.
This list is packed with options that provide free plans to help you get started. (Note that many do also offer paid options with the ability to customize or add premium features.)
Here are a few tools that can help writers, designers, photographers, artists, or pretty much anyone get their portfolio online this week.
Best Free Portfolio Website Tools for Designers
Behance
Behance is one of those free portfolio tools that has been around for a long time – and for good reason – it's intuitive and easy to use for all kinds of projects.
Behance, which is part of the Adobe family, allows for some customization of individual portfolios, but features are limited. What it does well is to provide an organized place to showcase projects and work with plenty of room to add descriptions and information about projects. It works for almost any type of design project.
The portfolio tool also includes a bit of a social factor with the ability to like work that others are doing or follow creatives that you admire.
The downside is that it comes with a branded URL for each user and the design options are rather limited.
dobe Portfolio
If you want much of the functionality of Behance with more templates and design options, Adobe Portfolio is the way to go. Adobe Creative Cloud subscribers have access to this tool for free, but you can purchase an a la carte subscription for portfolio features.
The primary difference between this tool and Behance is customization of the portfolio design. Adobe Portfolio is more like a website builder packed with templates to make your work look good, whereas Behance is more of a portfolio-only tool.
You can create multi-page layouts, and hosting is included in plans. If you already use Behance, you can actually sync the tools and import projects to jumpstart a more designer-oriented portfolio website that includes features such as custom domain naming, connection to Adobe Fonts and Lightroom, photo grids, and password-protected pages.
The biggest downside? It's only free with a Creative Cloud subscription and getting started can be a little on the clunky side.
Dribbble
When it comes to interactive or UX design or animation, Dribbble seems to be the go-to playground, but it also doubles as a free website portfolio template.
It features a clean look-and-feel for projects with the ability to download elements and some social interaction with shots and likes.
There's not a lot you can do visually with the interface as a portfolio tool, but it is easy to use and adding projects is easy. The toughest part might be getting in invite to use Dribbble if you aren't already using the platform.
Coroflot
Coroflot is a design network with job postings and opportunities. It also lets you create a free creative portfolio that you can use to get freelance work or just showcase projects.
Portfolio tools are pretty easy, although there aren't a lot of customization options. It has a Pinterest-like design and feel.
Best Free Portfolio Website Tools for Photographers/Artists
Portfoliobox
Portfoliobox is more of a website builder than a strict portfolio tool, but the templates and layouts are designed with creative appreciation in mind.
With big image areas, these design templates are great for showing off creative work, such as photography, illustrations or art. You design everything in-browser with intuitive tools that are easy to use and understand.
The free portfolio option allows for up to 30 images and 10 pages. The pro plan gives you a little more flexibility with white labeling, a free custom domain, and support.
Crevado
Crevado is another website builder with large image areas in the templates for ease of creating a visual portfolio. It uses a drag and drop builder so you don't have to worry about code or HTML to create you a portfolio site and you get a little more control than a straight portfolio tool.
The interface and tools are pretty slick, but if you want a custom domain name, you'll have to upgrade to a paid plan. It also integrates with Fotomoto if you want to sell photo prints online as well.
Best Free Portfolio Website Tools for Writers
Muck Rack
Muck Rack has a portfolio tool that caters to journalists but works for anyone with a writing portfolio. The best feature of this portfolio service is that it will collect clips for you and link to the original sources.
Portfolios have a clean design – although they all look pretty much the same – and include features such as a quick search for finding articles and an easy contact and links section that serves as a mini resume.
Another fun feature of this free portfolio website? It includes a tool that keeps up with who shares your links.
The biggest downside is that there aren't a lot of customization options available with this tool.
Contently
Contently offers a free writing portfolio option as well as allows you to link that portfolio to available freelance opportunities in its network.
Portfolios have two design options – but both are modular and allow you to customize image and text that shows to users. You can upload PDF or hard copywriting samples as well as a link to sources anywhere online.
The biggest benefit to this portfolio tool is the connected network behind it. Writers can connect with brands, get assignments, submit work, and get paid through the platform.
The tool also includes a decent bio section, but customization options are rather limited. Full disclosure: I use this for my writing portfolio (when I update it) and redirect a custom URL to my portfolio. Otherwise, you get a branded URL, which is pretty common with free portfolio websites.
JournoPortfolio
JournoPortfolio has the most customizable interface of the free writing portfolio options. It includes multiple design templates to get started and an easy drag-and-drop editor that will help you create the look you want, including the ability to upload images.
This tool comes with a lot of robust features on paid plans, including a custom domain, password protection, and multiple page layouts. It can auto-manage articles and pull in content automatically or you can manage it manually.
The free plan is enough to showcase a small sample of work and includes the ability to post 10 writing samples or articles in a one-page layout.
Best Free Portfolio Website Tools for Everyone Else
Wix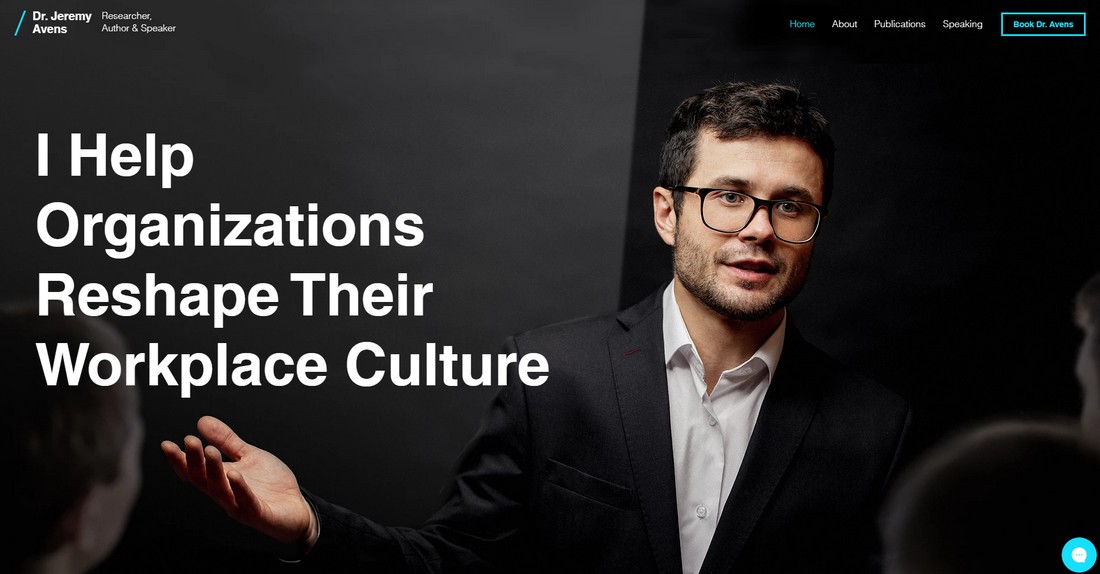 Wix is a great platform you can use to build not just portfolio websites but any website you want. It has a smooth and easy to use website builder that allows you to create unique portfolio websites that suits your profession.
Wix also has a collection of pre-built templates you can use to quickly setup a website without any effort. The platform is especially suitable for freelancers and consultants to create the perfect website to attract more clients.
Wix offers a generous free plan with 500MB of space to create your website using a sub-domain name (eg: yourname.wixsite.com).
Weebly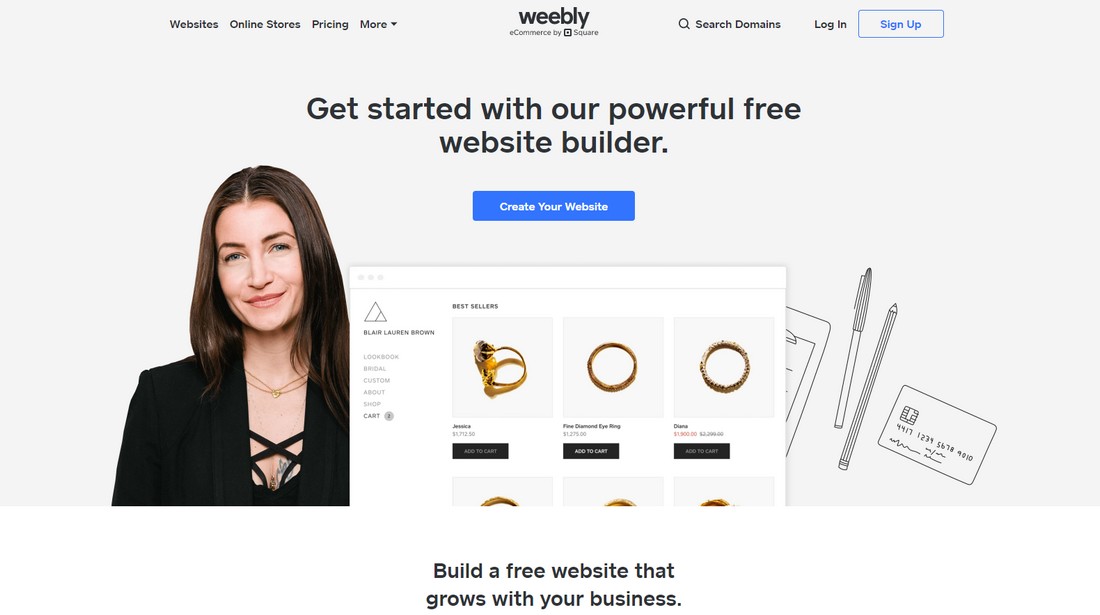 Weebly is another popular website builder that's quite similar to Wix. It also has an easy to use drag and drop editor for making websites without any coding knowledge. As well as lots of creative portfolios and other website themes to choose from.
Weebly is perfect for creating any type of portfolio website. If you want to sell the items you showcase in your portfolio, like photos, illustrations, icons, etc, you can do so using Weebly's eCommerce system powered by Square.
Weebly free plan lets you host your portfolio website for as long as you like on a sub-domain name.
Jimdo
Jimdo is a relatively new AI-based website building tool that designs a website for you without code.
You can use it for a portfolio or to jumpstart inspiration for a website project. While it is easy to use for beginners, some might find the design tools too limiting. There is also a Jimdo Creator editor for those with coding experience to create a more custom website.
The free plan includes all of the tool's features, but you'll have to upgrade if you want a custom domain.
Strikingly
Strikingly is probably one of the easiest free portfolio website building tools out there.
The interface is smart and easy to use just click and move elements. It's designed to help you create a site quickly. The tool is primarily for one-page websites, which can work nicely with portfolios.
The free plan has most of the features you need, but an upgrade is required for a custom domain. There's plenty of design flexibility with this one also, which is a bonus.
Best Free Portfolio Website Templates
If you prefer to have the freedom to customize and create a personalized portfolio website, you can build one using an HTML template.
This is actually the ideal method for making a portfolio website, as long as you have basic HTML knowledge and a place to host the website.
These are some of the best free portfolio website templates you can download. However, if you can afford it, we recommend using a high-quality premium portfolio website template. Because your portfolio website is part of your brand identity so make it a worthy investment.
Unfold – Free Personal Portfolio HTML Template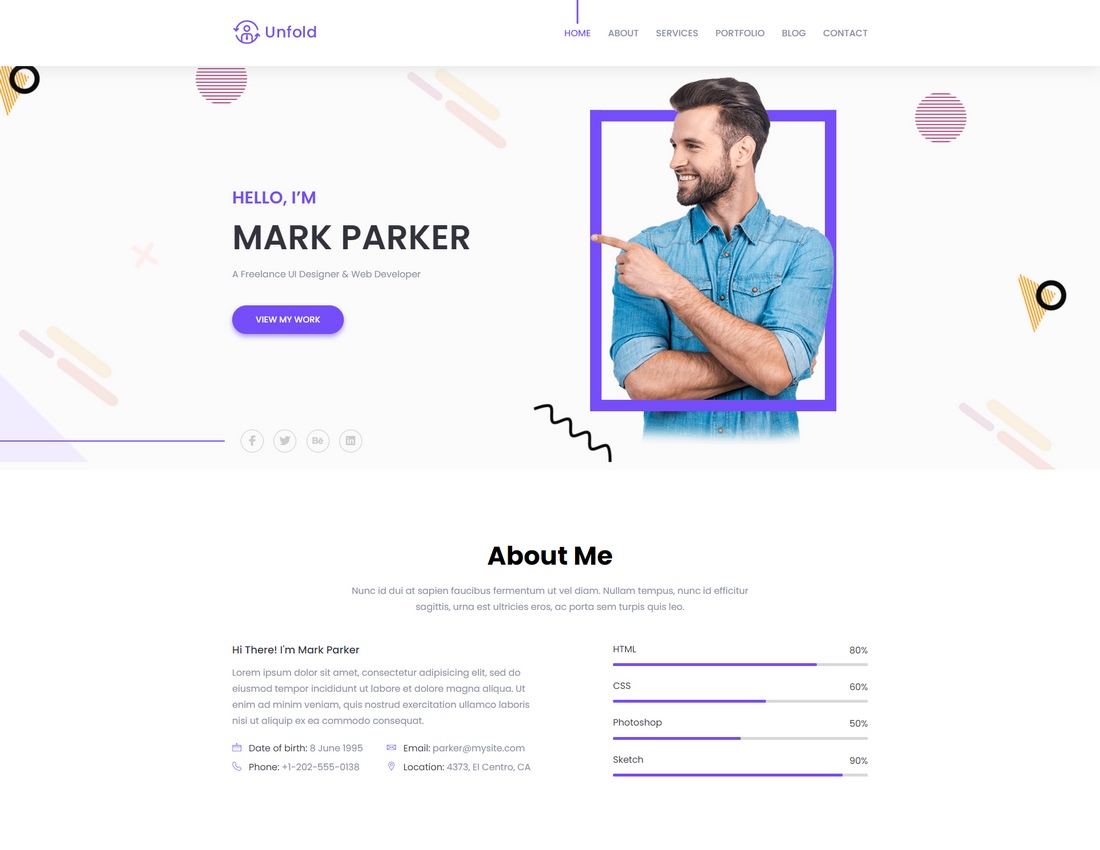 Unfold is a sleek and modern portfolio website template that comes with a very professional-looking design. It's perfect for making portfolios for designers and writers.
The free version of the template has limitations but it's more than enough to create a basic portfolio website. You can download it for free after signing up with the website using either Twitter or Facebook.
MyPortfolio – Free Portfolio Website Template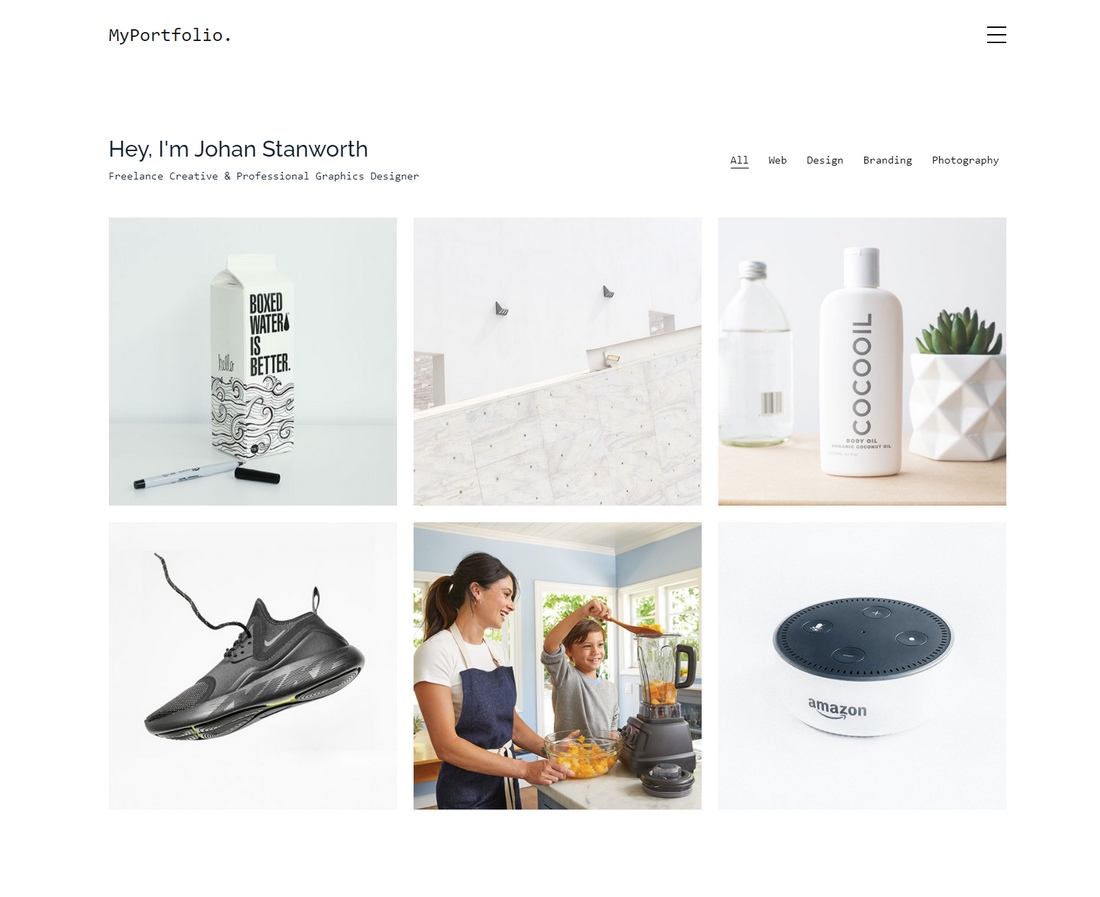 If you want to setup a simple portfolio website to showcase your work, this free HTML template is a great place to start. It has a clean layout that gives more attention to your portfolio items.
The template uses the Bootstrap framework and you can use it for free with personal and commercial projects.
Kards – Free Portfolio Website HTML Template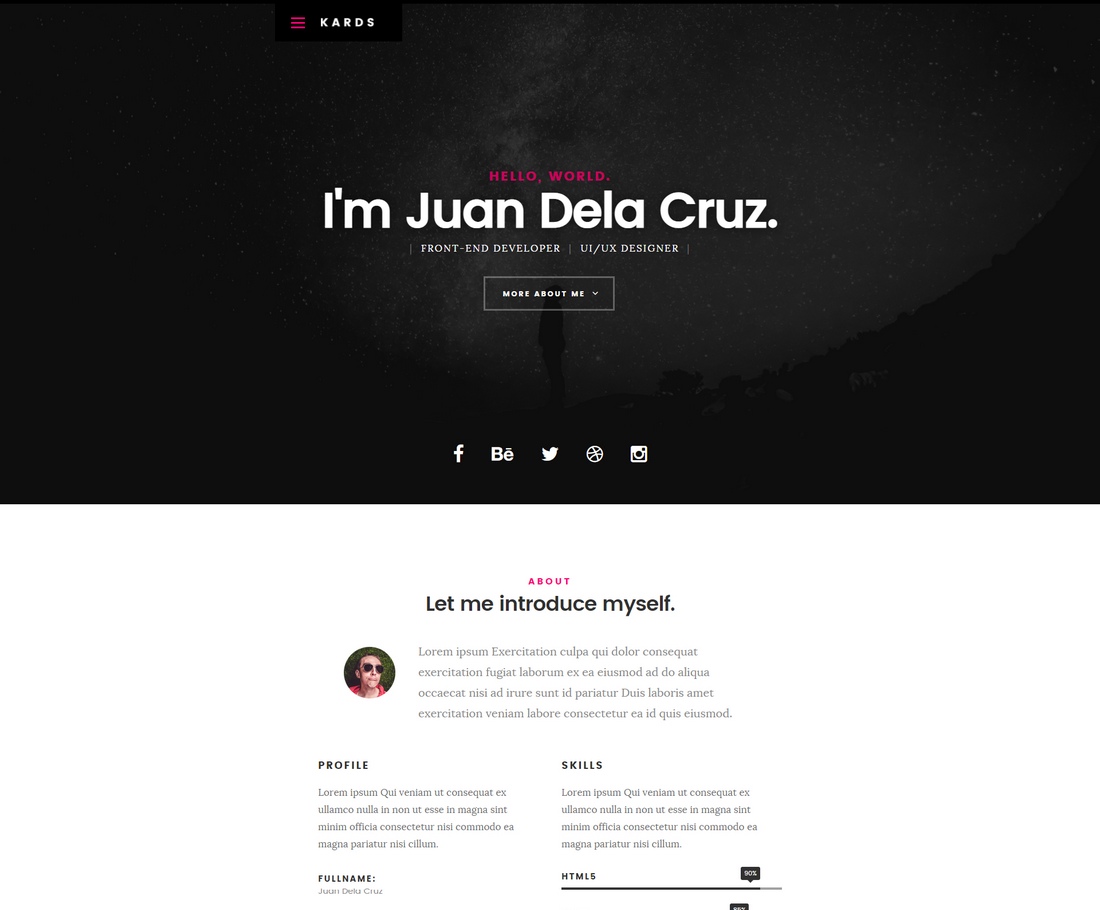 Kards is another great free portfolio website template that uses a dark color theme. It features a fully responsive layout where you can describe your skills, services, and show off your portfolio.
The template is free to use with your personal projects but you'll have to pay a small fee to remove the footer credits and attribution links.
Dominic – Free Personal Portfolio OnePage Template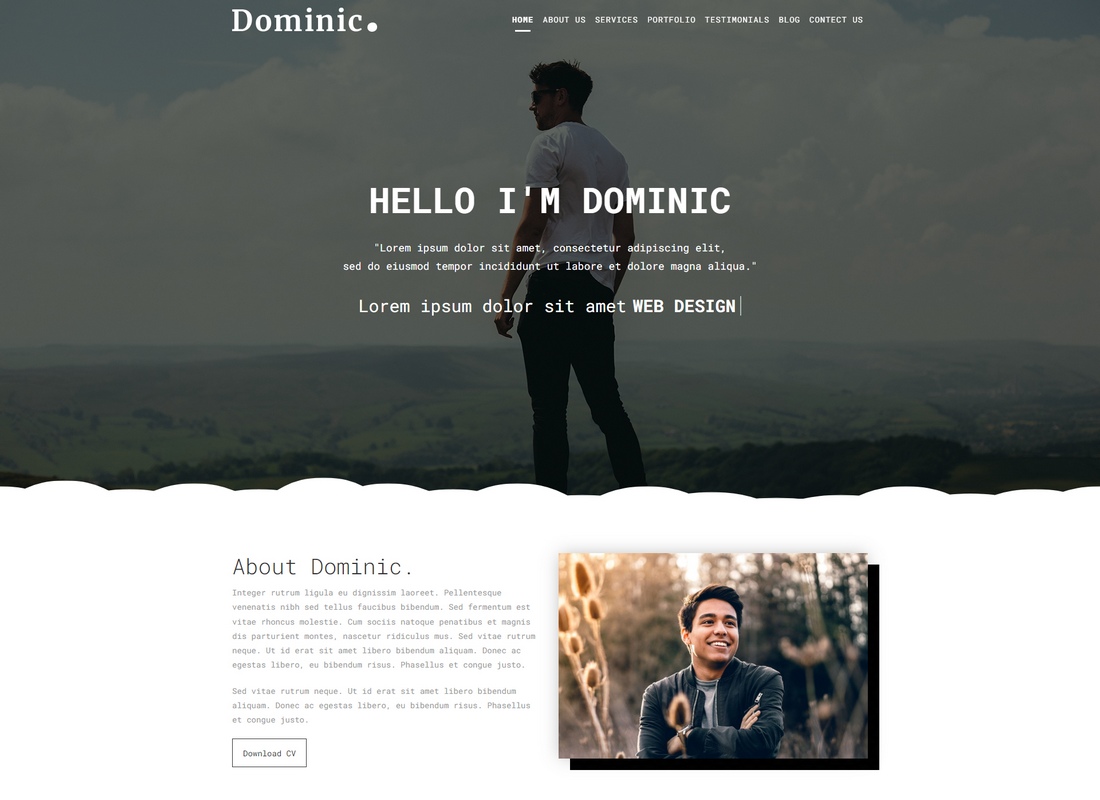 One-page website templates are the perfect choice for making a portfolio website as they give you more space to promote your professional services and attract clients. This free HTML template has a similar design.
It has multiple sections, including portfolio and services sections, for creating a killer portfolio website. And it's completely free to download and use.
K!sbag – Free Minimal Portfolio Website HTML Template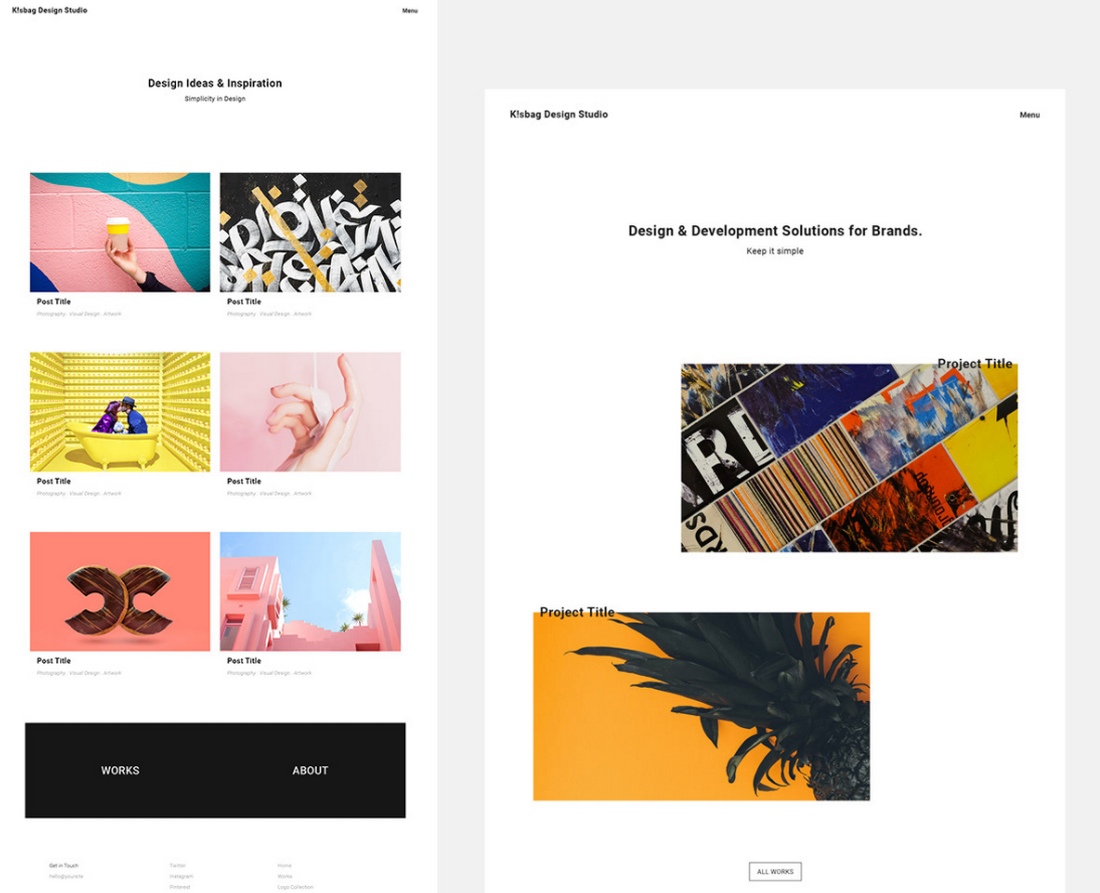 Built with the Bootstrap framework, this free portfolio website is made with graphic designers in mind. It has a clean layout where you can show your best designs in a professional way.
You can download this template in HTML format as well as PSD and Sketch file formats. All for free!
Conclusion
When it comes to creating an online portfolio, the biggest decision to make is whether you want something that's part of a network or more of a "designed" portfolio. There are definite pros and cons to each.
The biggest deciding factor might be how much familiarity you have with building a website and the time you have to dedicate to it. The good news is that these free tools offer a great way to get started.
Did you miss our previous article…
https://www.tampawebdesign.org/?p=10970