Photo collages are a great form of commemorating memories from the past. They also make for thoughtful gifts.
Whether it's to celebrate friendship, a special anniversary, or even a holiday vacation, photo collages allow you to capture many memories in one place to show how much you cherish each moment.
Creating a beautiful photo collage, however, can be a tough process. Even if you're a skilled graphic designer, it would take a while to put together a collage. Thankfully, with the help of photo collage templates, you can skip all that work.
In this post, we bring you a collection of Photoshop photo collage templates you can use to instantly create amazing photo collage designs without effort. Check them out below.
Modern Photo Collage Templates
This photo collage template pack is perfect for creating any type of collage for bringing together many memories from the past. You can use them for family photo collages, vacation trip collages, and even for creating Instagram posts. There are 6 different photo collage templates in this pack, all easily customizable with Photoshop.
Torn Photo Collage Templates PSD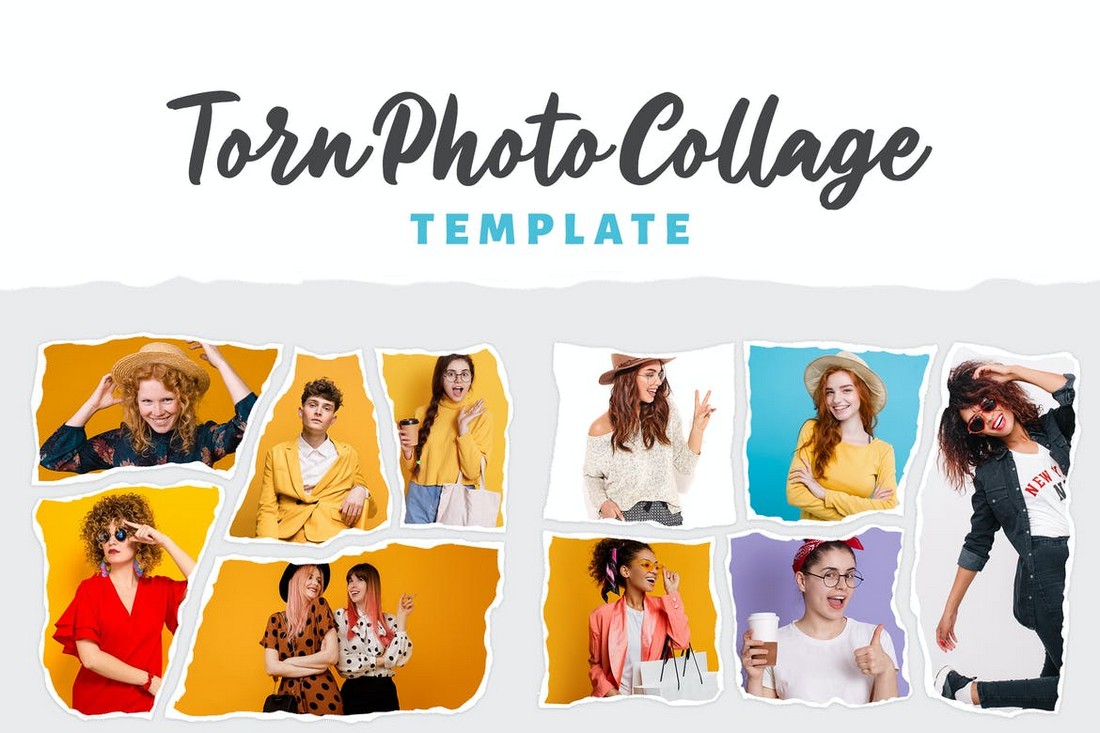 The torn photo effect used in these photo collages gives them a fun and casual look, which makes these templates a great choice for making collages for friends and family. It includes 5 PSD templates with different styles of collage designs, featuring square and circle collage layouts.
Polaroid Photo Collage Photoshop Templates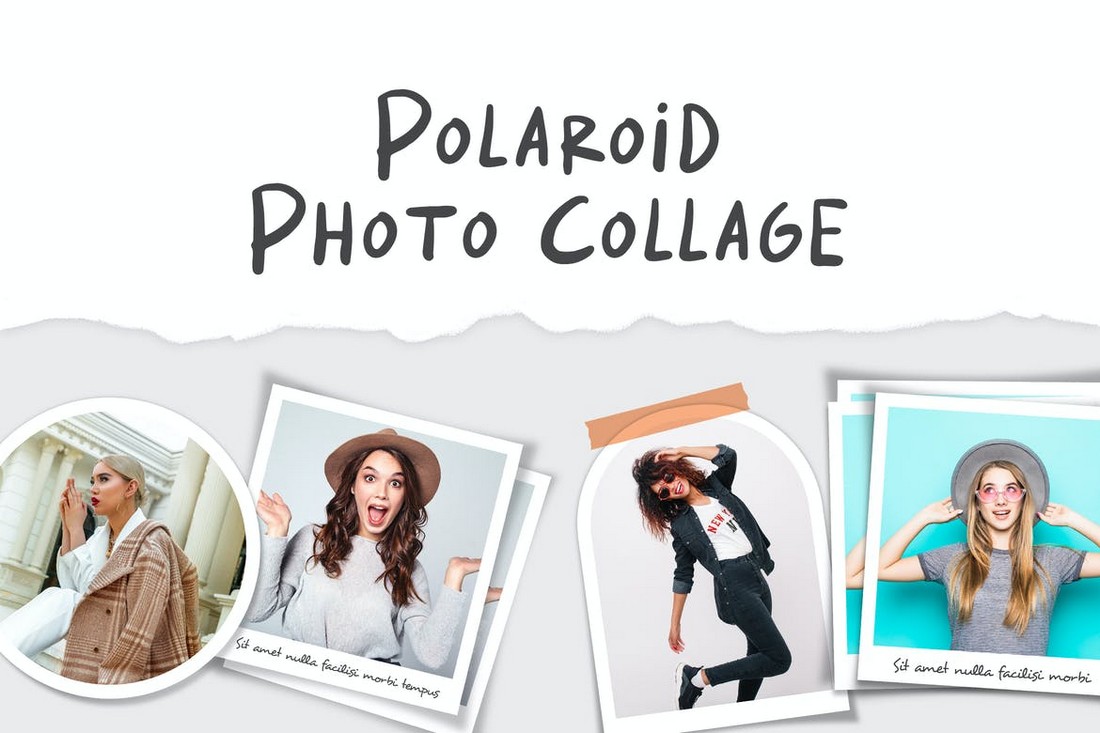 Looking for a photo collage template with a more professional design? Then this template kit is made just for you. This bundle comes with 5 photo collage templates featuring minimal and stylish designs. They are perfect for creating photo collages for business and promotional campaigns. As well as for other creative projects.
Photo Collage Effects for Photoshop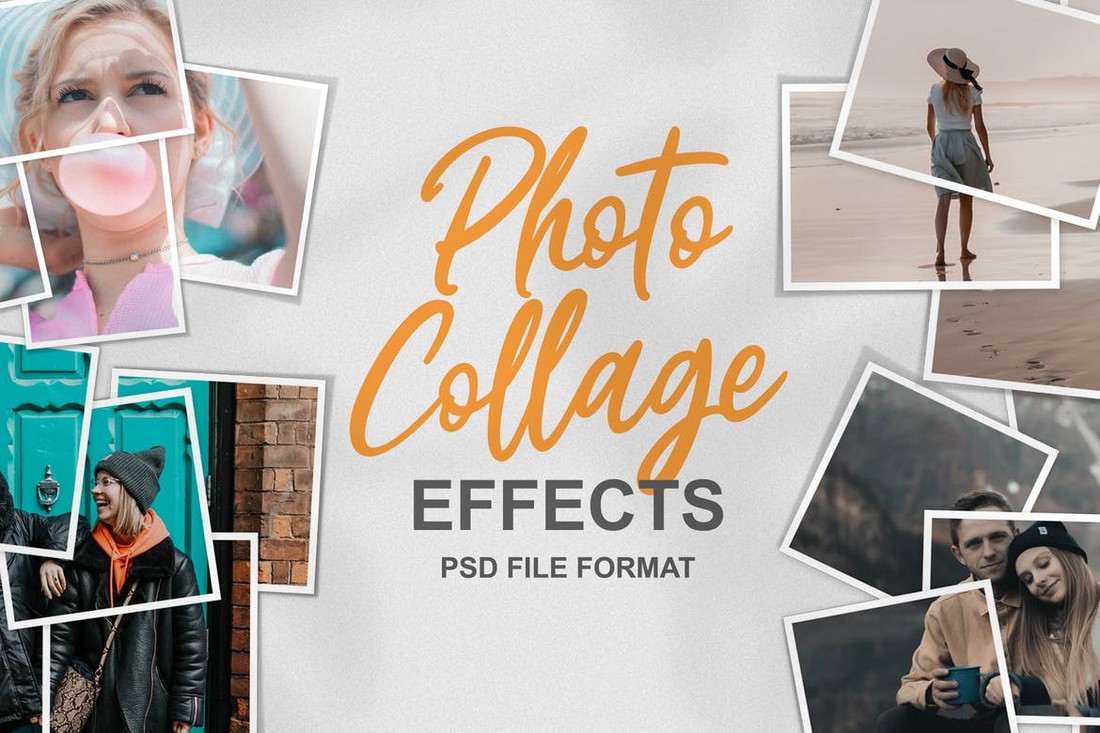 If you prefer the classic photo collage designs, the templates in this bundle will come in handy. It includes 7 different photo collage layouts featuring classic overlapping photo effects. You can use them to create collages to capture both happy and fun memories. Each template is available in A4 size so you could easily print them at home.
Photo Collage Template with Tape Effect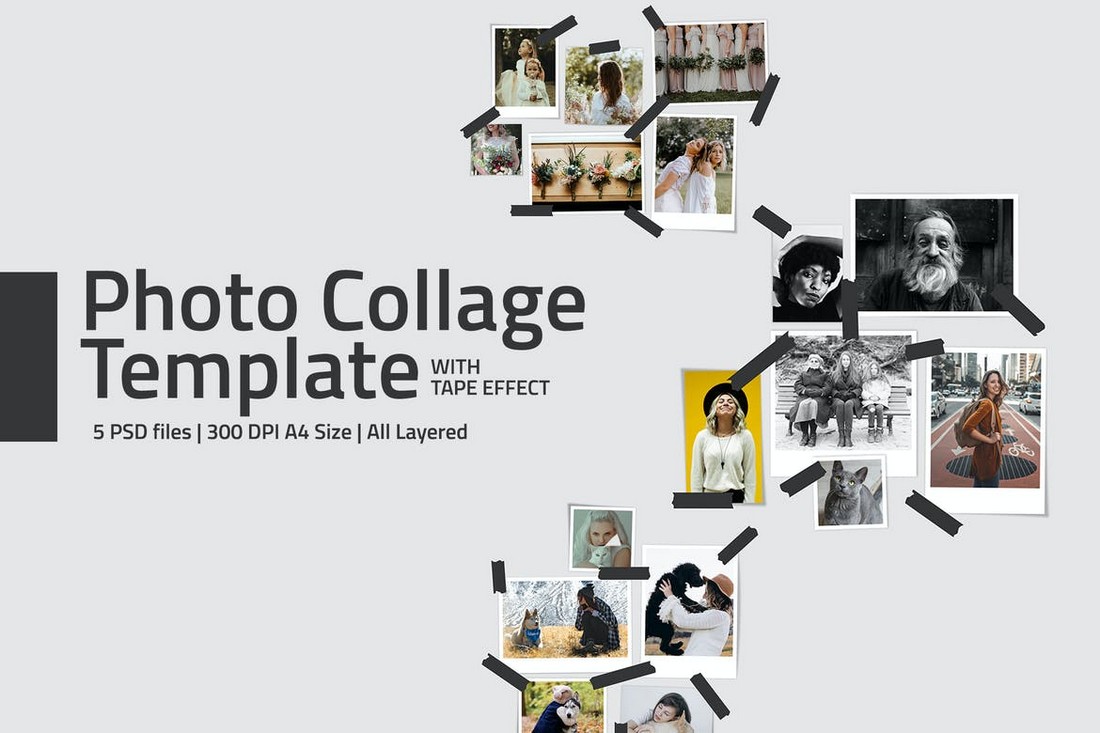 A unique collection of photo collage templates that feature a tape effect. With these templates, you can create collages that look as if the photos are taped to the wall. There are 5 different collar layouts in this pack and you can customize them all using Photoshop with just a few clicks to add your own images.
8 Free Photoshop Collage Templates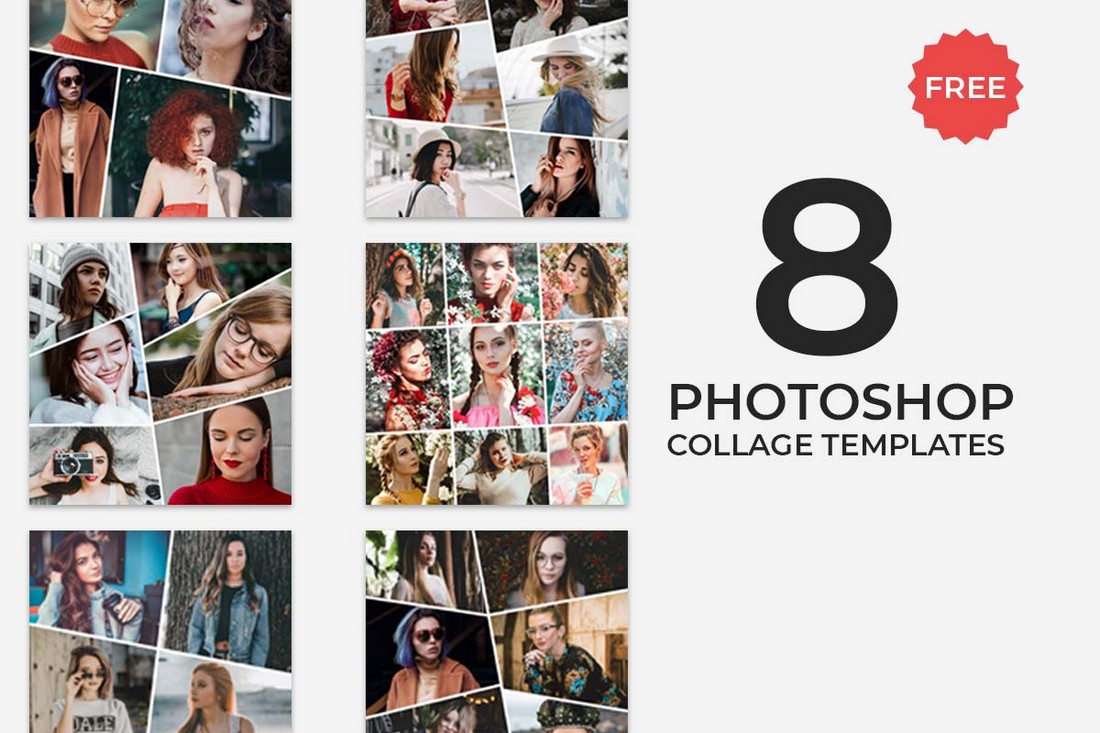 This is a collection of free photo collage template you can download and use for your personal projects. This pack includes 8 different photo collage layouts with creative designs. You can edit the templates using Photoshop.
Free Wall Photo Collage Template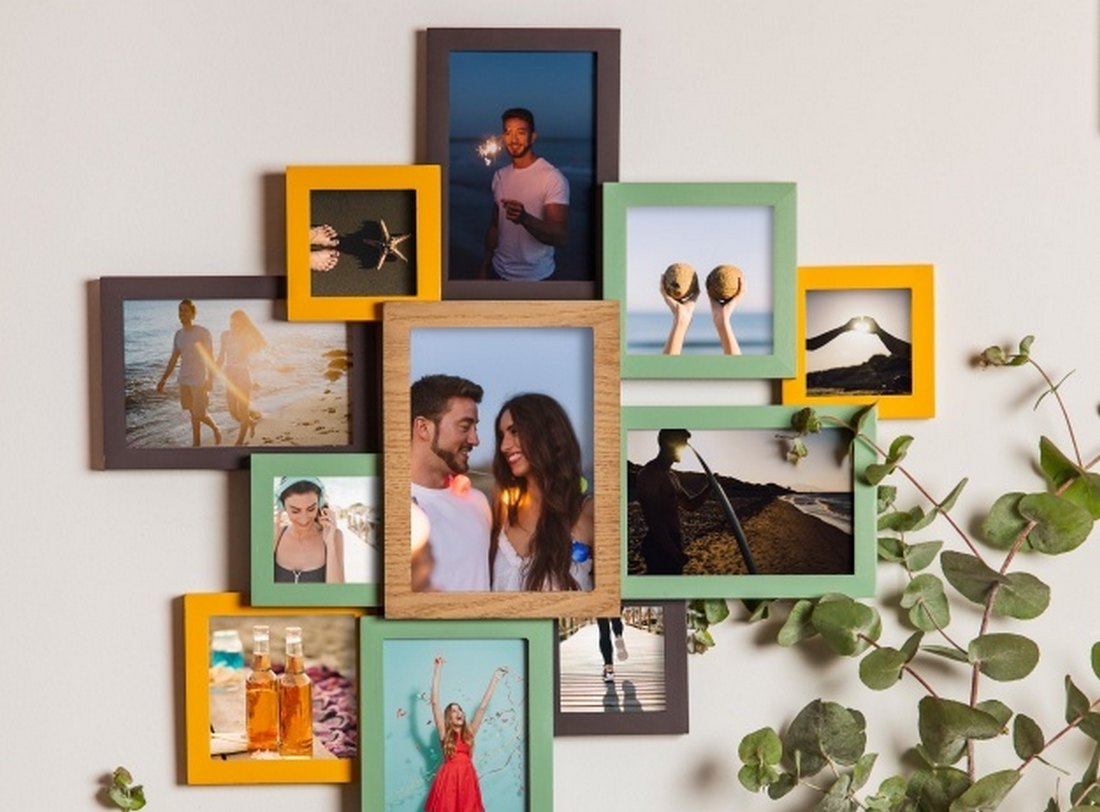 This template features a creative wall photo collage design with photo frames. You can use this template for free to create a more realistic-looking photo collage with a real background setting.
Photo Collage Template with Torn Effect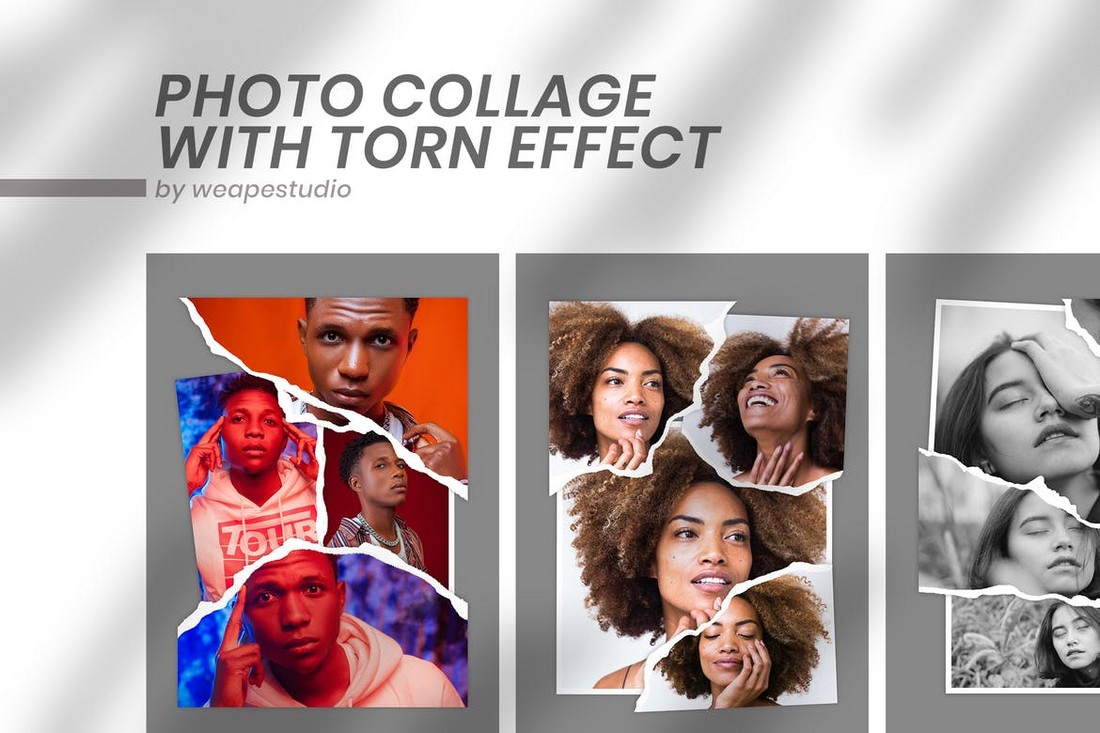 Another collection of collage templates with the torn photo effect. These collage templates, however, are designed with portrait-style photos in mind. Of course, you can flip them horizontally to create landscape collages as well. They will also fit in nicely in photo frames. There are 5 PSD templates in the bundle.
Stamps Style Photo Collage Templates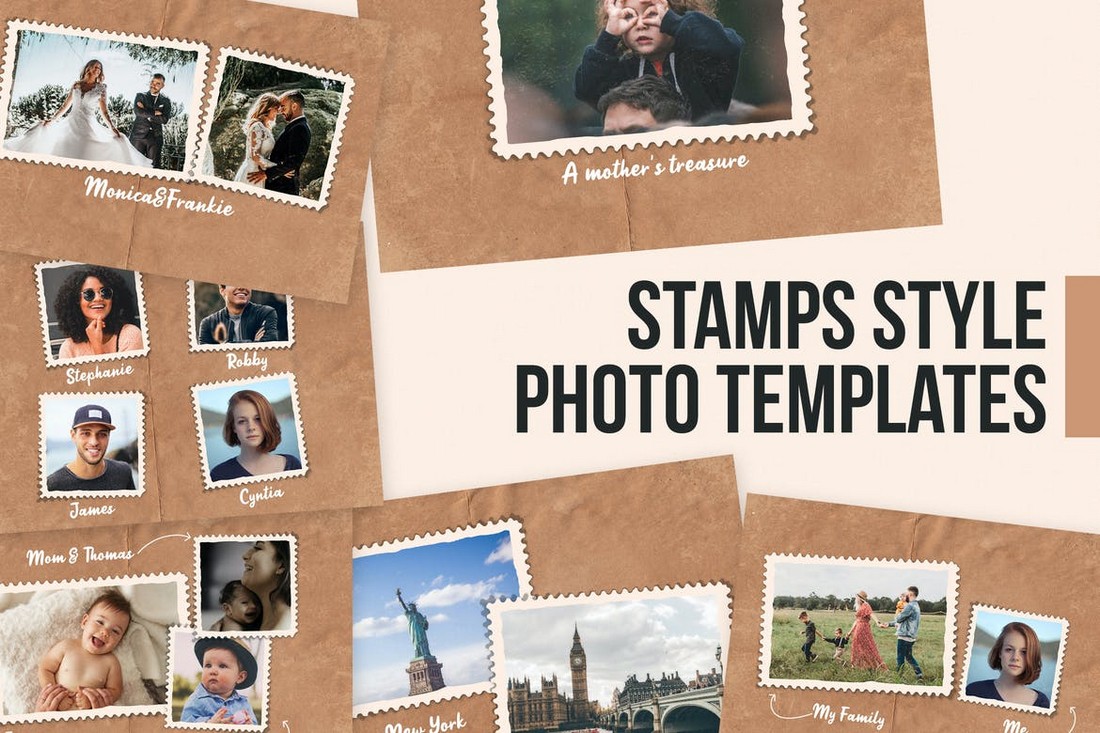 This is a collection of photo frame templates featuring stamp-style frame designs. There are 6 different templates in the collection and you can use them together to create your own unique collage layouts. Placing your photos in a template is quite easy as they come with smart object layers. It will only take just one click.
Polaroid Photo Collage PSD Template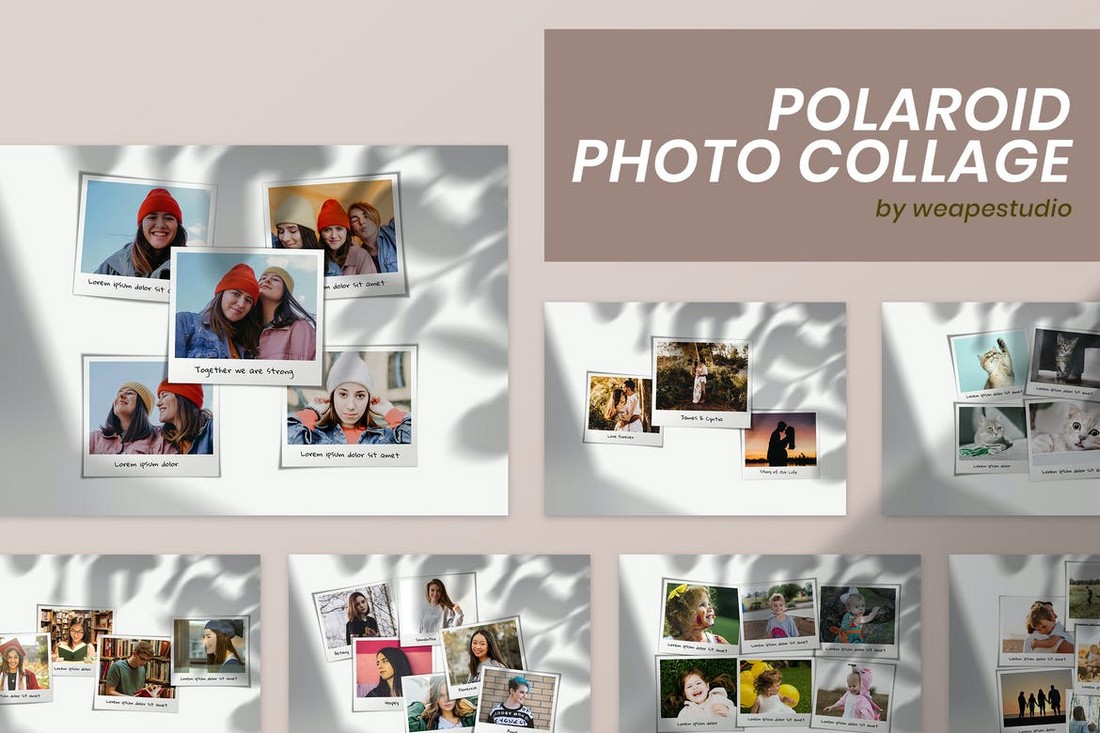 You can give your photo collages a classic or retro look with these Polaroid-style collage templates. They are perfect for making collages of happy memories. There are 8 different collage designs in this pack, each comes in fully-layered PSD files that are very easy to edit and customize.
Rhombic Photo Frame Templates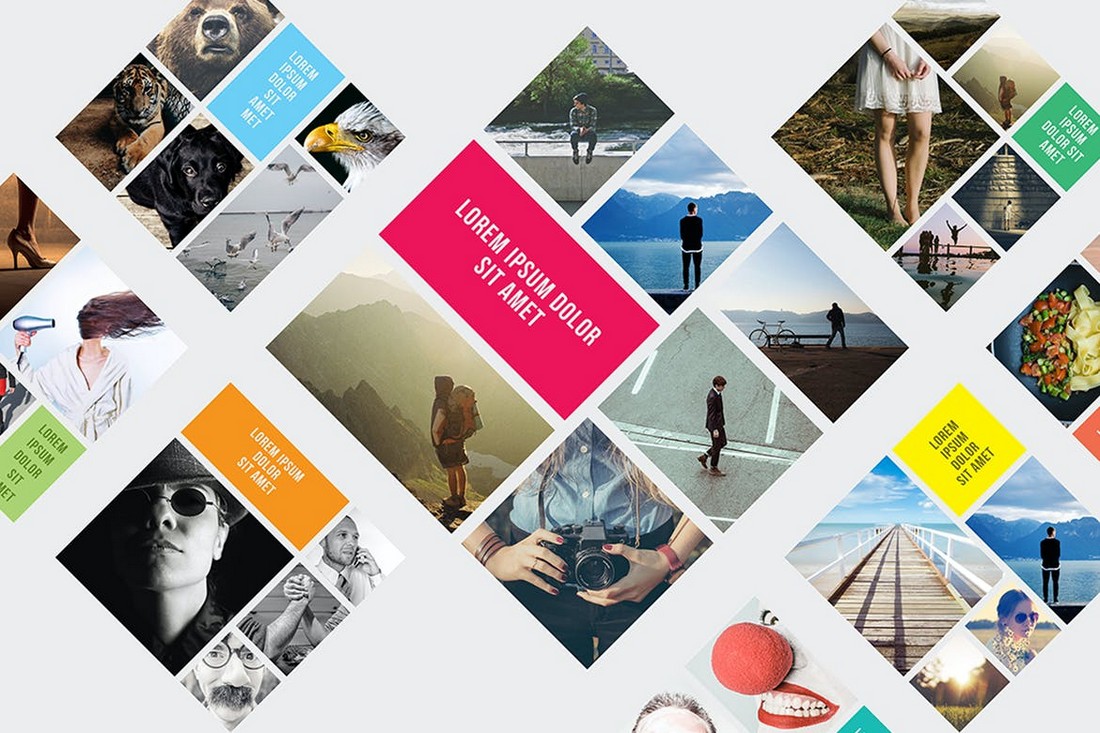 These are photo frame templates designed in the Rhombic style. They also work great as photo collage layouts and for even social media posts. It includes 8 PSD templates with different styles of collage layouts featuring various sizes of placeholders for photos, text, and editable colors.
Creative Polaroid Photo Collage Template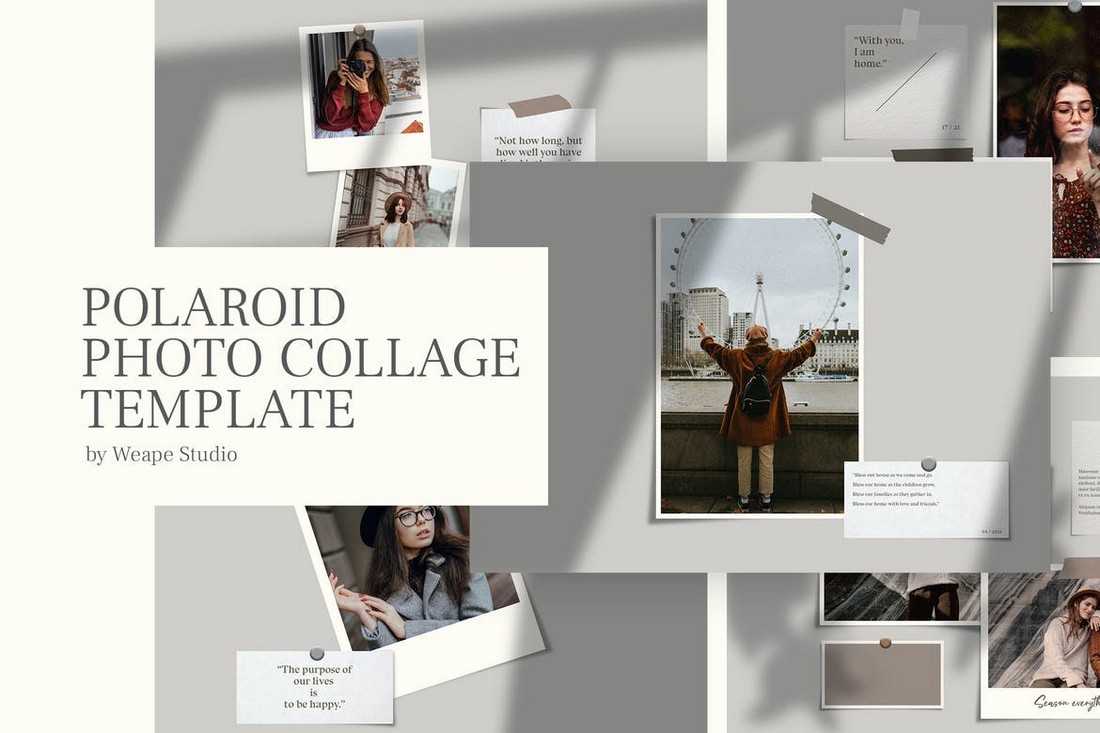 Using the templates in this pack, you can create classic Polaroid-style photo collages with ease. There are 5 cool templates in this bundle featuring minimal designs. They are ideal for both creative, personal, and professional projects.  Each template is available in fully-layered PSD format and in A4 size.
Free Mood Board Photo Collage PSD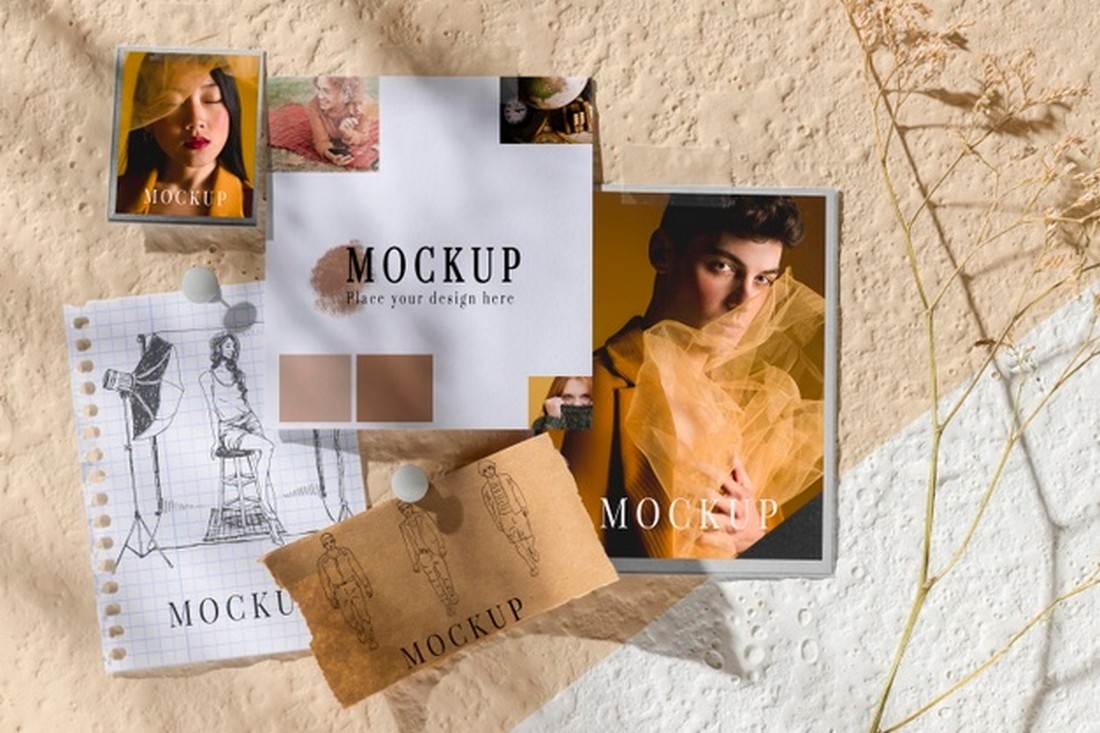 With this free template, you can design a stylish photo collage in a mood board style layout. It has a trendy design that will look great as social media posts as well. The template is free to use with personal projects.
Free Heart Photo Collage Template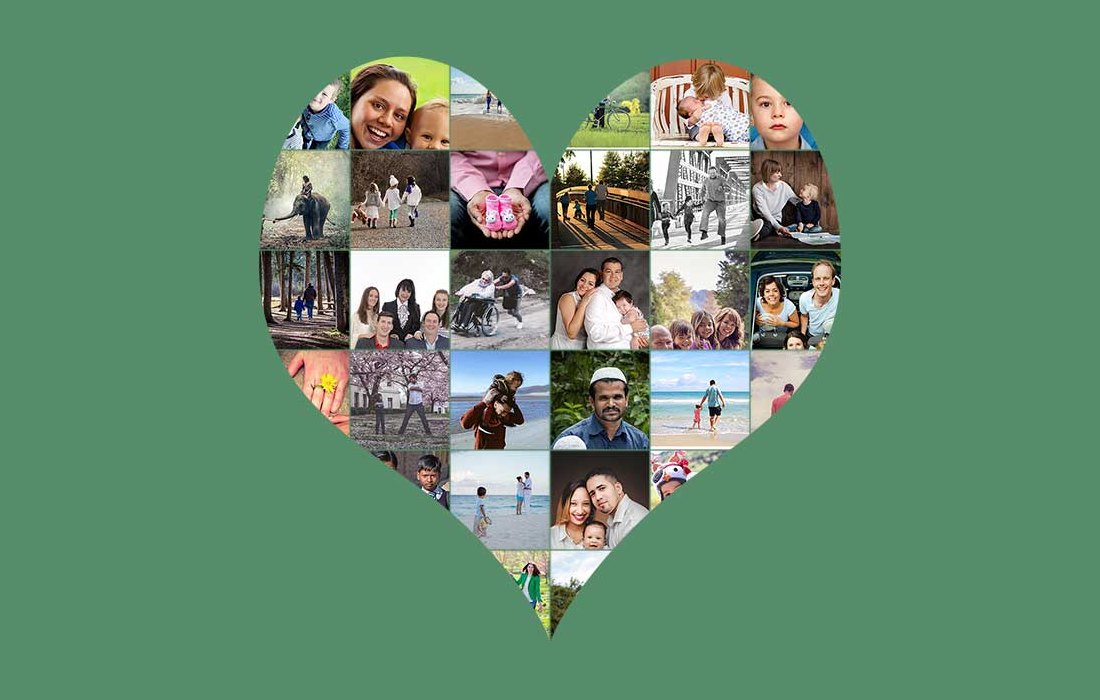 A simple and free photo collage template made in the shape of a heart. This template is perfect for making photo collages to celebrate your loved ones, especially for Valentine's day celebrations.
Mini Mood Board – Photo Collage Template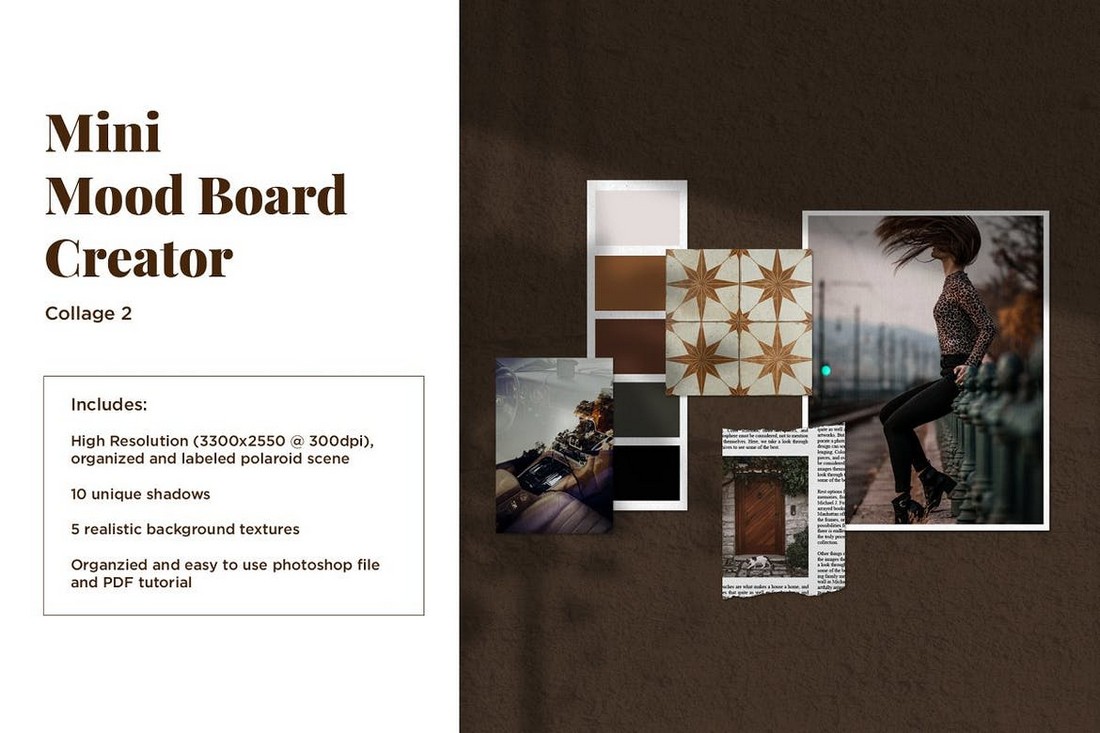 Mood boards are a great way of finding inspiration and generating motivation for various purposes. With this simple photo collage template, you can create your own mood boards for your projects and goals. You can easily duplicate and rearrange the layout to customize the design or add more to the mix. It includes 10 shadow effects and 5 changeable backgrounds.
Retro Polaroid Photo Collage Template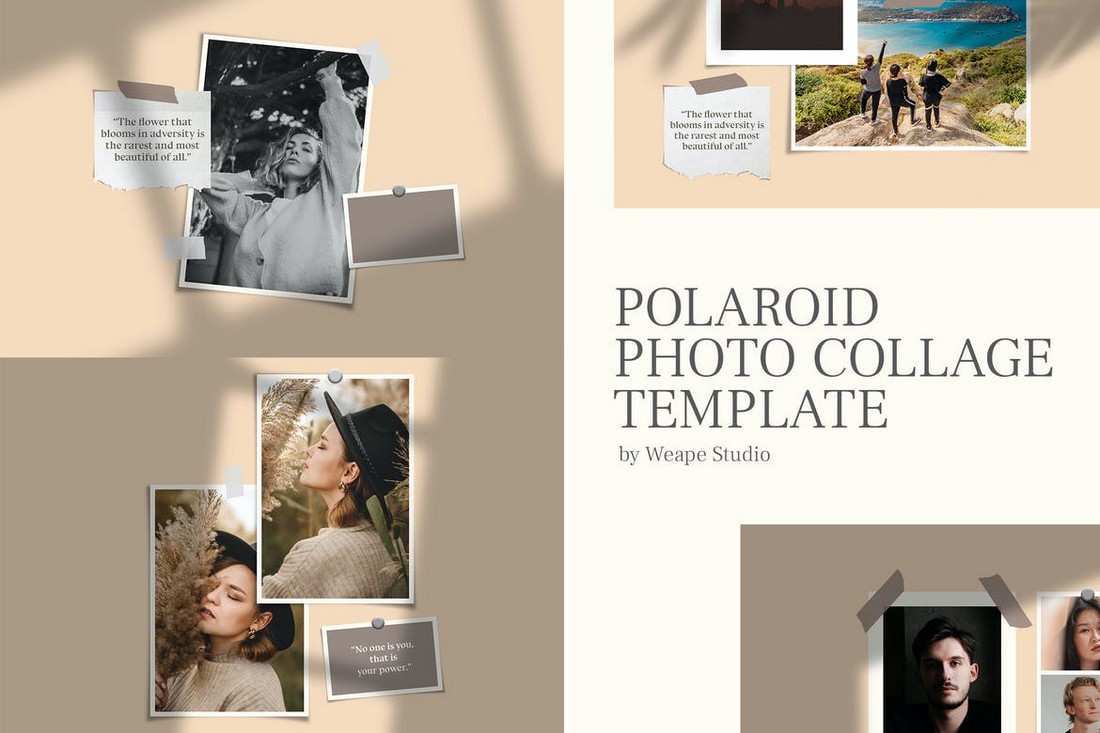 Another set of Polaroid-style collage templates for making retro-themed collage designs. This template kit includes 5 layouts you can edit using Photoshop. With smart objects, you can place your own photos in the collage with just a few clicks. You can even change the background to your preference.
Polaroid & Moodboard Collage Generator Kit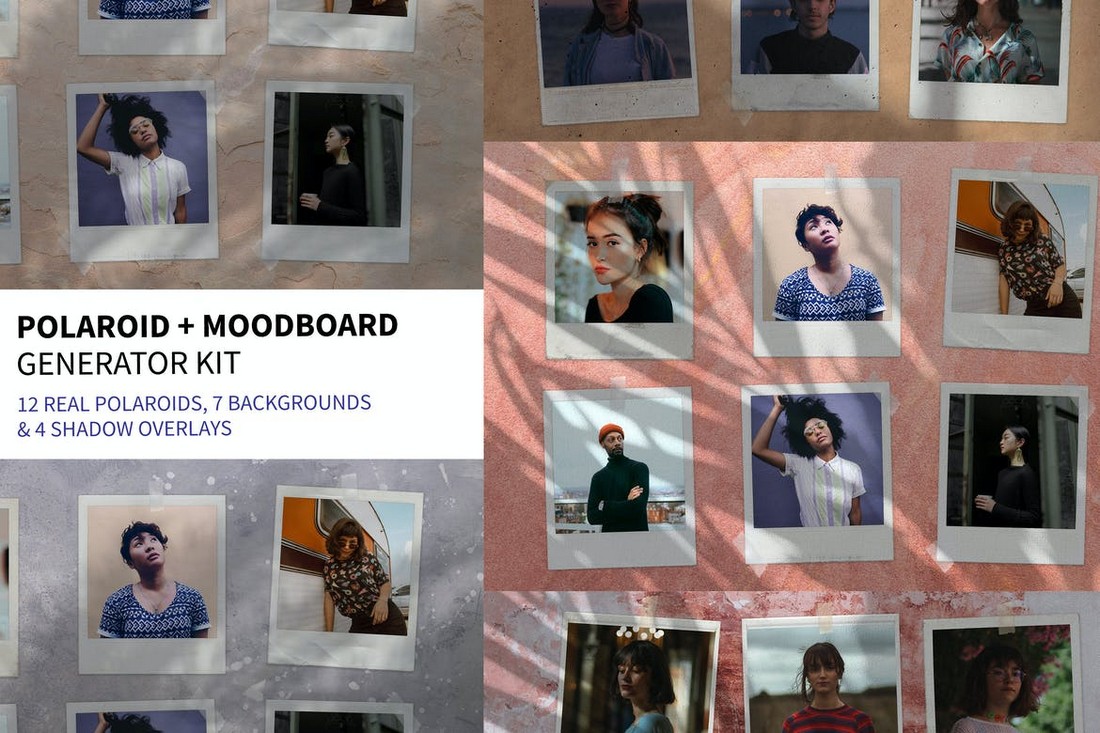 This template kit allows you to create mood board-style photo collage layouts according to your needs. It's a collage generator kit that includes 12 polaroid mockups, 4 shadow effects, and 7 backgrounds. You can use them however you like to make your own trendy mood boards or photo collages.
Photo Collage Social Media Post Templates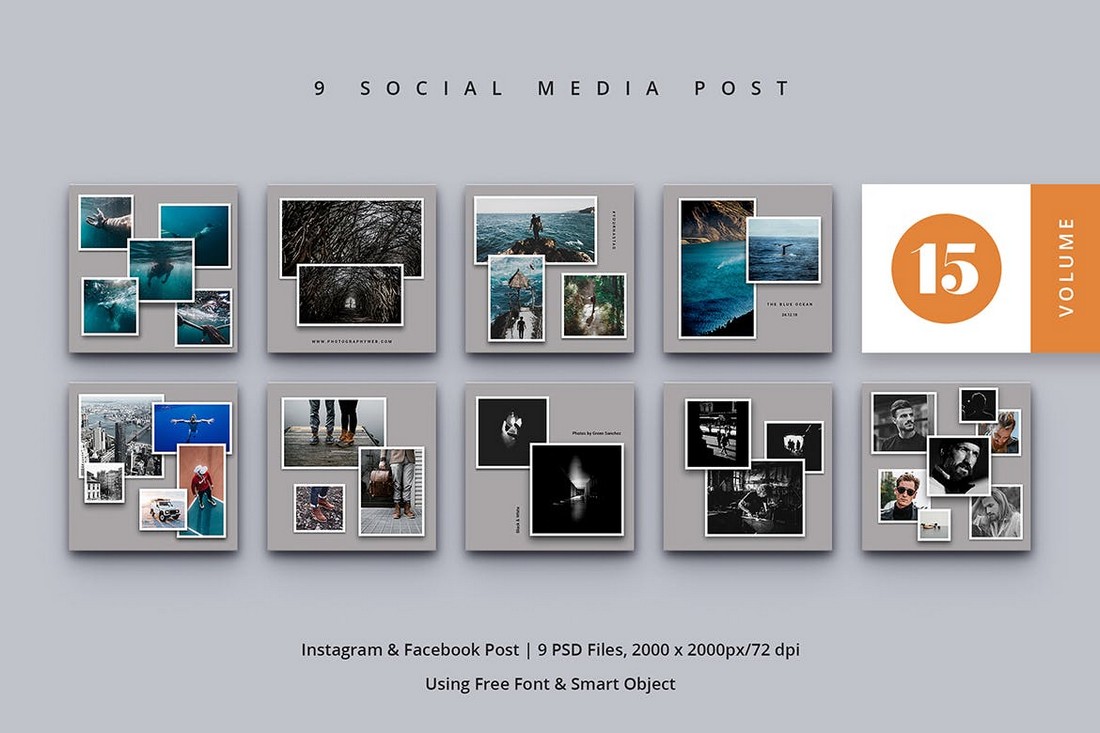 If you're trying to create photo collages for social media, this set of templates is made for you. It includes 9 social media post templates with collage layouts inside them. They all come in PSD format with smart objects so you can easily place your own photos inside the post layouts. You can use these to create Facebook and Instagram posts.
Circle Photo Collage Templates
You can use this photo collage template to create collages with circle layouts. There are 6 different layouts included in this bundle, each can be customized with Photoshop. They are ideal for creating wall photo collages and for various product promotions as well.
Free Classic Photo Collage Template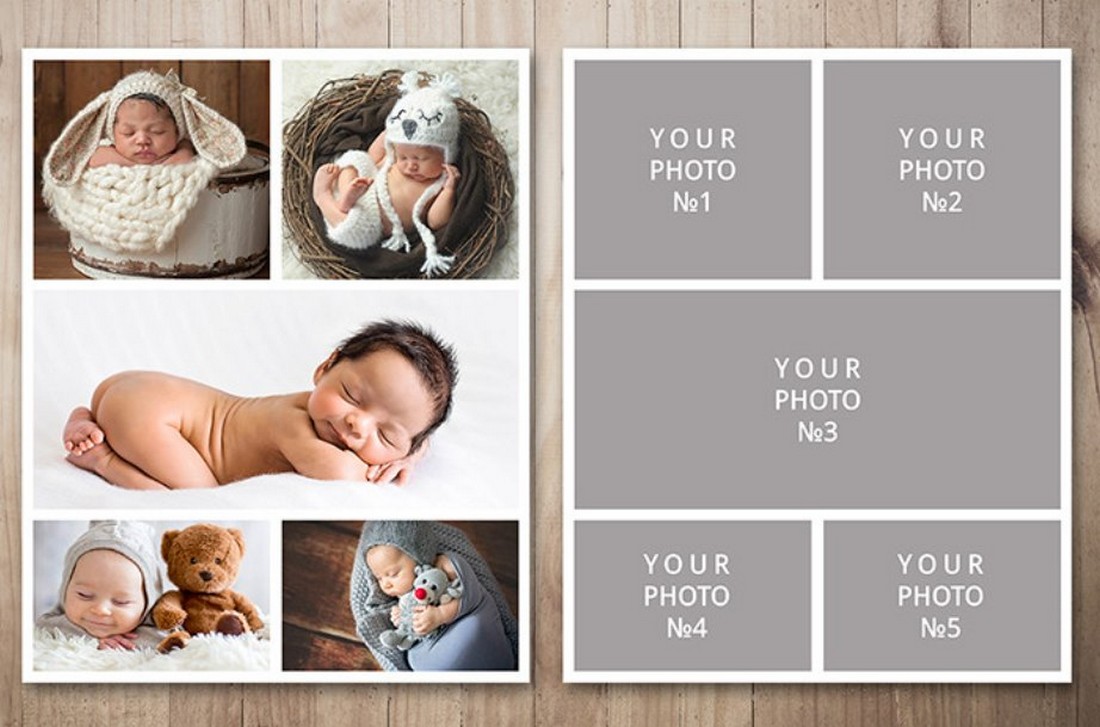 A very simple and classic photo collage layout for making basic photo collages. It allows you to show 5 photos at once and it's ideal for family photo collage designs.
Four Season – Free Photo Collage Template
Grab this photo collage template for free if you want to celebrate your happy memories. You can include 4 photos in this template. It can be customized with Photoshop to change the background as well.
Free Simple Photo Collage Template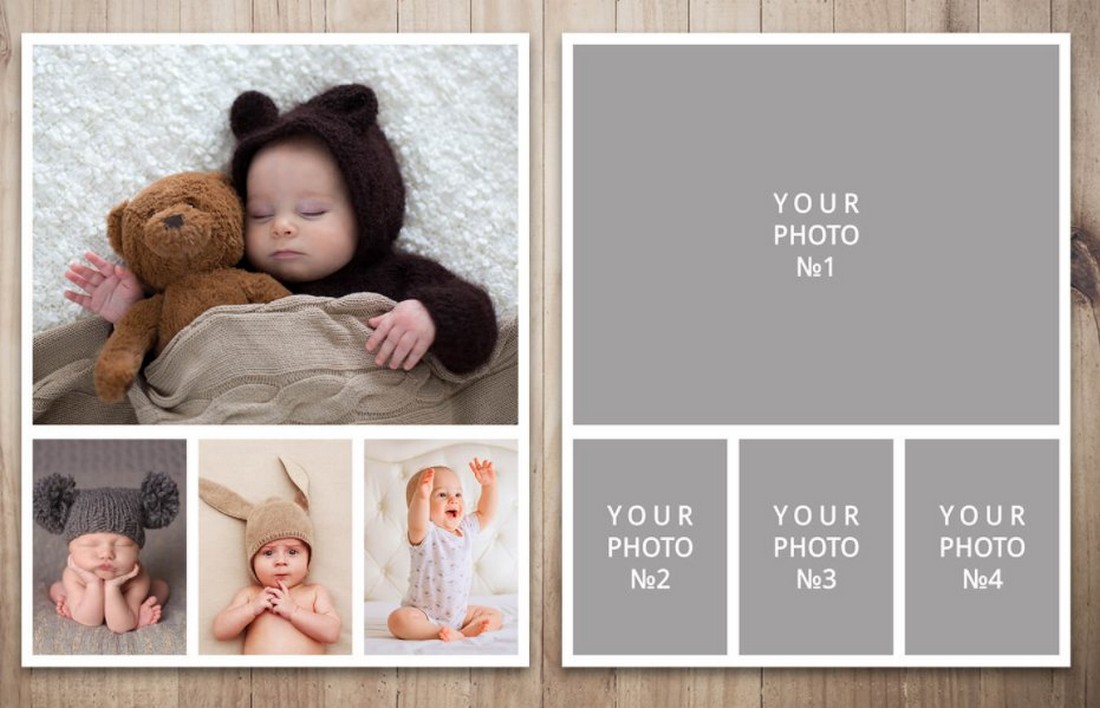 With this free template, you can create adorable photo collages for kids and family photos. It includes space for one large featured photo followed by three smaller ones. You can edit it using Photoshop.
Want a photo frame mockup to showcase your collage designs? Then be sure to check out our best photo frame mockup templates collection.