VSCO is one of the most popular apps for adding effects and editing photos for Instagram and social media. But what if you want to achieve a similar effect using VSCO style Photoshop actions?
We handpicked a collection of VSCO-inspired Photoshop actions you can use to easily recreate the same effects of the VSCO filters using Photoshop and make any photo look more vibrant and attractive.
We made sure to include both free and premium VSCO Photoshop actions in the list to let beginners and experts find high-quality effects that suit their design workflow.
What Is A VSCO Photoshop Action?
VSCO is a photo editing app available on iOS and Android that allows you to edit and enhance photos. It's a great app but it requires paying for its yearly subscription in order to access its collection of filters. Not to mention that you have very limited options for customizing those filters and you get stuck with mobile photos with low resolution.
VSCO Photoshop actions are a type of actions that are designed to apply effects to photos that are similar to VSCO filters. Unlike VSCO, these Photoshop actions can be easily customized to adjust their settings to your preference and you can apply them to various types of file formats as well.
Top Pick
Skin Retouch Photoshop Actions
VSCO app has a built-in slider that allows you to adjust the skin tone of your portrait photos. Although, it does very little to improve the skin tone and doesn't offer any kind of options for adjusting the effect.
However, this skin retouching Photoshop action is far more superior at what it does and lets you apply the action and adjust the opacity, blending, and strength of each effect to fit different types of photos.
Why This Is A Top Pick
While VSCO does simple adjustments to improve your skin tone, this Photoshop action will allow you to take things further to improve your skin tone to remove things like blemishes and acne to get a better portrait before you upload it to Instagram. Plus, this action is fairly easy to work with as it creates a non-destructive effect with fully organized layers.
Natural VSCO Photoshop Actions
Here we have a set of 10 Photoshop actions that will apply a natural VSCO effect to your pictures, making them look more appealing, and Instagram-worthy. We wholeheartedly recommend you try out these actions for your everyday photos, and see the difference yourself.
CineStock VSCO Photoshop Actions
One of the reasons many people use VSCO is to add a cinematic look and feel to their photos. With this bundle of Photoshop actions, you can create those same effects with even better calibration. This pack includes 18 different Photoshop actions you can customize to your preference.
Beach Vibes Photoshop Actions
Beach photos need special care when it comes to optimizing them, especially with so much bright natural lighting. This collection of Photoshop actions is designed to optimize and enhance your beach photos with just the right amount of visual effects to make them look prettier for Instagram.
SoHDR VSCO Photoshop Action
Creating an authentic and stylish HDR effect in your ordinary photos will be easy when you have this useful Photoshop action. It allows you to apply a subtle sharpening effect to create an HDR-like look and feel while also adding an adjustable dynamic range. The action also includes 30 color styles for personalizing the effect as well.
Indie Camera Photoshop Actions
This collection of Photoshop actions is perfect for adding a retro vibe to your photos. It includes 17 different actions with more than 100 different gradient maps for customizing the colors of the effect to give a true indie camera look and feel.
Digital Film Supply Photoshop Actions
Modeled after the VSCO presets, Digital Film Supply is a collection of 74 Photoshop actions that bring subtle, fine-tuned film effects to your pictures in just a few clicks. The actions can be completely edited to suit your needs.
Infrared VSCO Photoshop Actions
Inside the pack, you will receive 5 Infrared Photoshop actions, 12 film noir style presets, and an instruction file to help you make the most of the effects. All actions are non-destructive helping you retain 100% of the original image.
10 VSCO Photoshop Actions
If you truly want your pictures to stand out from the pack, this collection of 10 VSCO-inspired Photoshop actions is an excellent contender for your cash. Each action is painstakingly created to give your images a vintage nostalgic look.
Jungle VSCO Photoshop Actions
Perfect for jungle, landscape, and outdoor photography, this set of Photoshop actions accentuates the greens, and adds a nice moody vibe to your pictures. It's a must-have resource in every photographer's toolkit!
Free Faded Film Photoshop Actions
Use this set of Photoshop actions, and apply a beautiful faded film effect to your pictures. Inside the pack, you'll receive 12 easy-to-use actions, perfect for a whole lot of photos. This set is available for free, so grab it ASAP.
Free VSCO Photoshop Actions Pack
Give your pictures a VSCO-inspired film look with this set of Photoshop actions, available for free. All the presets are top-notch and can be downloaded easily. If you want premium quality Photoshop actions without spending a single penny, this freebie is well worth checking out.
Free VSCO Photoshop Actions
Check out this bundle of 2 Photoshop actions and 16 filters, each working to bring a stunning VSCOish effect to your photos in the most effective and easiest manner. Both the actions provide different VSCO styles and fading.
Free VSCO Photoshop Actions
Here we have a set of Photoshop actions that is sure to make an impression and get your artwork the attention it deserves. The best part is that it's available for free download. Get your hands on it now.
Realistic Painting Photoshop Action
Have you ever wanted to give a more artistic look to your photos and make them look like paintings? VSCO doesn't have a filter for creating that type of effects. But, with this Photoshop action, you can achieve a similar effect without any effort.
This action lets you create an oil painting-like effect to make your photos look like a hand-drawn painting. It even comes with a set of premade color presets to let you customize the effect and make it look natural.
This is one of the few free Photoshop actions we've seen that create such a high-quality and authentic effect. The action is also compatible with Photoshop CS3 and higher.
Double Exposure Photoshop Action
Unless you have an expensive digital camera, you won't be able to create a double exposure effect with your smartphone, not even with VSCO premium filters. But with this Photoshop action, you can create a realistic double-exposure effect using your photos. This will certainly help make your Instagram feed stand out from the rest.
Free Summer Photoshop Actions
This is a massive bundle of Photoshop actions you can use to add different kinds of filters and effects to your lifestyle and outdoor photos. It includes 50 different effects and you can download the entire bundle for free.
Free Lifestyle Photoshop Actions
This collection of free Photoshop actions are designed specifically for improving your lifestyle photos. It includes actions with various effects that are perfect for enhancing portrait photos before uploading them to Instagram.
Shadow VSCO Photoshop Actions
Our next option is a bundle of 10 VSCO cam-inspired Photoshop actions, all of which can transform the look, and feel of any photo in just a few easy clicks. We absolutely love this product, and once you try it out yourself, you'll know why.
Orange and Teal Pro Photoshop Actions
Orange and Teal is a unique Photoshop action that uses color manipulation to create an effect that completely transforms your photos. It creates orange-teal and orange-blue combination effects to add an attractive look to your cityscape and landscape photos.
14 Landscape Retouching Actions
This is a bundle of Photoshop actions you must-have if you take lots of nature, travel, and wildlife photos. This collection comes with 14 professional actions that help adjust the quality of your photos by reducing haze, improving the colors of foliage, enhancing the sky, and much more.
Scarlet Fantasy Photoshop Action
Many of VSCO filters are able to add a fantasy look and feel to your photos. This Photoshop action will help create a similar fantasy effect. Except the effect created by this action will be fully customizable and adjustable to match your photos. It includes 2 variations of the effect as well.
XPro – 20 Cross Process Actions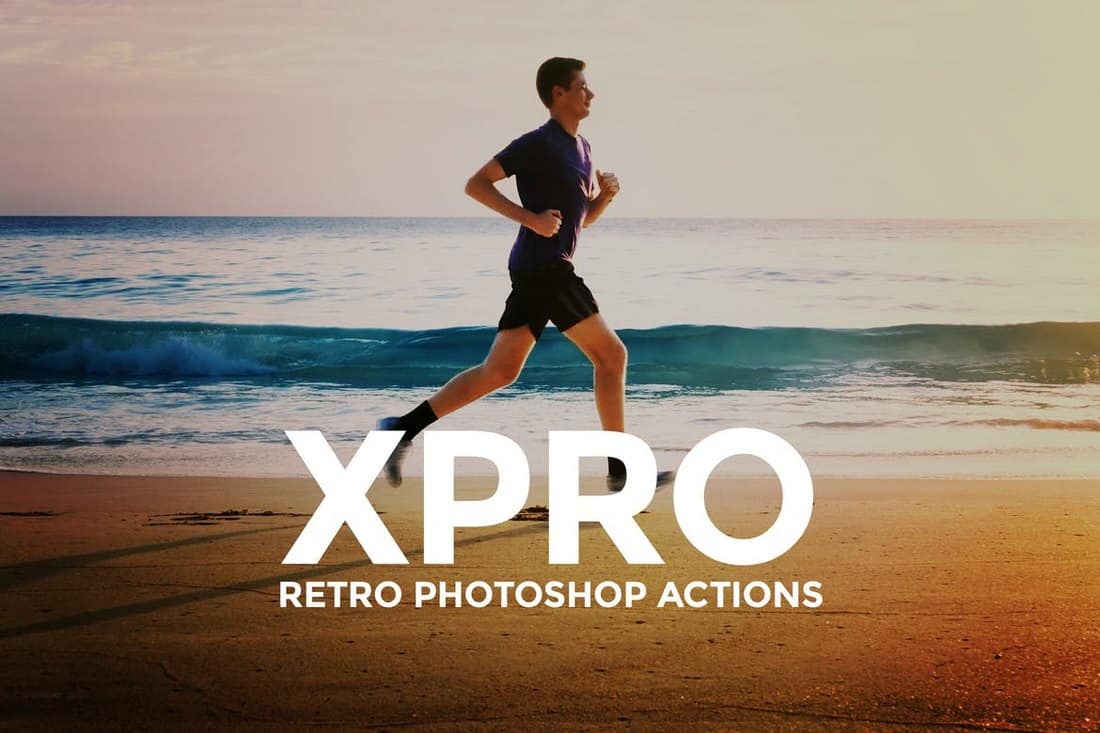 This collection of Photoshop actions is made for the fans of the VSCO vintage filter. The pack comes with 20 different retro-vintage effects that allow you to reproduce a similar effect to add more style and color to your photos. The actions are compatible with Photoshop CS3 and higher.
Free Toning Photoshop Actions
A set of 3 unique Photoshop action you can use to improve the toning and the colors of your portrait photos. These actions are most suitable for improving fashion and lifestyle photography.
10 Free Matte Photoshop Actions
The matte effect is quite popular with VSCO users as it adds a hipster look and feels to your photos. This bundle of free Photoshop actions will let you create that same effect, only better quality and with easy adjustments.
Dark Photography Photoshop Actions
Adding dark color enhancements to ordinary photos is now a popular trend as it gives your photos a natural artistic look. This Photoshop action comes with 10 different styles of effects that allow you to give your portrait photos a moody vintage vibe.
Glamour Photography Photoshop Actions
With 15 different Photoshop actions to choose from you'll be able to use this bundle of actions to enhance and optimize your lifestyle and fashion photos in many different ways. The actions are compatible with Photoshop CS5 and higher.
You can find more amazing Photoshop actions in our best Photoshop Actions collection.
Did you miss our previous article…
https://www.tampawebdesign.org/?p=11031