Retro design is everywhere. Thanks to people's craving for nostalgia, there's a growing demand for logo designs, badges, and even brand identities that uses this stylish design trend.
You can never go wrong with a good retro design. But, you need to find the perfect retro font to make your retro designs more attractive.
If you look at any successful retro design, you'll notice that that the key element in every one of them is a great-looking retro font. It's the typography that adds a truly retro look to the designs.
In this collection, we bring you many different styles of retro fonts to help you get a head-start in your retro design projects. Pick a font from the list below.
Morro – Modern Retro Geometric Font
This is a creative font that puts a modern spin on retro font designs. Each letter is crafted in geometric shapes, allowing you to design unique titles and headings for all kinds of your projects. The font comes in regular style, a block shadow style font, and also an outline version as well.
Retrohols – Retro Condensed Font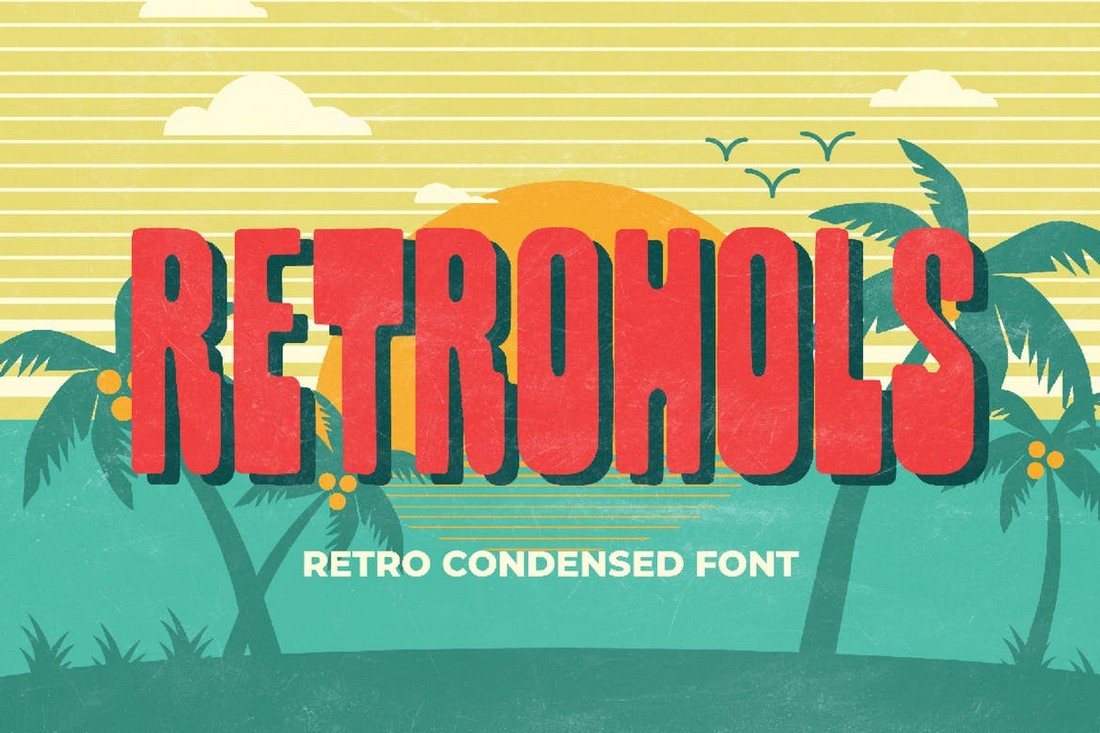 If you want to give a truly retro look to your poster titles and flyer headings, this font is for you. Retrohols comes with a condensed letter design featuring a quirky retro typography style. It's available in both OpenType, TrueType, and WebFont versions.
nglestein – Multipurpose Retro Font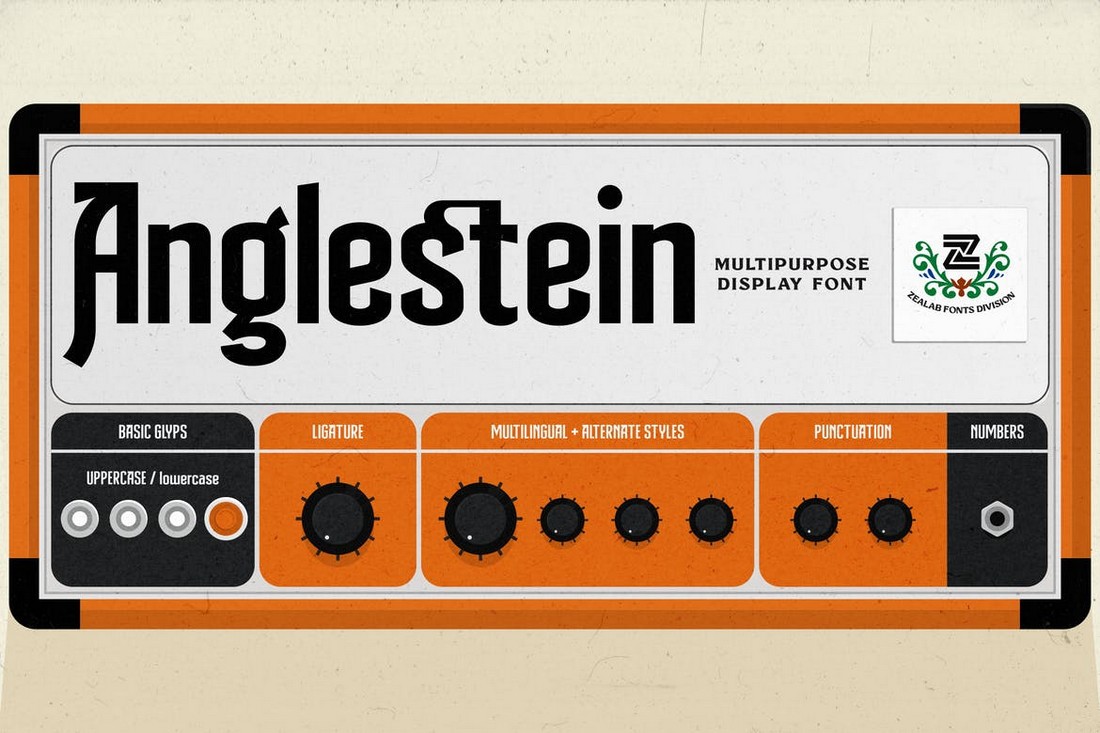 This beautifully retro font comes with a design inspired by retro car emblems and amplifier emblems. The elegant letter design of this font will go along great with any type of print or digital design. The font features uppercase and lowercase letters with plenty of alternate characters.
Cuppakabra – Retro Cartoon Font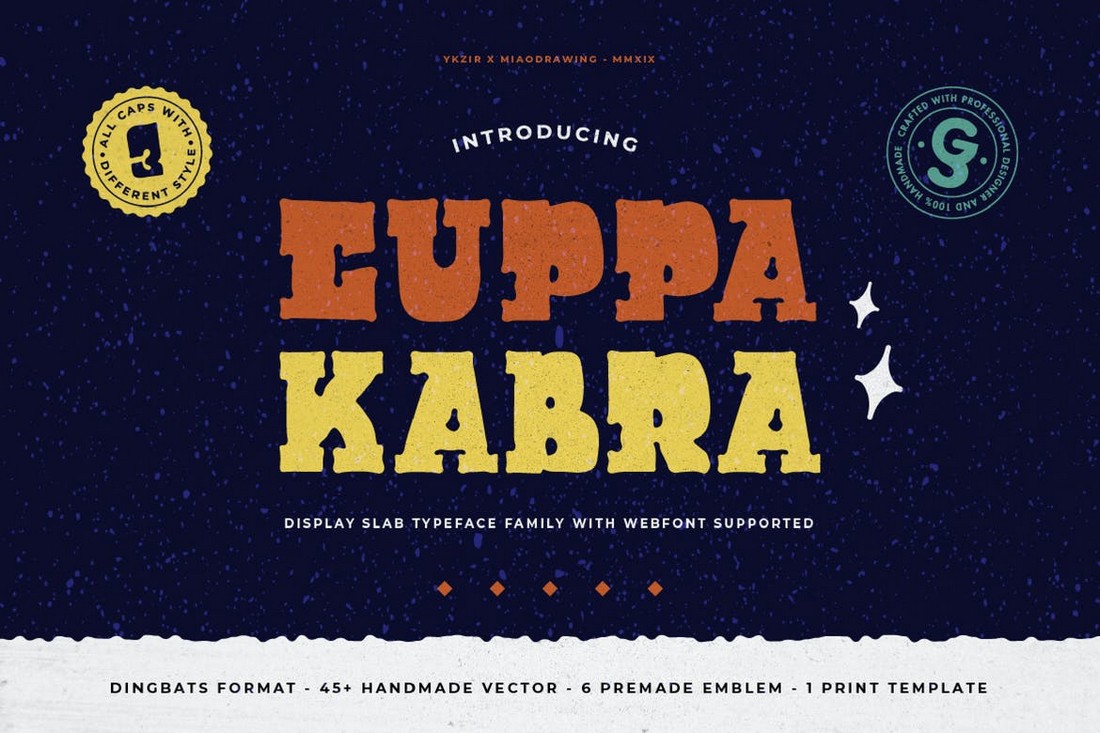 Inspired by the typography used in classic cartoons, Cuppakabra is a fun and bold font you can use to craft attention-grabbing titles for your posters and social media designs. It will especially fit in nicely with designs related to children. The font comes in regular, slab, dingbat, and shadow styles.
Oaklash – Retro Bold Script Font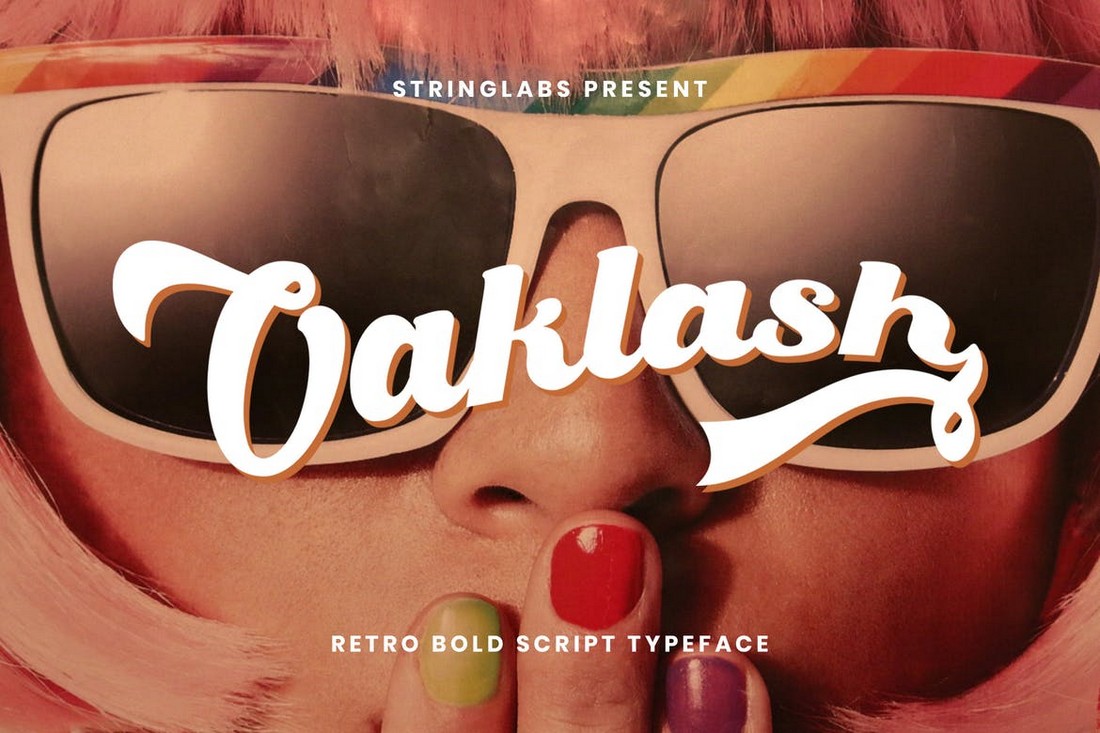 You can give your designs a groovy 80s look using this creative retro font. The bold script style of the font makes it ideal for fashion and lifestyle-themed designs. However, it's suitable for everything from social media graphics to posters, labels, and everything in between.
GoodHood – Free Retro Script Font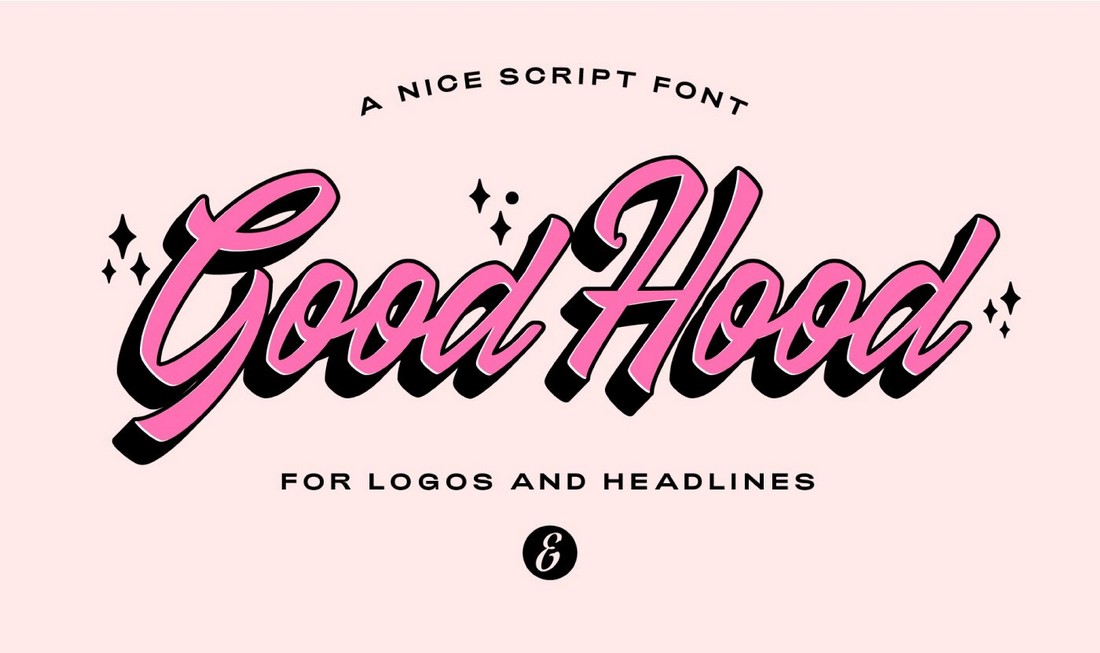 GoodHood is a free retro font that features a script lettering style. It's ideal for crafting greeting cards, labels, and social media posts. The font is completely free to use with your personal and commercial projects.
Coubra – Free Retro Font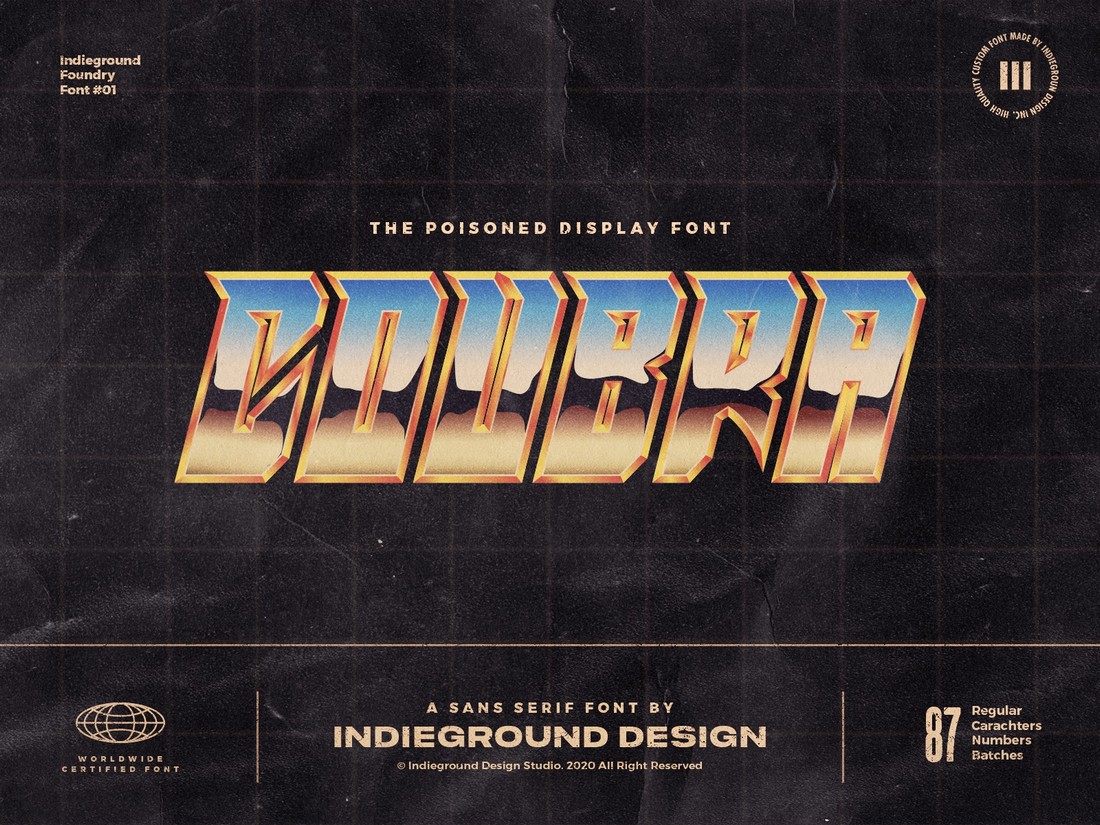 Coubra is another free retro font that features all the great elements of an 80s retro font. It has thick bold letters that will make your poster and T-shirt designs look more attractive.
Neon Planet – 80s Retro Font Duo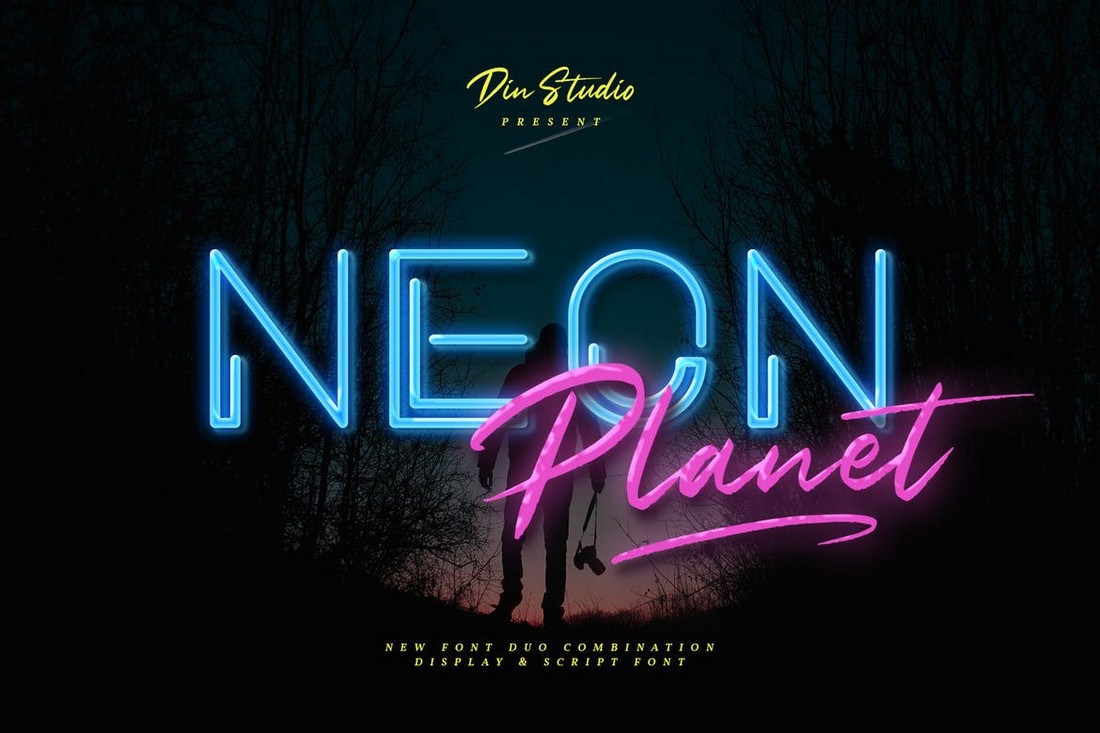 This font pair is the perfect example of a retro font. It features the two things that made the 80s so iconic— neons and script lettering designs. Neon Planet is a bundle of two fonts that includes a neon-style display font and a script font. These two fonts pair quite well together and it will help save you money and time.
Horsemen – Horror Retrowave Font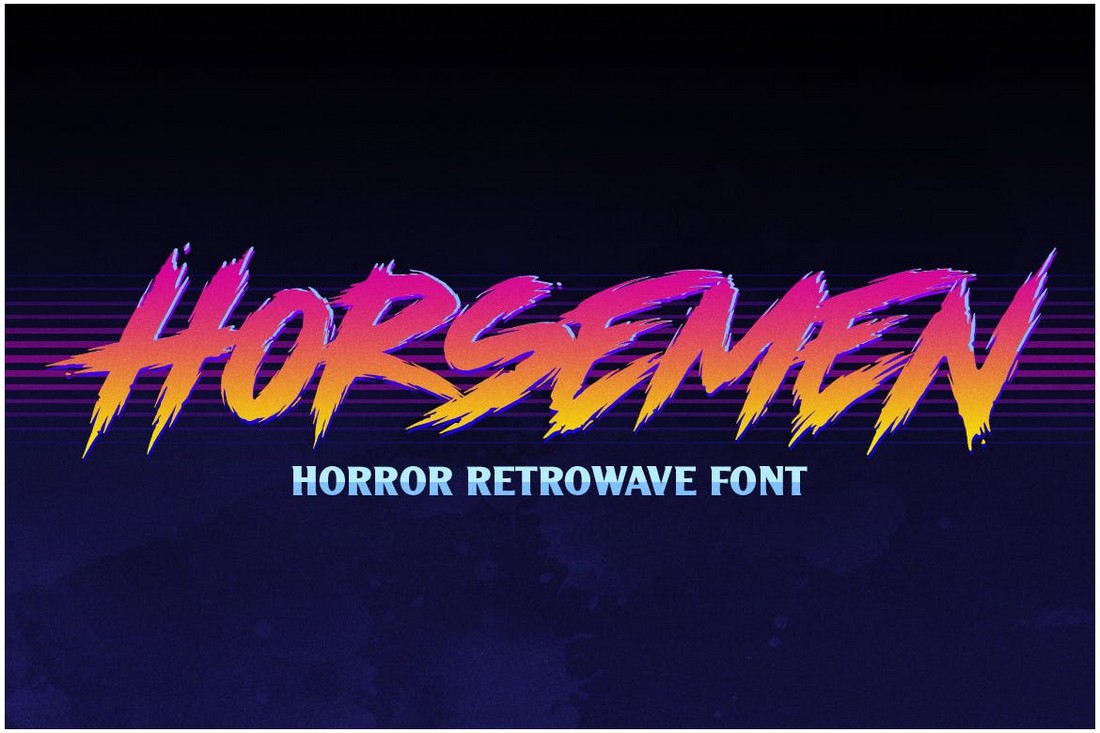 Horsemen is a horror-themed font that comes with a design inspired by retro music and 80s designs. The font will go along nicely with your poster and social media designs. Especially for crafting thumbnails and title scenes for your YouTube videos. The font comes in regular and slant styles.
Hastron – Neon Monoline Retro Font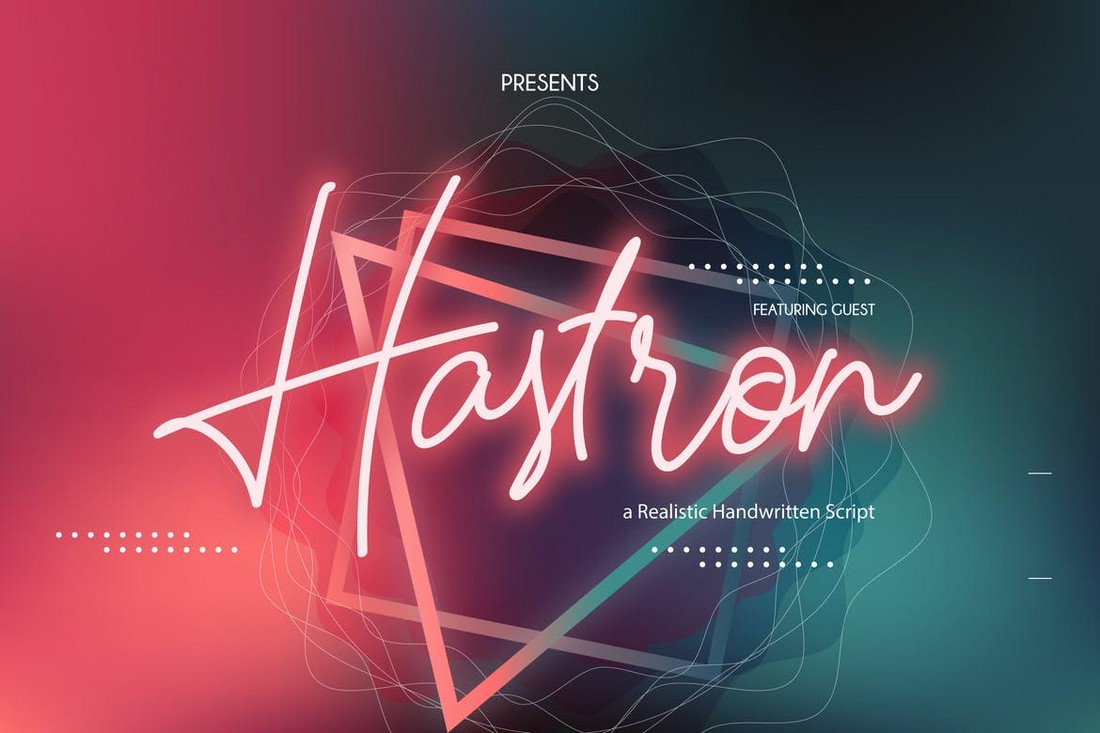 Hastron is another attractive neon-themed retro font. This one comes with a monoline script design, which makes it perfect for designing logos, badges, and labels that look like neon signs. It also includes lots of glyphs, alternates, and ligatures as well.
Zombie Punks – Retro Horror Font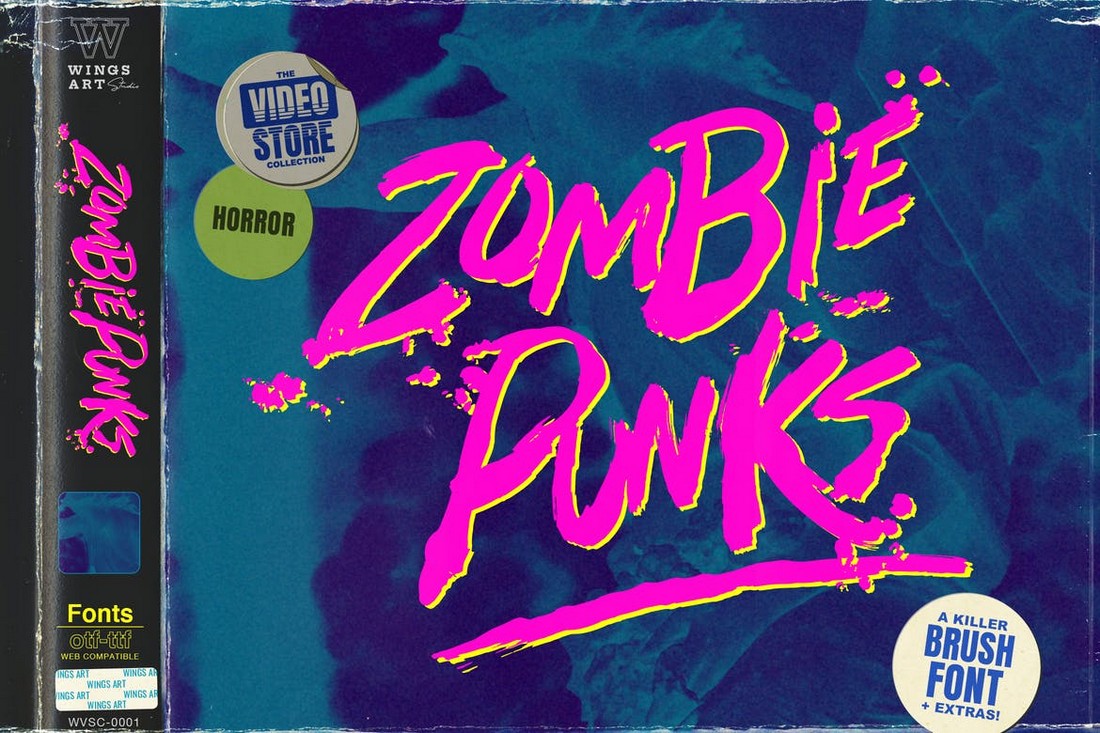 At first glance, this font will surely remind you of the horror movie covers from VHS tapes from the 80s. It has a spooky and fun design that's most suitable for craft Halloween-themed designs. But it will surely go great with various other print and digital designs.
rcade Machine – 80's Retro Font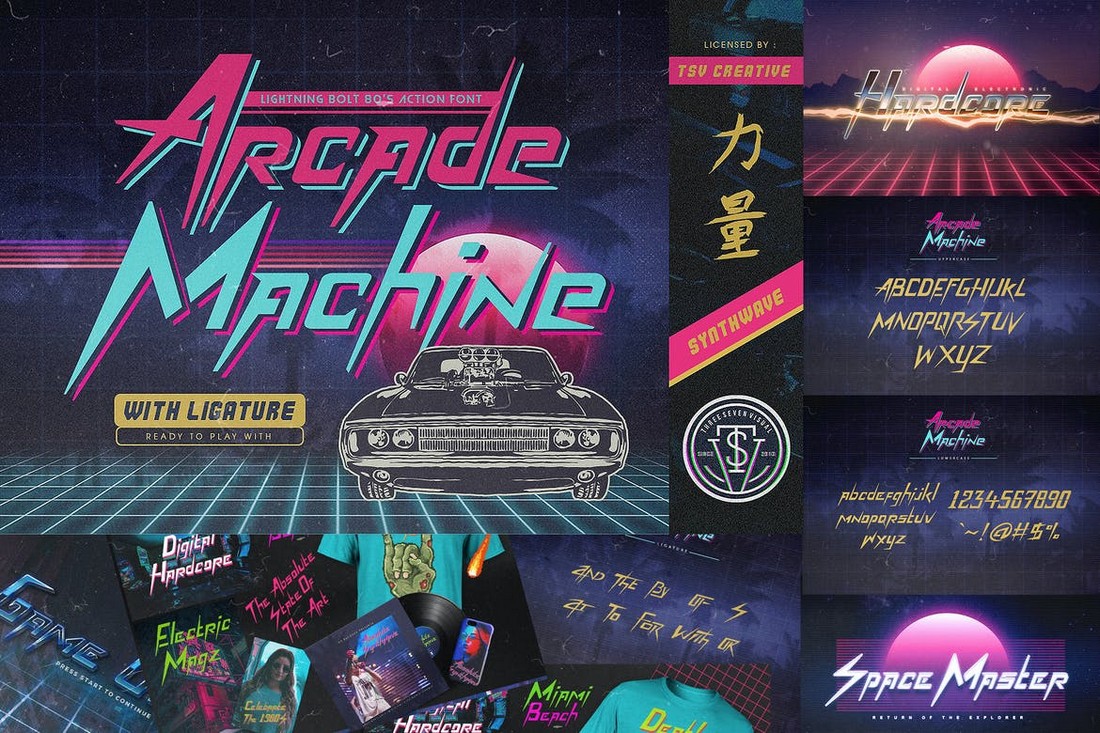 We can't forget the arcades when talking about retro designs. This font comes with a creative letter design inspired by a mixture of typography styles used in arcade machines and TV shows like Knight Rider and Miami Vice. It's perfect for everything from T-shirt designs to logos and more.
The Circus – Free Retro Display Font
The Circus is a free retro font that comes with regular and striped font styles. It features a design mixed with vintage and retro design elements. The font is free to use with your personal projects.
Raphtalia – Free Casual Retro Font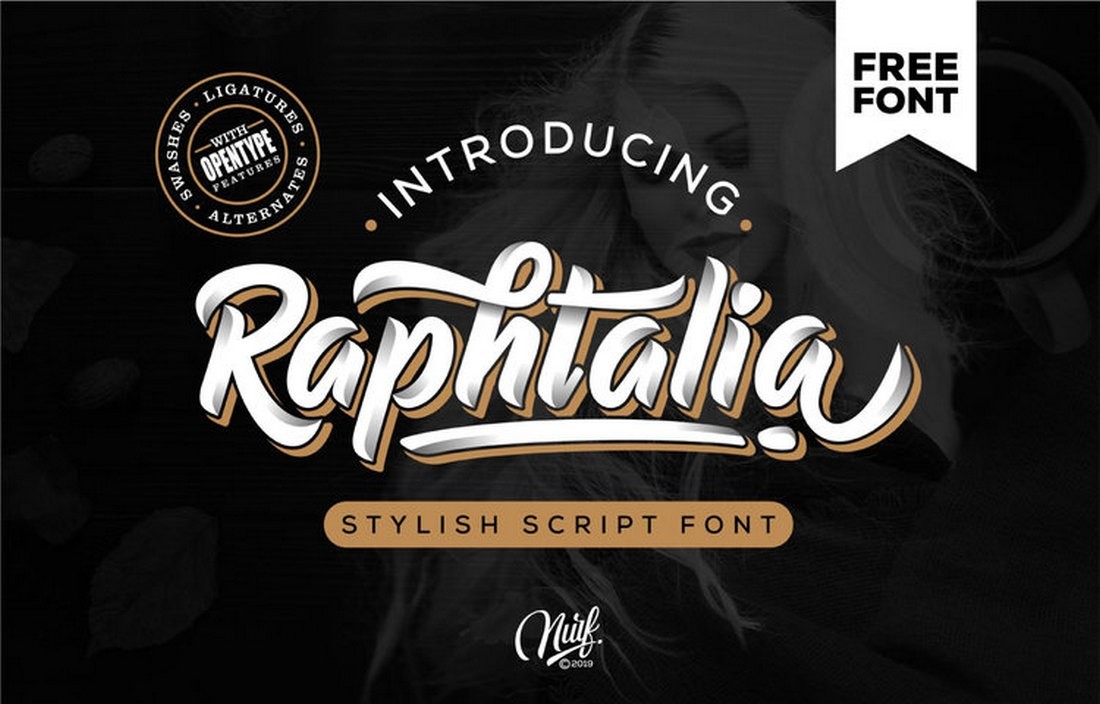 This is the perfect font you can use to design stylish T-shirts with retro vibes. The font comes with a creative script design that makes it suitable for all trendy and urban designs as well.
Hornbill – Modern-Retro Font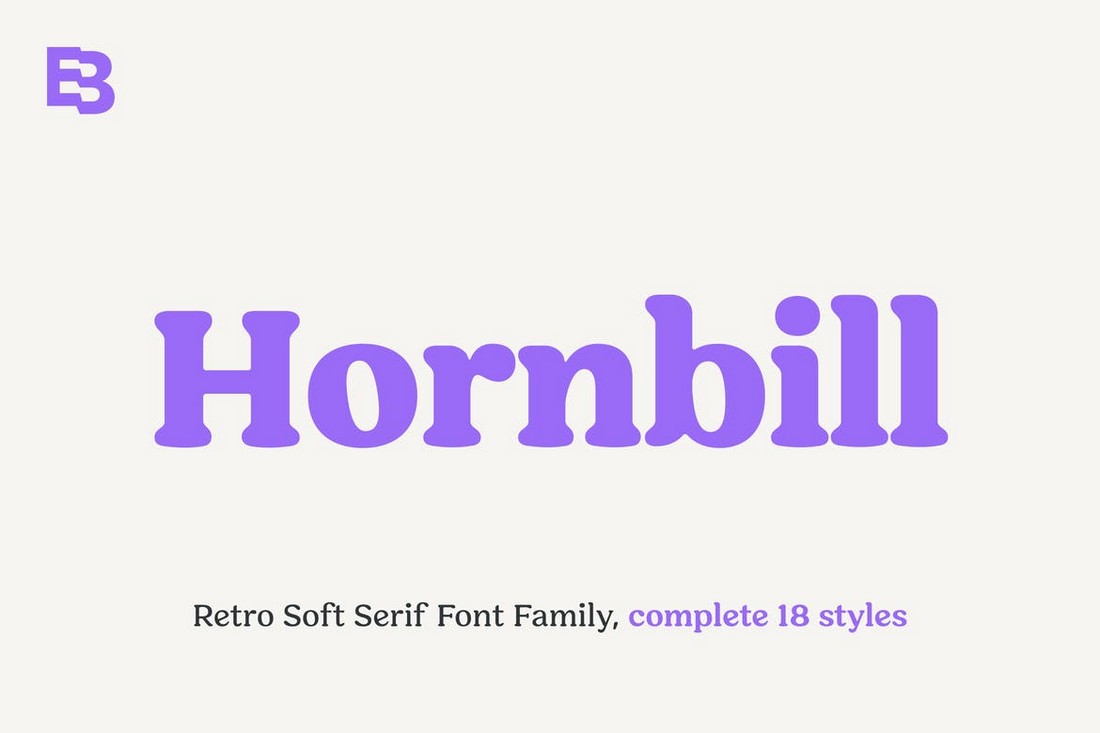 This font comes with a set of unique character designs that you usually don't see in a retro font. It features a combination of modern and retro elements making an elegant font style that's ideal for modern digital and print designs. The font includes 17 different weights ranging from thin to black along with italics for each.
Munky – Slab-Serif Retro Font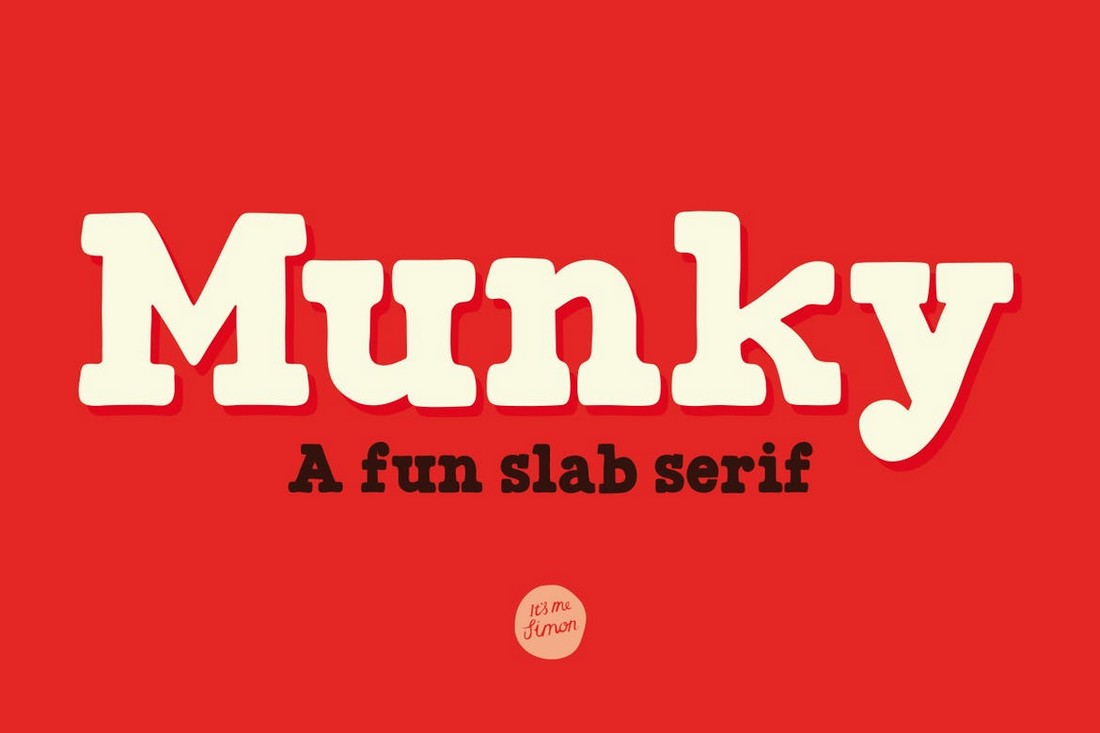 Munky is a slab-serif font that comes with a retro design inspired by the 60s. The thick bold letters of this font make it a great choice for crafting titles for posters and website headers. It includes both uppercase and lowercase letters.
MR Battams – Unique Retro Font
This font is crafted to perfection by a professional designer to look and feel just like typography used in the 70s and 80s. It's an all-caps font featuring small-caps letters. Which makes it ideal for designing big bold titles for your flyers, T-shirt designs, websites, and posters.
Retrofunk – Script & Serif Fonts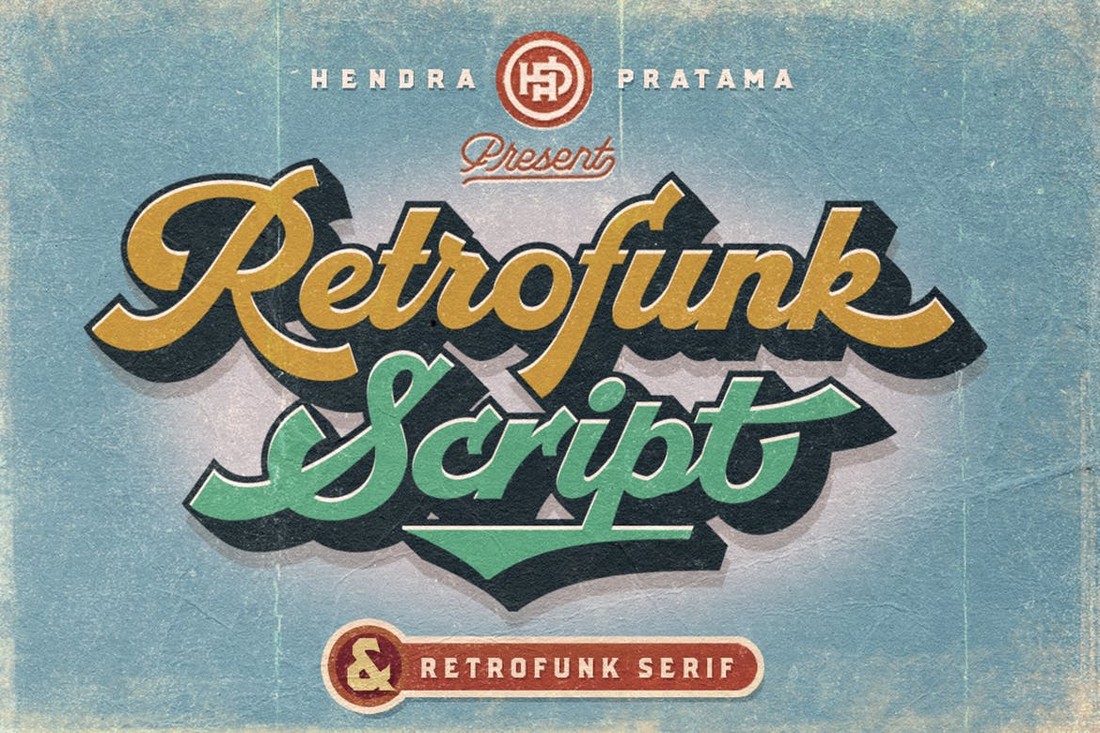 Retrofunk is a font that mixes vintage designs with retro typography to create a unique style of typography. Inspired by the advertising from the 70s, this font features a script serif letter design. And it comes in 3 different styles.
Retro Pixel Video Game Font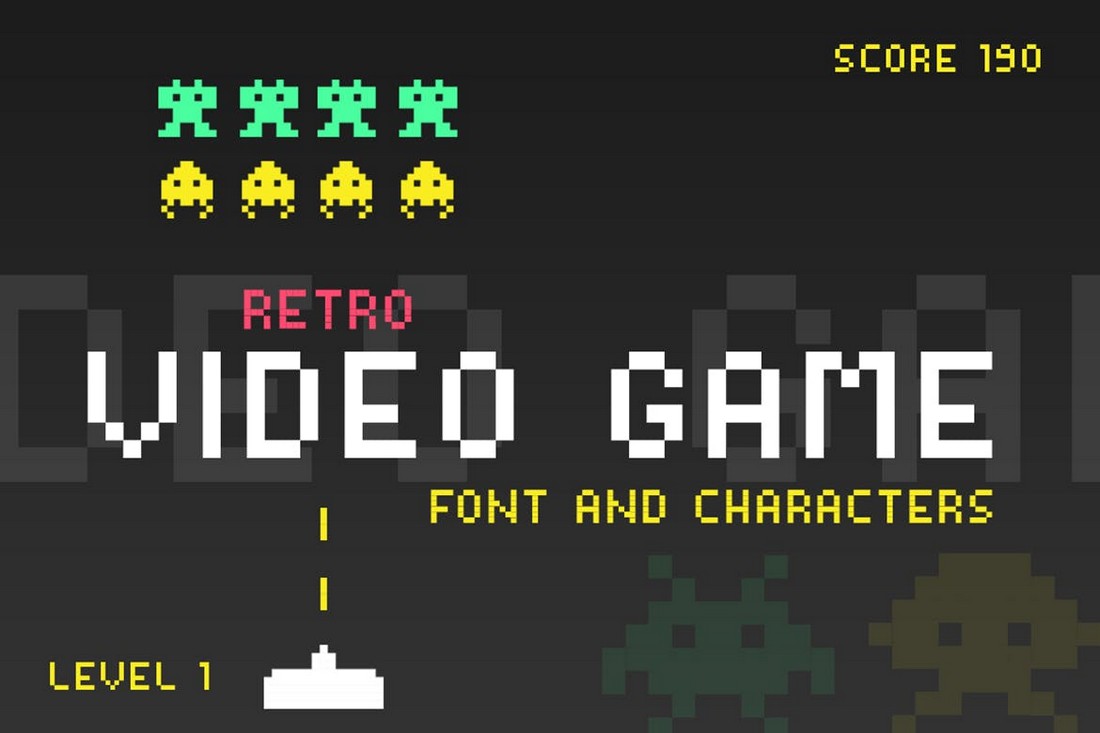 If you're a fan of retro video games and want to show it off in your designs, this font is a must-have for you. It features a set of letters that features a design inspired by the classic pixelated video games. The font also comes with pixel martian designs in dingbats format.
Palm Tree – Free Creative Retro Font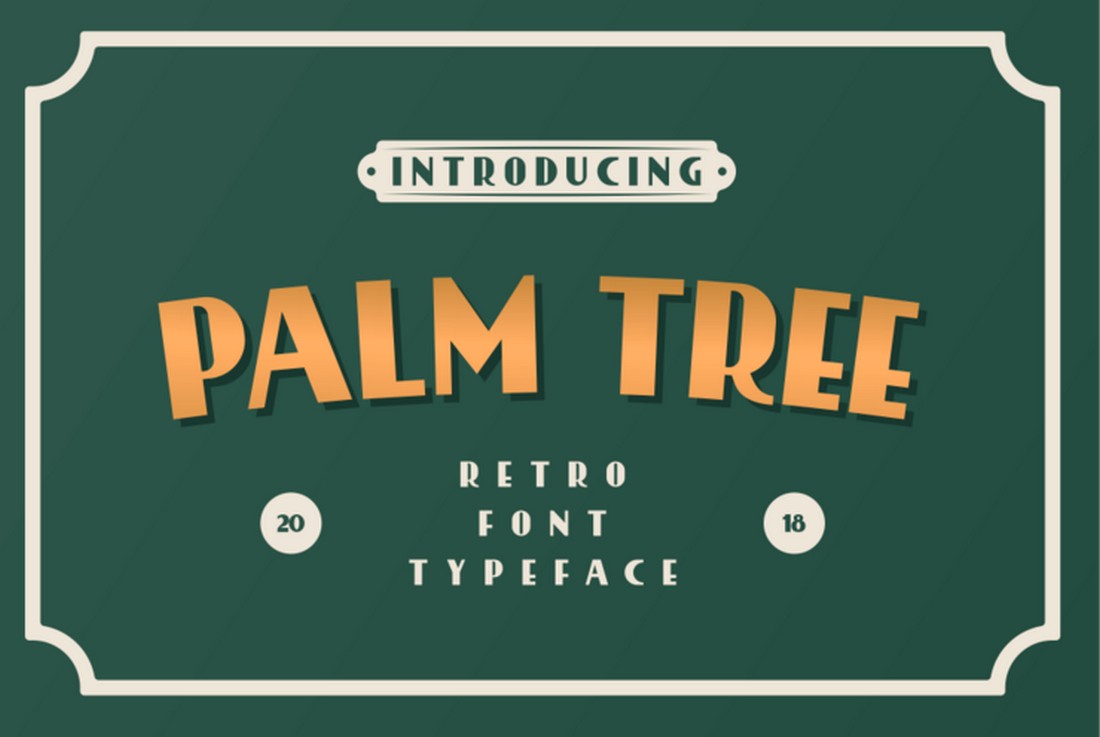 Palm Tree is a free retro font with a classic 70s design. It's an all-caps font that features both sans and serif letters. The uppercase set features sans letters while the lowercase set features letters with serifs.
Bertha – Free Retro Font Family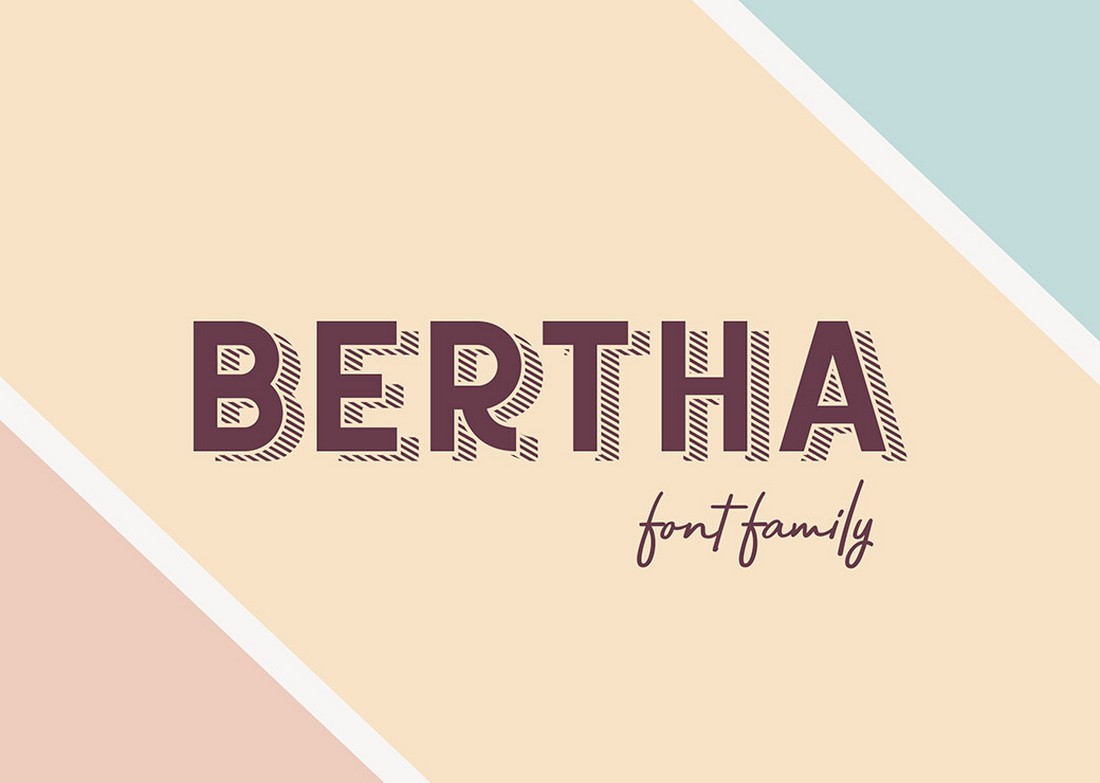 Bertha is a free retro font that combines vintage and retro design styles to create stylish typography. It comes in 5 different styles featuring regular to bold styles and a special shadow line font design.
MAGLIETTE – Script Retro Font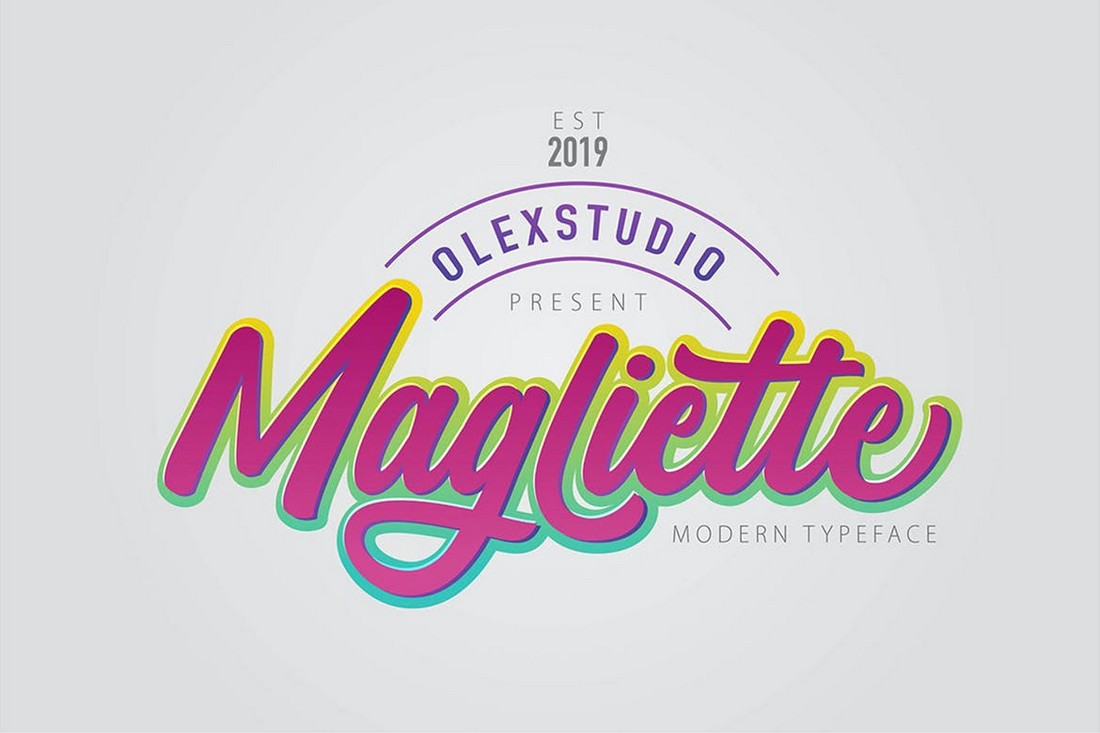 Magliette is a modern script font that features a retro-themed letter design. The beautiful flowing design of this font makes it a great choice for crafting badges, labels, and logos for lifestyle brands. The font includes uppercase and lowercase letters with ligatures.
Thunderstorm – Hand-Painted Retro Font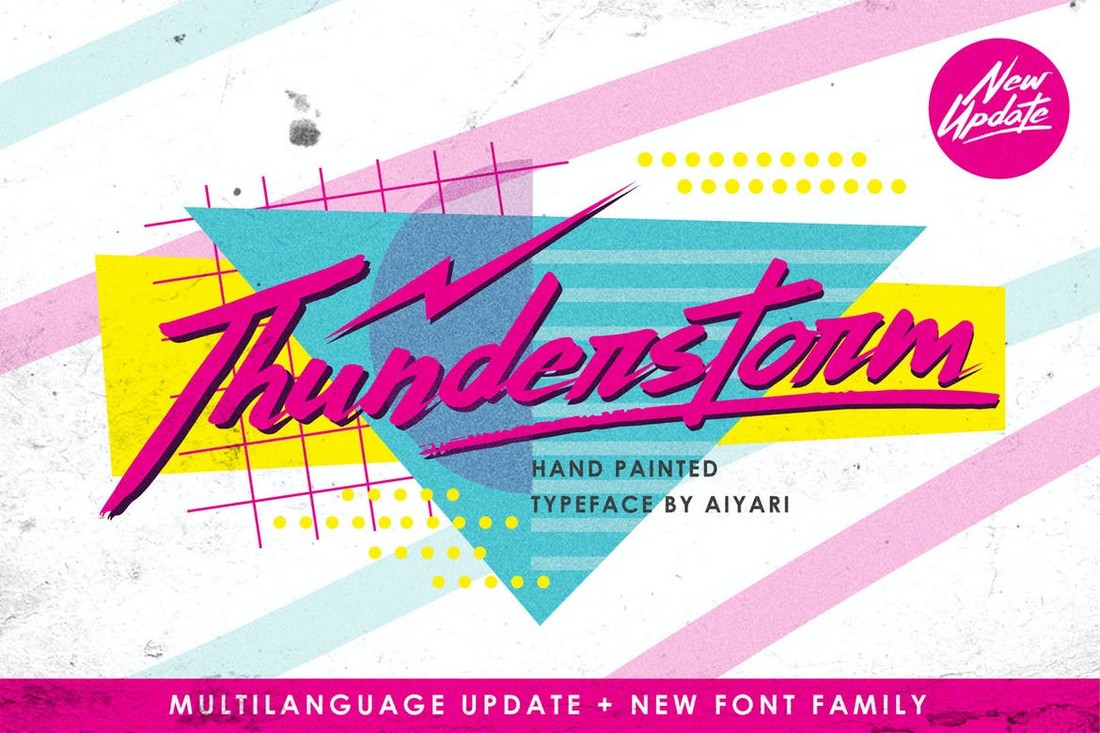 This creative retro font comes with a set of stylish letters each crafted by hand. It's inspired by the retro music and disco designs from the 80s and 90s. It includes uppercase and lowercase letters with alternates. And there's also an extra vector design pack as well.
Lenox – Bold Retro Font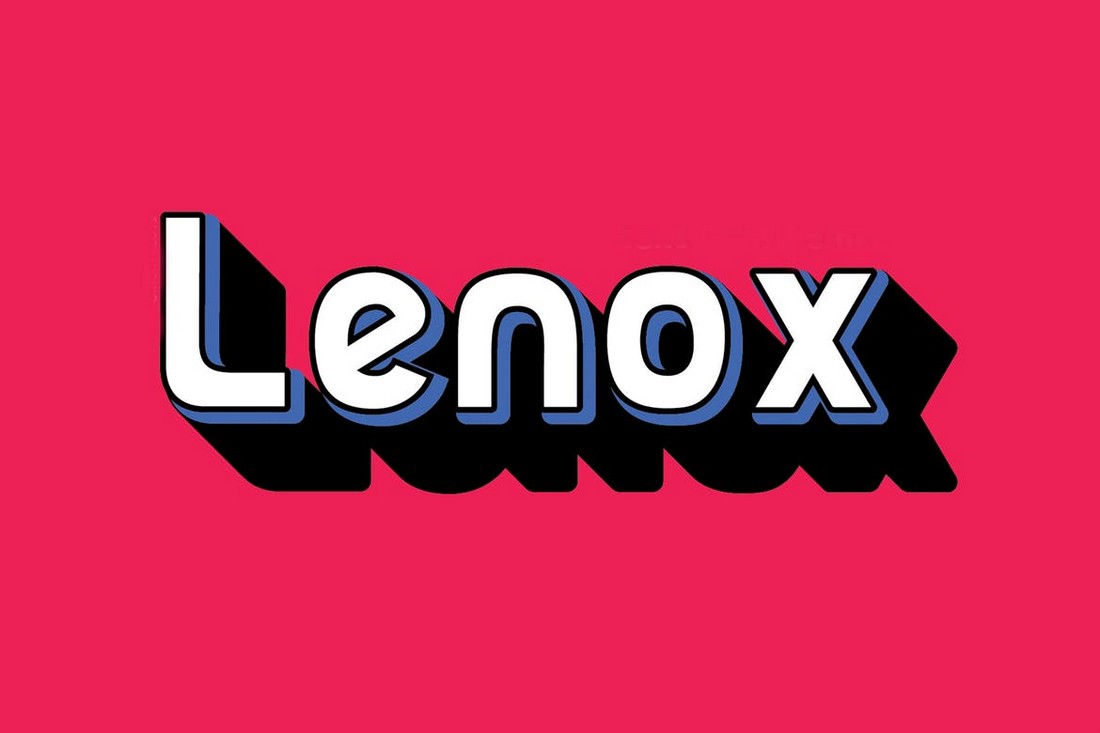 Lenox is a bold font that's most suitable for designing poster titles and headings with a touch of retro design. The font comes in OpenType and TrueType formats with multilingual support.
Rigeko – Creative Retro Font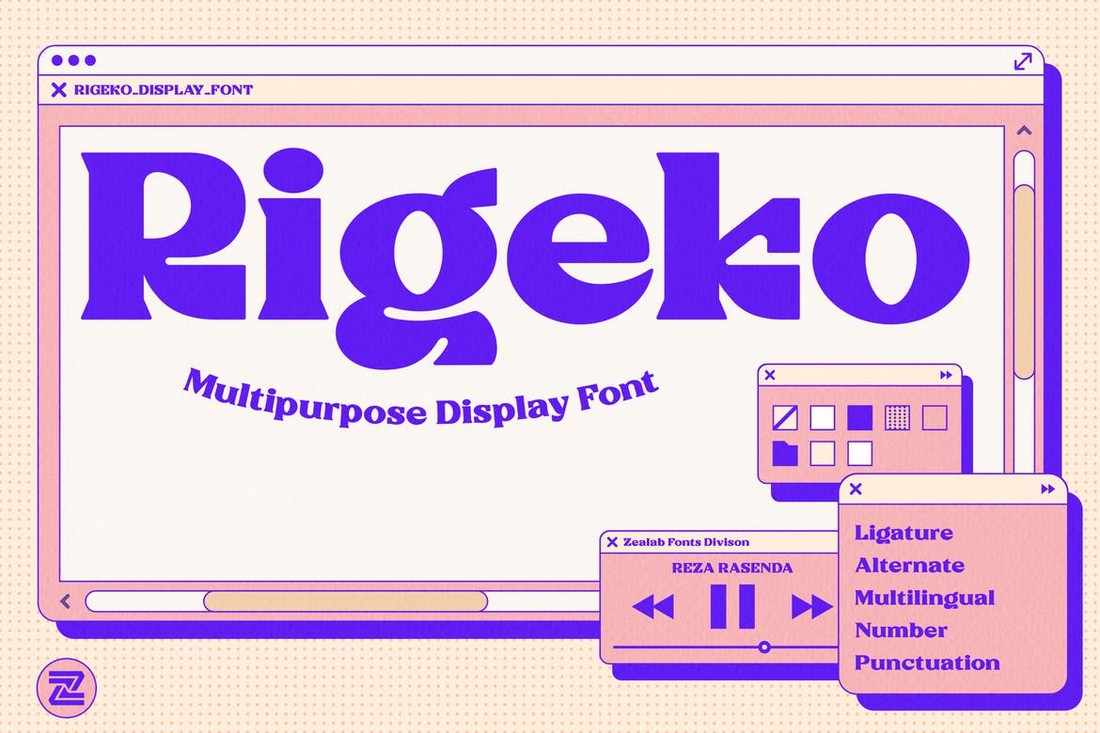 Rigeko is a unique font that features elements from both modern and retro design worlds. It's perfect for crafting everything from business cards to flyers and posters for modern agencies and startups. It includes uppercase and lowercase letters.
Rocket Clouds – Monoline Script Retro Font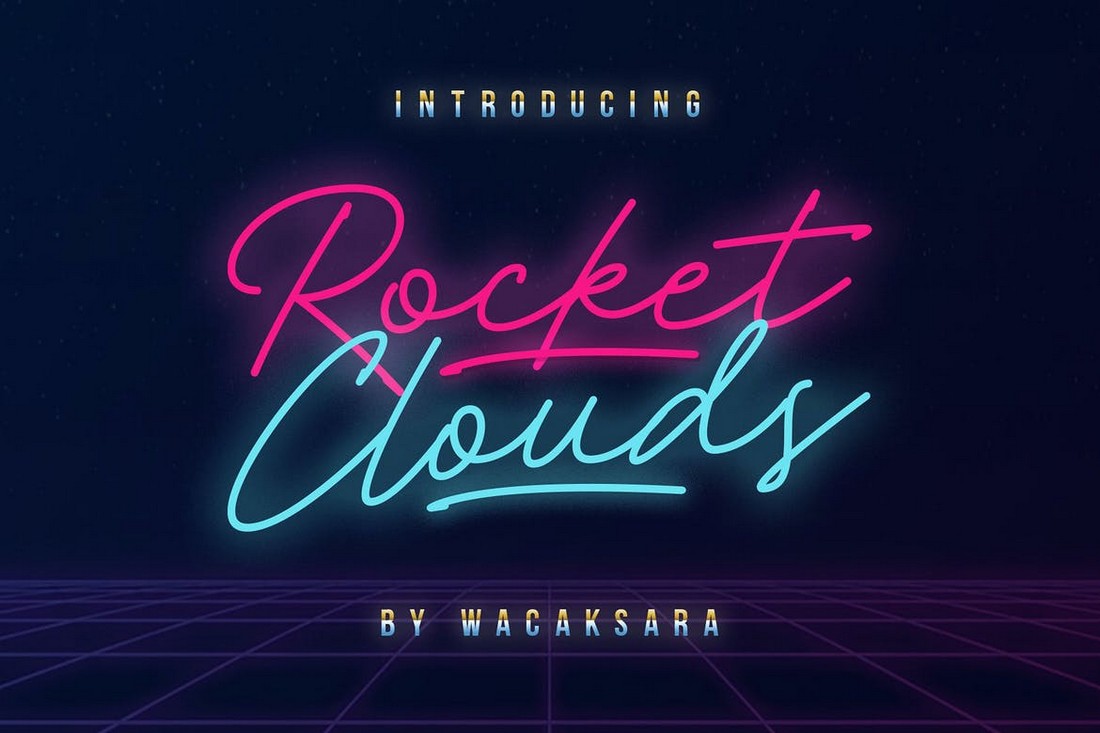 We can't get enough of monoline script retro fonts. This one is also perfect for designing neon-style logos and badges. The font comes in two versions featuring regular and alt versions that you can combine to create unique designs.
Far Out – Free Retro Font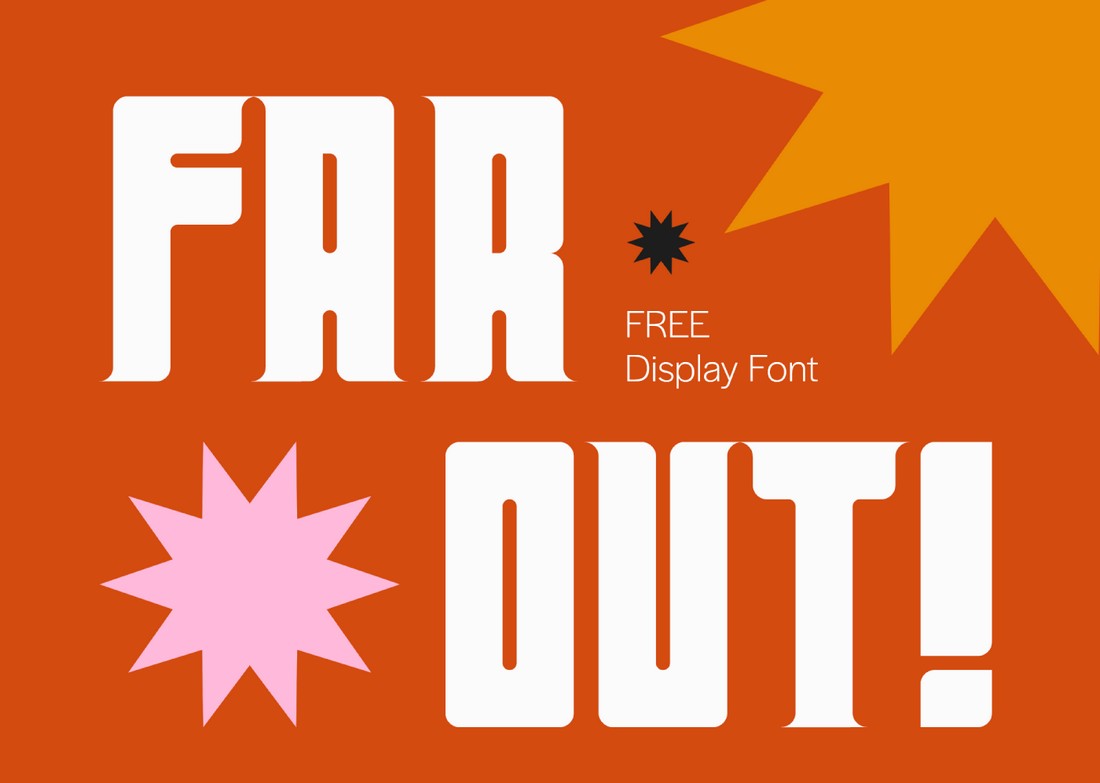 Far Out is a bold retro font with a narrow design. This font is also completely free to use with your personal and commercial projects. It'll look great on poster designs and T-shirt designs.
Quinlliyk – Retro Serif Font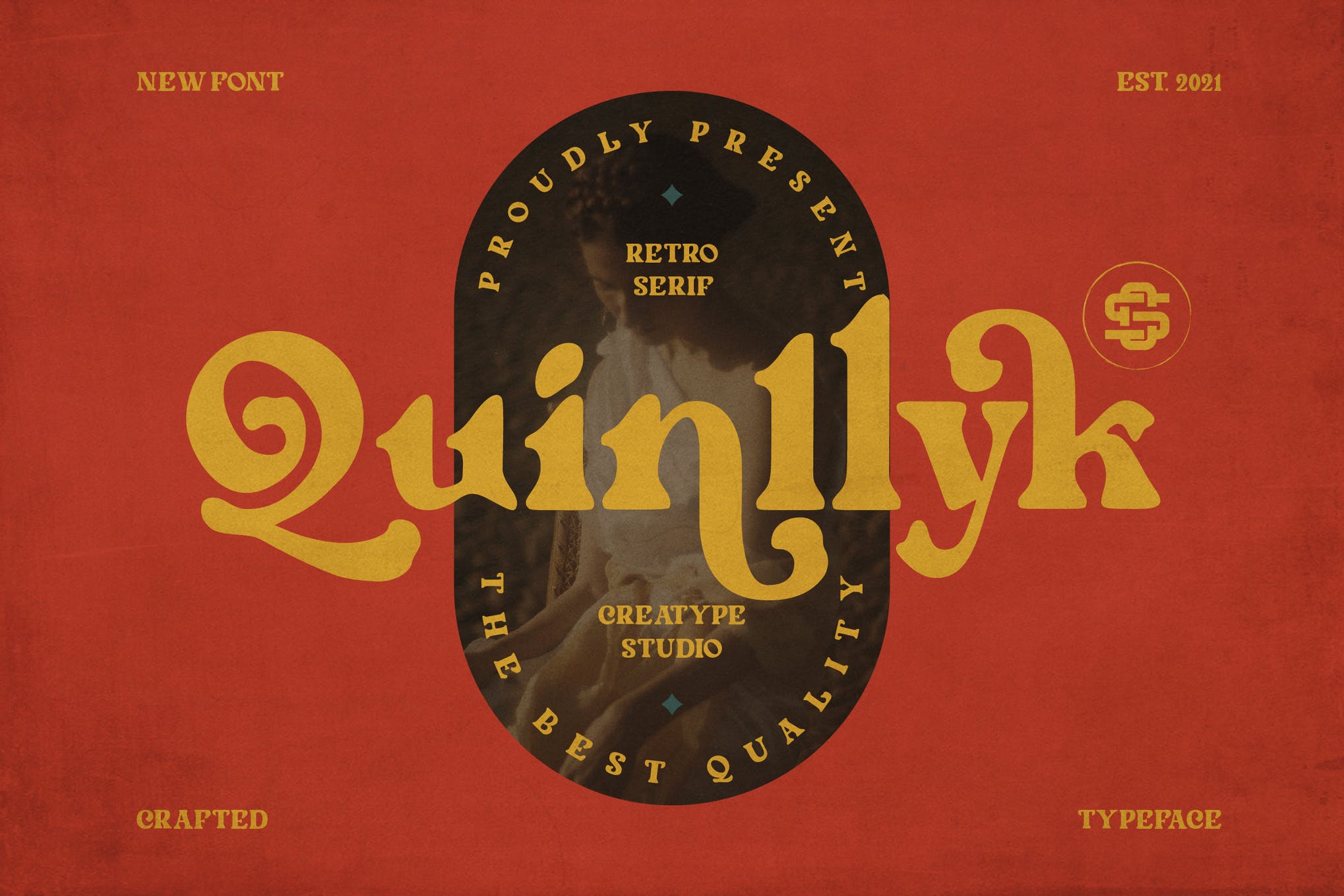 Quinlliyk is a font with a bold retro serif style. Its thick curves look so bold and unique, giving us a 60s to 70s feel. Its thick serif and unique curves make this font even more special, of course for all types of your products. This font features more than 50 unique alternatives and 10 unique ligatures.
Retro Signature Font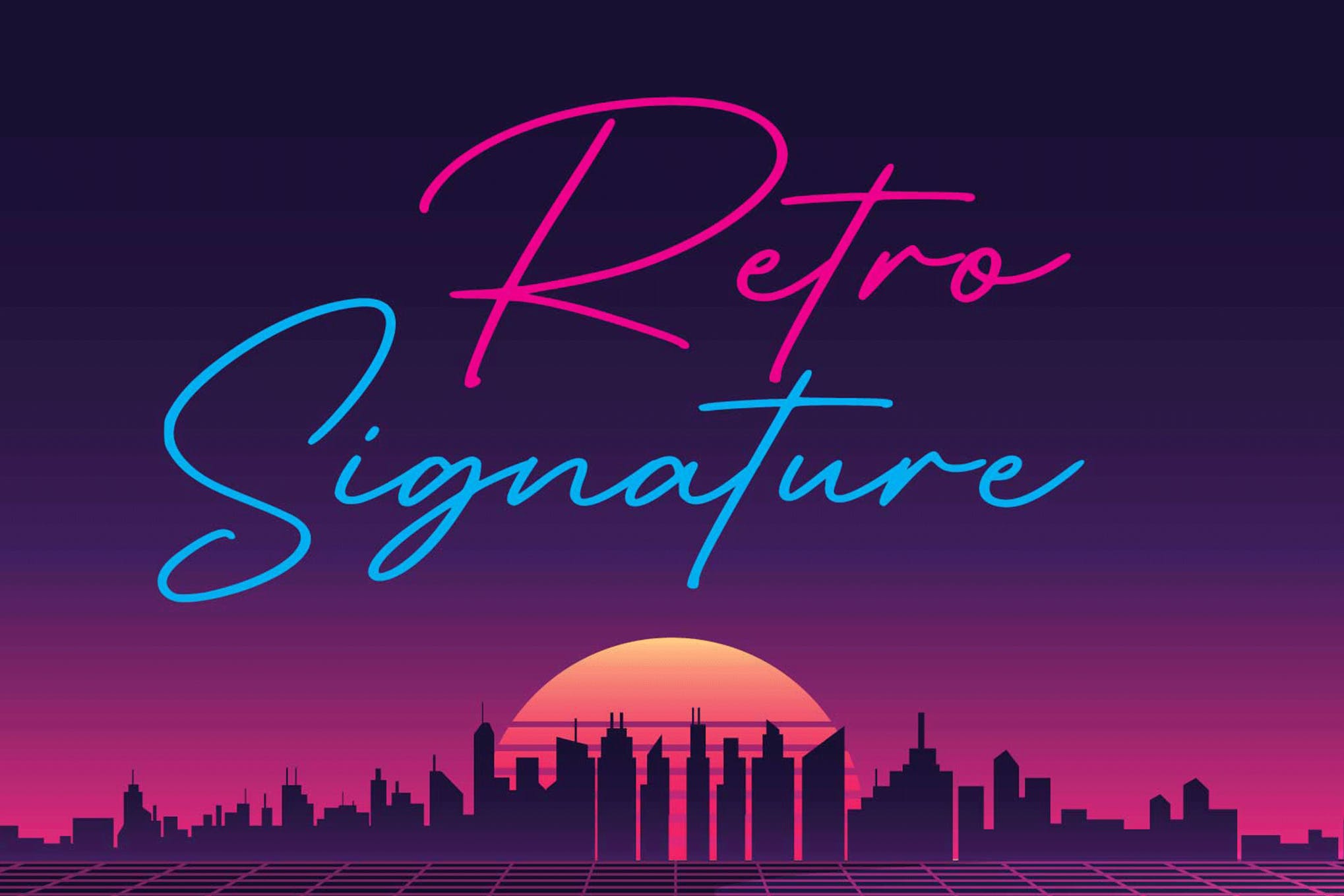 Retro Signature, a classy, contemporary script font, inspired by 1980s and neon lights. Retro Signature offers beautiful typographic harmony for a diversity of design projects, including logos & branding, social media posts, advertisements & product designs.
Retro Party Display Font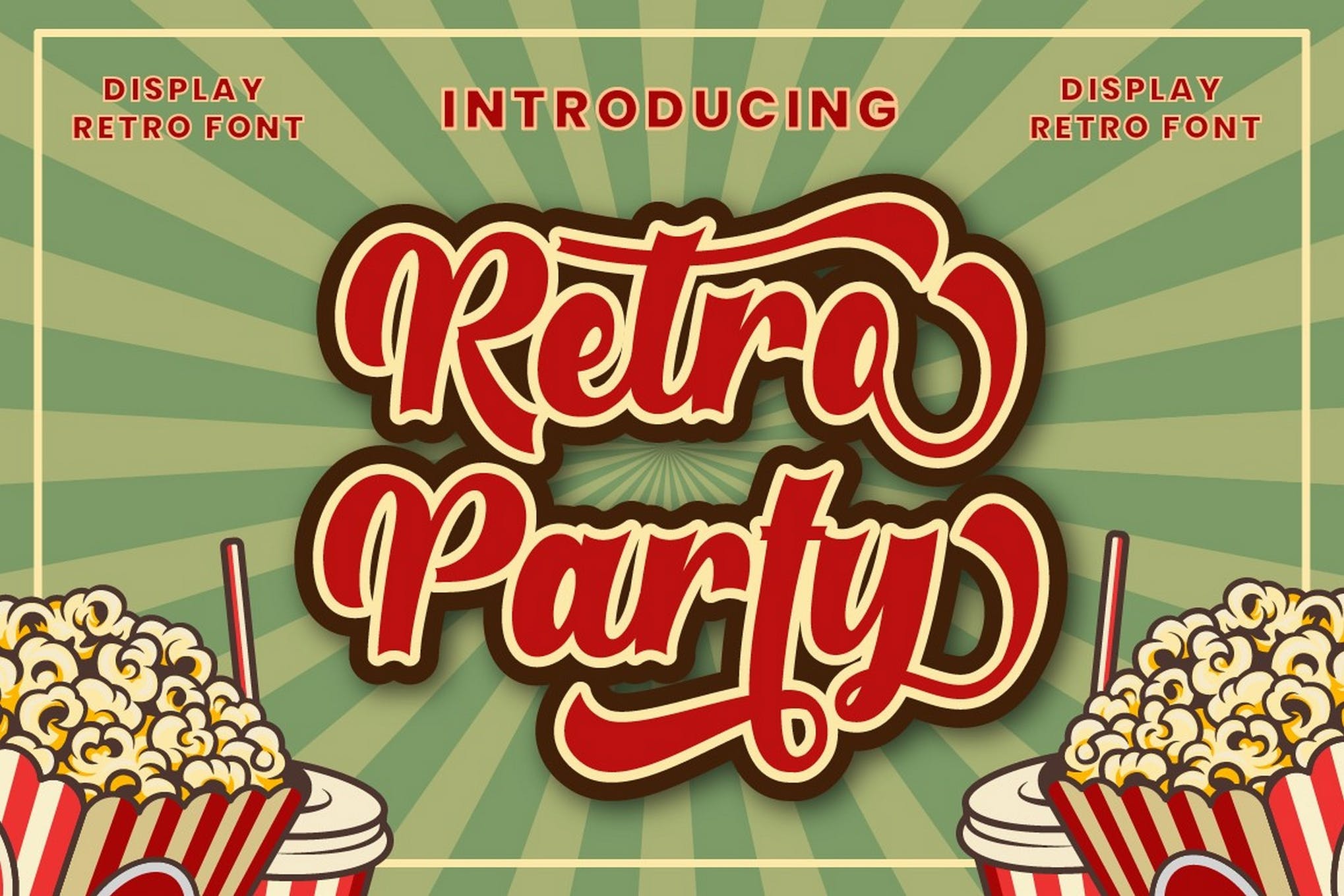 Introducing Retro Party – a display Retro Script Font. Retro Party is perfect for vintage and retro design, badge, logos, t-shirt, poster, branding, packaging, signage, book cover and so much more!
If you're a fan of vintage fonts, be sure to check out our hand-picked vintage fonts collection.
Did you miss our previous article…
https://www.tampawebdesign.org/?p=5326