Looking for a minimalist, dark, or black texture background to highlight the contents of your design? We've got you covered.
Using minimal and dark texture backgrounds is an increasingly popular background design trend. Mainly because a black background allows you to highlight text and content, grab attention, and to show off professionalism. Especially when it comes to web design, dark texture backgrounds make it easier to craft header images that highlight titles and text.
Whether you're designing a luxury brand website, working on a PowerPoint presentation, a logo mockup, or even just looking for a set of cool desktop backgrounds, this collection has them all.
Black Layered Backgrounds
This is a bundle of unique abstract black backgrounds that feature smooth and stylish layered designs. It includes 10 different backgrounds in 3000 x 2000 pixel resolution JPG files. These backgrounds are perfect for all types of design projects, including website design, logotypes, social media covers, and even print designs.
Black Canvas Backgrounds
This pack includes a set of backgrounds that comes with a rough textured design. The natural and realistic look of these background textures makes them ideal for use with minimal and retro-themed designs. The pack includes 12 unique backgrounds with various designs.
Black Dark Watercolor Texture
If you're a fan of watercolor-themed backgrounds, this pack of backgrounds is perfect for you. It includes 24 original background textures with artistic designs made with watercolor patterns. These backgrounds can be used to design beautiful greeting cards, business cards, product packaging, website backgrounds, and more.
Black Texture Backgrounds
The textured leather-style dark backgrounds in this pack will certainly help make your designs stand out from the crowd. These backgrounds are best for crafting both web and print designs. The pack includes 12 unique backgrounds and a Photoshop pattern file for crafting your own backgrounds as well.
Black Ink Backgrounds Vol.8
Give your graphic and web designs a natural look using these black ink backgrounds. Each background in this collection has been handcrafted using ink-based designs to give them a unique look. The pack comes with 10 original backgrounds in 6000 x 4000 px resolution.
12 Dark Spotlight Backgrounds
Showcase your products, apps, and software in the spotlight using this bundle of backgrounds. These dark backgrounds have a unique design that features a spotlight for presenting products in a more professional way. These are perfect for using with your presentations, social media posts, and portfolio designs. The pack includes 12 black backgrounds with different designs.
Elegant Black Wavy Silk Backgrounds
If you're a minimalist with a classy, and elegant taste, you'll surely love this bundle of black wavy, silky smooth backgrounds. These glossy satin velvet textures are aesthetically pleasing, and eye-soothing, making them an excellent choice for beauty salons, architect firms, and any project needing a luxurious touch.
Black Crumpled Textures
Here we have a set of 30 high-resolution crumpled textures that can be used as background in your upcoming project. The textures are available in plastic, paper, and foil, and will soon become an indispensable part of your graphic design toolkit.
Black Chalk Textures
Next up is a bundle of 30 black chalk textures for you to use in your upcoming design projects. The backgrounds are available in top-notch quality, and can really help make your illustrations, website design, and presentations look creative.
Black Chinese Ink Textures
Check out this collection of black Chinese ink backgrounds suitable for nearly any modern abstract design, or illustration. Use this product to add elegance, and creativity to your wallpapers, flyers, business cards, and other branding and packaging projects.
Black Liquid Textures
This product arms you with 30 ready-to-use black liquid textures guaranteed to make your designs look a lot more appealing. Download these digital backgrounds now, and use them for your projects with confidence.
Leather Texture Backgrounds
Based on realistic leather material, the backgrounds in this bundle allows you to give your web and print designs a natural look. This bundle comes with 10 unique leather black texture backgrounds with minimal designs. The backgrounds are available in 5000 x 3333 px resolution JPGs.
12 Black Polygon Backgrounds
This bundle includes 12 unique backgrounds that feature a subtle polygon texture. If you're working on a website or a graphic design related to technology, these backgrounds will be perfect for you. They are also ideal for making beautiful social media posts and covers as well.
Inverted Black Ink Backgrounds 5
The backgrounds in this pack will fit in well with vintage and retro-themed design projects. The black texture backgrounds feature unique handmade designs inspired by black ink. The pack includes 15 different backgrounds with various styles and designs.
10 Dark and Black Polygon Backgrounds
If you're looking for a pack of dark backgrounds with a highly minimalist and a subtle design, this one's for you. This bundle includes 10 unique backgrounds featuring 3D-generated polygon with a clean and subtle approach. You can use them with website designs, social media posts, and print designs as well.
Black Ink Backgrounds Vol.5
Another bundle of black ink inspired backgrounds featuring a collection of unique handcrafted designs. These backgrounds will give a unique and an attractive look to your designs. It includes 10 original backgrounds in 6000 x 4000 px resolution.
Black & White – Geometric Backgrounds
This is a pack of backgrounds that feature geometric pattern designs. It includes 12 unique backgrounds and they are available in 2 color variations, black and white. You can use them with your minimalist web and print designs.
Cymatics – Black Texture Background
Check out this beautifully crafted set of ten black texture backgrounds that come with 6000×4000 resolution, 300 DPI, and RGB color space. These backgrounds are quite versatile and can be used for both web and print projects.
Folds – Abstract Black Background Set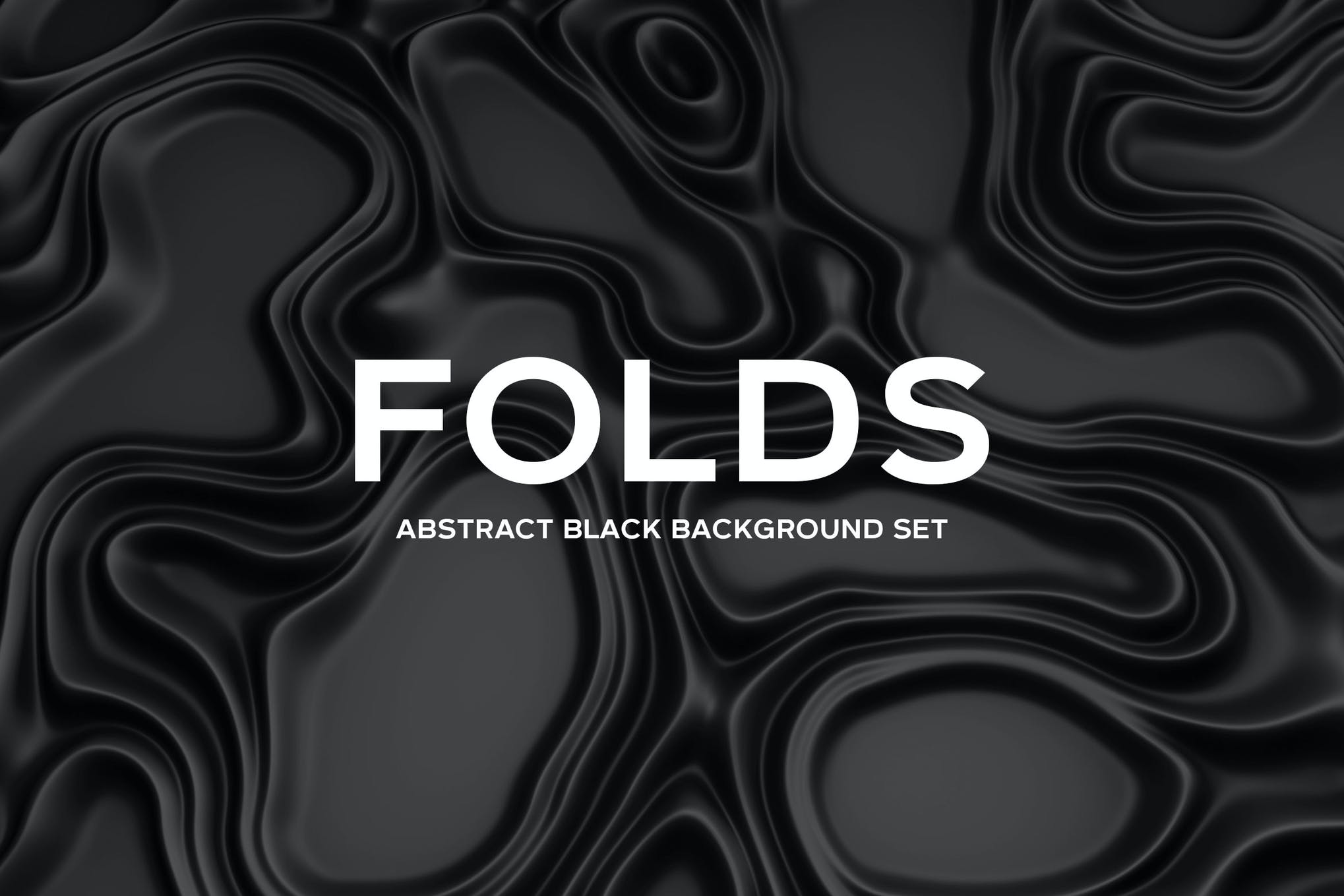 Bearing a resemblance to rubber stamping, our next option is about black wavy folds perfect for people who are looking for a minimal yet stylish background aesthetic. A great choice for a wide range of professional and creative applications!
Black Geometric Backgrounds
This template contains fifteen black geometric background designs perfect for virtually any graphic project under the sun. Whether you need site wallpapers, Twitter backdrop, or Facebook cover, these backgrounds come in very handy.
Black Acrylic Backgrounds
Check out this solid and rich collection of thirty handmade acrylic paint textured background designs in 6000x4000px resolution. Combine this background design with gold, or silver, and watch the magic happen right in front of you.
Simple 3D Black Backgrounds
If you are looking for a minimal and simple background option that still manages to bring some personality to the table, consider this bundle of fifteen 3D black background textures ready to be used for your forthcoming design project.
Black Space Polygon Backgrounds
A collection of dark backgrounds with a mixed design of space and polygon elements. It includes 12 unique backgrounds that are ideal for website backgrounds, social media profile covers, app backgrounds, and much more.
Painted Backgrounds
This is a collection of backgrounds that feature a painted effect. It includes backgrounds in various colors, including dark and black backgrounds. You'll get a total of 12 different backgrounds with this pack.
Black Ink Backgrounds Vol.4
Another beautiful black ink backgrounds collection. These backgrounds feature a unique horror-like effect that makes them best for creating horror-themed book covers, posters, blog headers, and website backgrounds.
Material Design Backgrounds
A collection of backgrounds that features material design-inspired patterns. These backgrounds are great for crafting app headers, backgrounds, and even print designs. It includes 5 unique backgrounds that are available in 9 different color variations. As a bonus, you'll also get an editable PSD file for making your own backgrounds as well.
Scratched Flat Layers Backgrounds
The backgrounds in this collection feature a unique metallic look with scratched surfaces. The bundle comes with 10 different backgrounds with dark and scratched designs in 3000 x 2000 px resolution JPGs.
Check out our collection of subtle black and white bakcground textures for even more stunning monochrome inspiration!