Blackletter is a popular typeface that's commonly used in vintage and grunge style designs. It's now also being used in all sorts of modern designs from website design to logo designs, tattoos, and more.
As you probably know, Blackletter is a script that dates back to early 12th century. It was commonly used in Western Europe, especially in Germany. This typeface has a strong effect that adds a certain elegance and class to both digital and print designs.
Even some of the most popular publications, such as the New York Times, still use Blackletter logo designs.
We've tracked down a set of Blackletter fonts that will help you add that same upper-class look to your various design projects. Plus, we're featuring a few quick tips on designing with blackletter and gothic fonts to help share some useful advice for your project.
Top Pick
Osgard Pro – Elegant Gothic Font
This beautiful font showcases the Blackletter typeface design at its best. Osgard Pro is a professionally designed Blackletter font that's perfect to use with your luxury designs and high-end product promotions.
It features a Romanesque design inspired by classical literature such as Lord of the Rings and medieval landmarks.
Why This Is A Top Pick
In addition to its elegant design, this font also comes with more than 1000 swashes, stylistic alternates, ligatures, and much more you can use to create more personalized and creative designs.
Rogusta – Blackletter Tattoo Font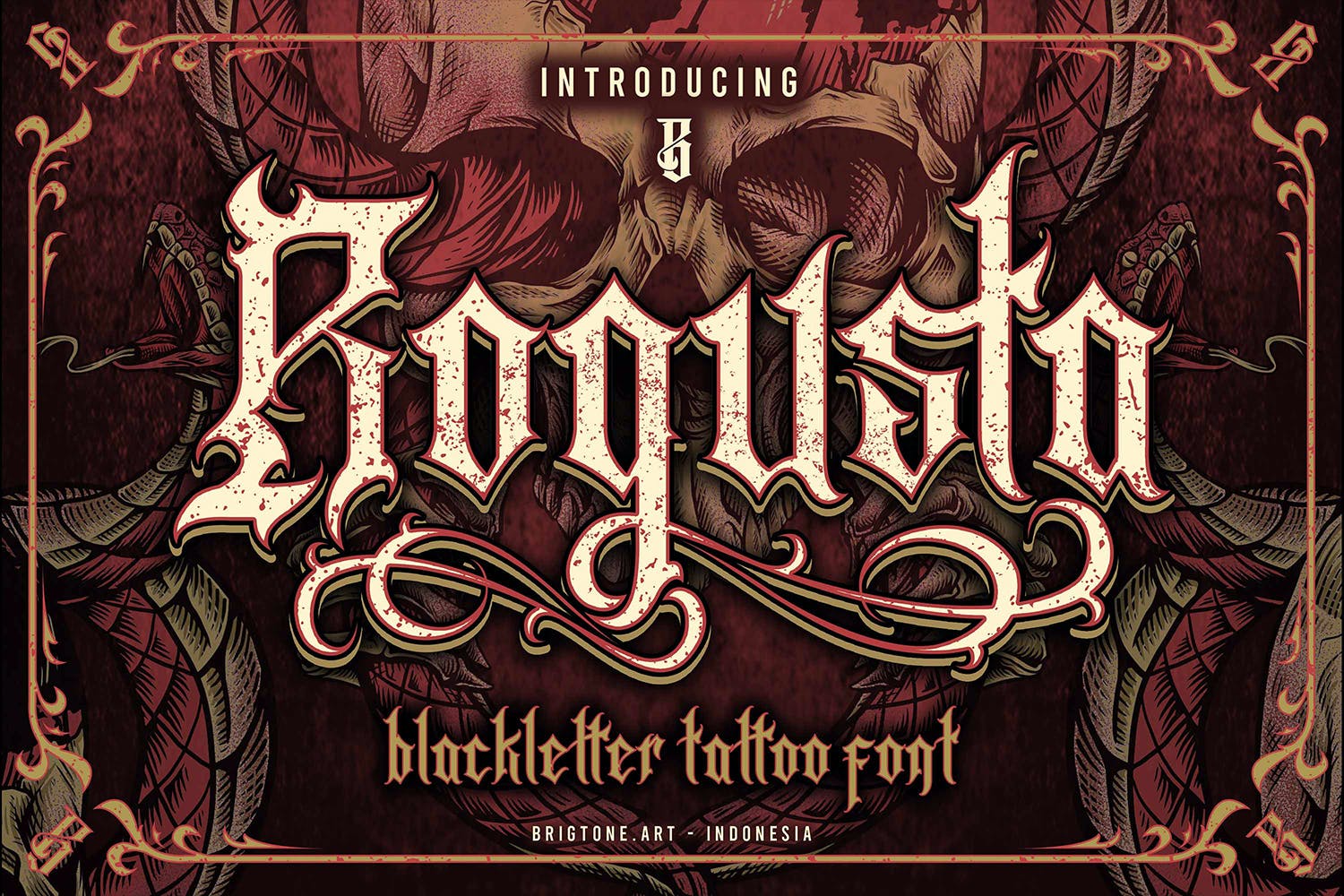 If you need a contemporary blackletter tattoo font that feels right at home on logos, t-shirt designs, posters, flyers, and other brand identity material, Rogusta is at the top of the league. It's an excellent typeface to integrate your artwork with.
Pleasure – Modern Blackletter Font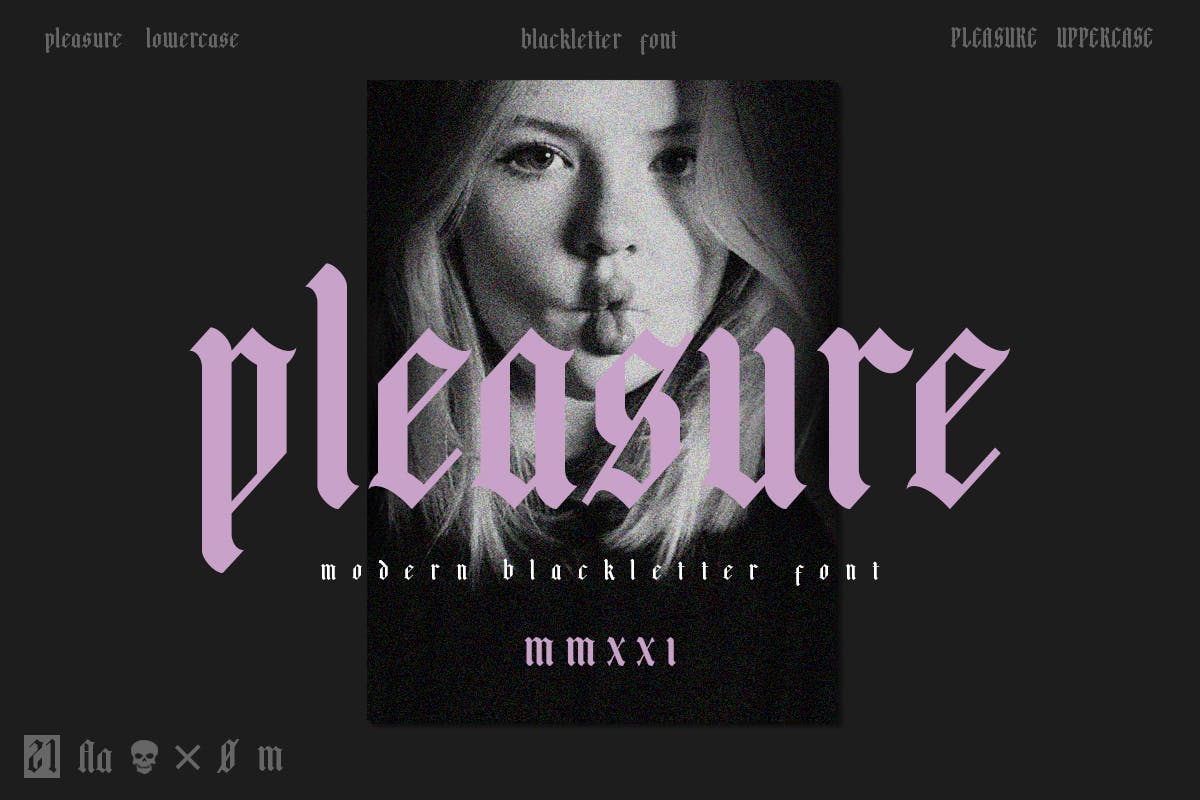 Wanting your designs to stand out from the pack? We recommend giving Pleasure a shot. It's a modern blackletter font with uppercase letters, numerals, and punctuation. If your goal is to create head-turning designs without compromising on readability, Pleasure is what you should be spending your cash on.
Reclaim Glory – Gothic Blackletter Font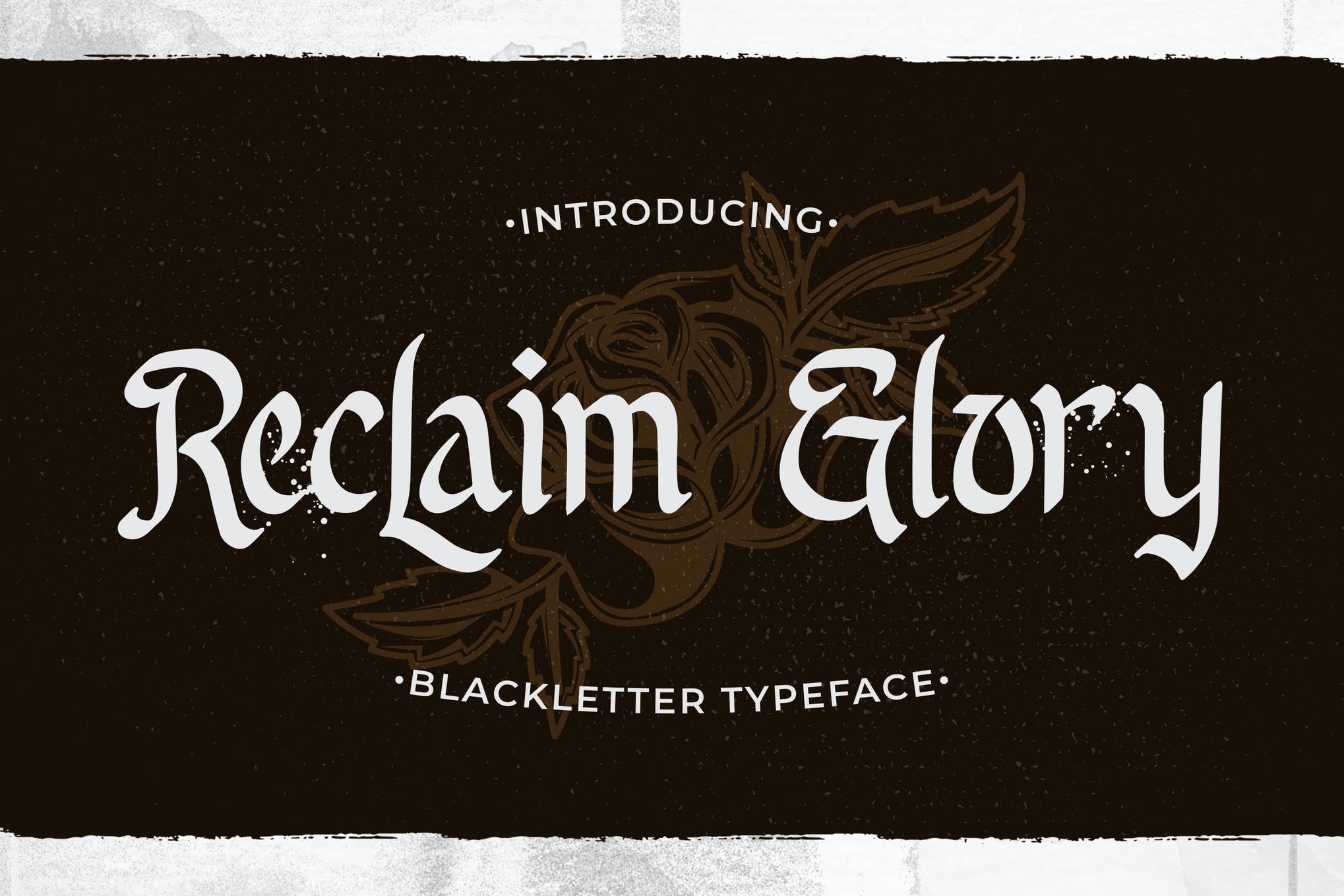 For a cool and gothic look, consider Reclaim Glory from Envato Elements. It's a solid font for nearly any kind of branding design from labels, logos to posters, headers, and more. It ticks all the boxes you might ever need in a great-looking, readable font.
Rademos – Authentic Blackletter Font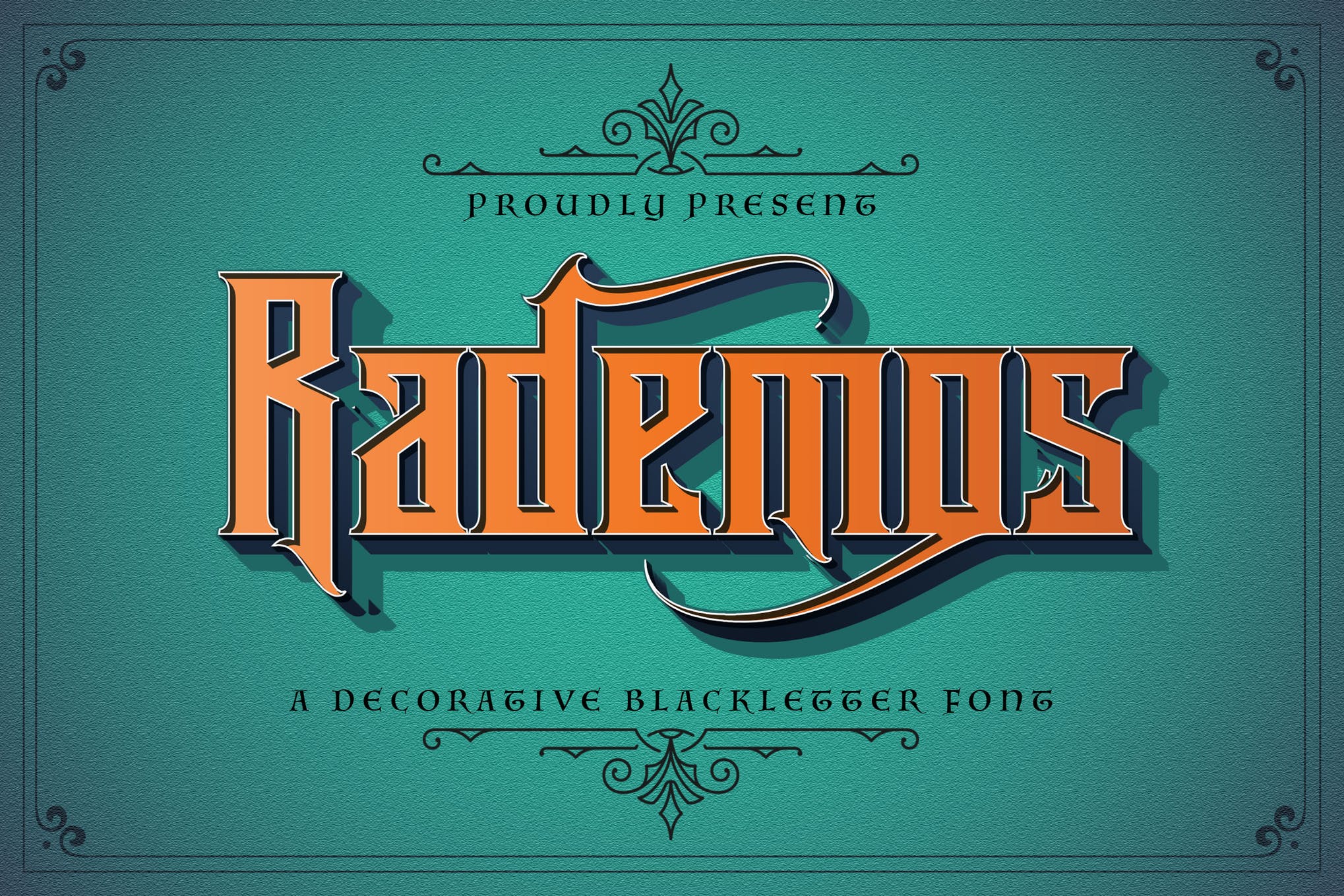 If you're looking for an authentic and daring option, consider Rademos, a typeface that stands out from the daily flood of Blackletter fonts we see on the internet. It comes with alternates, ligatures, uppercase and lowercase letters, and much more.
Ventralie – Multipurpose Blackletter Font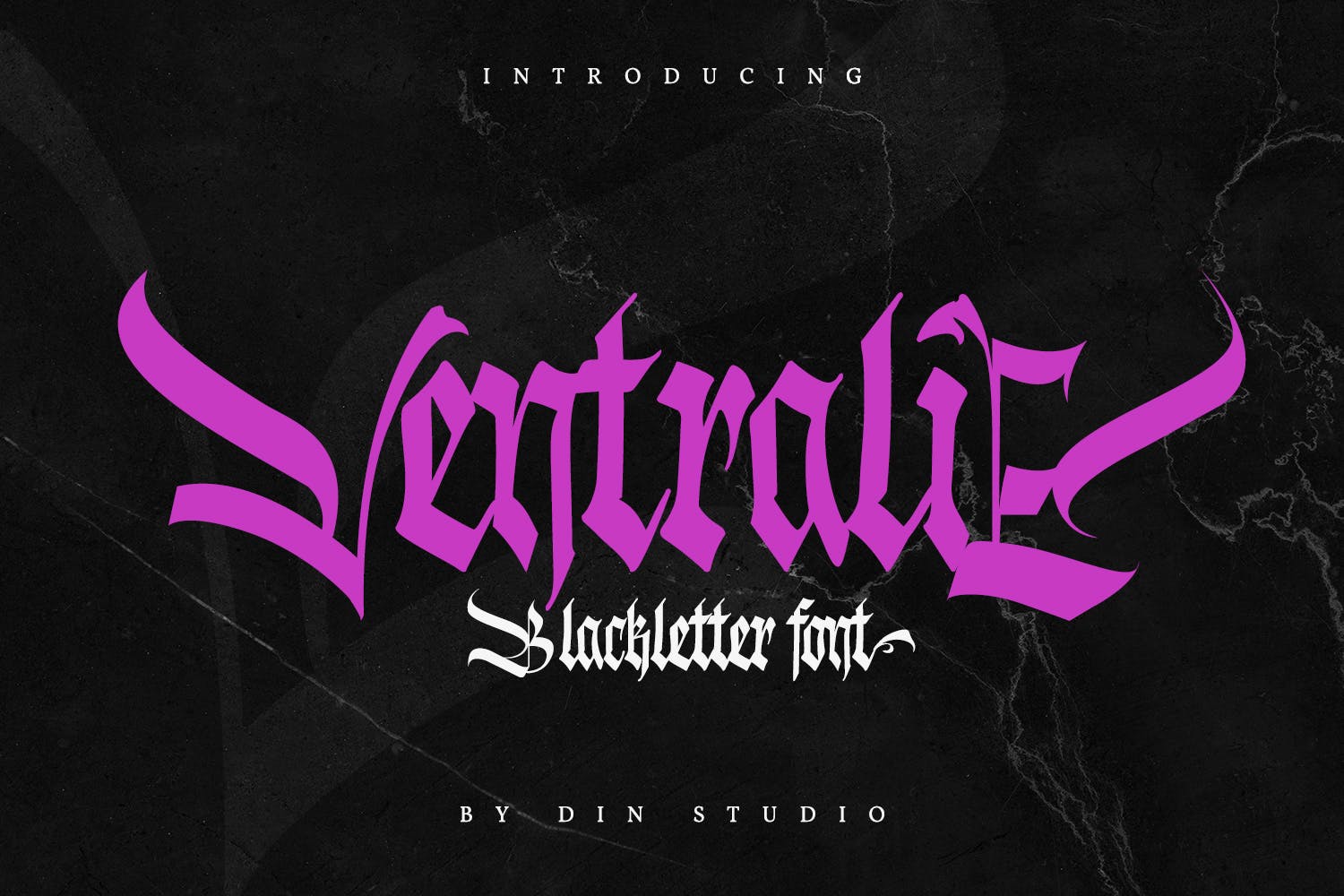 Suitable for virtually any design requirement you may have, Ventralie, is an ideal Blackletter font for logos, t-shirts, tattoos, book covers, and albums. Featuring alternates, accents, numerals, punctuations, and extra ornaments, Ventralie is a product that will pay for itself many times over.
Huntly – Unique Blackletter Font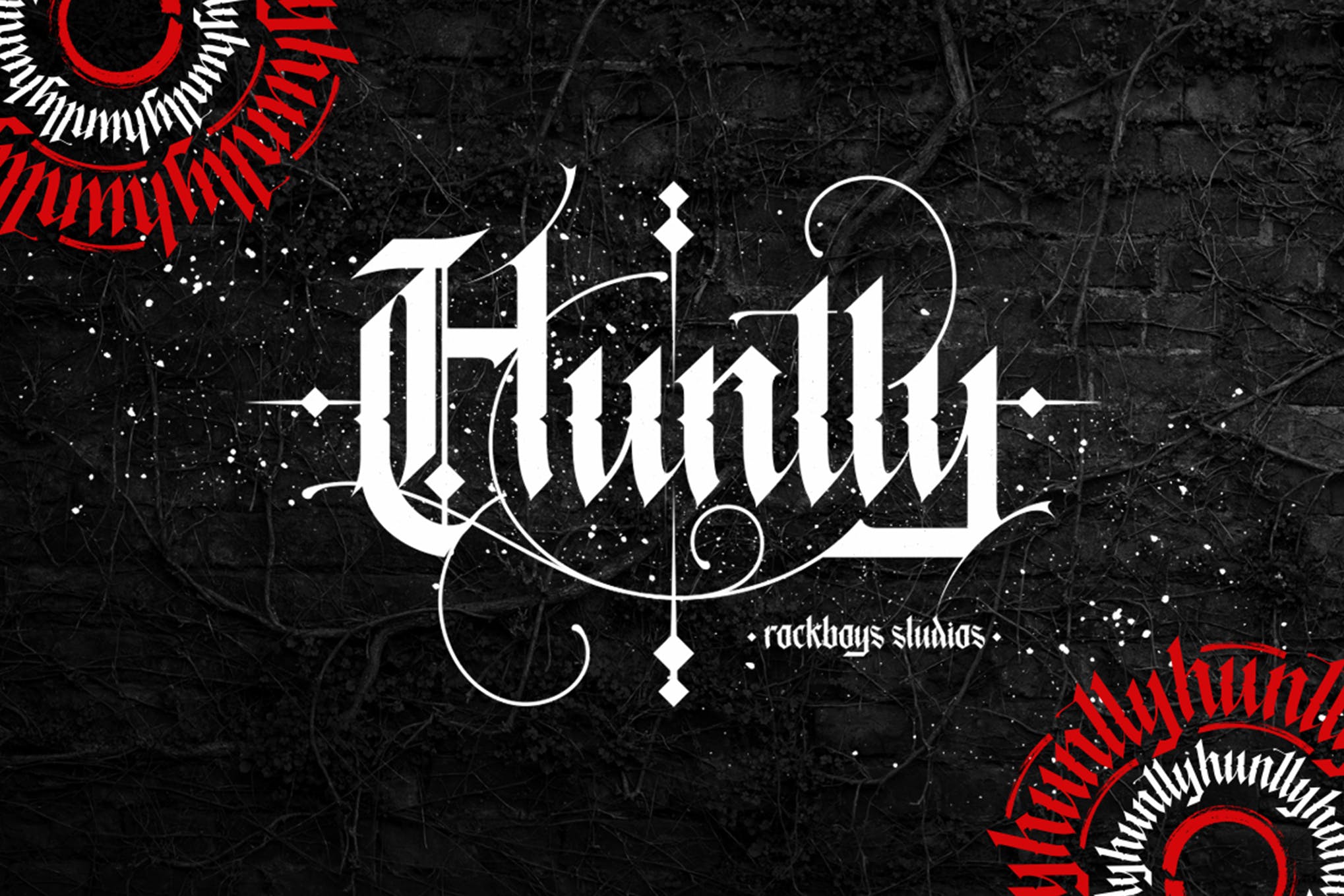 A very nice choice for creative projects, Huntly is a distinct Blackletter font that will give a unique look to your designs. It comes with a range of amazing features and is compatible with Adobe Illustrator, Photoshop, InDesign, and Microsoft Word.
Monsters – Free Blackletter Font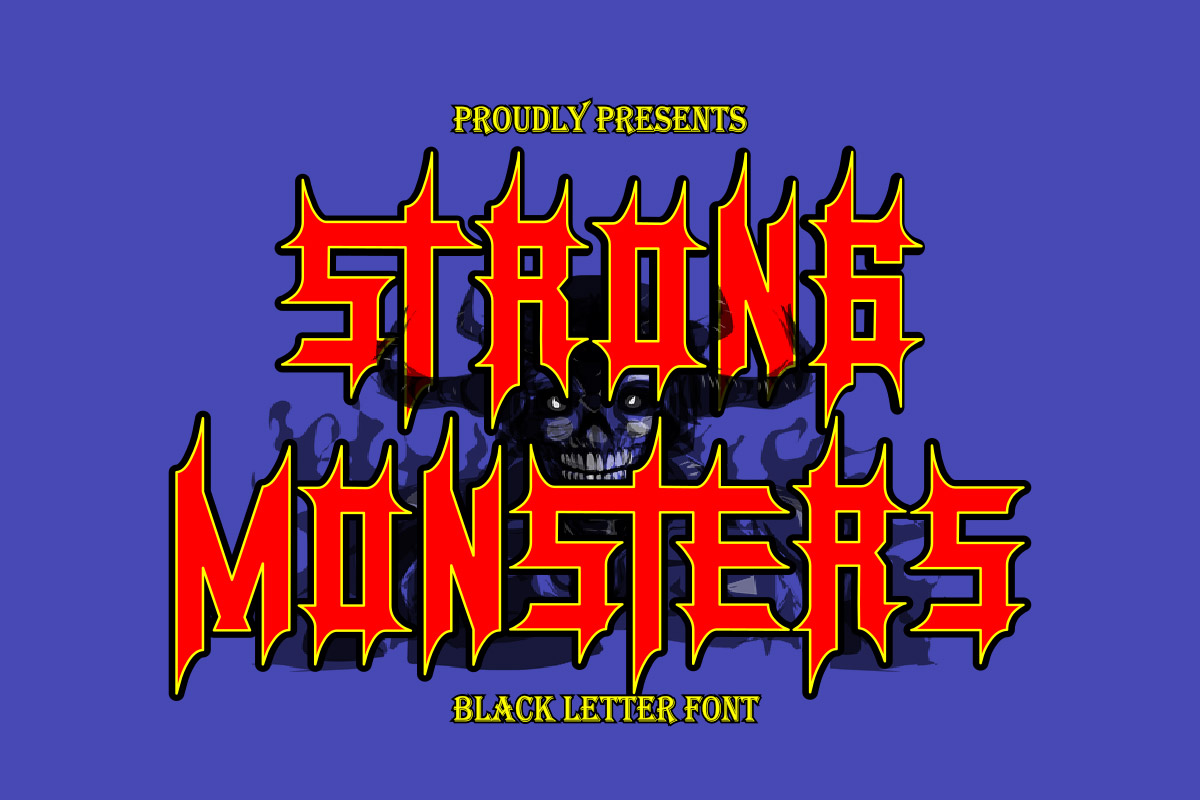 Demonstrating a unique and distinct style, Monsters is a great Blackletter font for those projects that need a little drama including Halloween, monster print t-shirts, and video games. The best part? It's available for free download.
Hijrah – Free Blackletter Font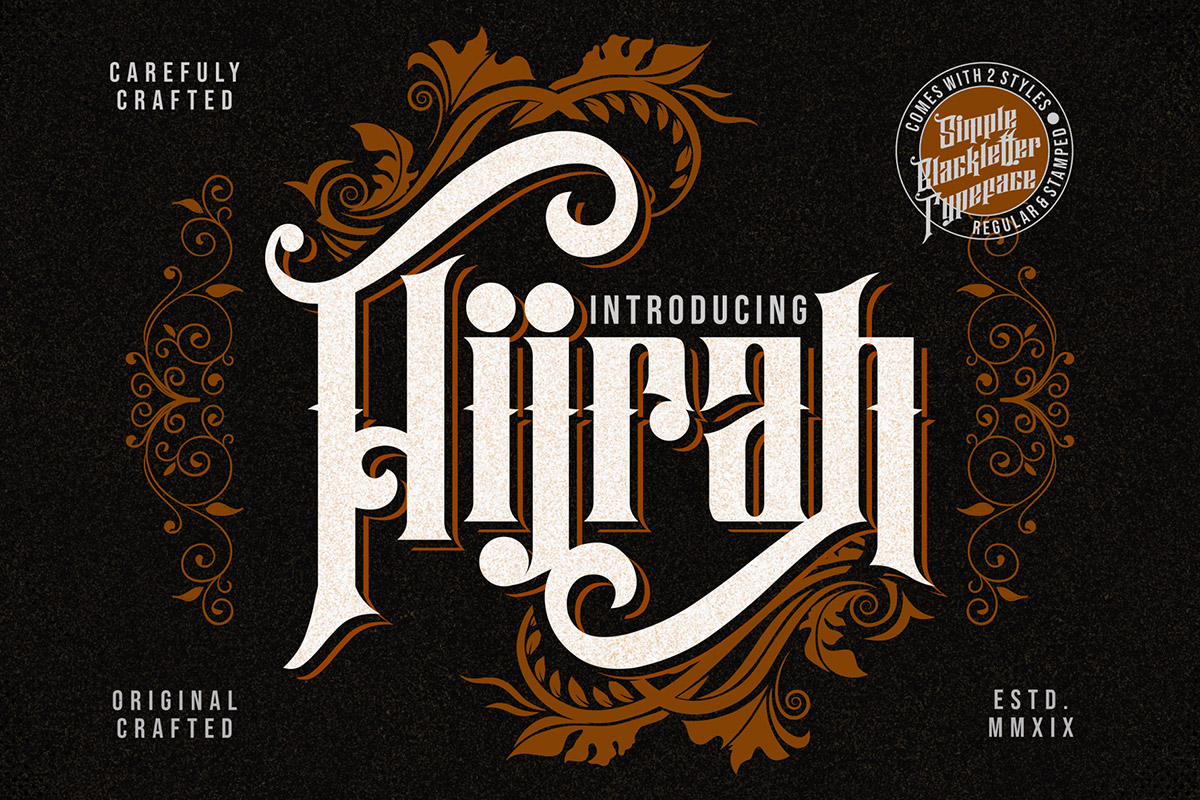 Here we have a stunning, modern-looking Blackletter font that you'll be hard-pressed to pass up. It's a freebie that contains everything you'd expect in a versatile font. One of the best free Blackletter fonts on our list!
Godfrey – Free Blackletter Font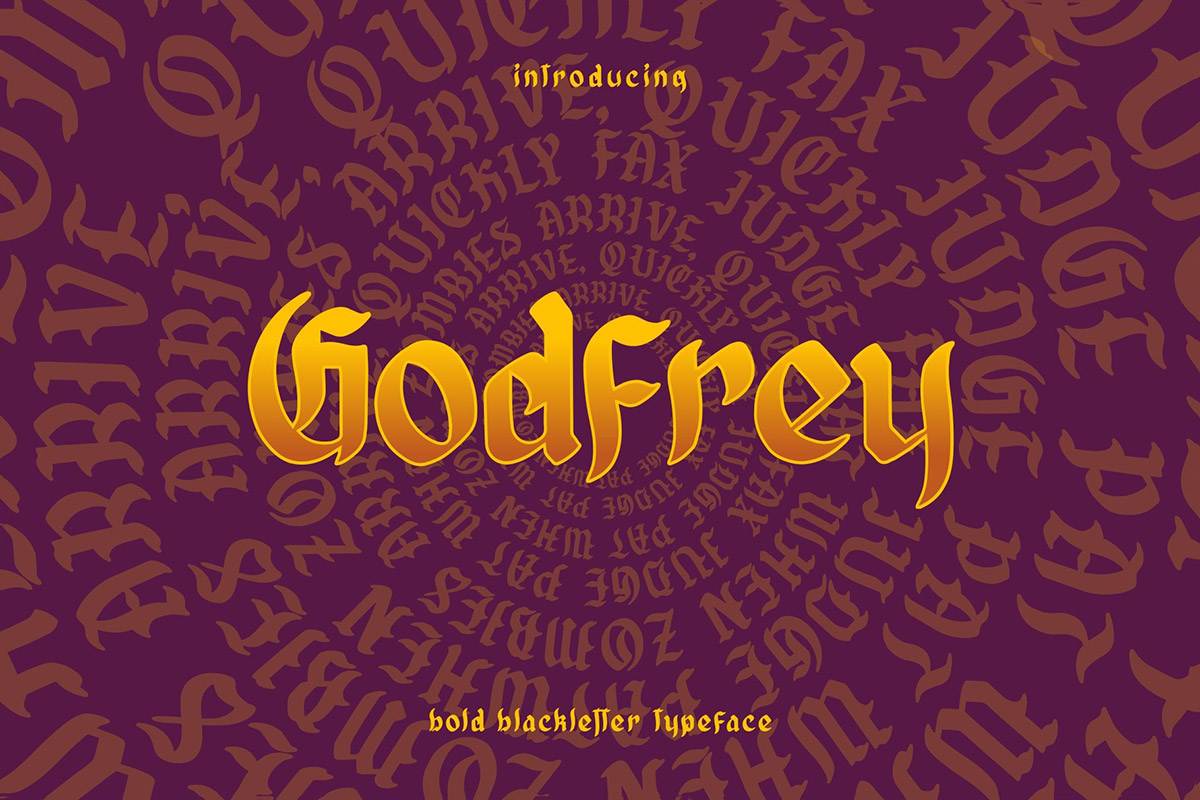 Bold and versatile, Godfrey is a free blackletter font that you should try out for those branding projects that needs you to be a little more creative. We think you should download Godfrey instantly, or add it to your shortlist at the very least.
Lordish – Modern Blackletter Font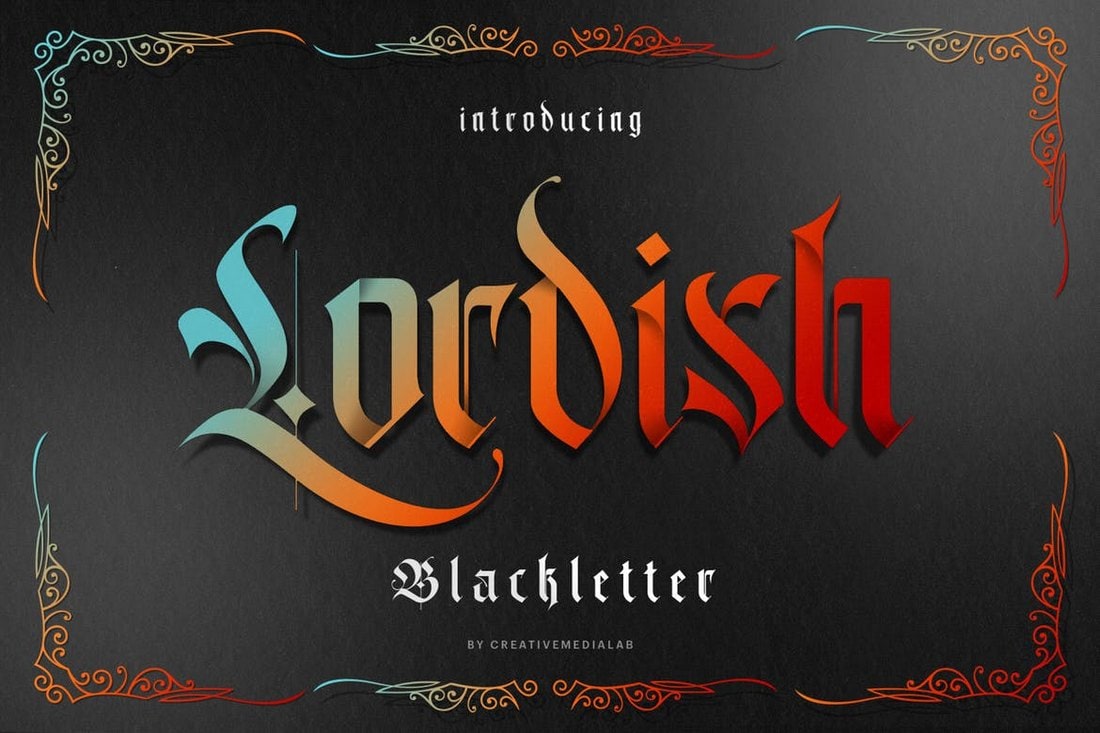 Lordish is a beautifully modern blackletter font featuring a creative design. This font is perfect for medieval-style designs such as labels, logos, and badges. It includes both uppercase and lowercase letters.
Black Cameo – Stylish Blackletter Font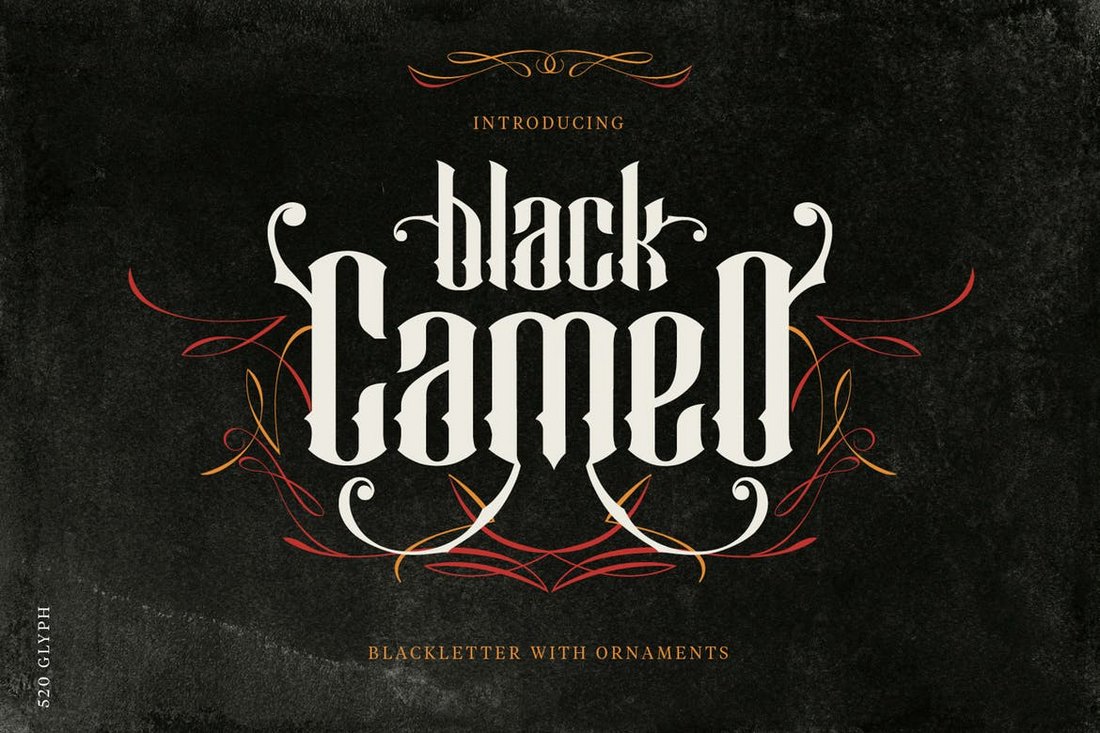 As soon as you see this font you can see it's a great choice for designing titles, logos, and posters for rock music festivals and bands. The font includes uppercase and lowercase letters as well as 525 glyphs.
Blackink – Creative Blackletter Font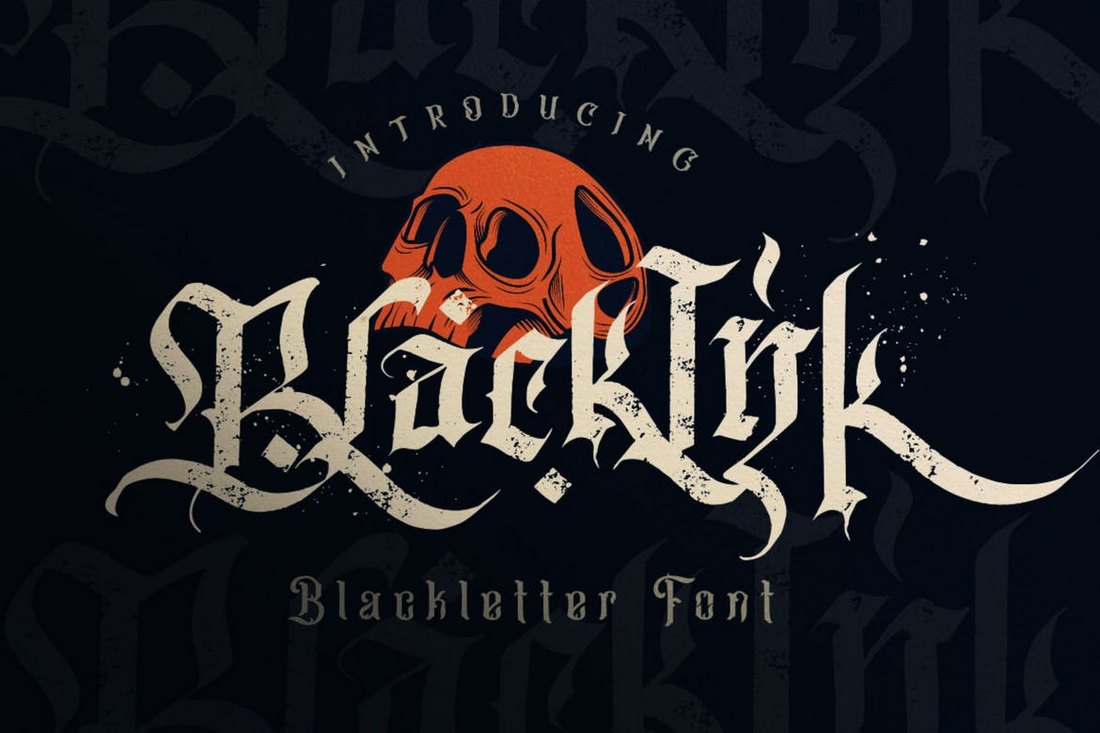 Blackink is a creative blackletter font that features a design inspired by pirate movies and designs. The font features a hand-painted design and it comes with multilingual support, swashes, and alternates as well.
Darklands – Elegant Blackletter Font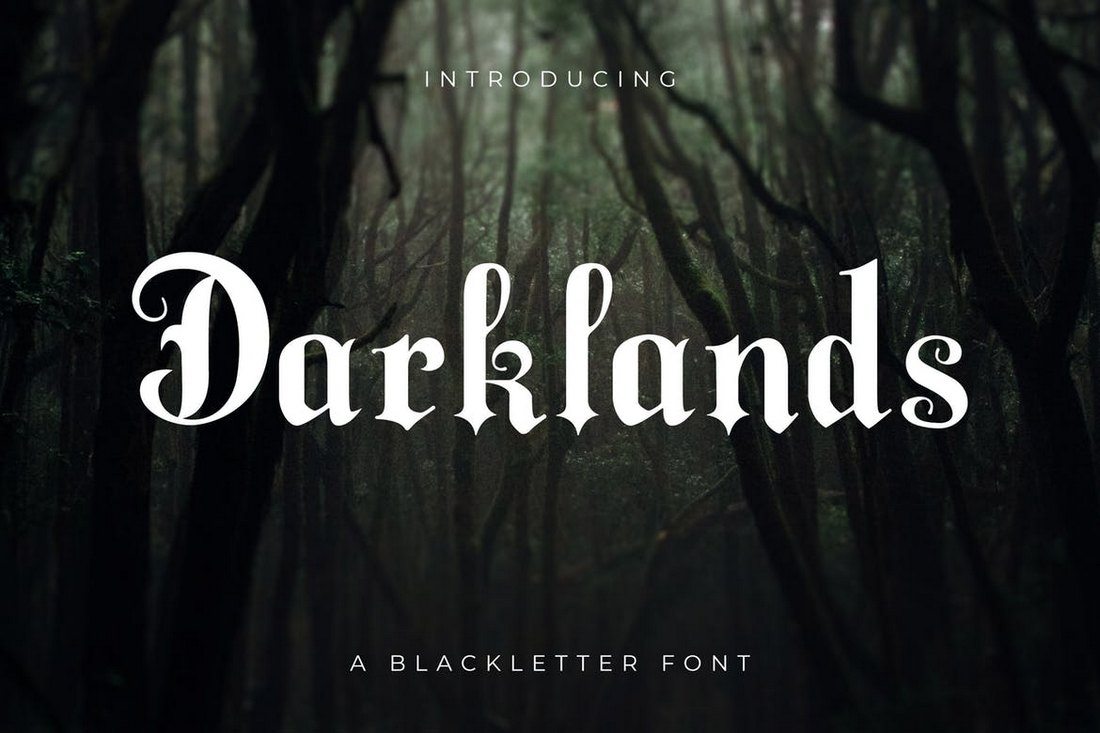 Darklands is another beautiful and minimal blackletter font that features a fantasy-like design. The font is perfect for designing titles, banners, posters, and more.
Incognito – Gothic Tattoo Font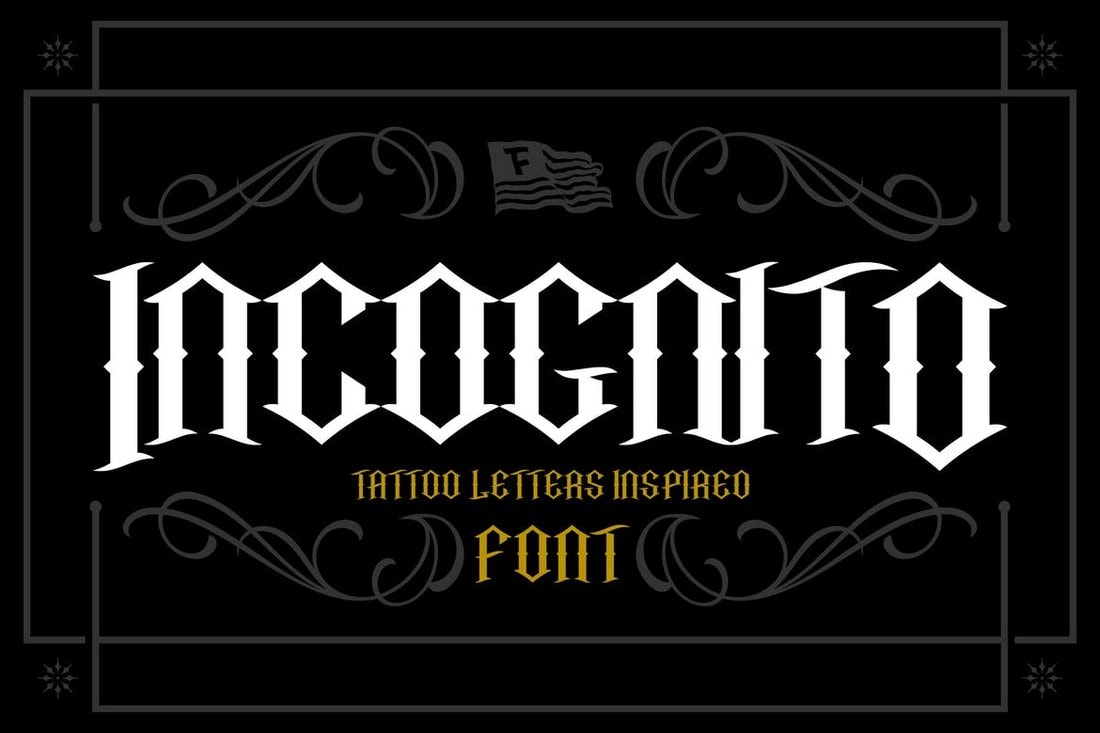 Incognito is a creative gothic tattoo font you can use to design various print and digital designs, including music posters, covers, banners, and more. The font comes in both TrueType and OpenType formats.
Gothic Modern – Free Gothic Font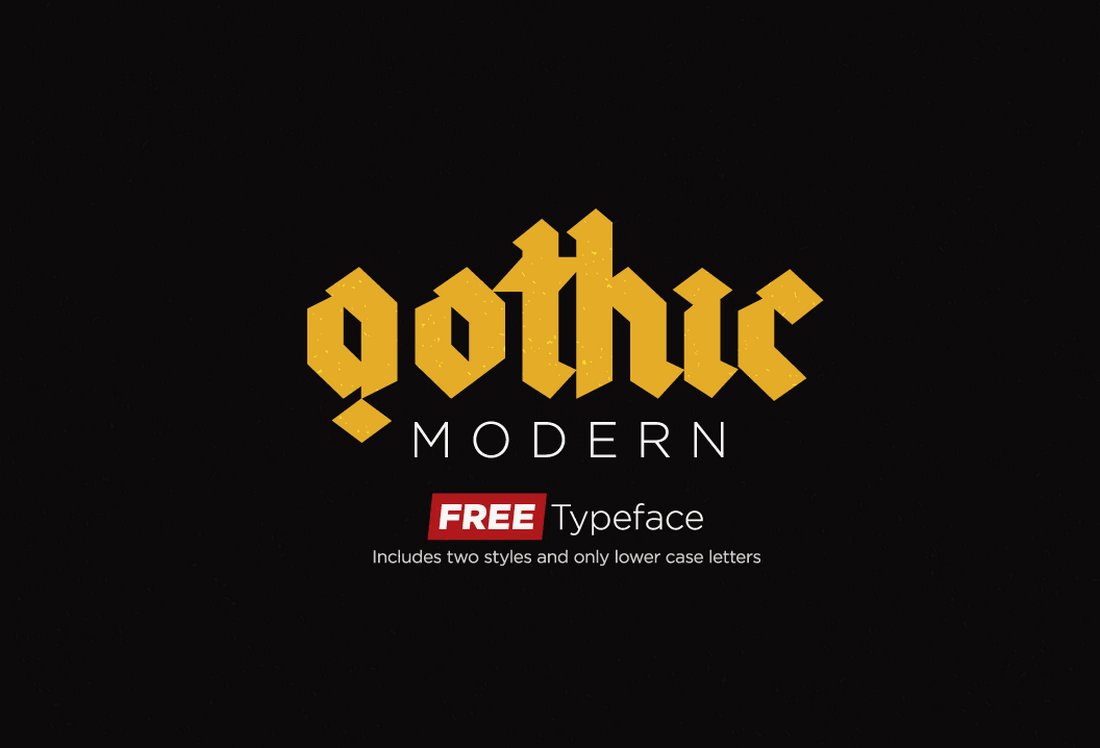 This free font comes with a unique and modern gothic font design that will allow you to add a personal touch to your gothic-themed designs. The font features only lowercase letters and it comes in 2 styles.
Goliath – Free Inline Grunge Font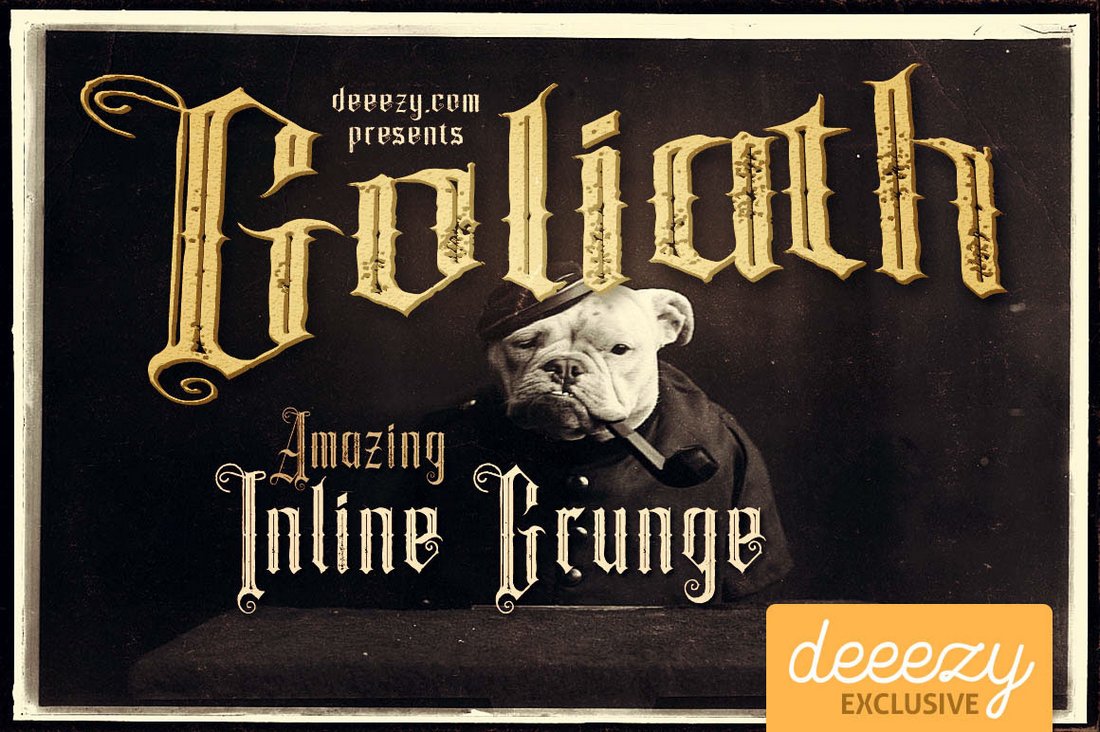 Goliath is an inline grunge font that features a blackletter-style design. The font is perfect for everything from tattoo designs to labels, logos, poster designs, and more.
Cameo Sweet Gothic Font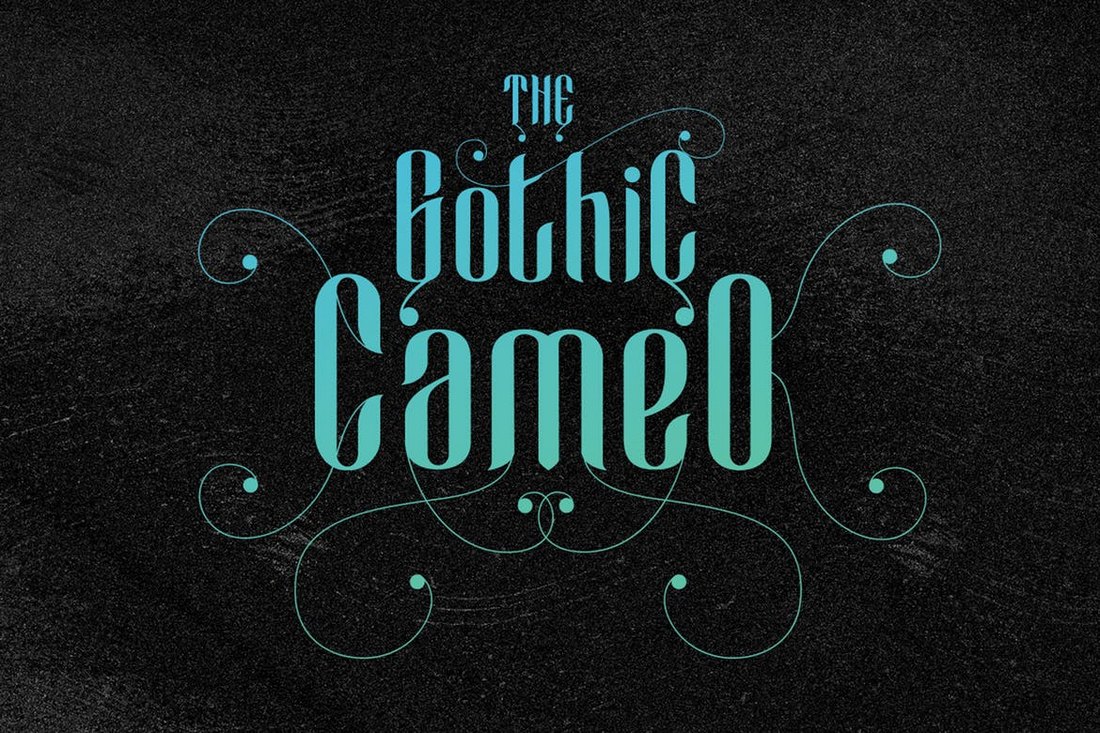 Cameo is a stylish gothic font you can use with your creative design projects. It features a set of beautiful characters with long stylistic swashes and curved edges.
Winsor – Modern Blackletter Typeface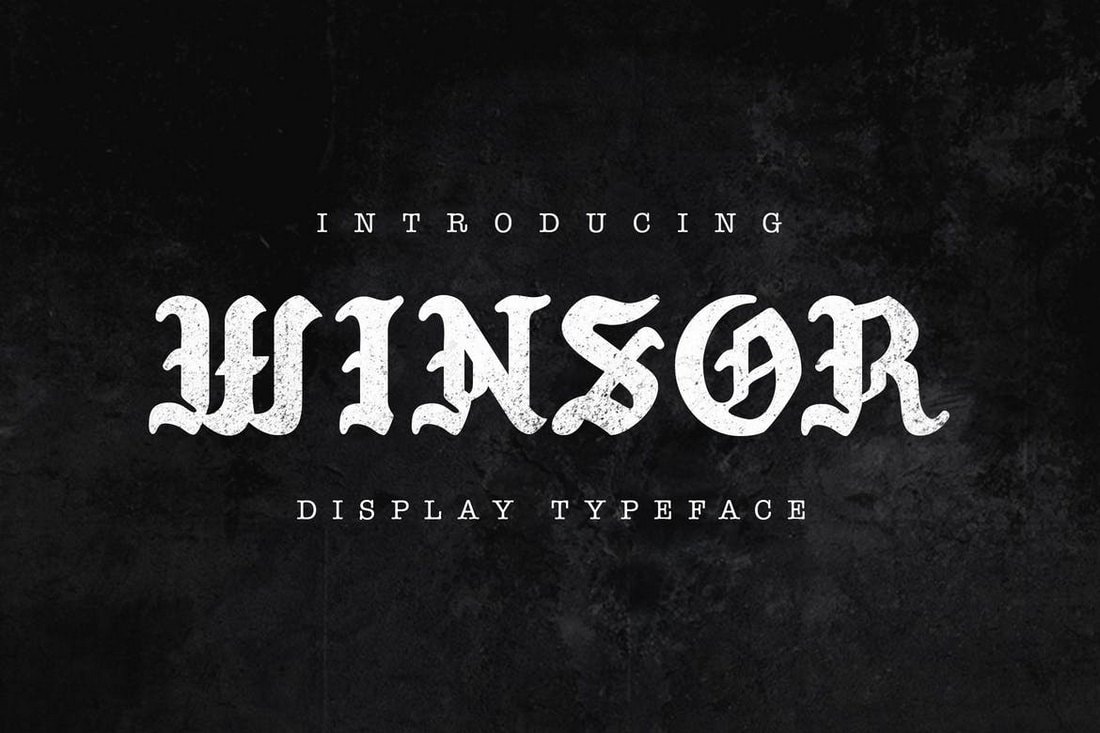 Winsor features a mixed modern-vintage design that gives it a unique look and feel. The font is perfect for crafting logos and badges as well as modern posters and website headers.
Metal Blackletter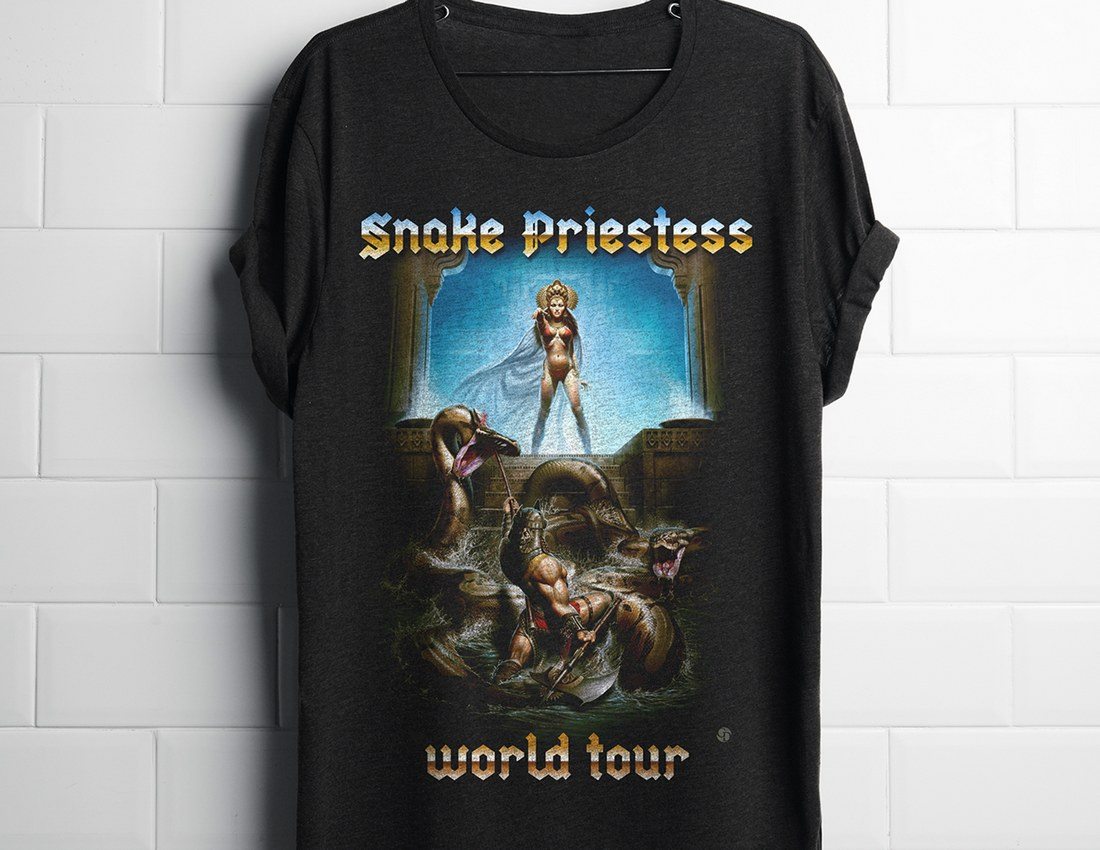 Inspired by vintage heavy metal music, this blackletter font has already been used to craft many different types of designs including T-Shirts, posters, and classic retro art. This font is free to download and use with your personal and commercial projects.
Black Baron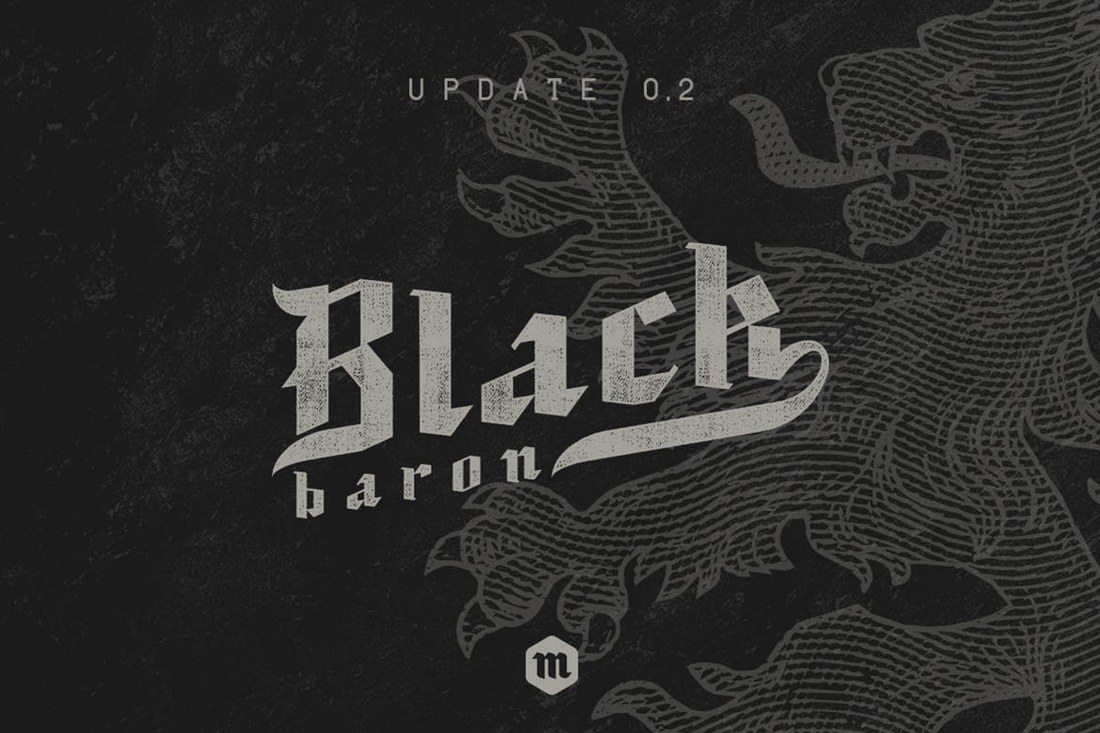 Black Baron is a font that also shares a classic medieval look. It also has a mixed design of both modern and Blackletter elements that make this font perfect for logo designs and website headers as well as various other print designs.
Ozymandias – Free Typeface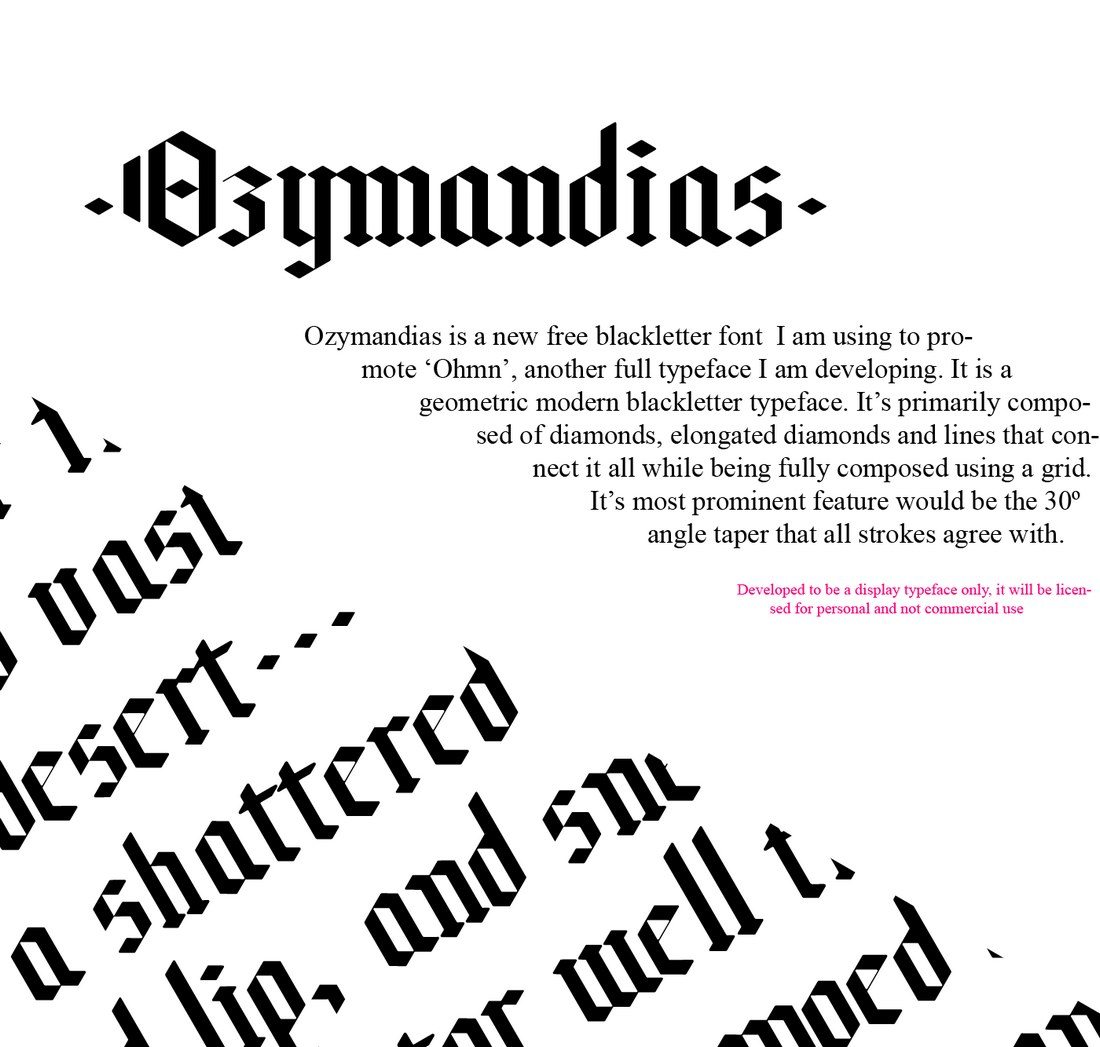 According to the designer of this typeface, Ozymandias is a blackletter font that's composed of a design of diamonds and lines that connects them all to a grid. The font also uses a 30-degree angle taper that keeps all strokes balanced.
Neo Gotik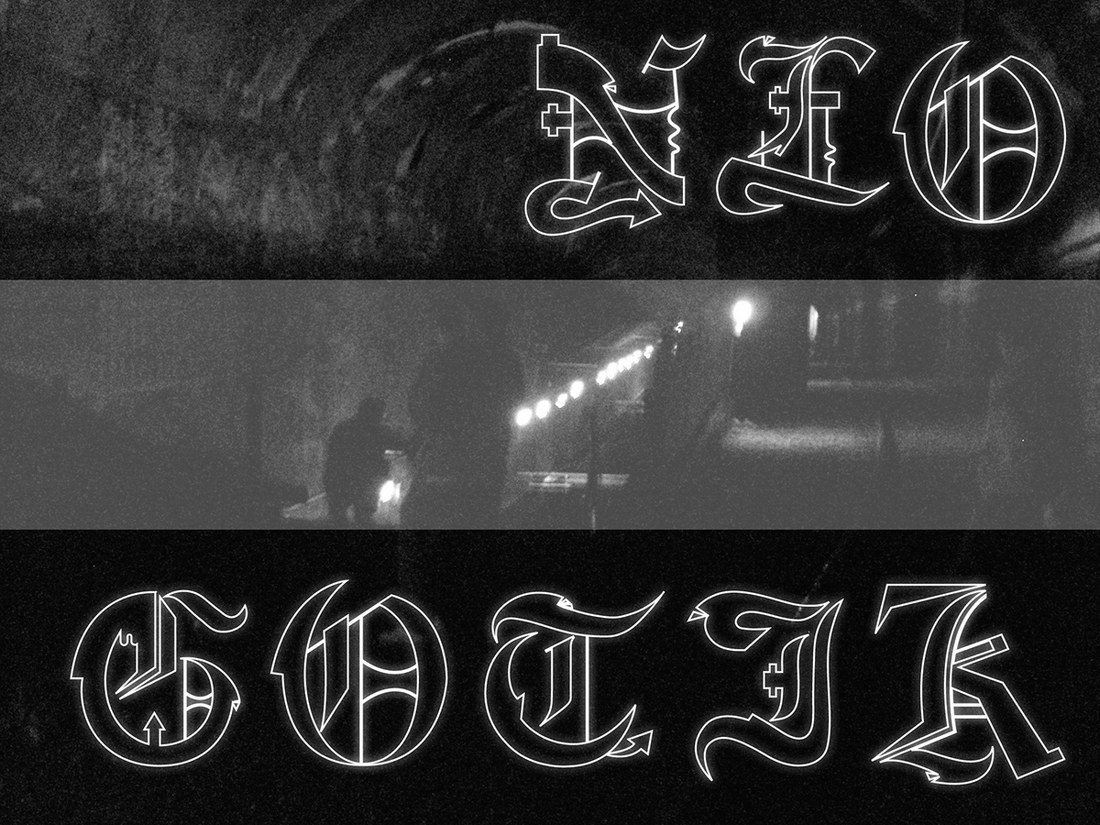 Neo Gotik is a free blackletter font that features a graffiti style gothic design. You can also use it to design logos, album covers, posters, and much more.
Bjorke – Handmade Fonts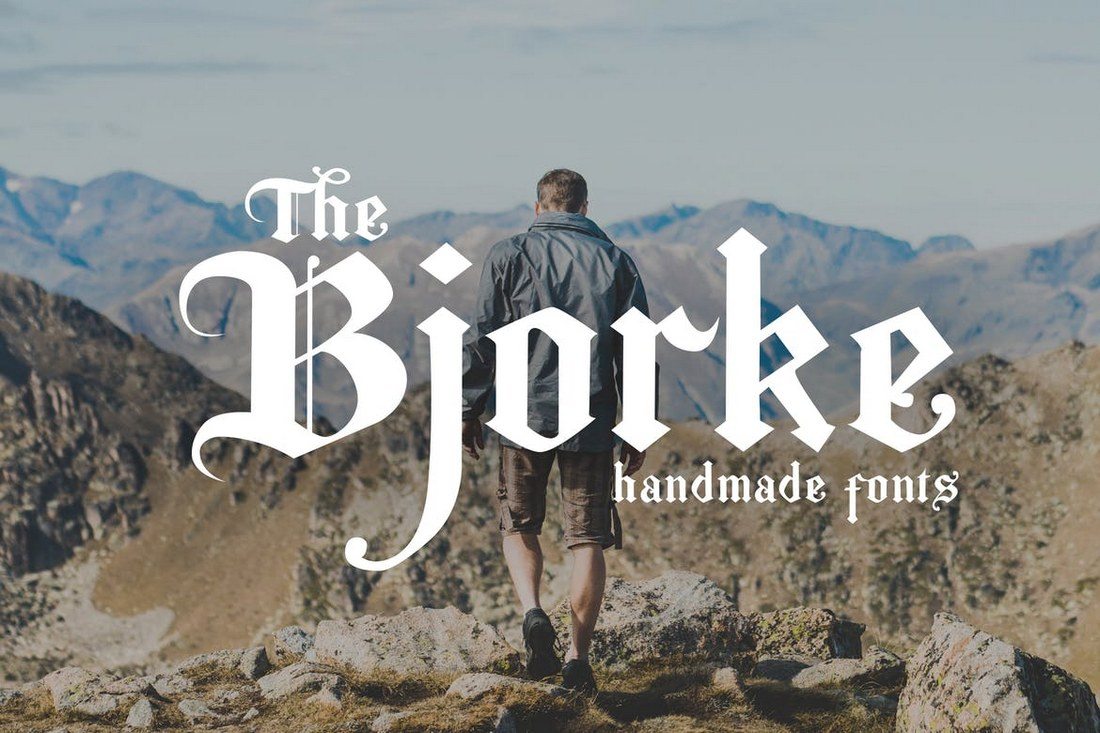 Another beautiful handmade font that features a Blackletter script design. This font design has a great design that's perfect for all kinds of design work from digital designs, greeting cards, and even T-Shirt designs as well. The font also comes with both regular and alternative styles.
German Blackletters 15th Century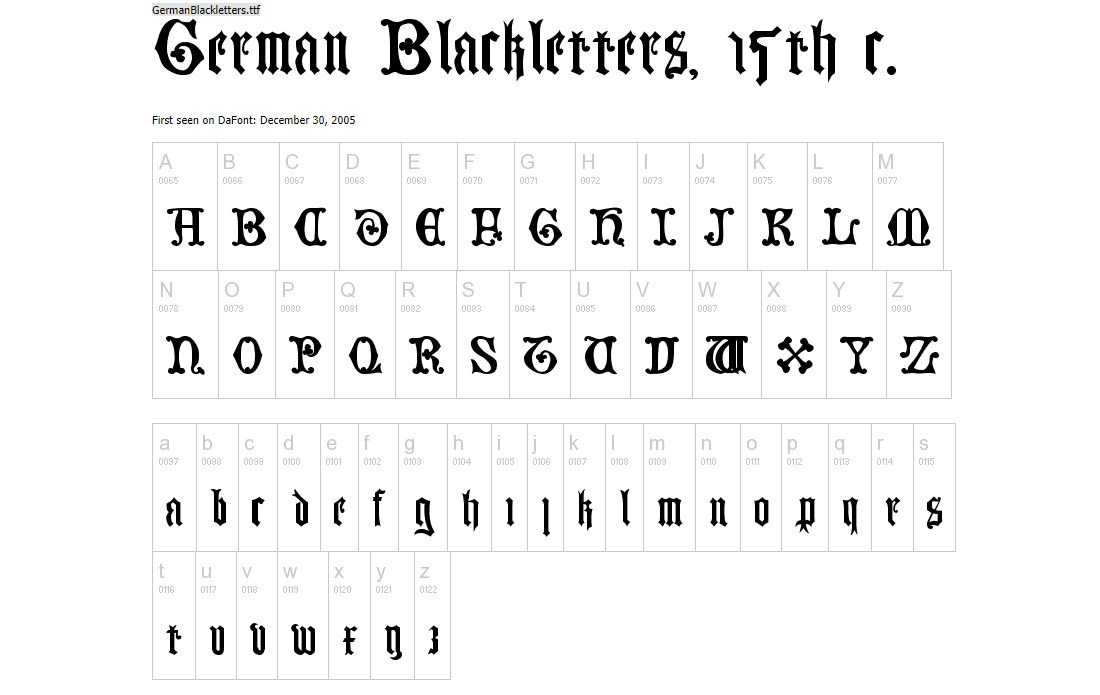 Mimicking the design of the 15th-century German letters, this free font will help you craft many different types of designs from logos, signage, posters, and more.
La Forest Typeface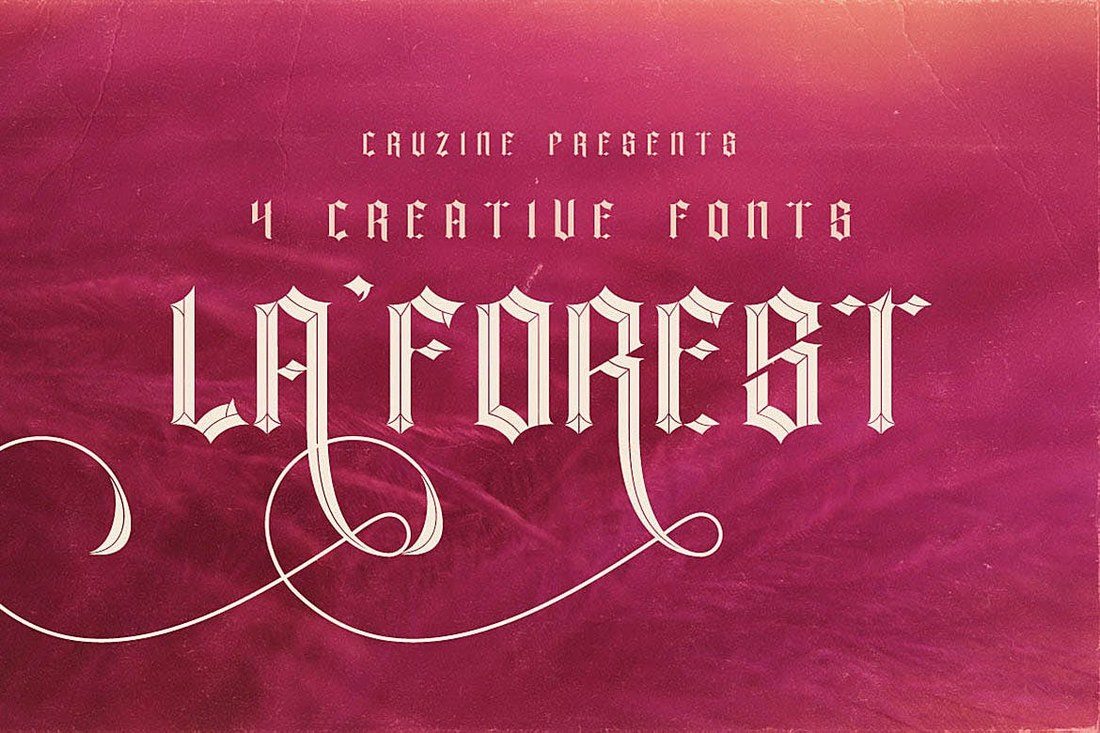 This is an elegant Blackletter display font that comes in 4 different styles: Regular, grunge, inline, and inline grunge. Making it suitable for your vintage and modern luxury design works.
Holy Union Font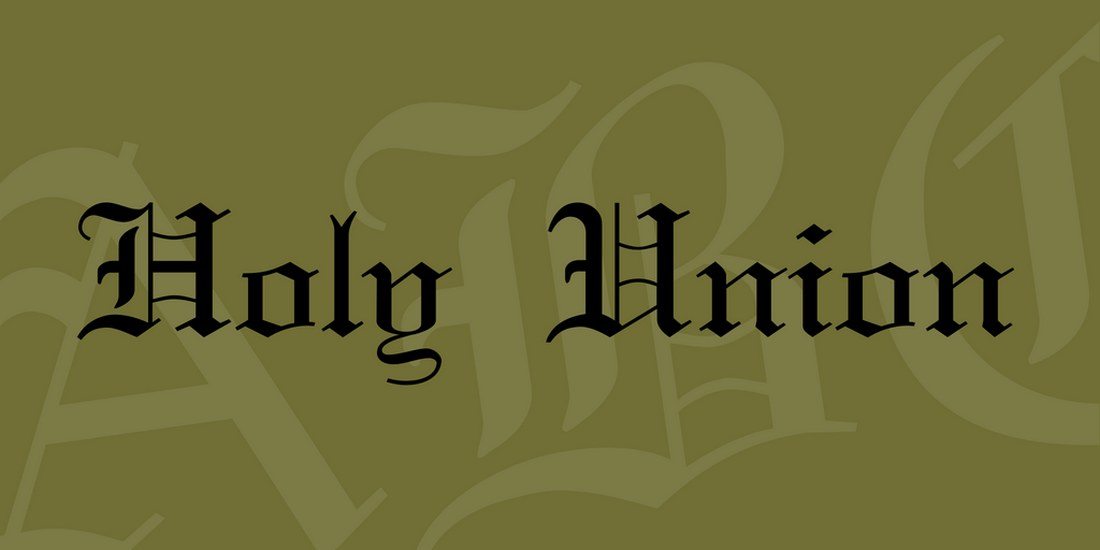 Another professionally designed Blackletter font you can download and use for free with your personal and commercial projects. It includes both uppercase and lowercase letters with numbers and symbols.
Helmswald Post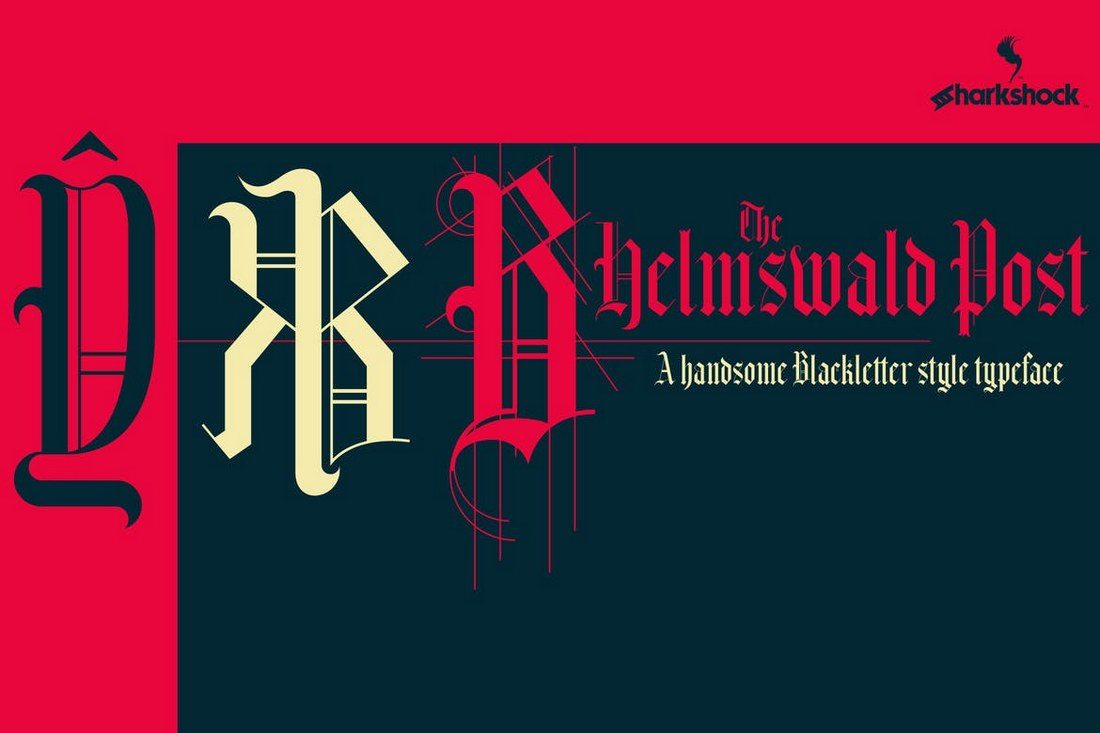 This font follows a design similar to the logo of the Washington Post. Although, you can use it with various types of designs including logo design, website headers, social media posts, book covers, and more.
Bajern Free Blackletter Typeface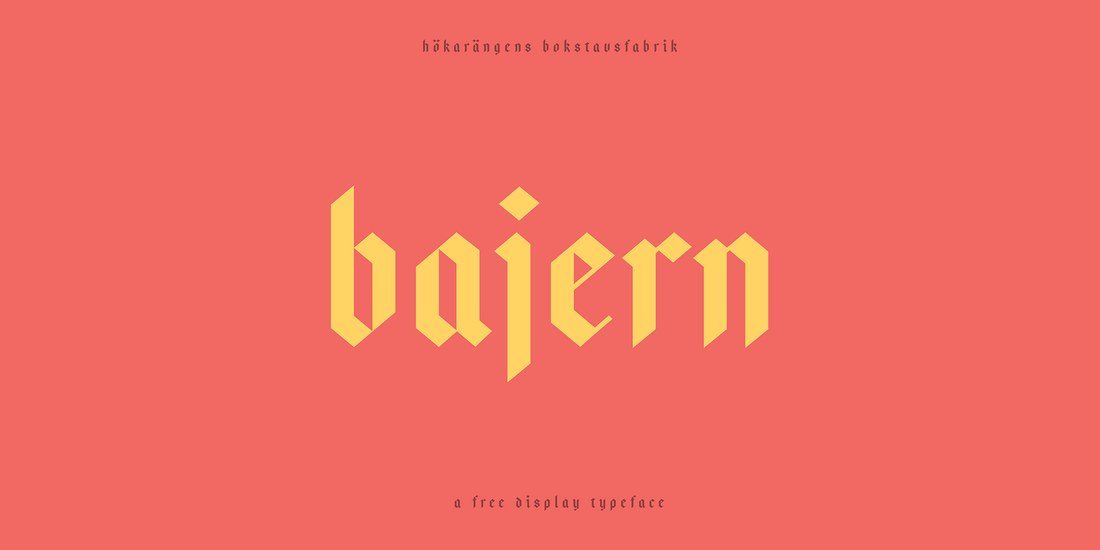 Bajern is a display typeface featuring a blackletter script. It's ideal for crafting logos, posters, CD covers, album art, and much more. You can download the font for free.
Halja Blackletter Font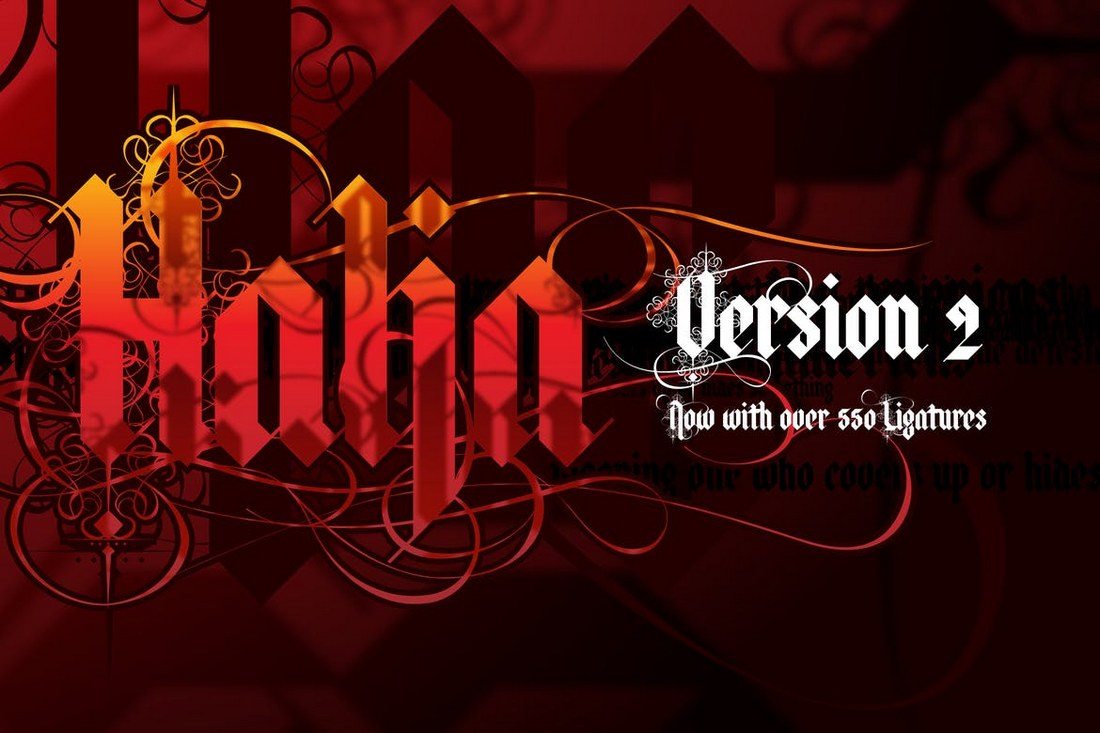 A blackletter font that's ideal for greeting card and wedding invitation designs. This handmade font comes in 2 different styles: Regular and Illuminated featuring a bold design with sharp edges. It also includes 500 ligatures.
Jabin Blackletter Font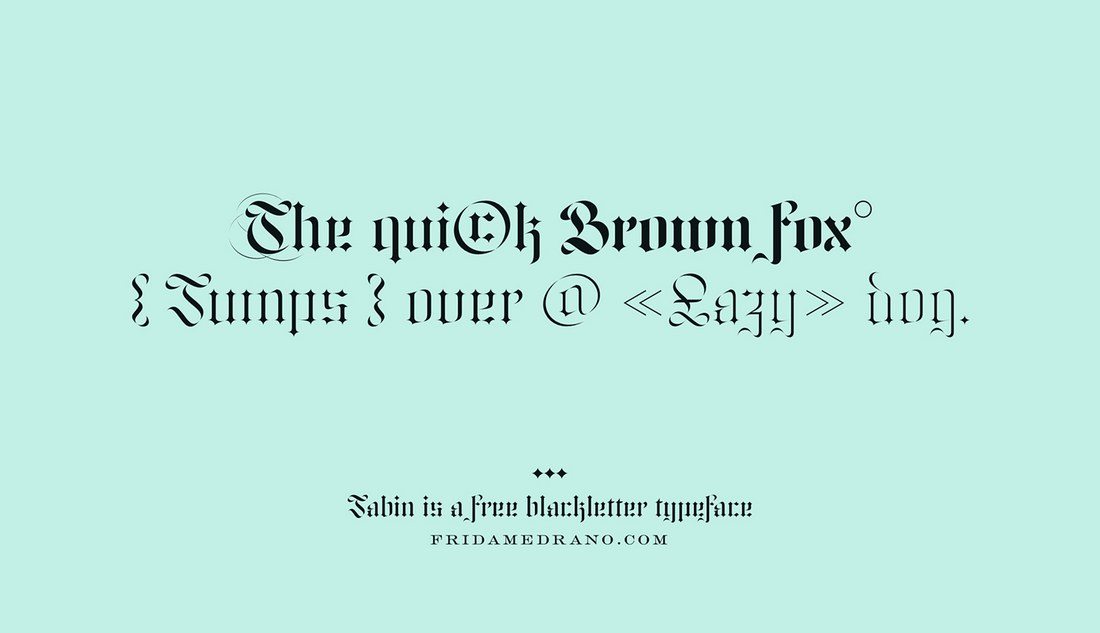 If you're a designer who's also a fan of customizations and likes to tinker with their designs, this blackletter font will be the perfect choice for you. Jabin is a versatile font that comes with 12 typefaces with different weights, curves, and contrast. You can use it with almost any kind of vintage and modern designs. You can also download it for free.
inuTattoo Script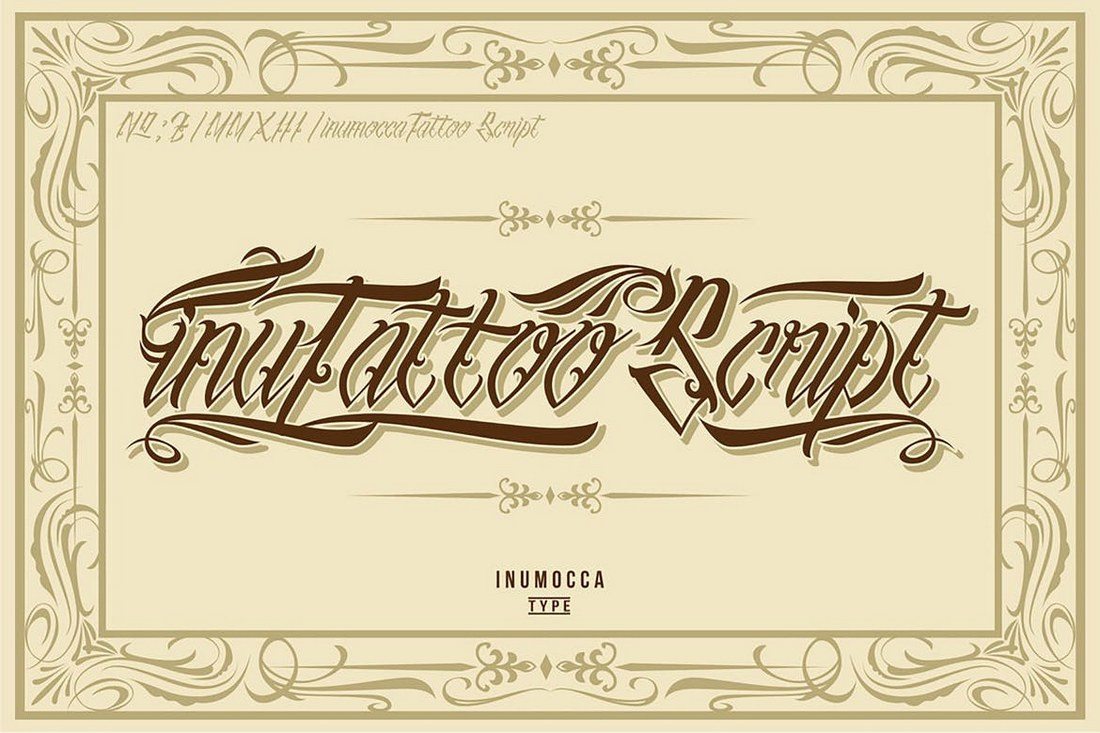 If you're looking for a font to create a unique tattoo design, this font will come in handy. It will also work well with other types of designs as well, including poster designs, logos, and signage.
Satanas Humanum Salvator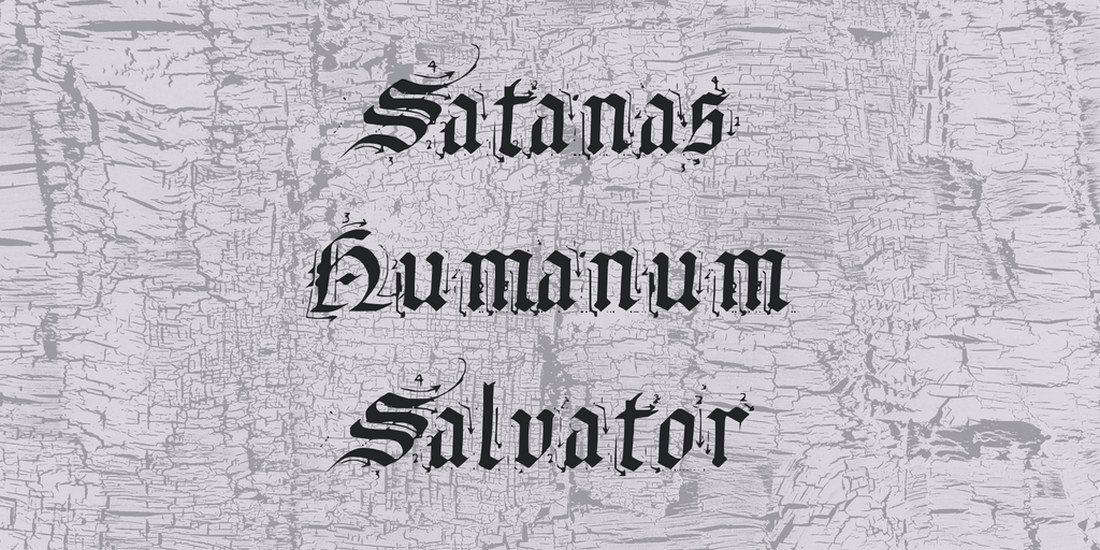 Professionally crafted to perfection, this blackletter font features a unique design unlike most other blackletter script designs. The font is free to download and use with your personal projects.
Glaive Typeface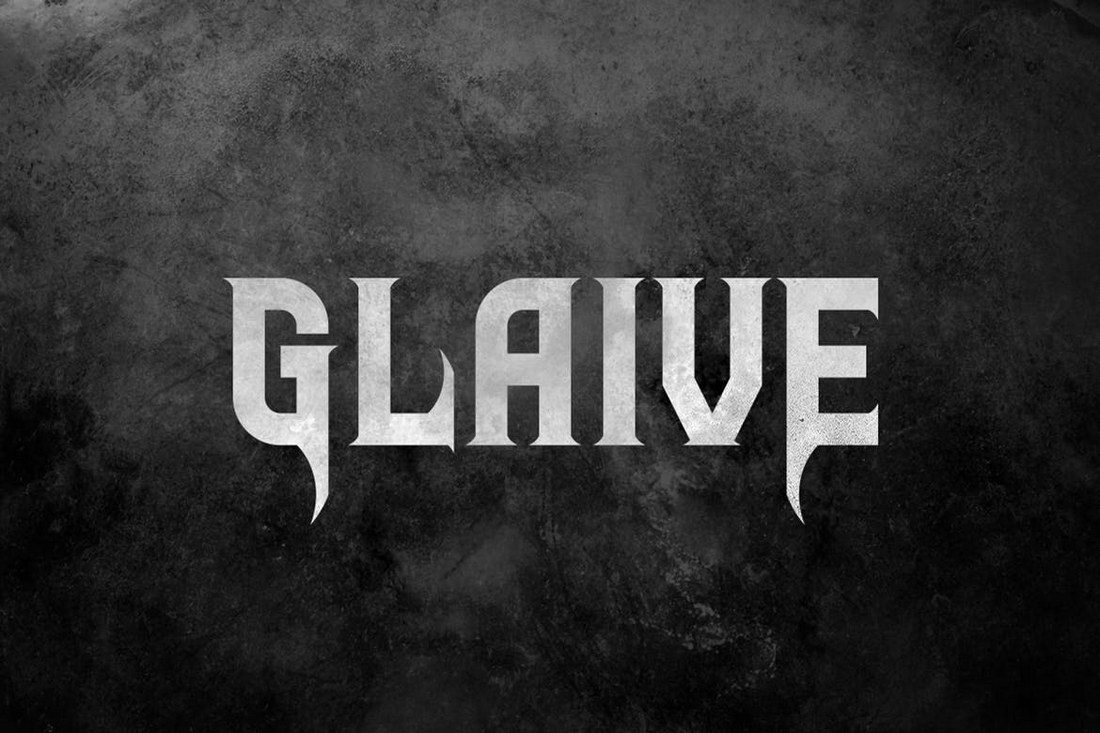 Glaive is a font that comes with a design similar to the Blackletter Schwabacher family with a modern take. It looks perfect for a logo or website header design, especially for metal and rock music related design projects.
Broken Planewing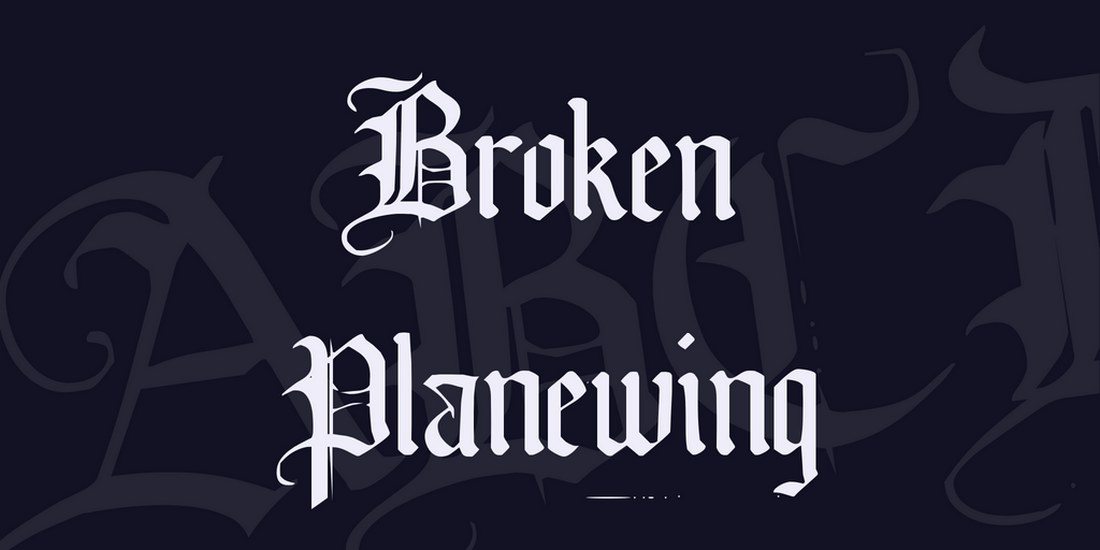 This is the perfect blackletter font you can use to design an engaging cover for a fantasy or a thriller book. The font features a unique design that makes the letters look as if they were taken from a vintage book. It will certainly add a unique style to your designs. You can use this font with your personal projects for free.
rthouse – Display Font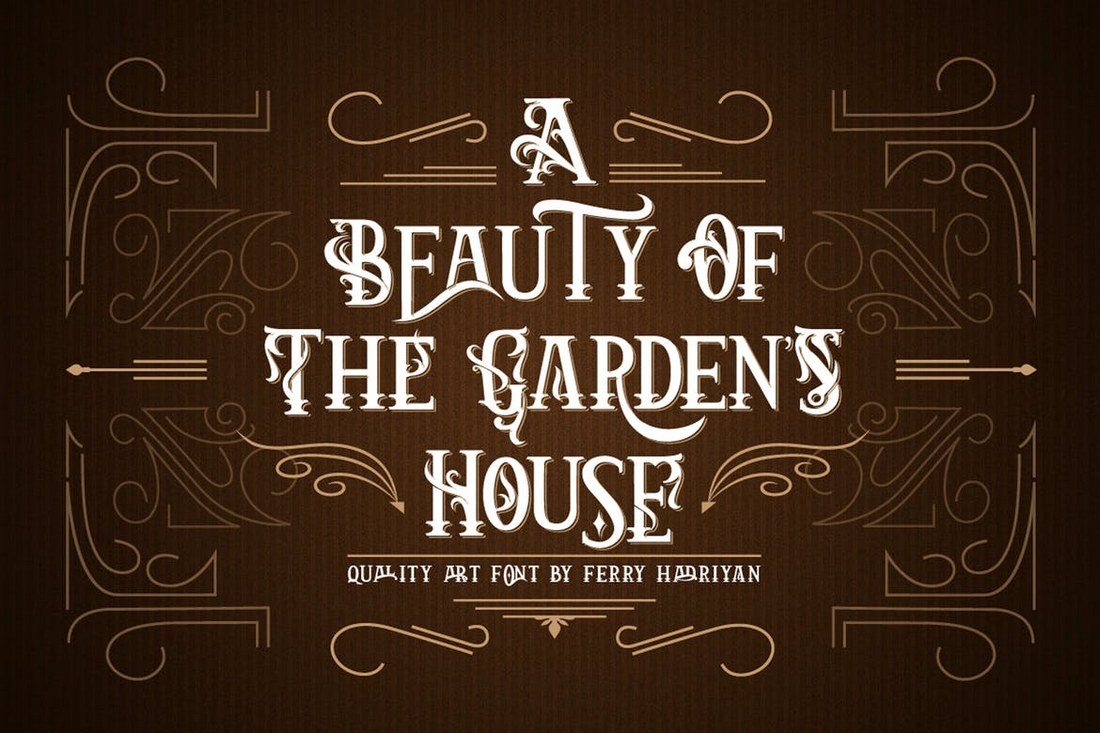 Arthouse is a beautiful display font that has a similar design to Blackletter. It also has an elegant look that reminds you of The Great Gatsby. Which makes it perfect for poster designs, signage, greeting card designs, and more.
DemonLetter Free Font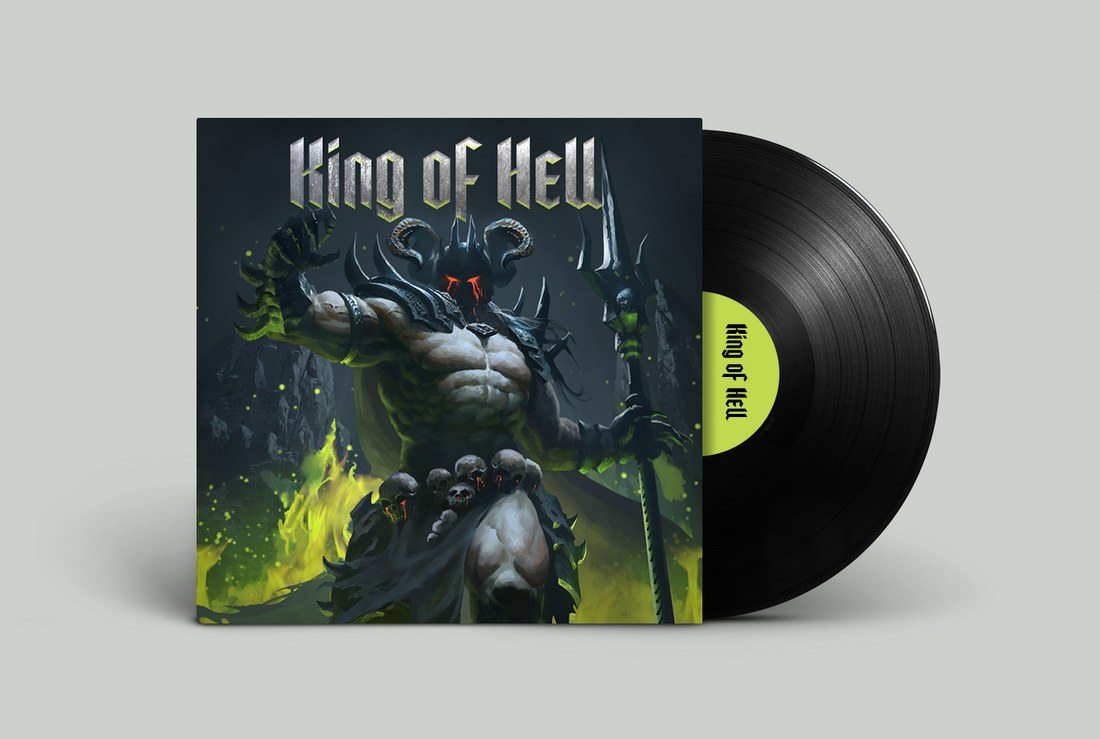 DemonLetter is a premium-quality blackletter font that comes to you at the very low price of free. Various artists have used this font to design album covers, song art, T-Shirt designs, and much more.
Psalta Blackletter Font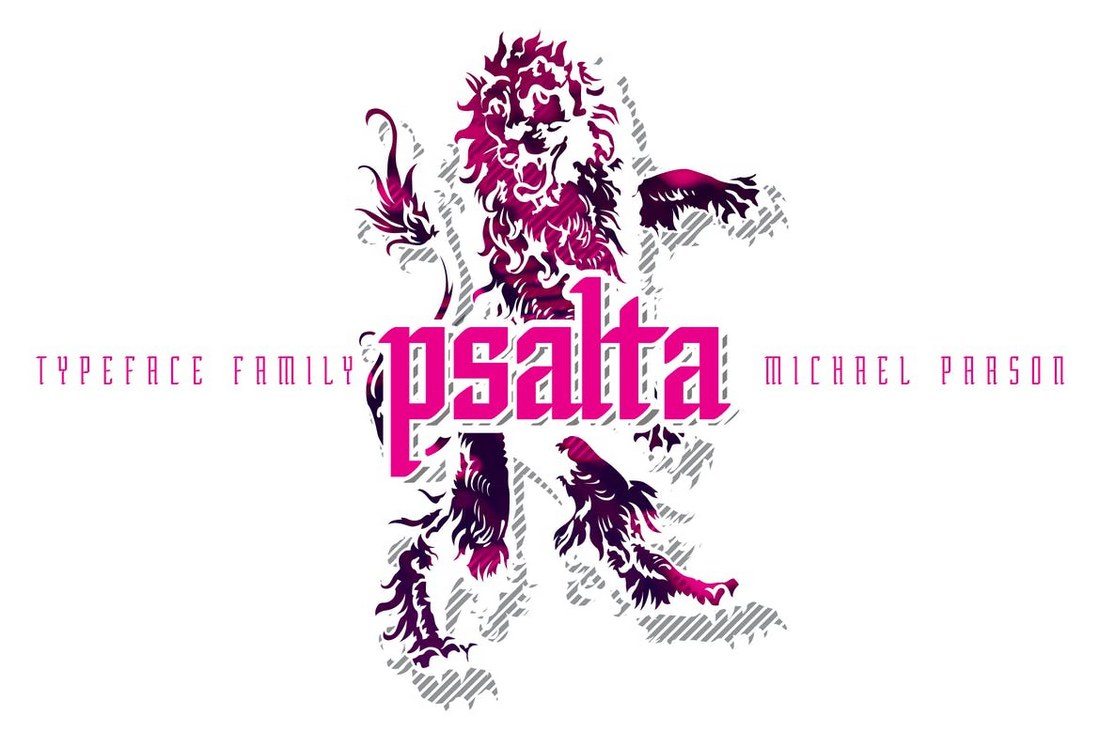 This blackletter font also uses a narrow and condensed design that makes it the perfect choice for designing a modern website header or a logo design. The font also comes with a series of different weights you can choose from for various types of design works.
Tatafirst Free Blackletter Font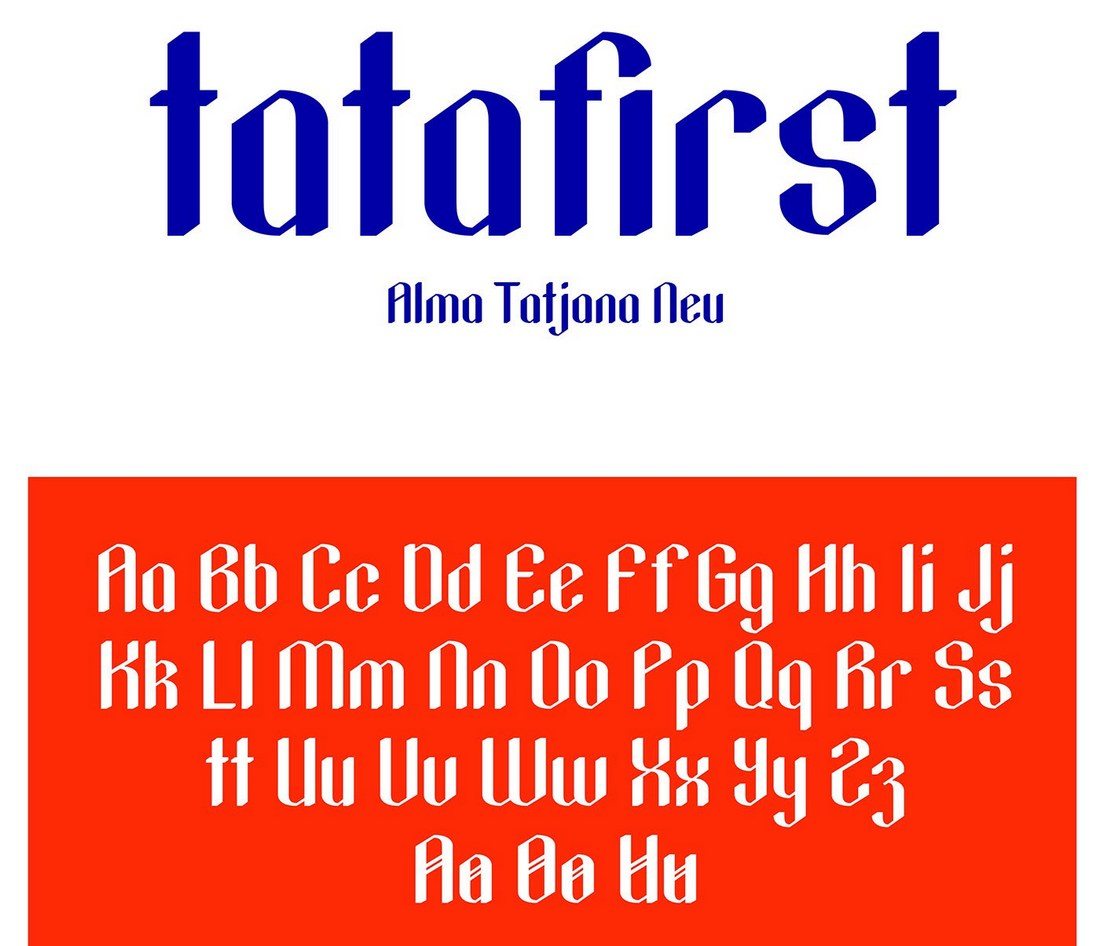 This free font uses a beautiful mix of both modern and vintage blackletter design that makes it perfect for many different types of design work. You can download the font for free.
Santiago Typeface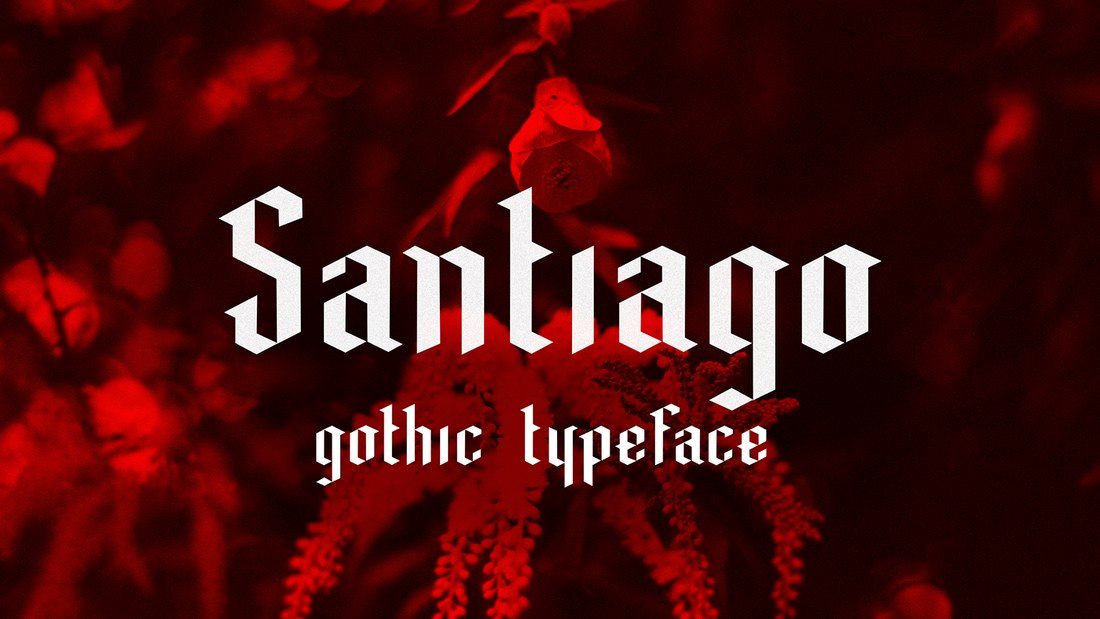 Blackletter fonts are also sometimes referred to as Gothic script. This is a free gothic typeface that shares a similar script to Blackletter. As you can see, it shares a lot of the same elements of the parent font family.
3 Tips for Designing with Blackletter + Gothic Fonts
Blackletter fonts can be used in many different types of designs, given that you pick the right font for the project. Use these tips to find better gothic and blackletter fonts for your designs.
1. Find Fonts with Handmade Designs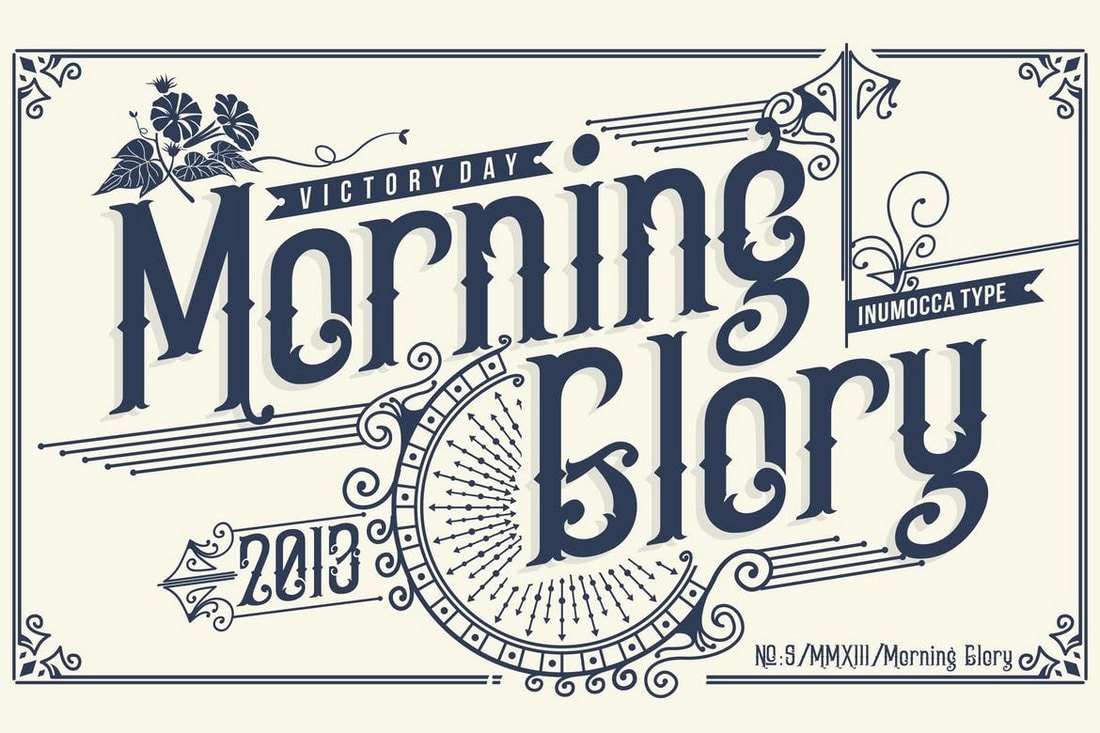 A common theme with blackletter fonts is that they are usually inspired by early 17th and 18th-century text, especially from the Victorian era. While this can make most blackletter fonts look the same, there are also fonts that mix traditional design with creative design styles to create unique blackletter and gothic fonts. Look for such a font to create your designs more attractive.
2. Use Swashes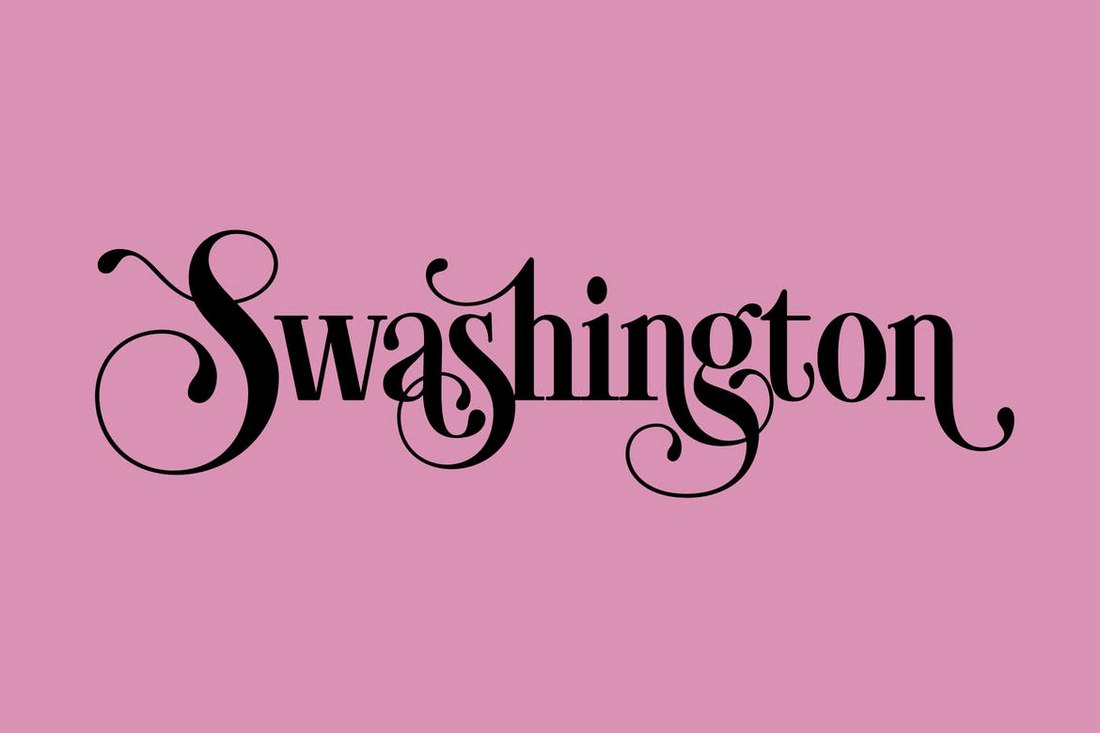 When it comes to using blackletter and gothic fonts, swashes are going to be your best friend. It's the stylistic swashes and curves that give blackletter fonts their identity. Make sure to use them to your advantage.
3. Mind the Font Size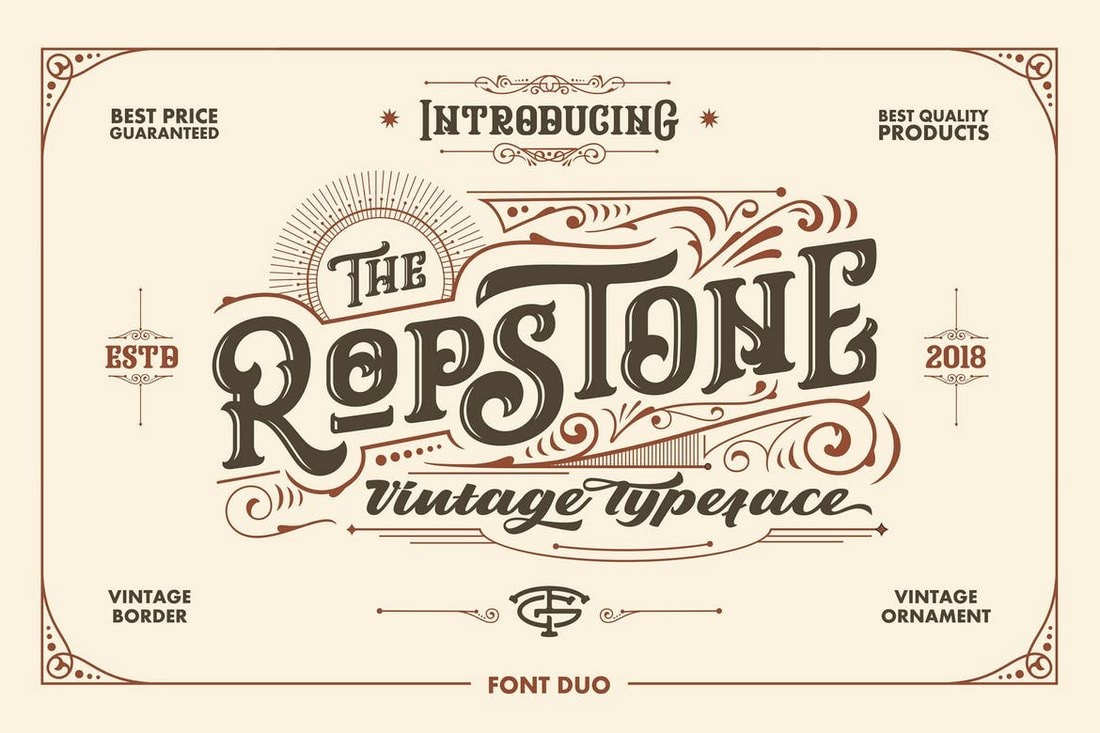 Blackletter fonts can't be used in smaller sizes, especially not as a body font or paragraph font. The fancy styling and swashes won't be of any help in improving readability. So use blackletter fonts only where appropriate and watch for font size when using the font in print designs.
Keep searching for the perfect font with our big poster fonts and condensed narrow fonts collections.
Did you miss our previous article…
https://www.tampawebdesign.org/?p=1721