Design trends come and go, but there has always been a trend that stood the test of time—vintage and retro-themed designs. Today we're diving into our favourite vintage Photoshop actions!
No matter how advanced design and technology becomes, there will always be people who appreciate the beauty in classic and retro design. This is why we still see vintage themed posters, greeting cards, banners, and even photographs everywhere.
Photoshop makes it easier than ever to create authentic vintage effects. In this post, we're featuring a collection of the best retro and vintage Photoshop actions you can use to apply retro effects to your own designs with just a single mouse click.
We're also featuring tips for vintage and retro designs, with advice on how to use and apply these Photoshop actions.
Top Pick
Vintage Film Photoshop Actions
This is a bundle of vintage film effects that give your photos a unique old vintage film-like look and feel. The effects are inspired by Fujifilm, Agfa, and Kodak film cameras and feature film grain and vintage color tones.
The bundle includes 10 unique Photoshop actions that let you apply the effects with just a few clicks. These are perfect for enhancing outdoor and landscape photos.
Why This Is A Top Pick
What makes these vintage Photoshop actions great is that they create non-destructive effects you can easily customize to your preference using adjustment layers. The actions also work with Photoshop CS4 and newer versions as well.
Retro Wave Photoshop Action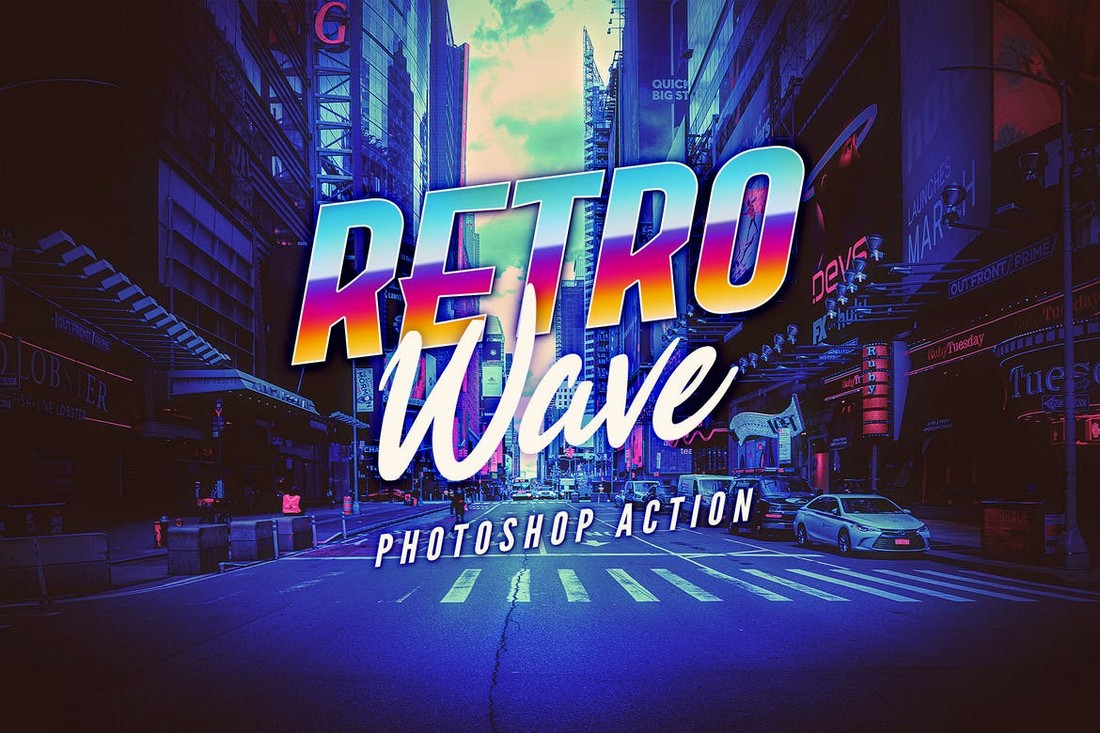 Want to transform your ordinary cityscape and landscape photos into neon-glowing retro-futuristic photos? Then be sure to download this Photoshop action. It features a fully editable action that creates effects with separate adjustment layers. You can edit and improve it however you like.
80s Retro Poster Photoshop Action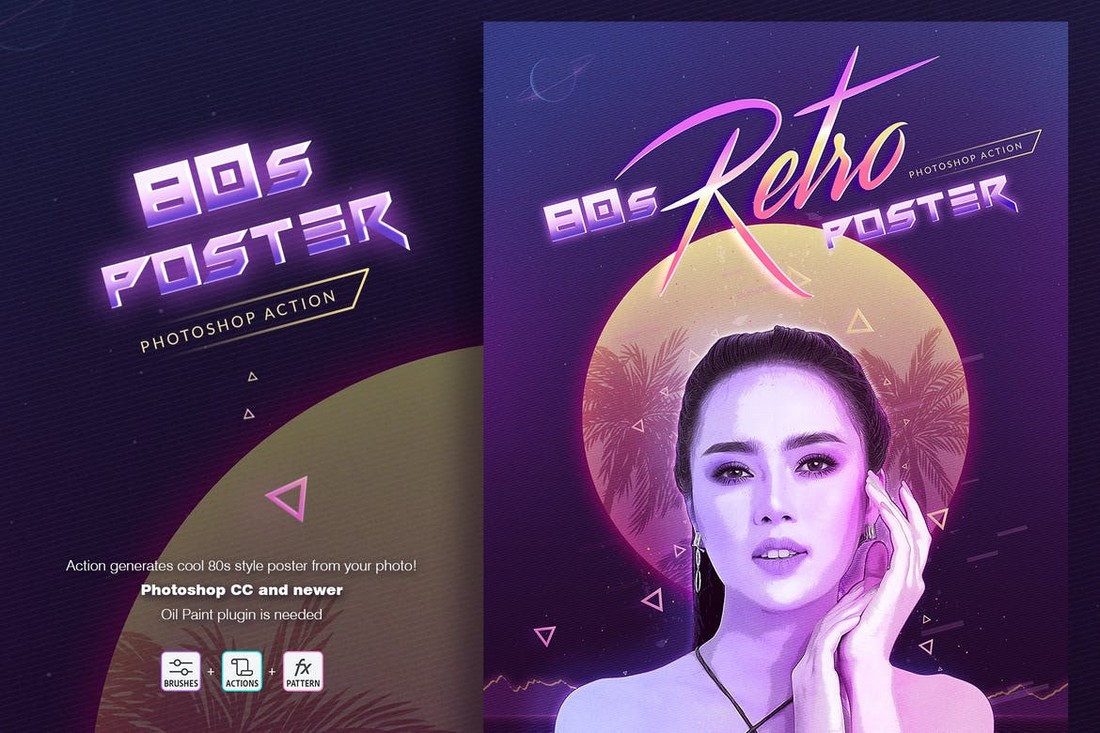 Retro design trend is widely used in poster and flyer designs. If you also want to give a retro look to your flyers and posters, this Photoshop action will come in handy. It allows you to instantly give a glowing retro look to your poster designs. And it comes in 3 different color options.
50 Vintage Photoshop Actions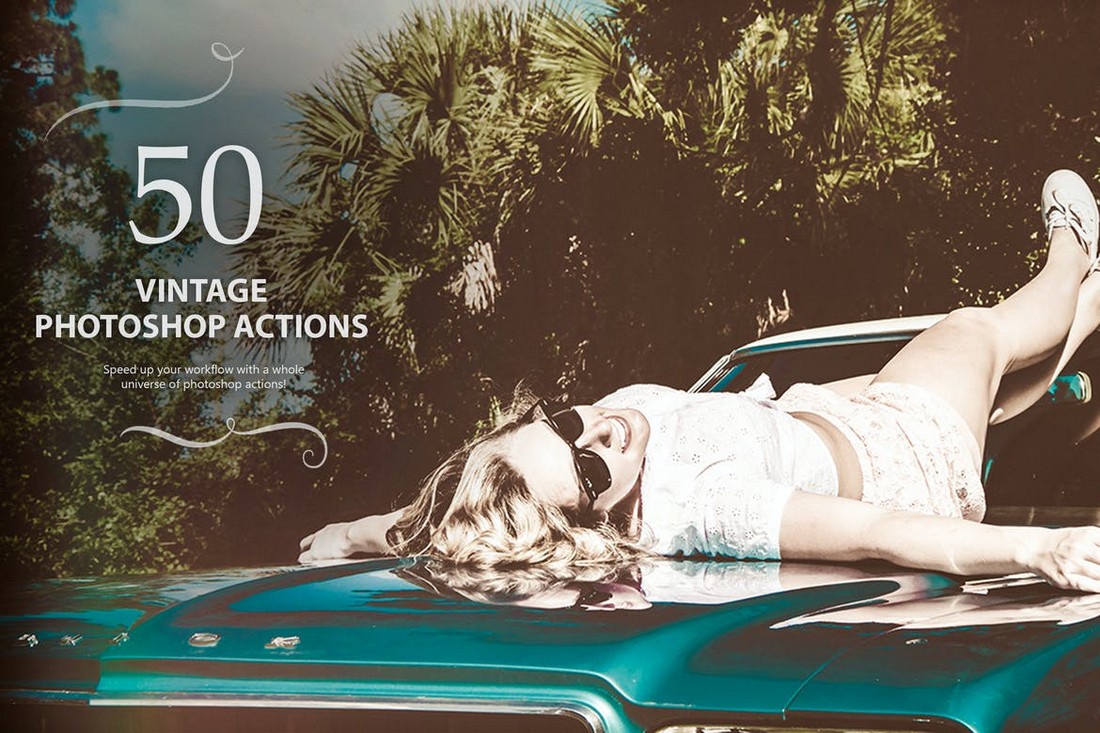 With this massive bundle of Photoshop actions, you'll have more than enough effects to give classic vintage looks to your portrait and landscape photos. The pack includes 50 actions featuring non-destructive effects with editable adjustments.
Retro Comic Book Photoshop Action Kit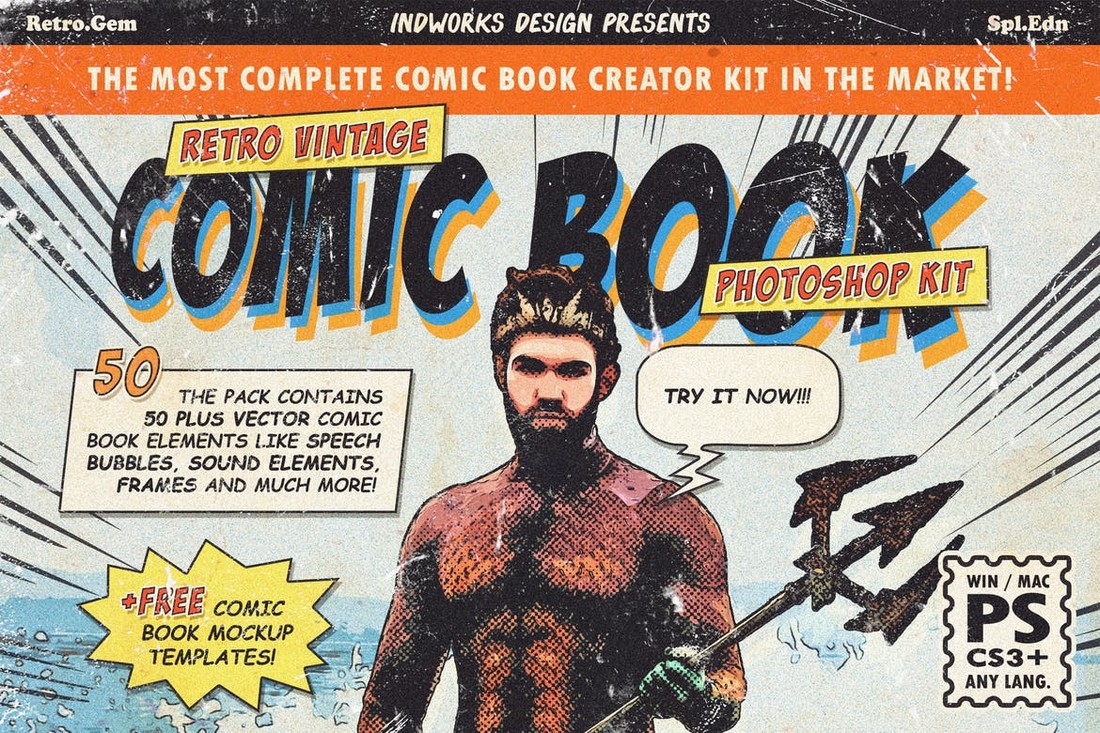 This action kit comes with all the necessary elements for transforming your photos and graphics to look like pages from a classic comic book. The bundle features 50 retro comic book elements and a few comic book mockups to showcase your designs as well.
Creamy Vintage – Free Photoshop Action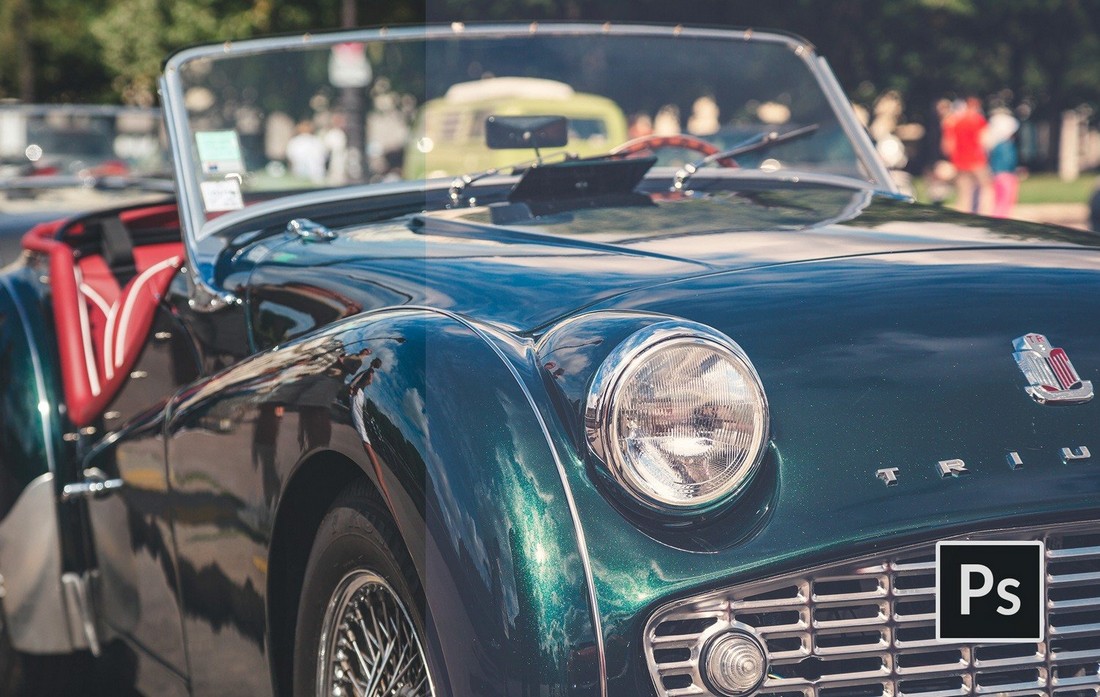 This free Photoshop action allows you to give your modern photos a smooth vintage look with its very subtle effect. It works with just one click and of course, you can also adjust the effect to your preference.
Vintage Print Photoshop Action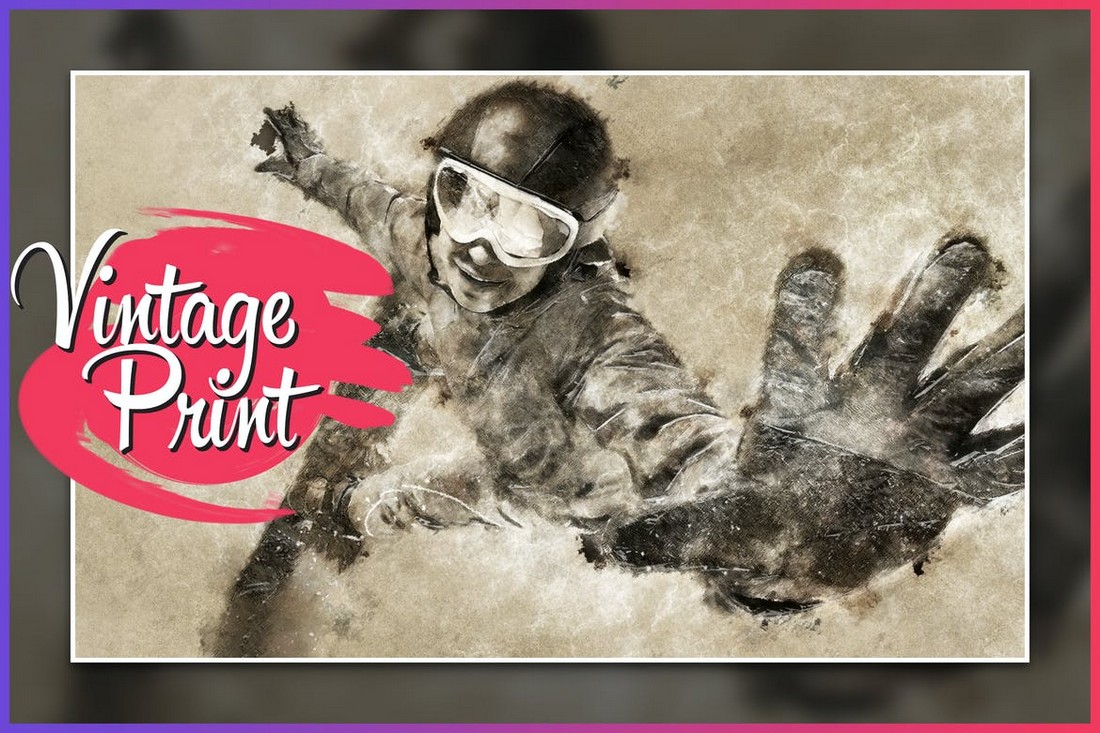 With this Photoshop action, you can give your photos a classic vintage look with just a few clicks. The effect is non-destructive and will work with any portrait photo to make them look more amazing. The action works with Photoshop CS4 and higher.
Vintage Text Photoshop Action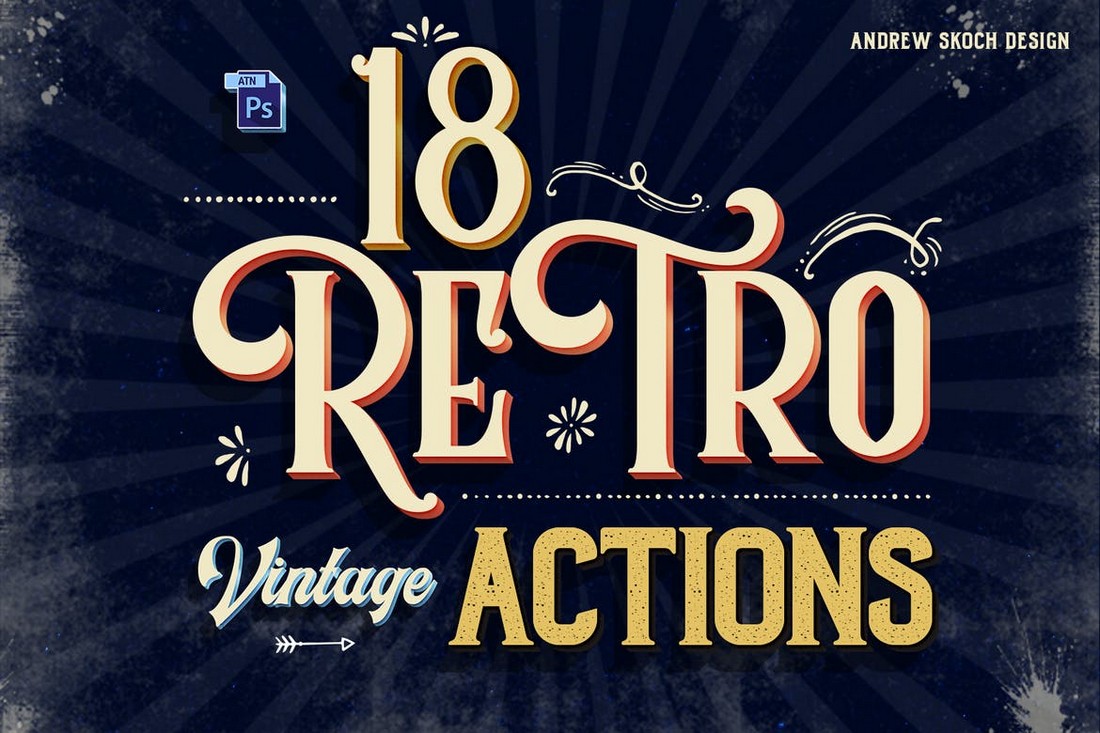 This is a collection of Photoshop actions designed for transforming your text and shapes with vintage designs. It includes 18 different actions that are perfect for giving your titles and headings a vintage look and feel.
20 Vintage Glow Photoshop Actions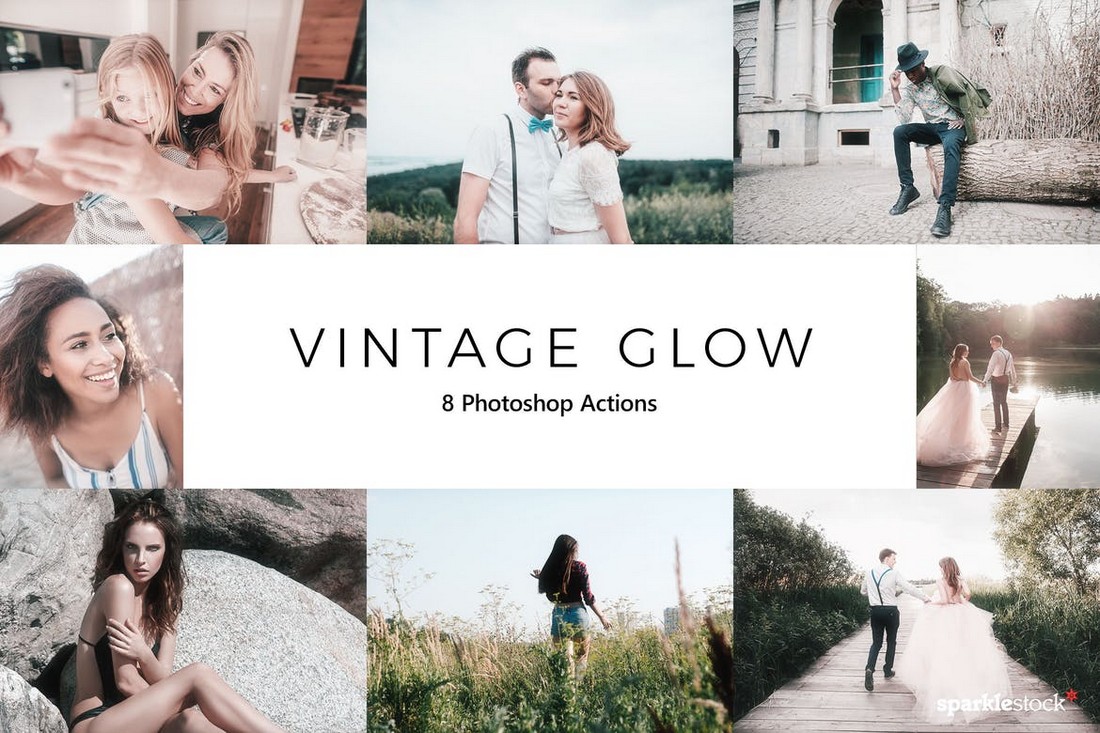 If you're looking for a Photoshop action to add a subtle vintage effect to your photos, this actions bundle will help. It comes with 20 different actions with simple vintage effects. You can also edit the adjustments to customize the effect.
Retrograde, Retro & Vintage Photoshop Actions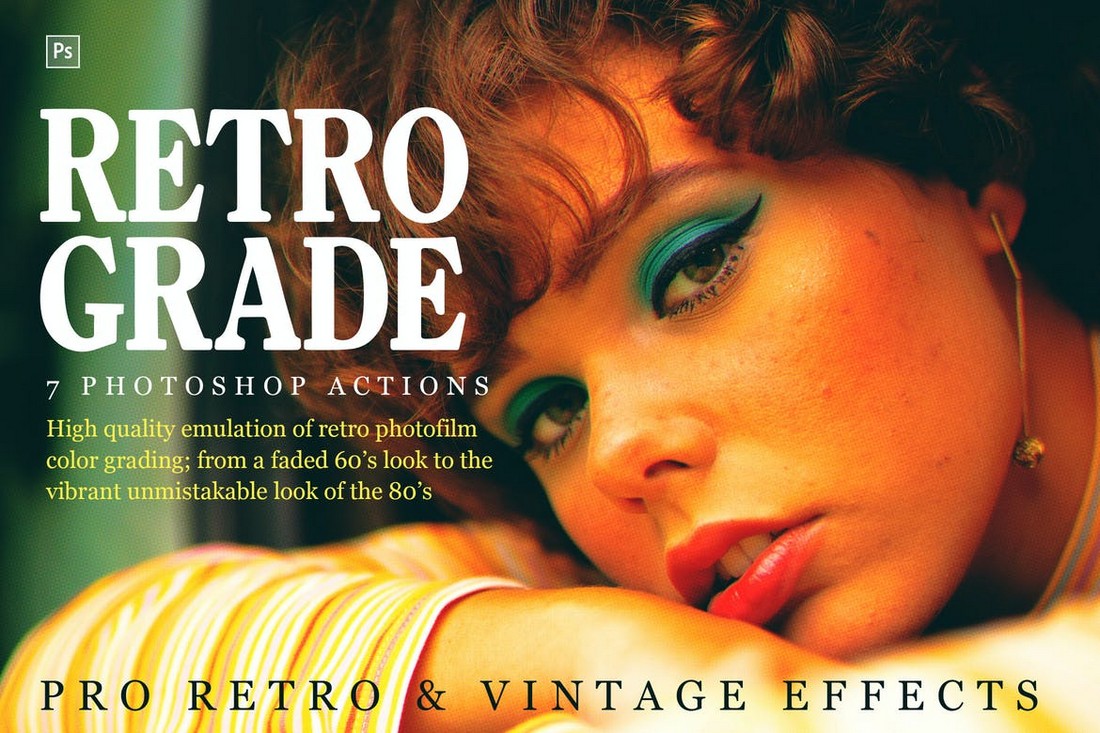 A collection of high-quality Photoshop actions that features effects inspired by the 1960s and all the way through to the 80s. These actions are great for designing everything from posters, flyers, album covers, book covers, and much more.
6 Free Vintage Photoshop Actions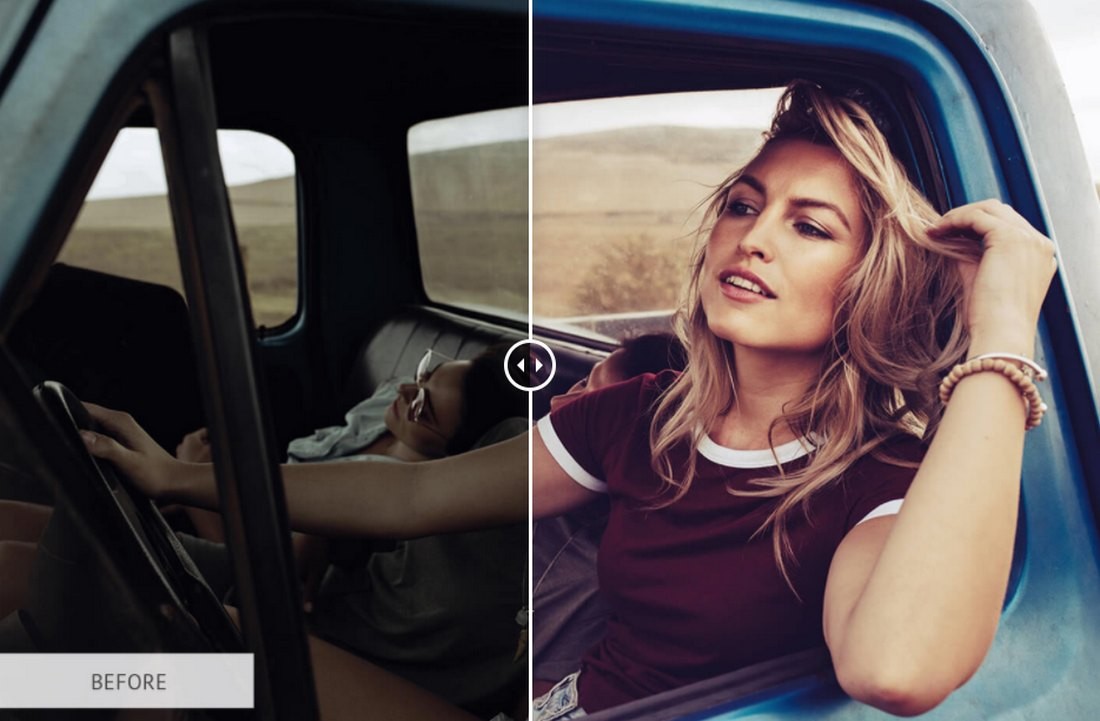 This collection includes 6 free Photoshop actions that you can use to give your photos a vintage look. There are different effects with various styles. The actions are most suitable for outdoor portrait photos.
Film Noir B&W Photoshop Actions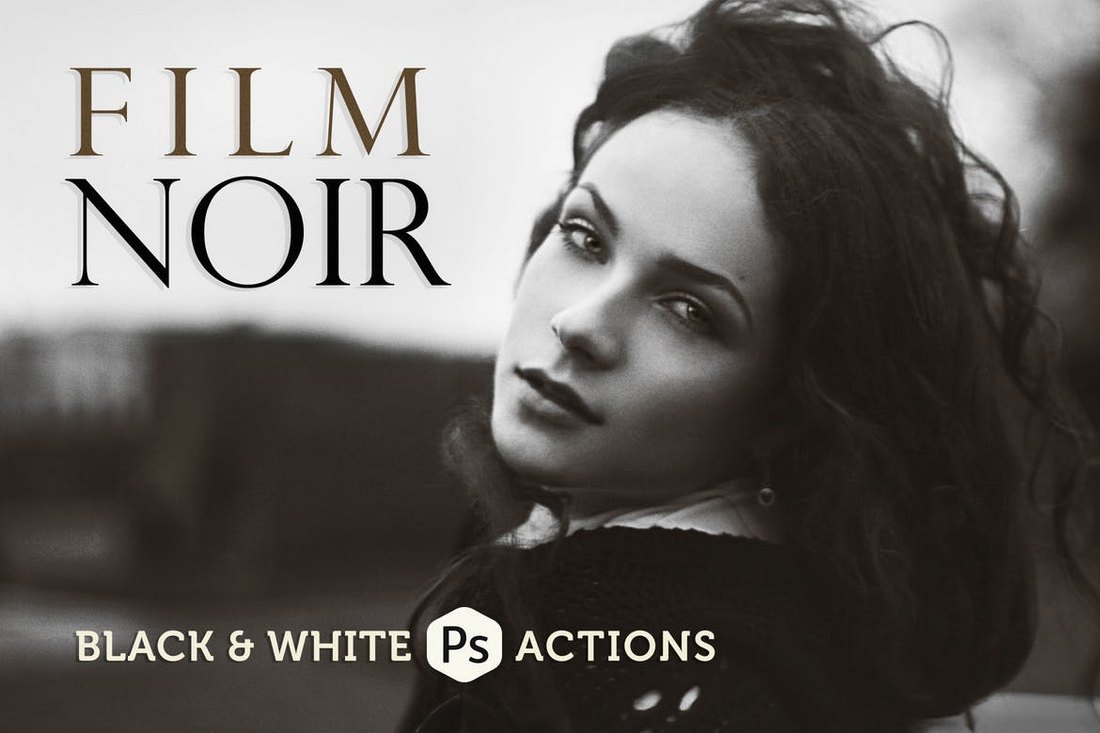 This is a collection of black and white Photoshop actions that creates unique B&W analog film effects. It comes with 6 Photoshop actions made specifically for portrait photos. It will work great with fine art and street photography as well.
Pinhole Halftone Photoshop Actions
Another stylish vintage Photoshop action that features a halftone black and white effect for giving a true vintage look and feel to your portrait and landscape photos. This bundle also comes with 2 sets of actions specially optimized for low resolution and high-resolution images.
18th Century Painting Photoshop Action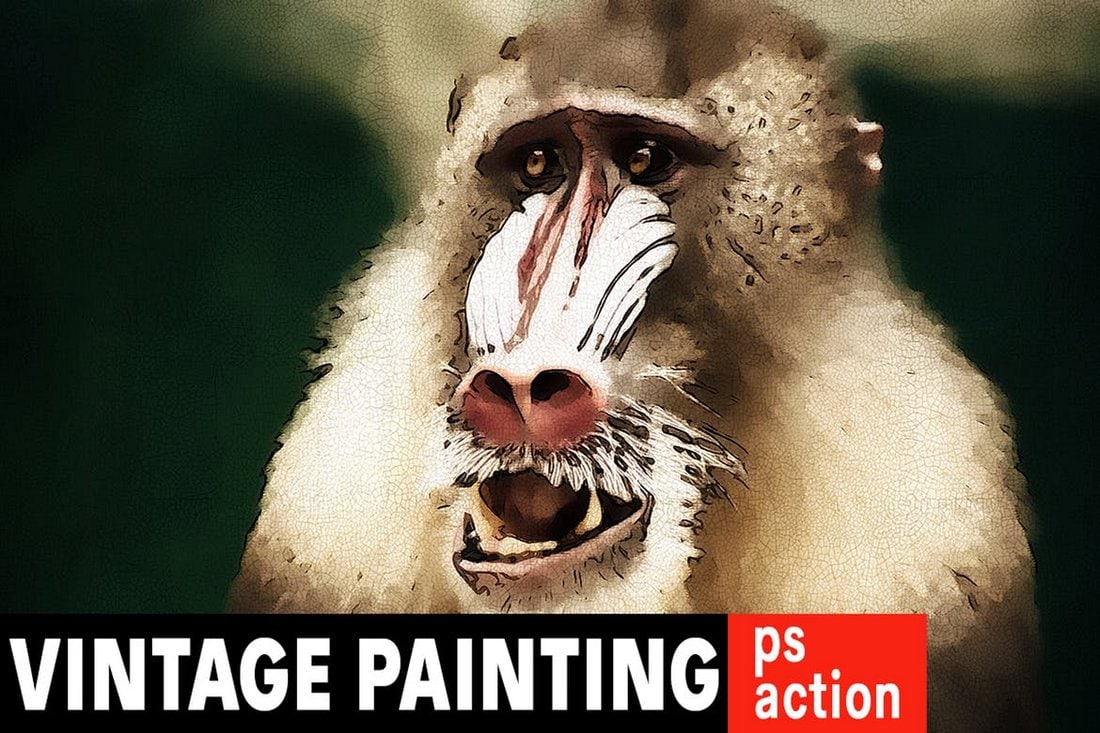 This unique Photoshop action allows you to transform your photos and portraits into 18th-century paintings and artworks. The action is completely non-destructive and can be easily edited using adjustment layers as well.
24 Retro Pixel Art Photoshop Actions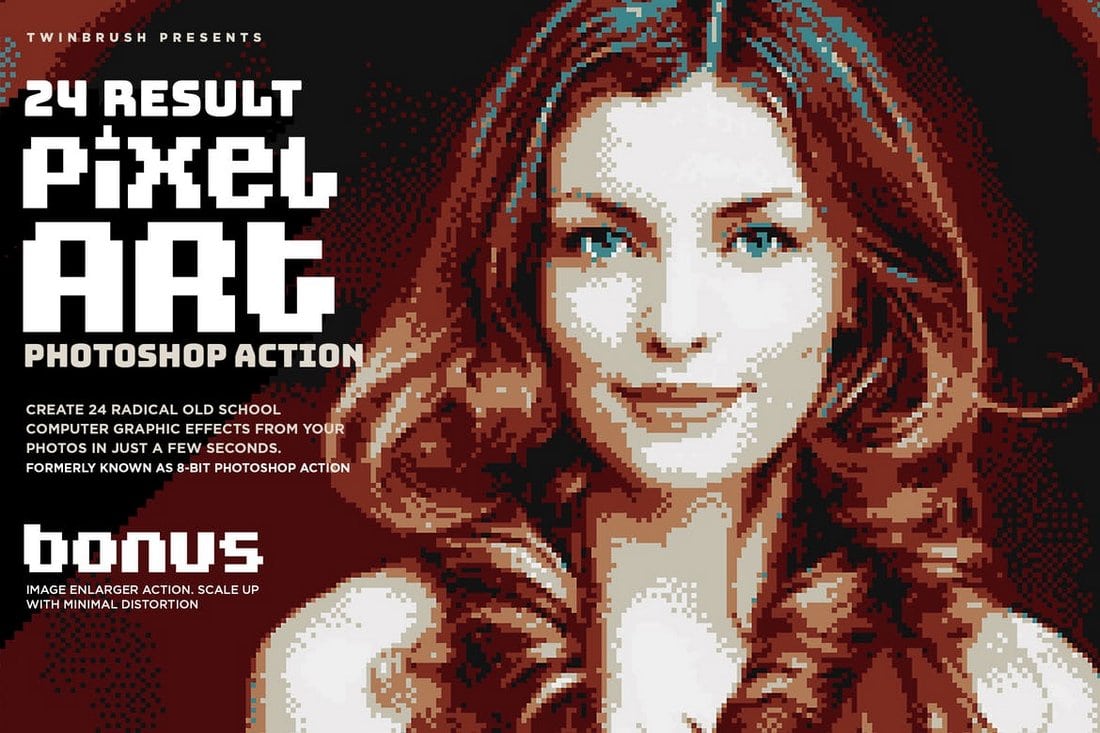 With these creative Photoshop actions, you can give a retro video game look to your photos by making them look like pixelated 16-bit art. The bundle includes 24 different effects inspired by old-school arcade games and Nintendo games.
30 Free Vintage Photoshop Actions Bundle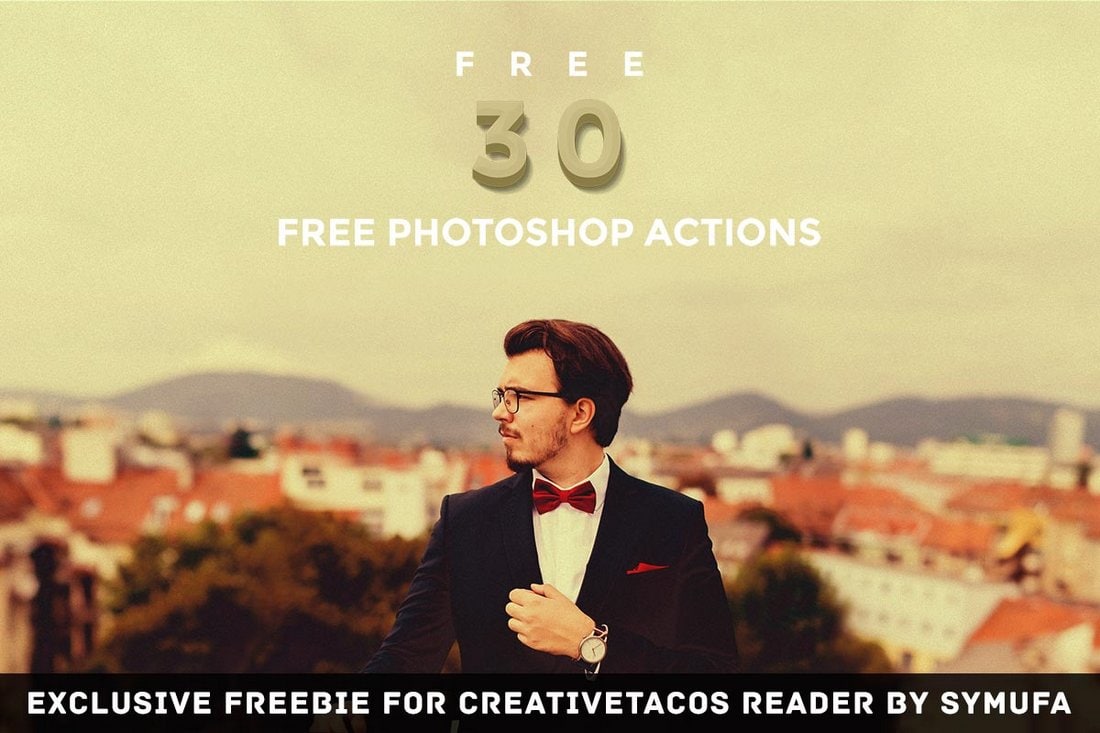 This is a massive bundle of free Photoshop actions that includes 30 different effects featuring various retro and vintage tones. The effects work with Photoshop CS3 and higher.
18 Free Vintage Photoshop Actions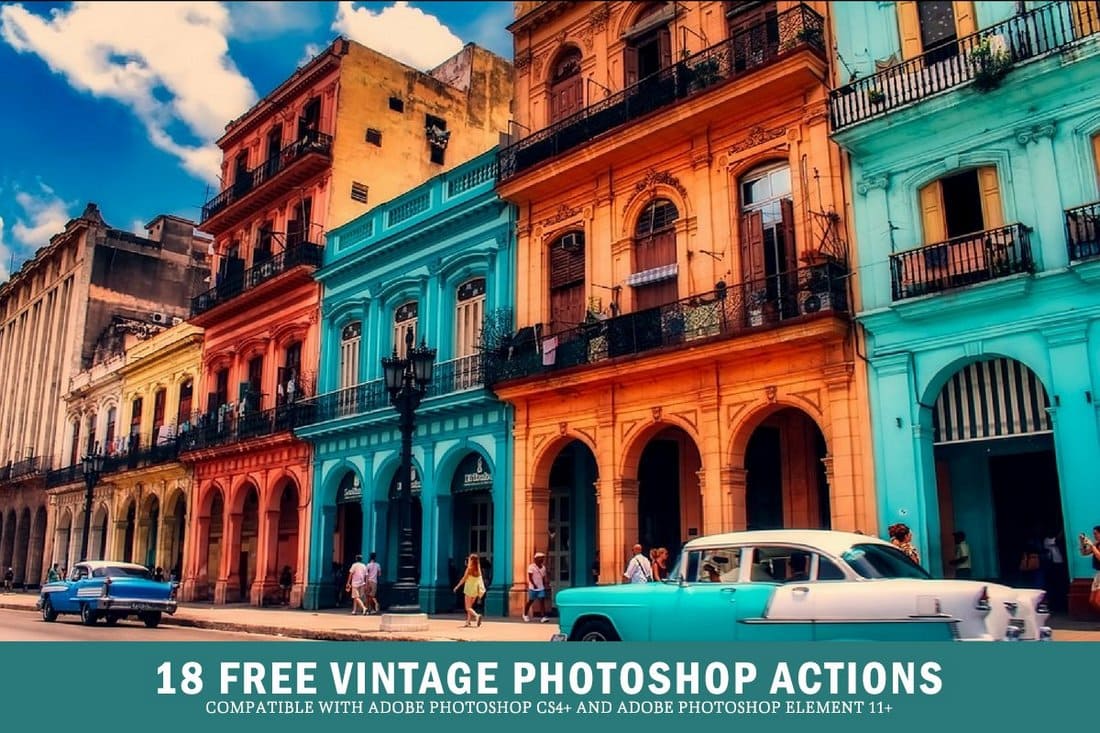 This bundle includes 18 unique Photoshop actions that add a vintage-themed mood and a color tone to modern photos. It works best with landscape and outdoor photos.
80's Retro Poster Photoshop Action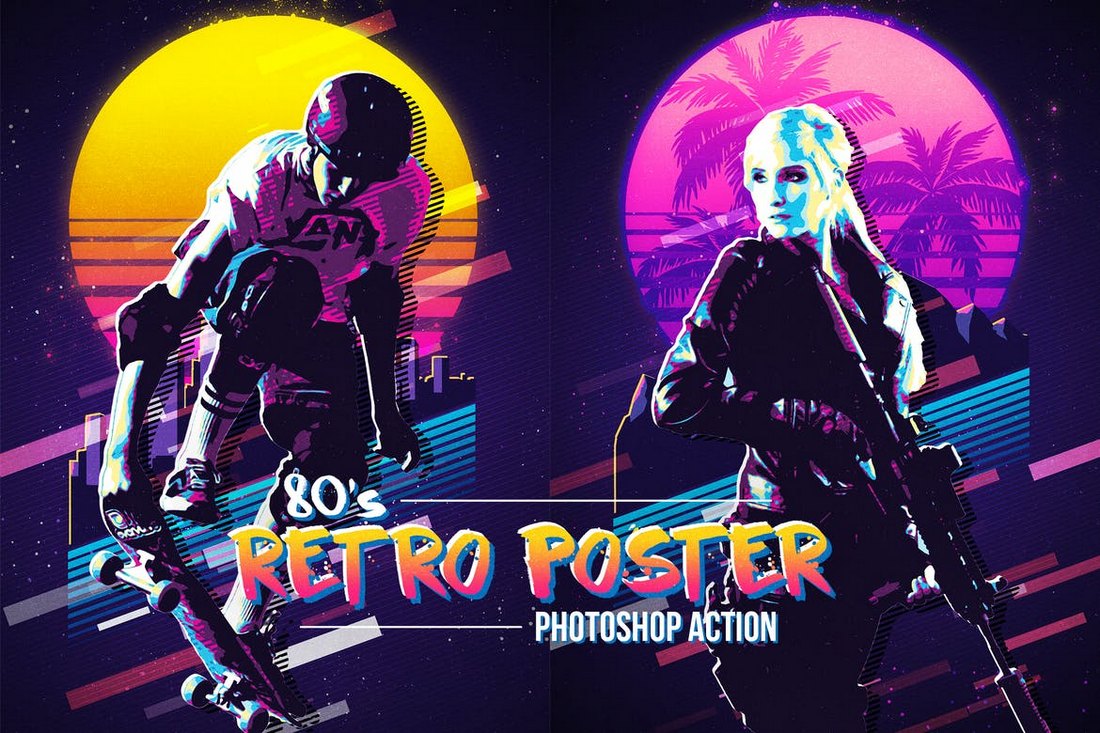 If you're a fan of the old-school colorful retro designs from the 80's, this Photoshop action is perfect for you. This action allows you to completely transform your posters and flyer designs to make them look like something out of a retro sci-fi movie from the 80's. It works with Photoshop CS3 and above.
Pixel Artist – 8-Bit Retro Photoshop Action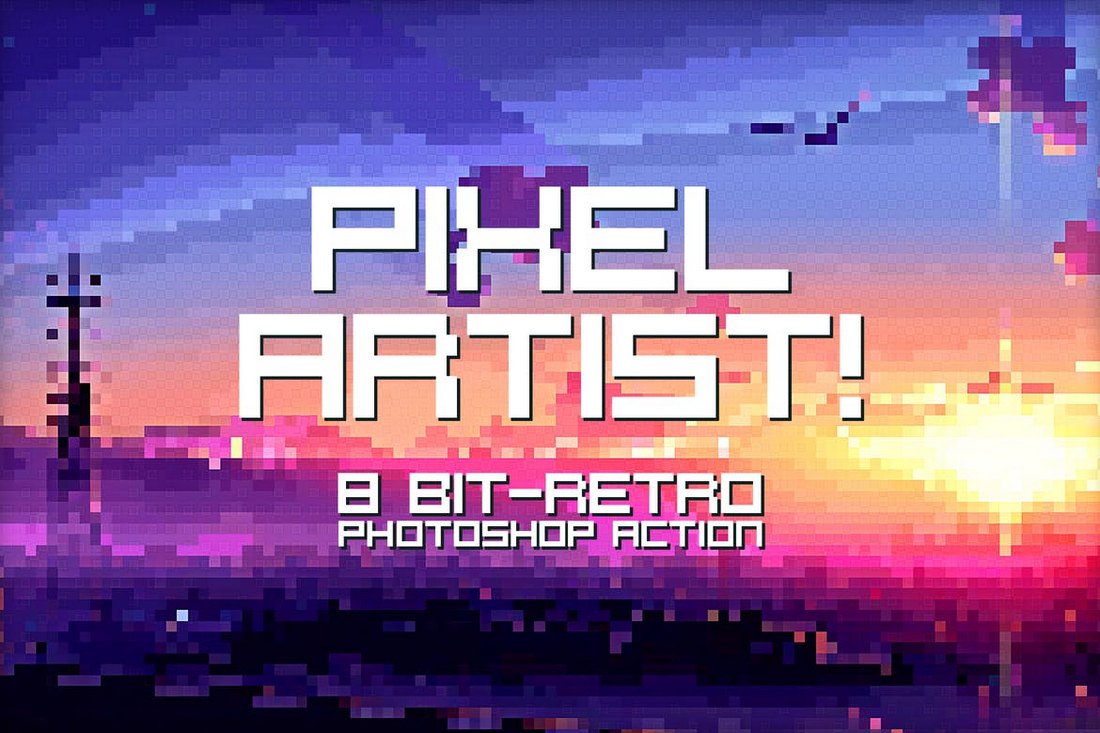 Using this Photoshop action you'll be able to instantly make your photos and designs look like a screenshot from an 8-bit retro video game. With a single click, the action generates 25 different pixeled solutions to create a unique pixelated effect, with multiple adjustment layers.
Vector Art – Retro Photoshop Action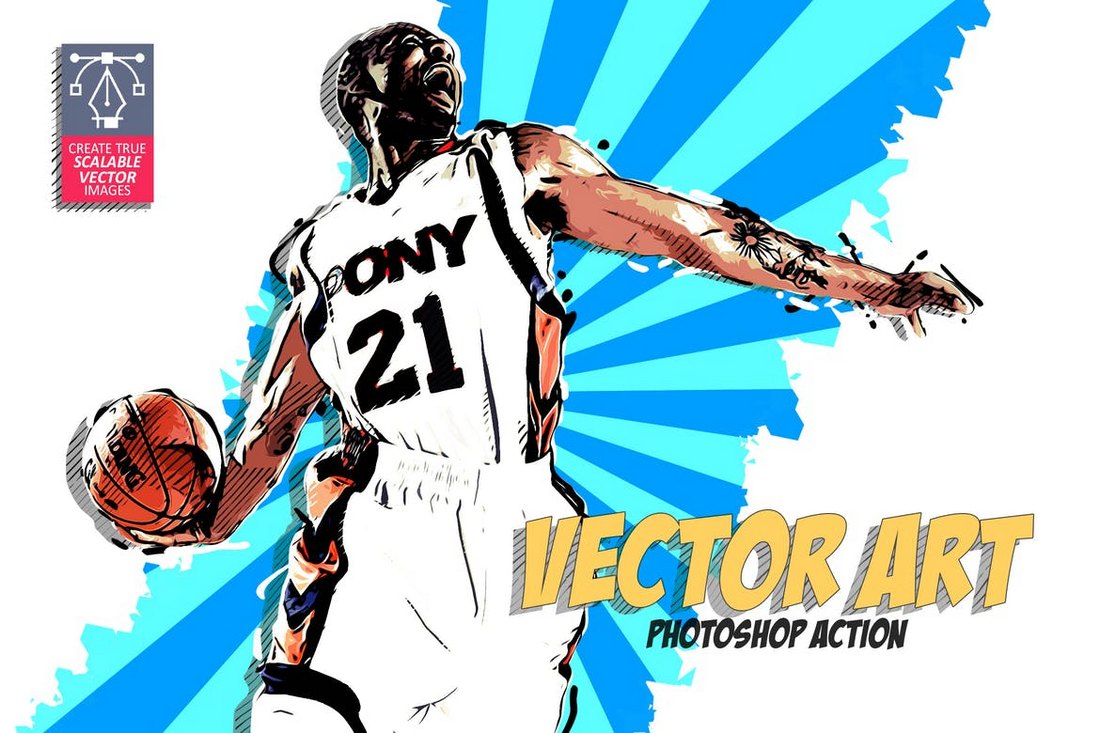 This is a creative Photoshop action that allows you to create a unique retro comic book-like effect using your photos and illustrations. The action actually generates scalable vector graphics from your image to make your design more scalable as well. This makes this action a great method for scaling your low-rez photos.
Halftone – Retro Photoshop Actions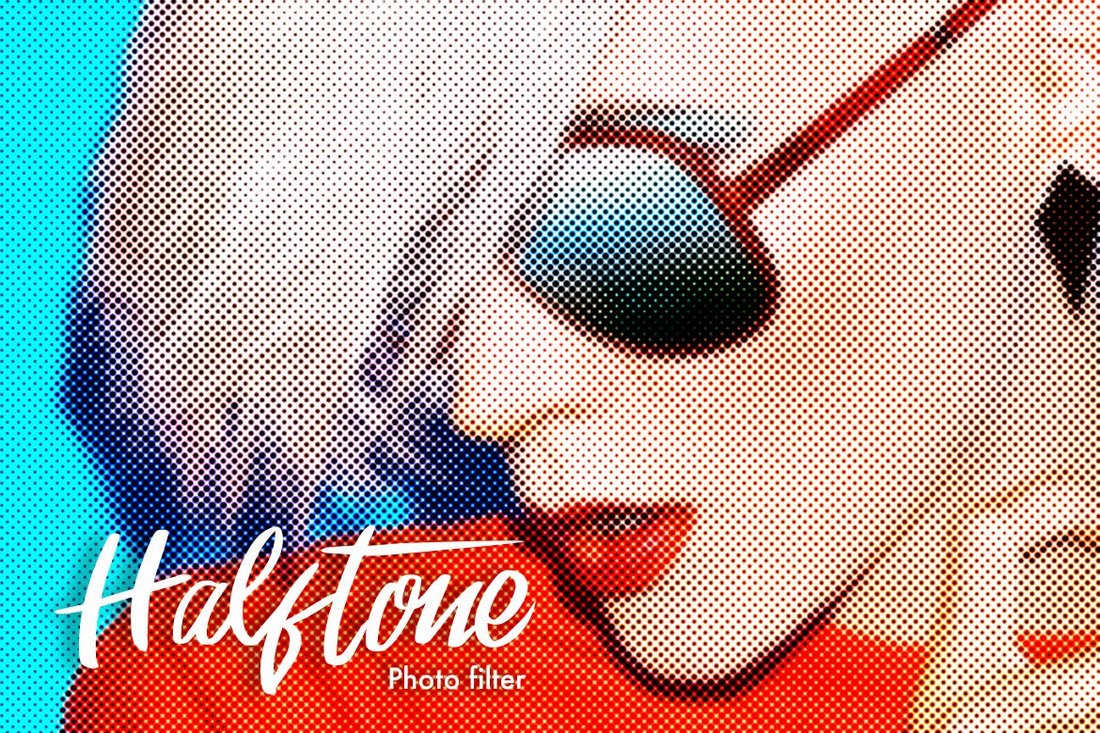 Halftone is a popular printing technique used back in the day for creating the tone range of the photographs. Of course, these dots were visible when printed and gave the photos a unique comic-like effect. This Photoshop action lets you create that same effect. It comes with 4 variations and 10 duotone colors as well.
Lomographist – Retro Vintage Photoshop Actions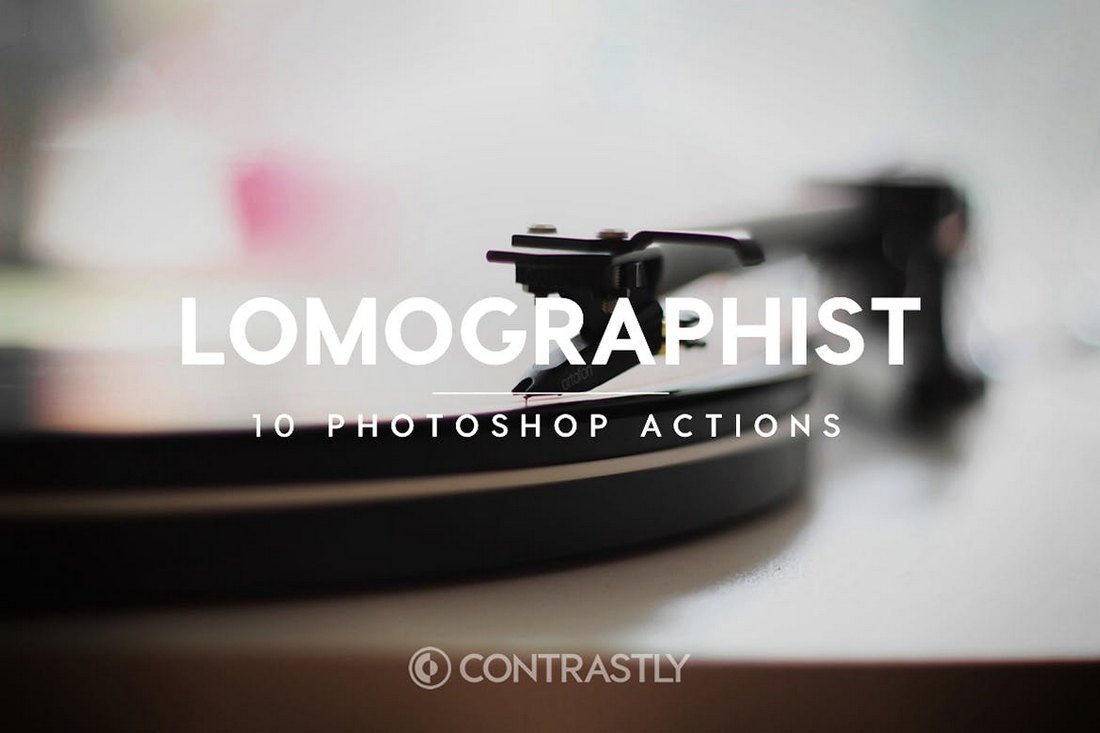 This Photoshop action creates a unique vintage film-like effect to make your photos look as if they were taken by an old-school Diana or Holga camera. The bundle includes 10 different actions that work with Photoshop CS4 and better.
Faded Films – 75 Film & Retro Effects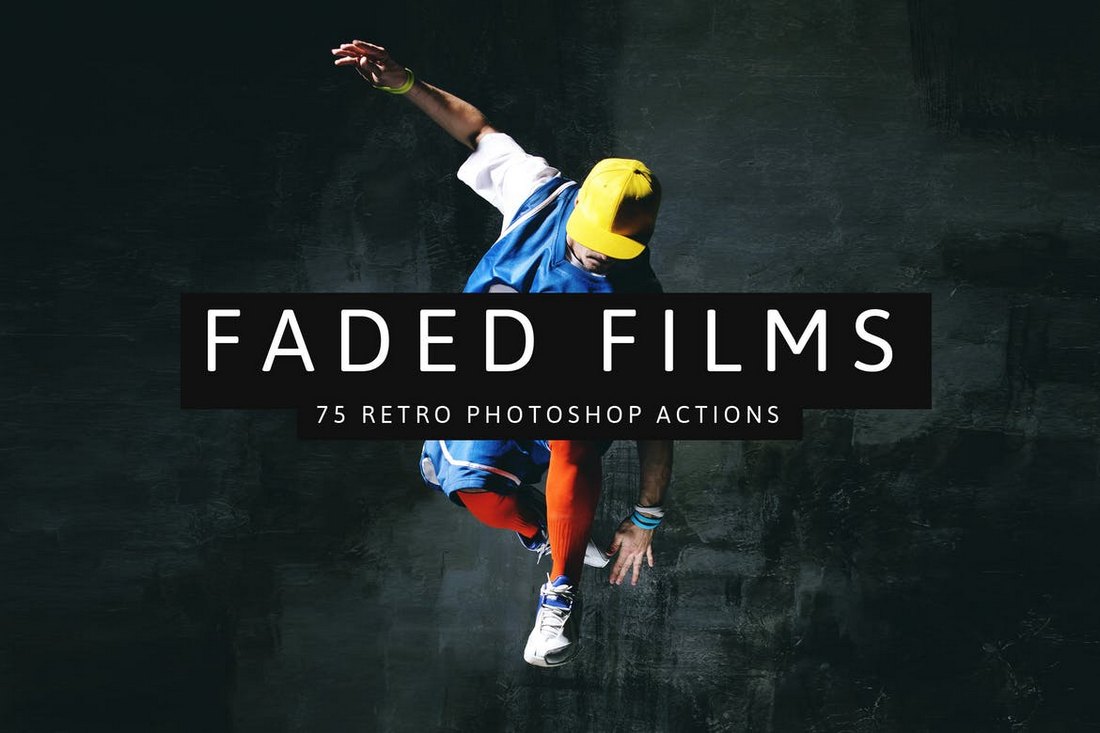 A collection of 75 different Photoshop actions that create various styles of faded film effects. These effects are ideal for creating unique graphic designs, social media posts, and more. It includes 31 film effects, 19 Instagram effects, and 25 SparkleStock Prestalgia faded effects.
30 Free Vintage Photoshop Actions Collection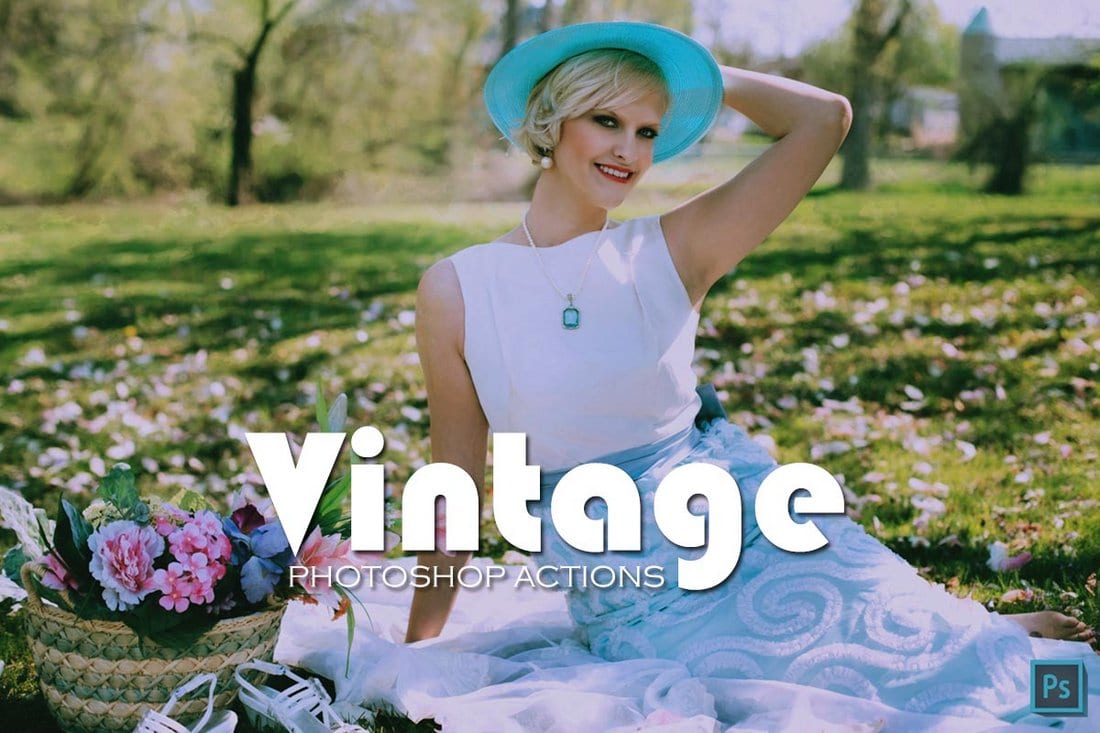 A set of elegant vintage effects you can easily apply to your photos with just one-click. This bundle includes 30 different Photoshop actions, all of which you can download for free.
100 Free Split Tone Photoshop Actions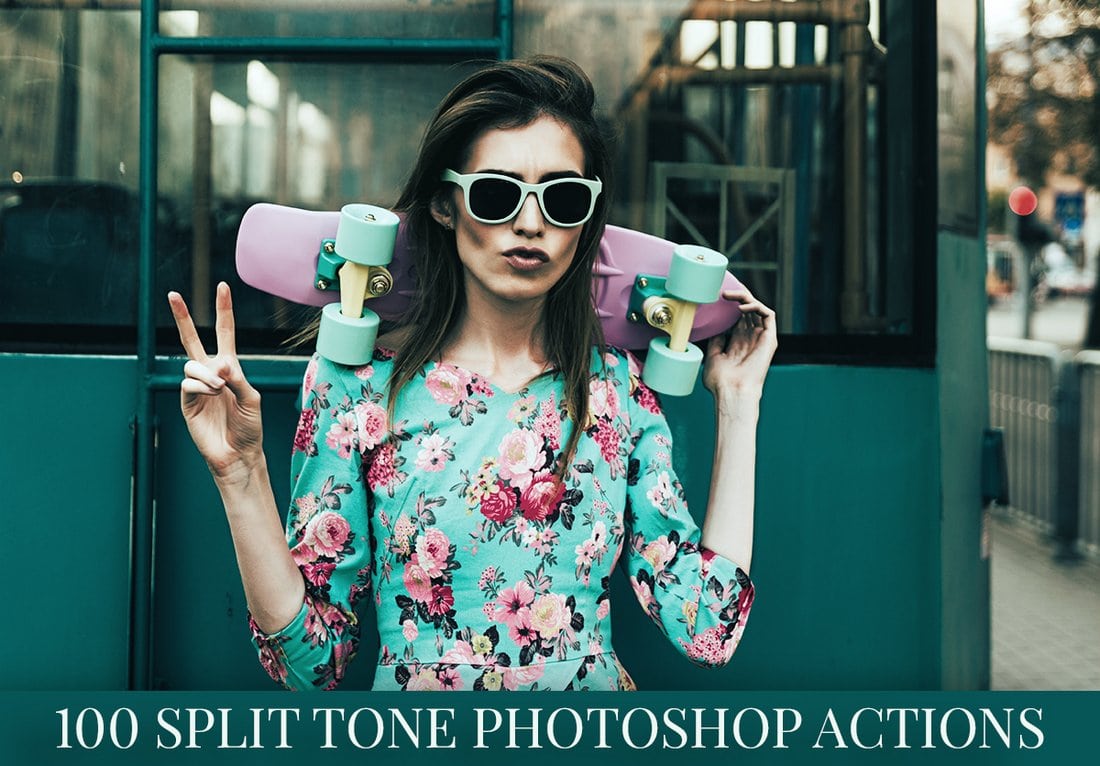 Split-toning is a popular effect modern photographers use to add an aged look to portrait and landscape photos. This bundle includes 100 different variations of split toning effects you can use with your projects.
Ink Press Type – Vintage Photoshop Action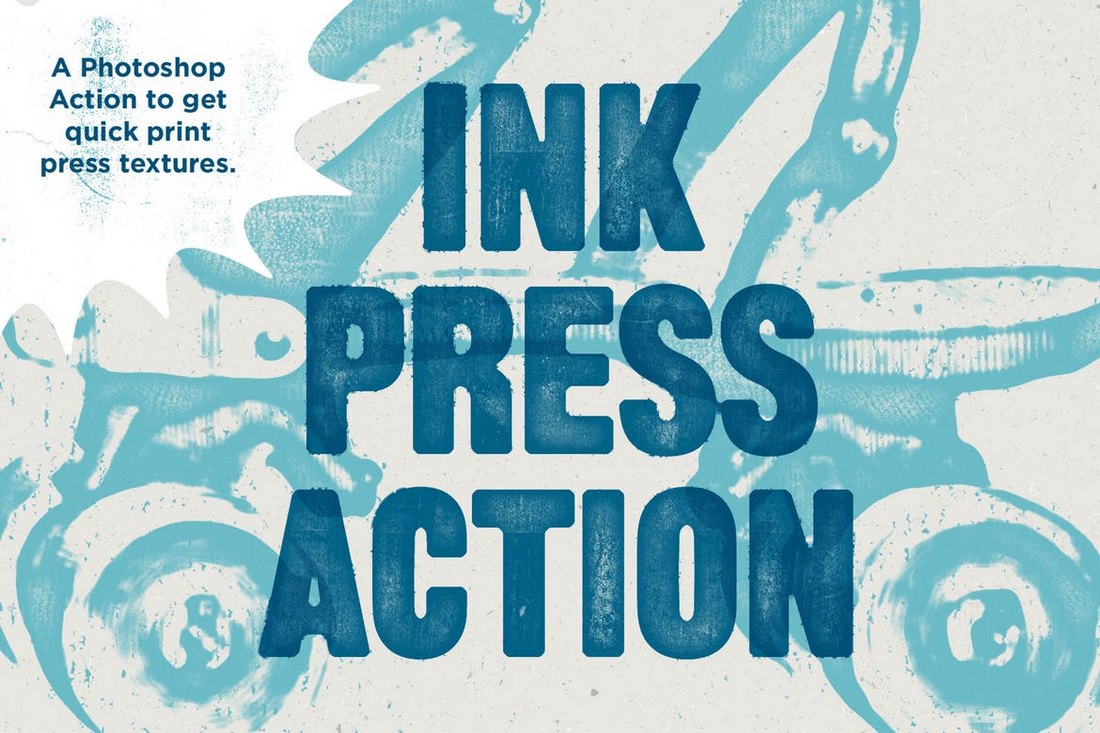 Ink press is a popular printing technique that's still being used in the print industry. This Photoshop action lets give a similar ink press printed effect to your designs, text, and photos. In addition to the Photoshop action, it also comes with 20 patterns and a sample PSD file.
nimated Retro Vintage Film – Photoshop Actions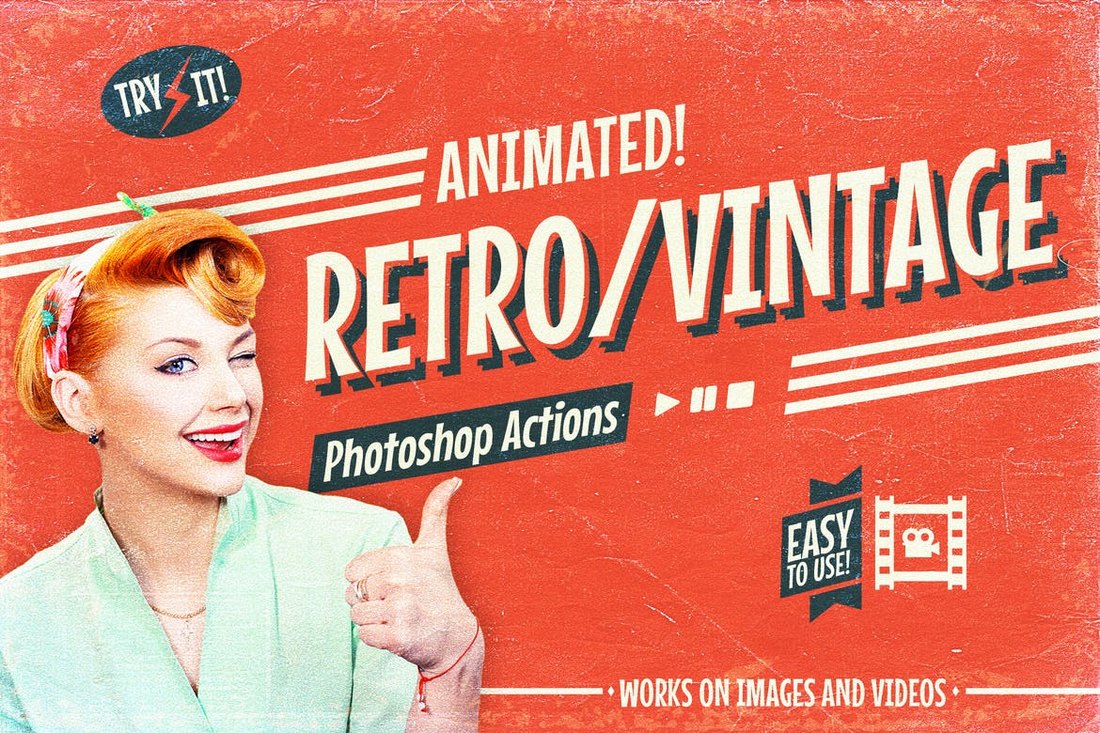 This unique Photoshop action comes with powerful features. It allows you to create video sequences with animated vintage effects using either your photos or video clips. It features 24 color options and includes useful effects like light leaks, camera shakes, and retro film frames.
Papyrum – Vintage Grunge Photoshop Action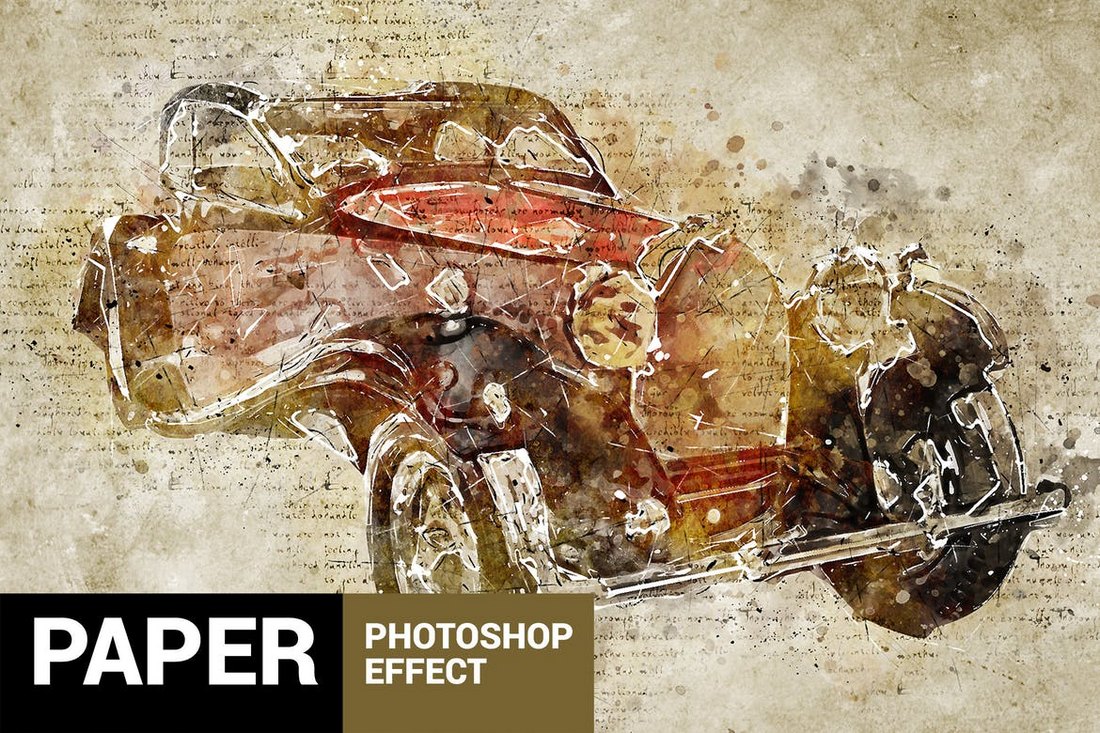 Featuring 20 color presets and options, this Photoshop action helps you create more artistic designs with less effort. With just a single click, this PS action will turn your ordinary photos and sceneries to look like a vintage hand-drawn sketch.
6 Vintage Photoshop Actions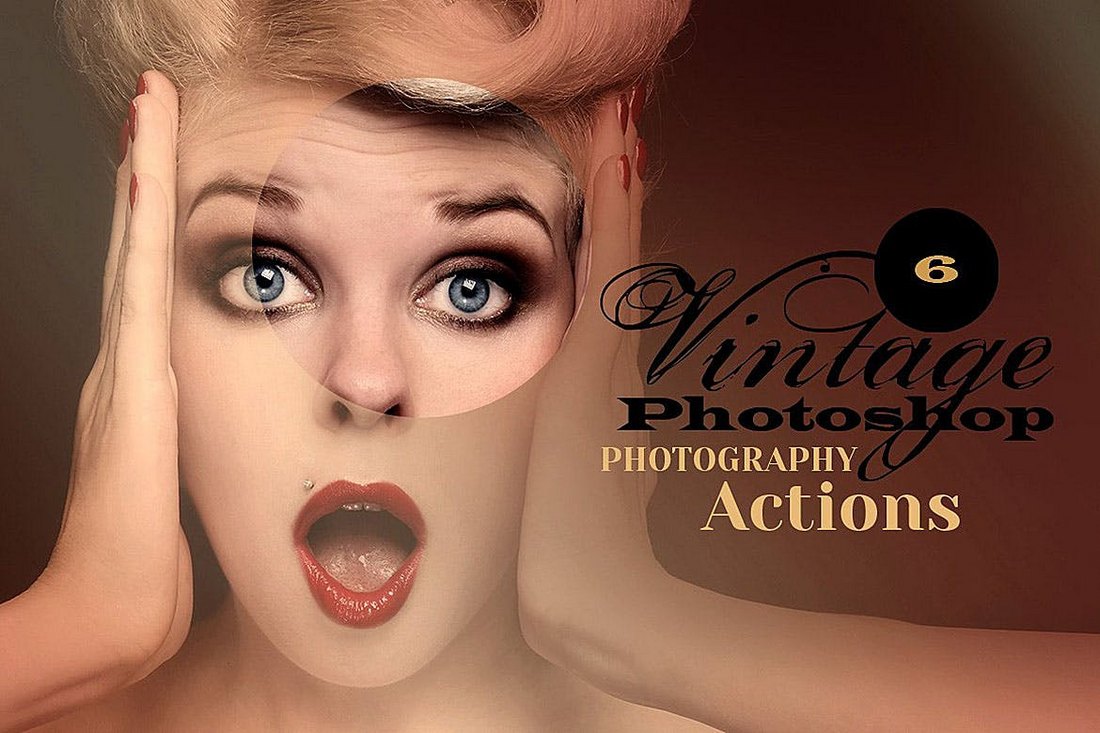 This is a collection of 6 unique Photoshop actions that allows you to instantly give a retro look and feel to your photos. It's ideal for creating unique portrait photos and for fashion photography.
Toy Camera Photography Photoshop Actions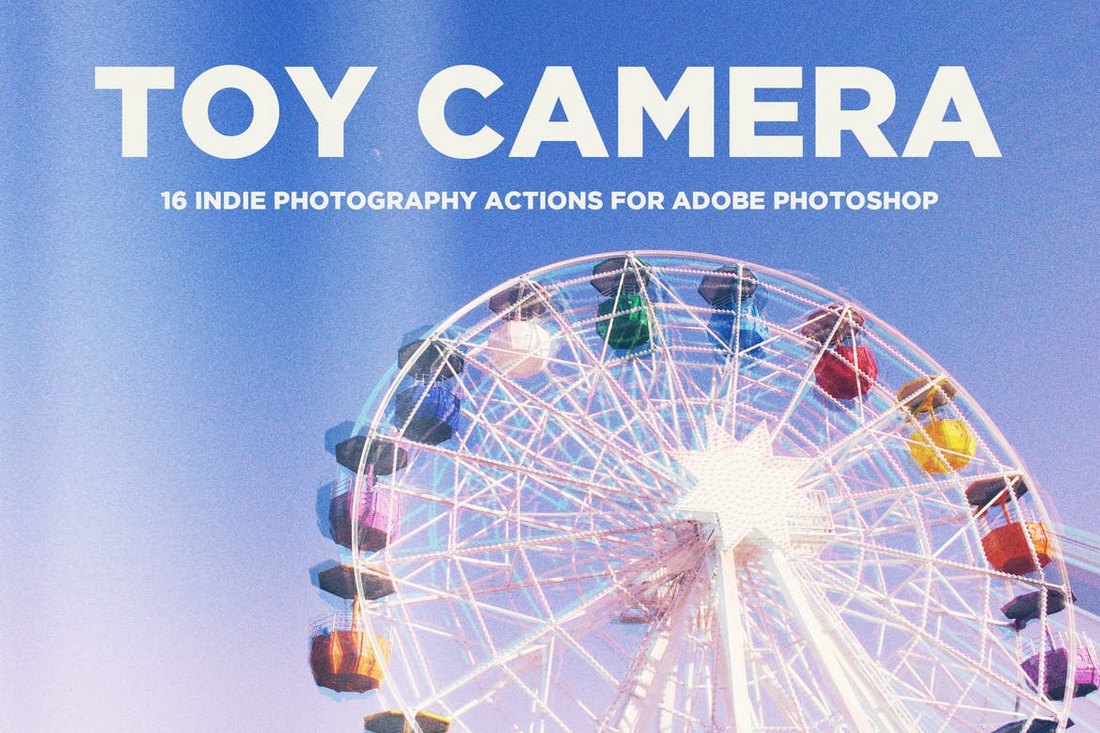 Toy cameras are great at creating unique low-fi photography that truly stands out from the crowd. Even though those cameras are cheap, you don't need them to create the effect. Use this bundle of Photoshop actions to create those same effects with less effort.
Free Vintage Time Photoshop Actions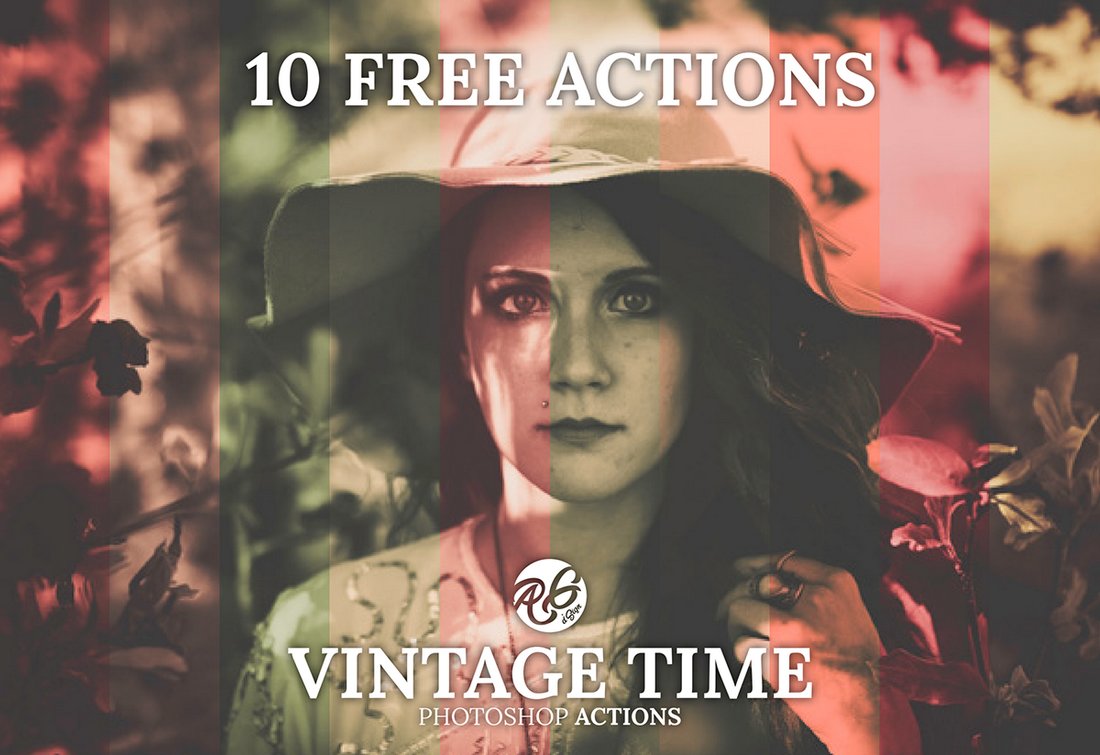 This is a set of free Photoshop actions that lets you add an old-school color effect to your photos. All of the effects are non-destructive and customizable as well.
Spell – Free Vintage Photoshop Action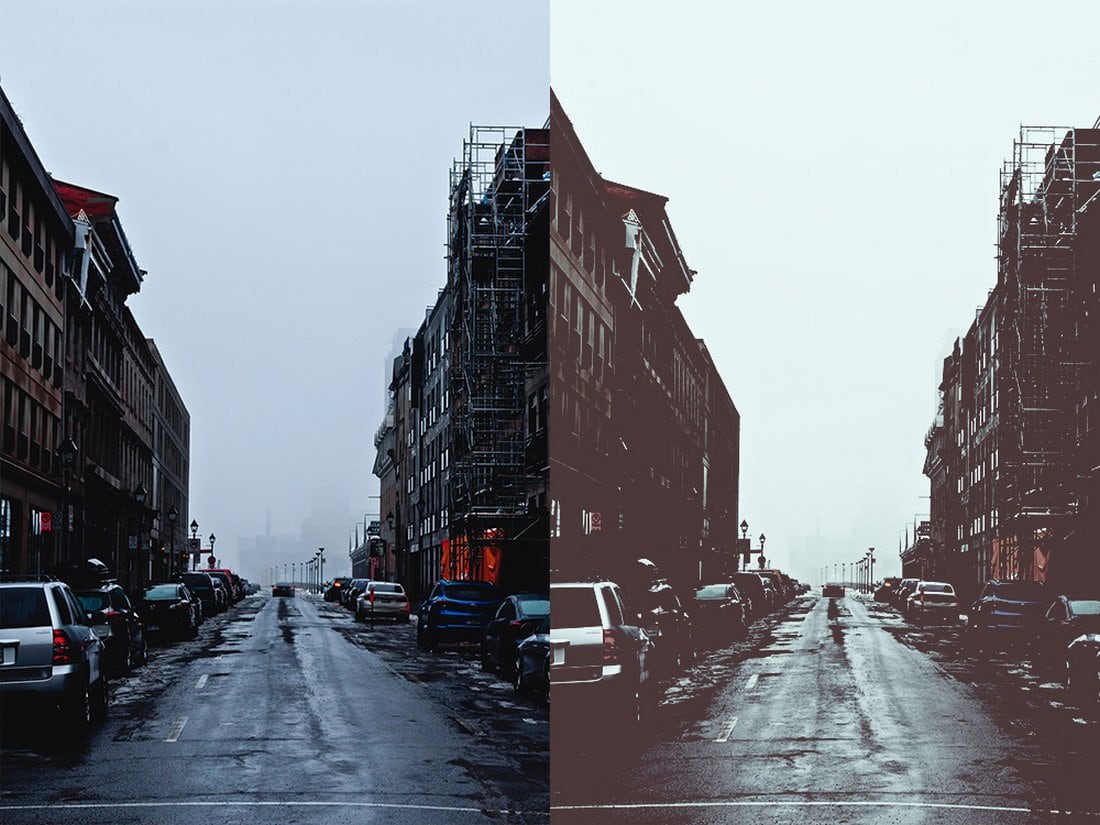 Spell is the ideal vintage Photoshop action you can use to add a creative aged look to your outdoor photography. It will work especially well with cityscape photos.
Free Elegant BW Photoshop Actions Set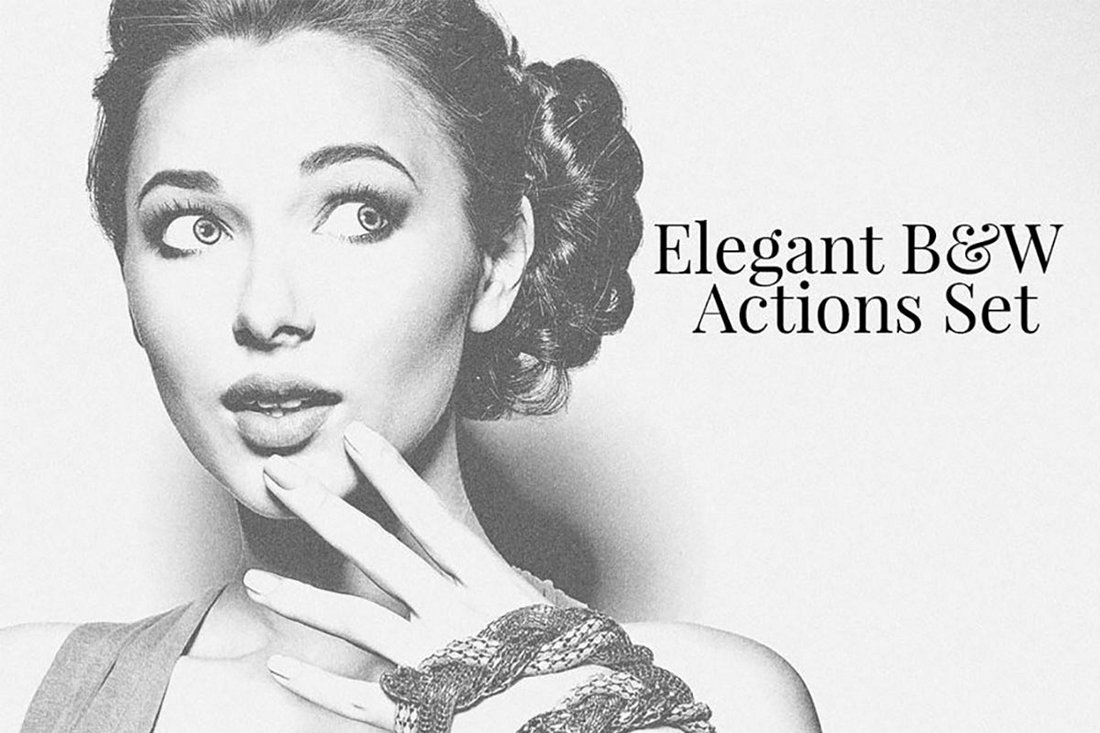 An elegant free Photoshop action that lets you create a classic black and white effect for your modern portrait photos. The effects are also fully editable.
Old Painting FX Photoshop Actions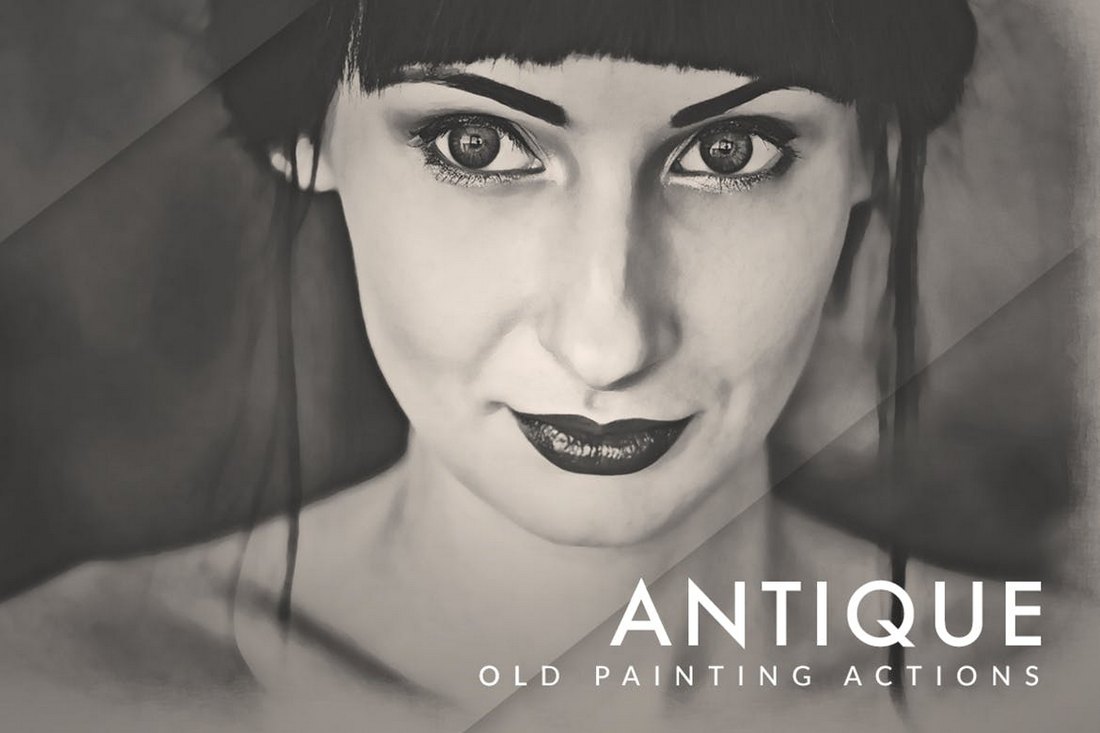 This Photoshop action lets you create a unique effect that makes your photos look like an old painting. It creates a non-destructive effect and includes 15 different color styles to choose from.
nalog & Retro Photoshop Actions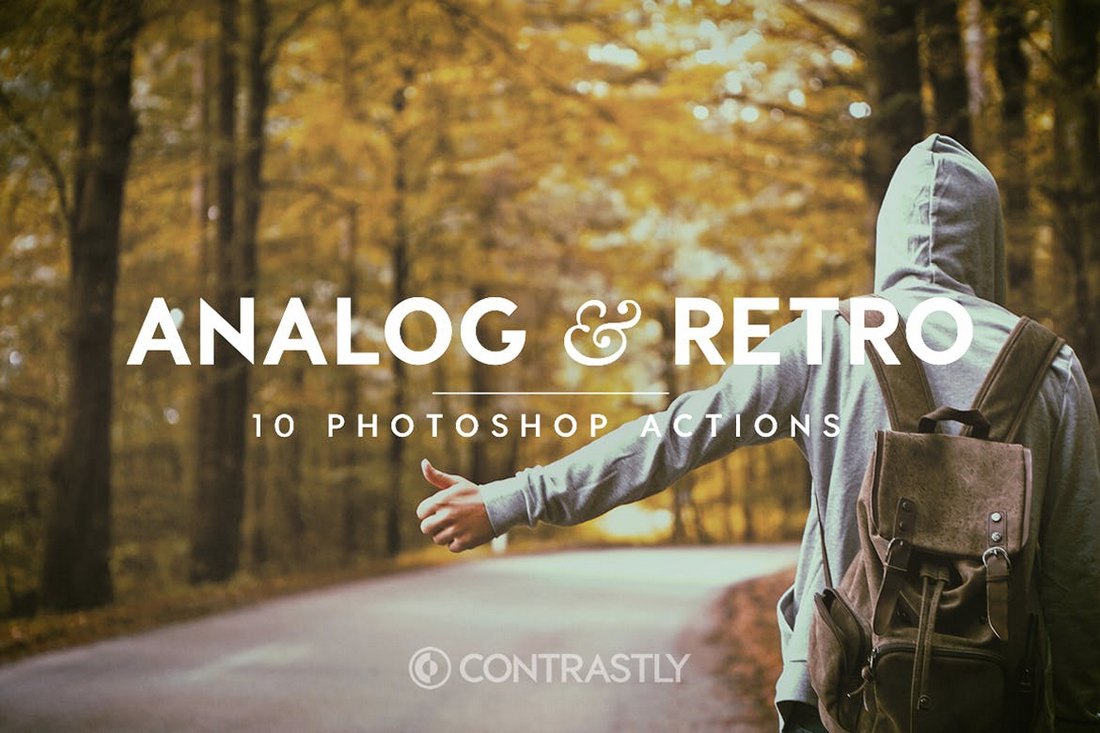 A bundle of retro vintage Photoshop actions featuring 10 different effects. These PS actions create unique effects that make your photos and designs look as if they were taken with old analog cameras.
Vintage Art Photoshop Action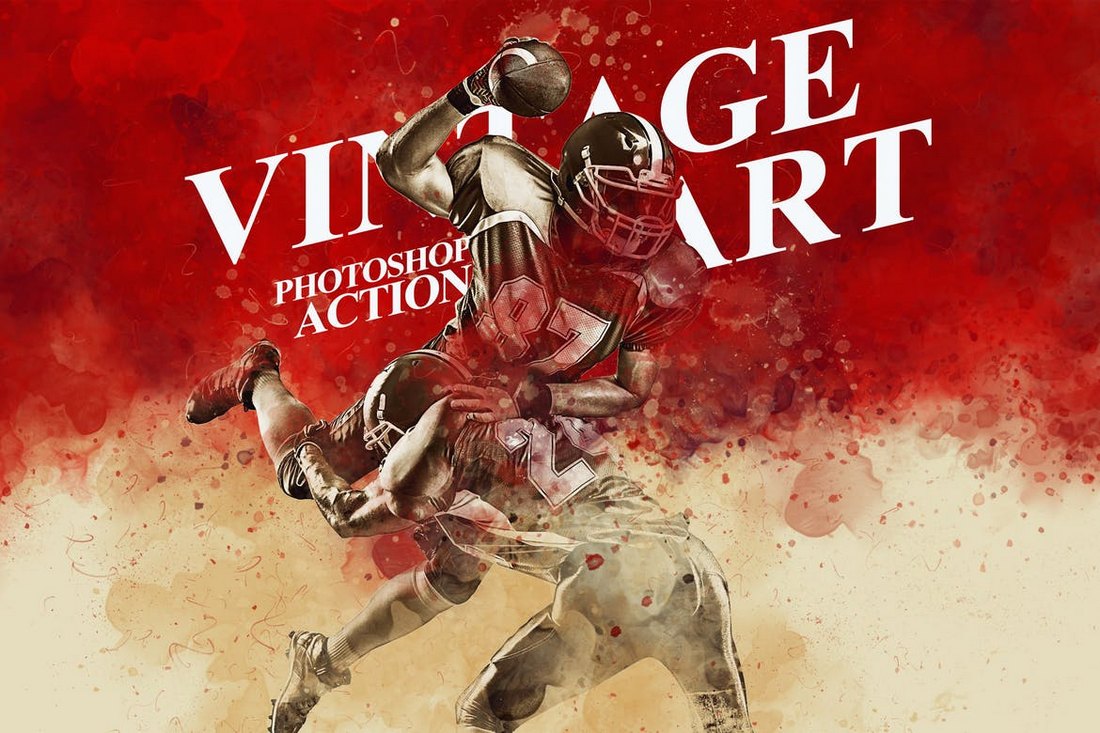 This Photoshop action does a great job at photo manipulation to create unique artistic effects that completely transforms your photos and designs. It works with Photoshop CS3 and higher.
Vintage Sketch Photoshop Action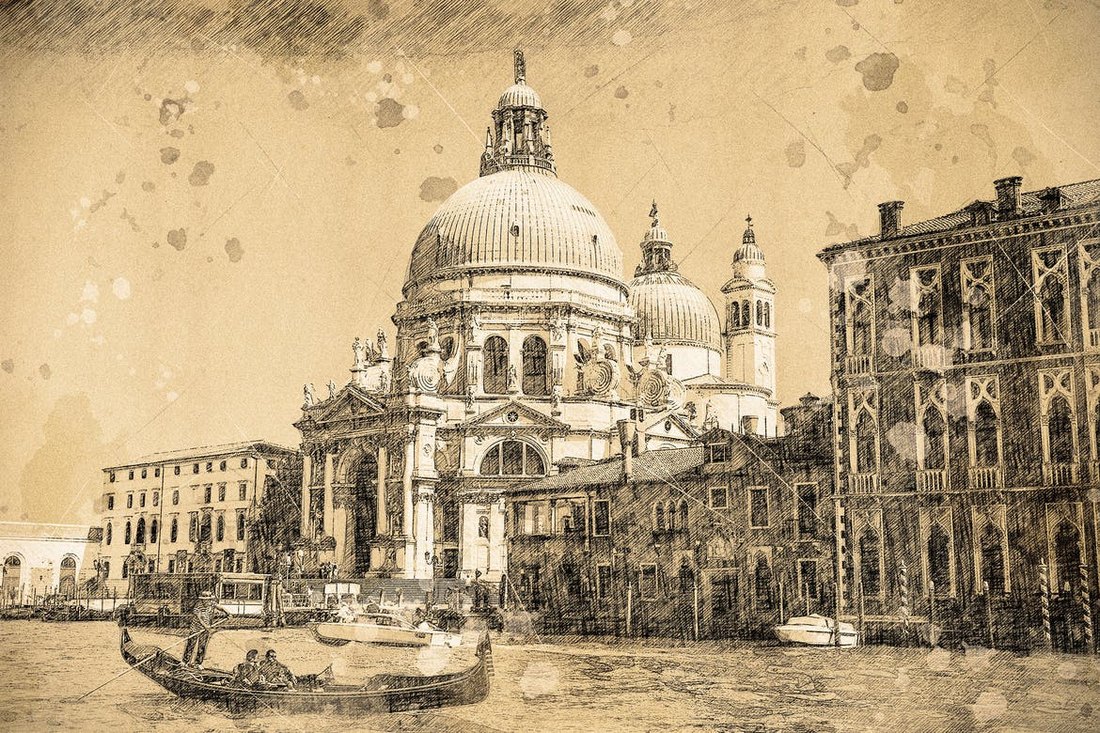 Make your photos look like a hand-drawn sketch art using this unique Photoshop action. This action will work better with landscape sceneries and outdoor photos.
Pinhole Photography Photoshop Actions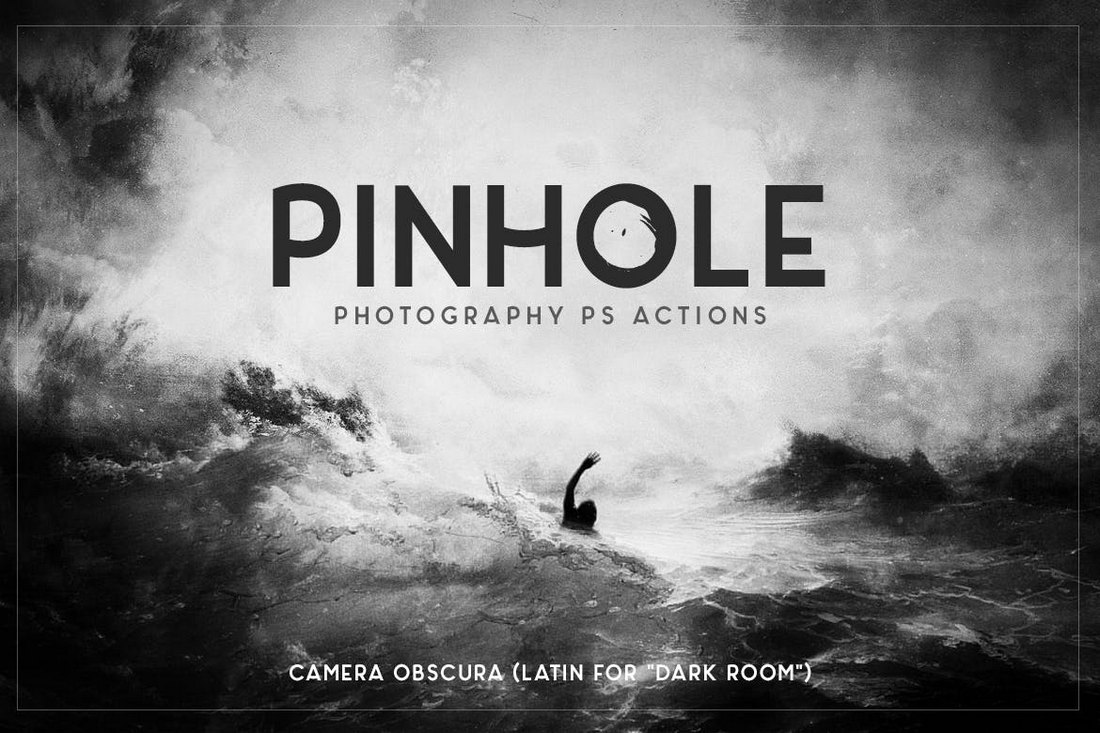 Inspired by the old-age camera obscura, this collection of Photoshop actions uses Pinhole color grading techniques to create unique effects that will make your photos stand out from the crowd. It includes 10 different PS actions.
Lomocam – Retro Photo Generator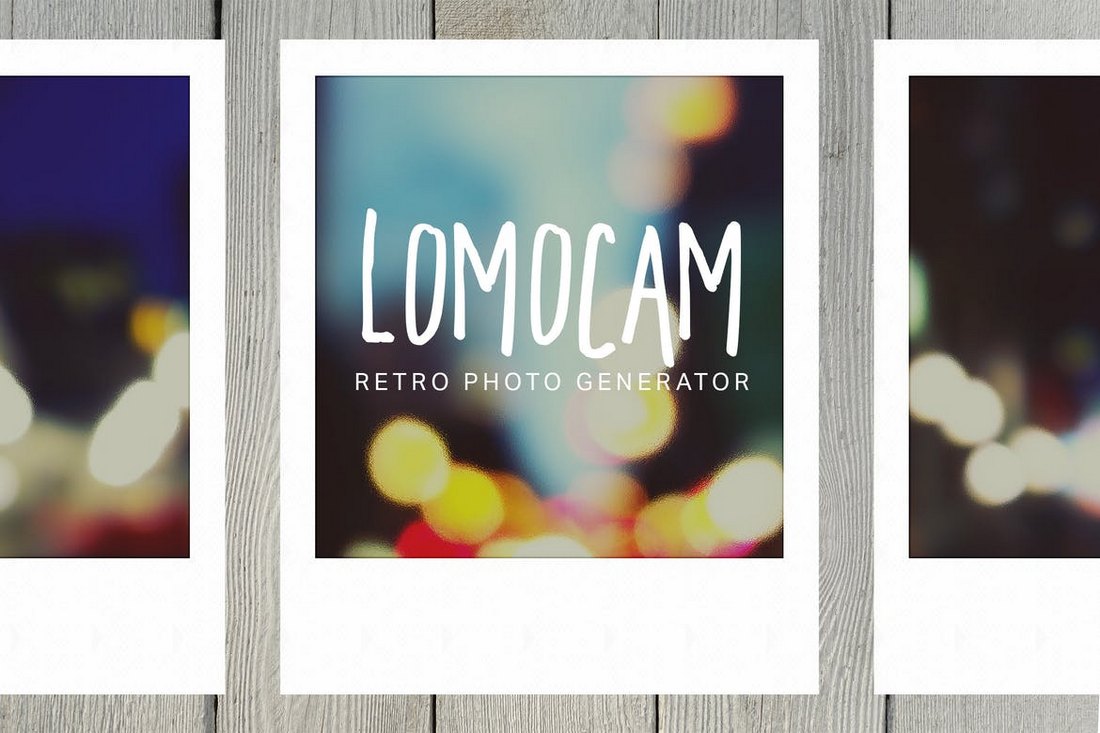 In addition to creating stylish retro photo effects, this Photoshop action even generate Polaroid frames for your photos. It includes 31 different film effects and generates editable layers.
nalog Camera Actions for Adobe Photoshop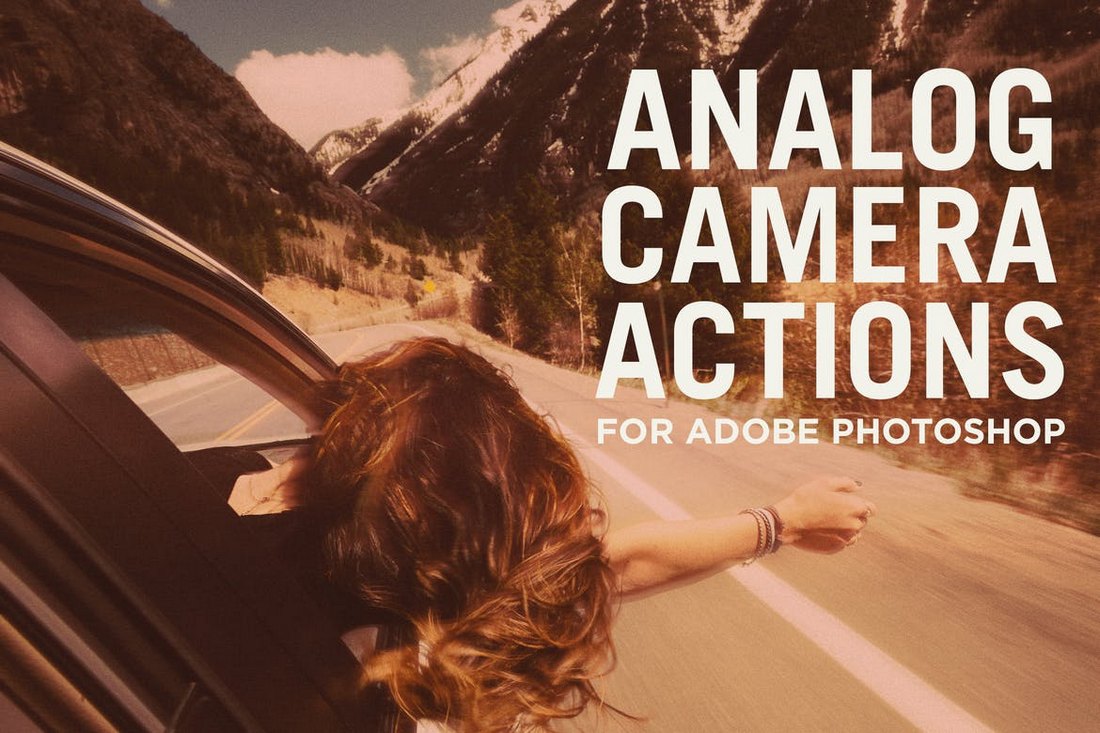 A collection of 24 unique Photoshop actions featuring retro and analog camera effects. This pack also comes with a handbook which teaches you how to use and customize the effects as well.
Orange and Teal Pro Photoshop Actions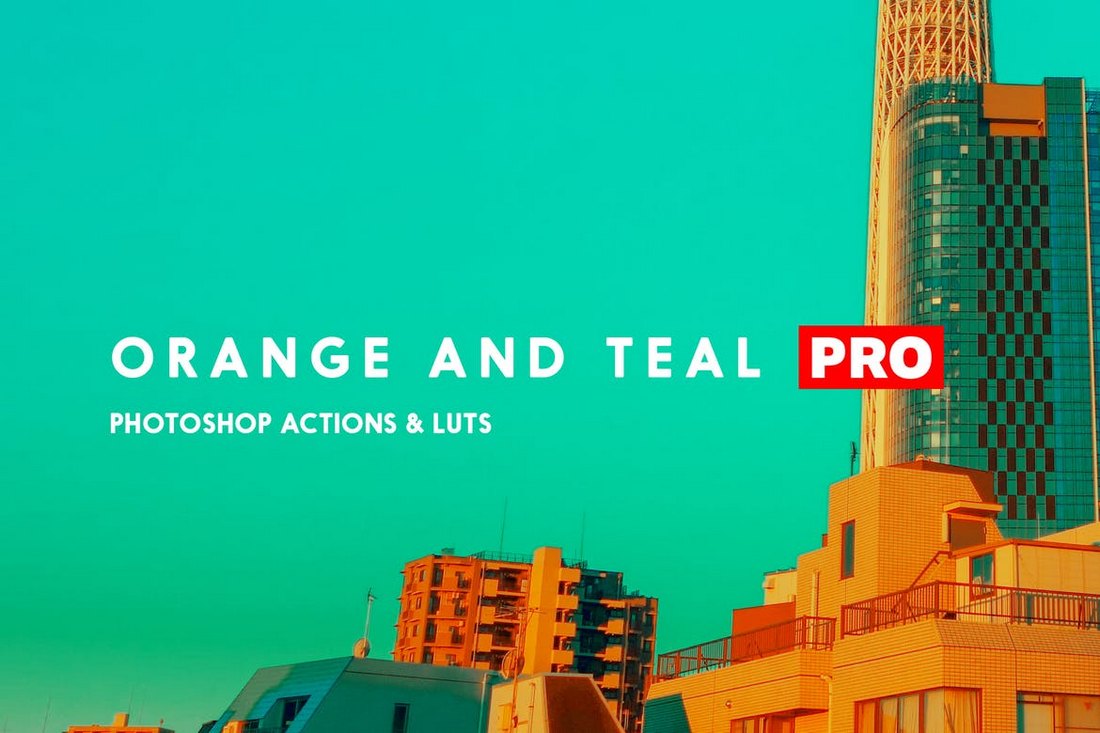 This bundle of Photoshop actions allows you to create stylish and colorful retro-themed effects that will give your designs a Blade Runner vibe. It also includes 16 LUT versions of the effects for using the effects in Adobe Premiere, After Effects, and Affinity Photo.
Piratum – Map Art Photoshop Action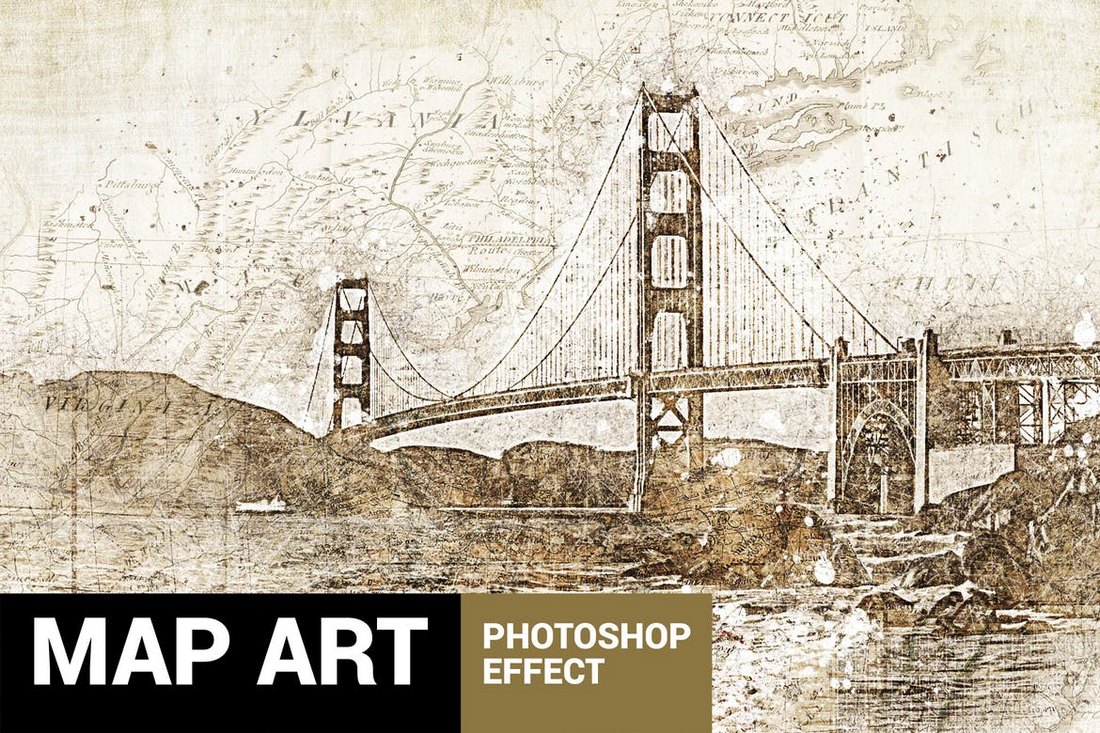 A unique Photoshop action that creates a map art like effect with your photos. This will be quite useful for creating book covers and greeting card designs. The action includes 10 color presets and works with Photoshop CS5 and higher.
Retro Style Photoshop Action
Here we have a very professional PS Action that converts your photo to a modern retro vintage effect in a few clicks with a powerful result and more possibilities with its additional elements.
Retro Art Photoshop Action
Create an amazing artistic effect filled with splashes, typography and vintage look. The final result is outstanding with fully editable layers, colors and elements.
50 Retro Film Photoshop Actions
Introducing the 50 Amazing Photoshop Actions which will allow you to create amazing photos in just a single click! These photoshop actions are very easy to use and can be used by everyone from beginners to pro photographers. Get ready to create magic right in Photoshop!
Photoshop Retro Photo Kit
Give your pictures a retro feel with this Photoshop kit! It consists of a set of quick actions, light leaks textures and paint roller masks, for an easy customization of your designs.
Retro Photography Photoshop Effect
Every vintage photography is a unique one with all its noise, cracks, faded colors, spots and grain! So no matter how many of these photo effects you have, each of them will help you achieve diverse results.
4 Tips for Vintage & Retro Design
Follow these tips to find the best Photoshop actions to create stylish retro and vintage designs.
1. Choose the Right Design Style
When it comes to retro and vintage designs, there are many different styles and themes you can select from to create different types of designs. For example, the retro designs from the 1980s are very different from the vintage designs from the 1960s.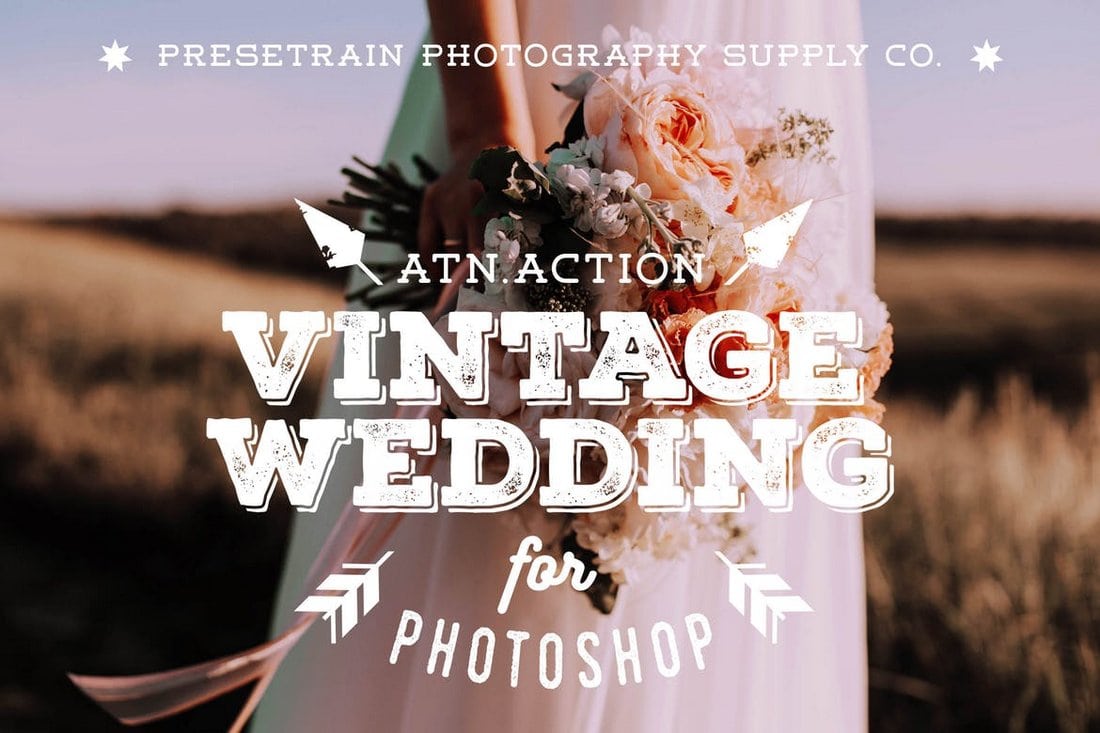 It's important that you decide on which design theme or era you use for your vintage or retro design before adding any effects. As a result, you'll also have to pick the right Photoshop actions that match the overall design.
2. Transform Graphics With Effects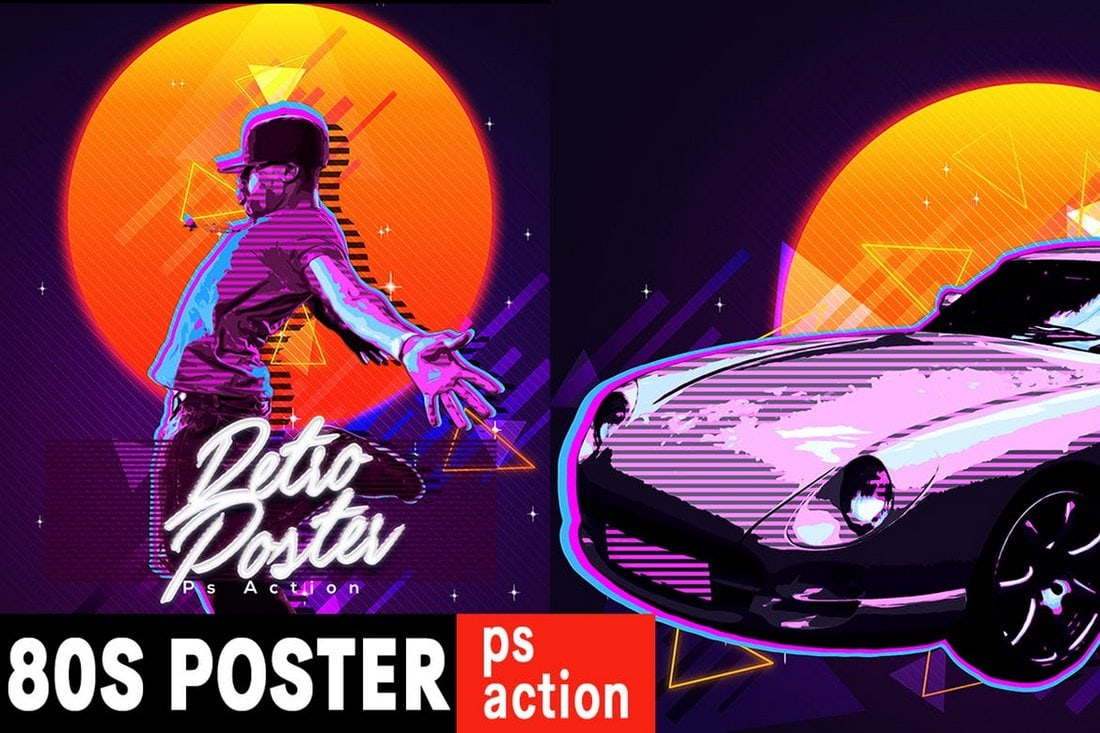 You can also completely transform different types of graphic designs using retro and vintage effects. Whether you're working on a poster design, flyer design, or even a logo design, adding a touch of retro style can make your designs stand out from the crowd.
3. Adjust the Effects to Preference
When using Photoshop actions to add retro and vintage effects, remember to pick actions that create non-destructive effects.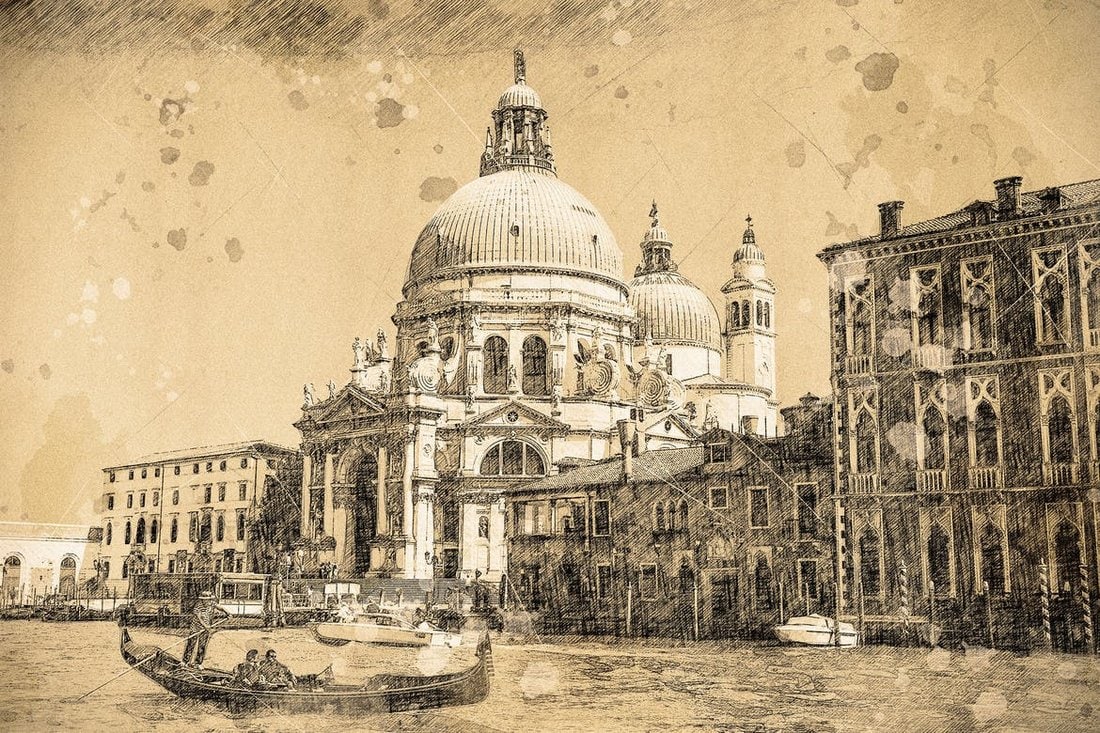 These actions create effects with organized layers and adjustment layers, allowing you to easily change the strength, colors, and styles of the effects however you prefer.
4. Pick Photos and Graphics Wisely
Vintage and retro effects aren't suitable for everything. While a vintage effect can make a modern portrait photo look more elegant it may not work the same for a landscape nature photo.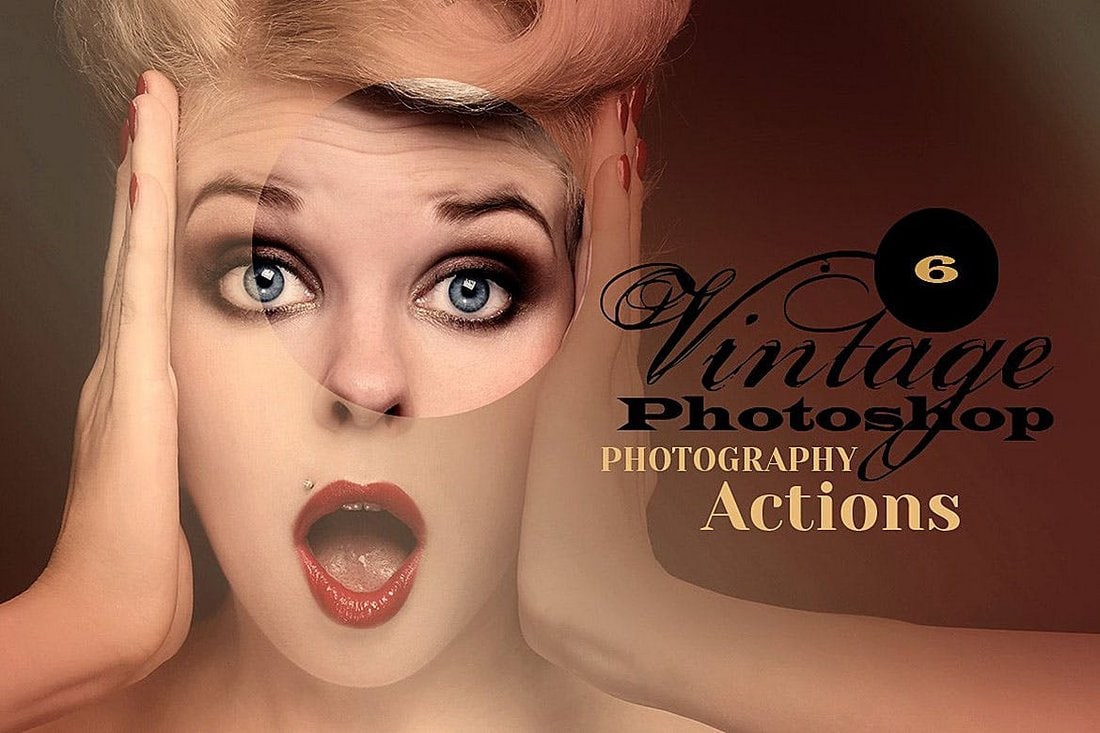 You should also be aware of the quality and resolution when applying vintage effects to photos. Some effects can actually harm the quality of low-resolution photos.