If you've been looking for a creative tileable pattern to make your designs look even more beautiful, you've come to the right place. In this post, we're sharing a collection of the best Photoshop patterns with various design styles and aesthetics (both free and premium).
When designing a background, whether it's for a book cover, business card, or a website, using a creative pattern goes a long way to add a personal touch to the overall look of the design. Not to mention that patterns also help highlight certain types of content above the background as well.
Crafting such a pattern is not easy. So why not save the trouble by simply downloading some of the amazing premium and free Photoshop patterns that we've handpicked just for you.
What Is A Photoshop Pattern?
Patterns can be used in many types of designs. You can use them to design stylish backgrounds, to create textures, text effects, and much more.
Photoshop even has a built-in tool that allows you to manage all your patterns in one place. In fact, you can create a Photoshop pattern from any image you have.
To create a Photoshop pattern, all you have to do is open the pattern image in Photoshop and then go to the Edit menu and choose Define Pattern. Then give your new pattern a name and save it in the Photoshop Patterns library.
Once it's added to the library, you'll be able to use the pattern as a background fill, in adjustment layers, and much more.
Just remember to use tileable images to create your patterns.
Top Pick
100 Seamless Line Patterns
If you're looking for decent and minimalist patterns you can use with professional and creative projects to design stationery, book covers, posters, flyers, and backgrounds, this bundle is for you.
This pack includes 100 unique line patterns in both Illustrator vector file format and PNG format.
Why This Is A Top Pick
Since the patterns are available in Illustrator file format, you'll be able to easily edit the patterns to change colors and design. Or you can directly use the transparent PNGs in Photoshop to create patterns. Either way, this is a bundle of patterns made for professional designers.
Charm – Flower Photoshop Patterns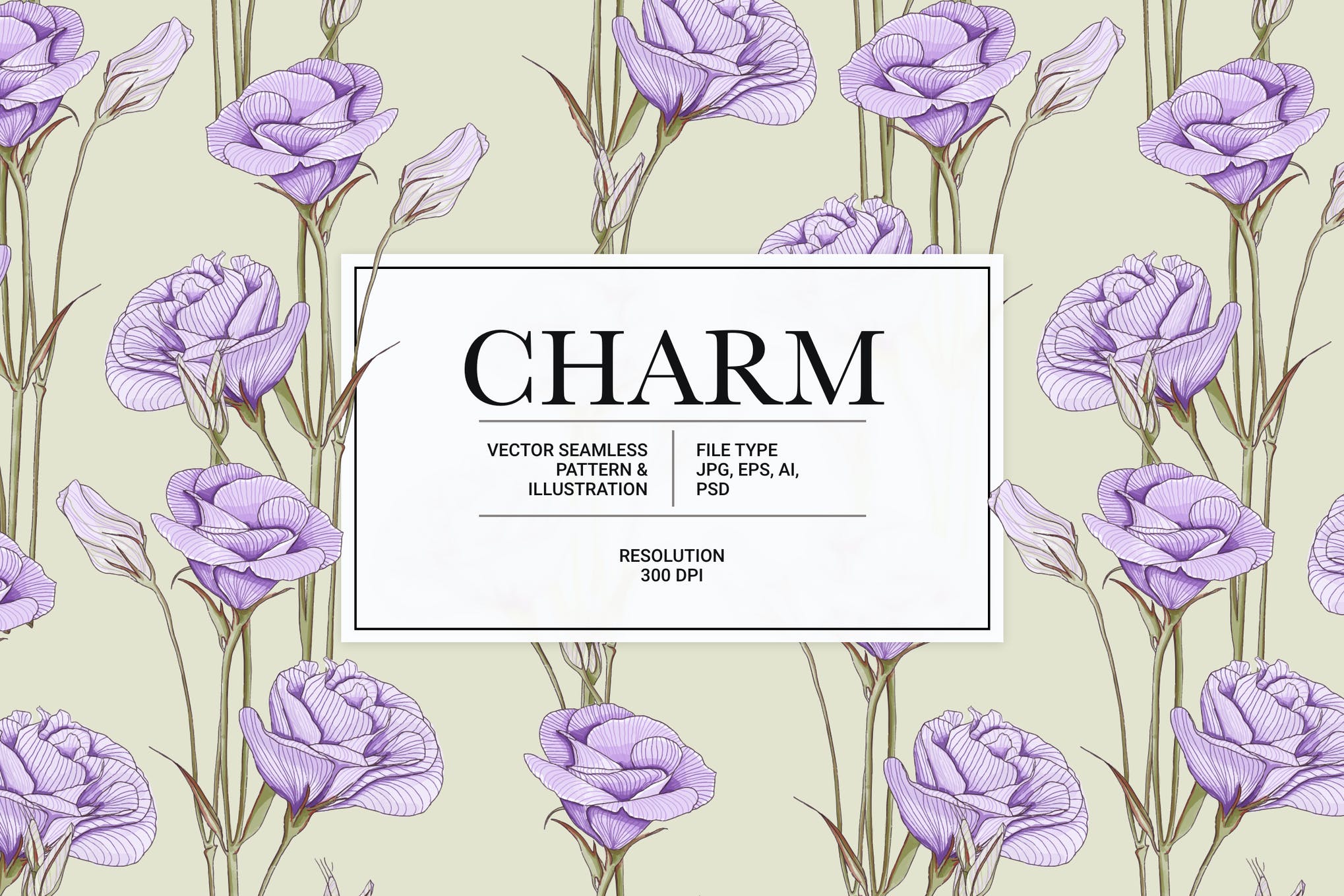 As the name suggests, Charm is a charming set of watercolor floral patterns, each handmade and fully vector-based. Use these beautiful patterns anywhere and get praises every single time. A great option that we totally recommend!
20 Seamless Bold Patterns
This collection of Photoshop patterns feature a unique design with a minimal and a clean look. It's perfect for crafting backgrounds for all sorts of business and creative design projects.
Organic Turing Photoshop Patterns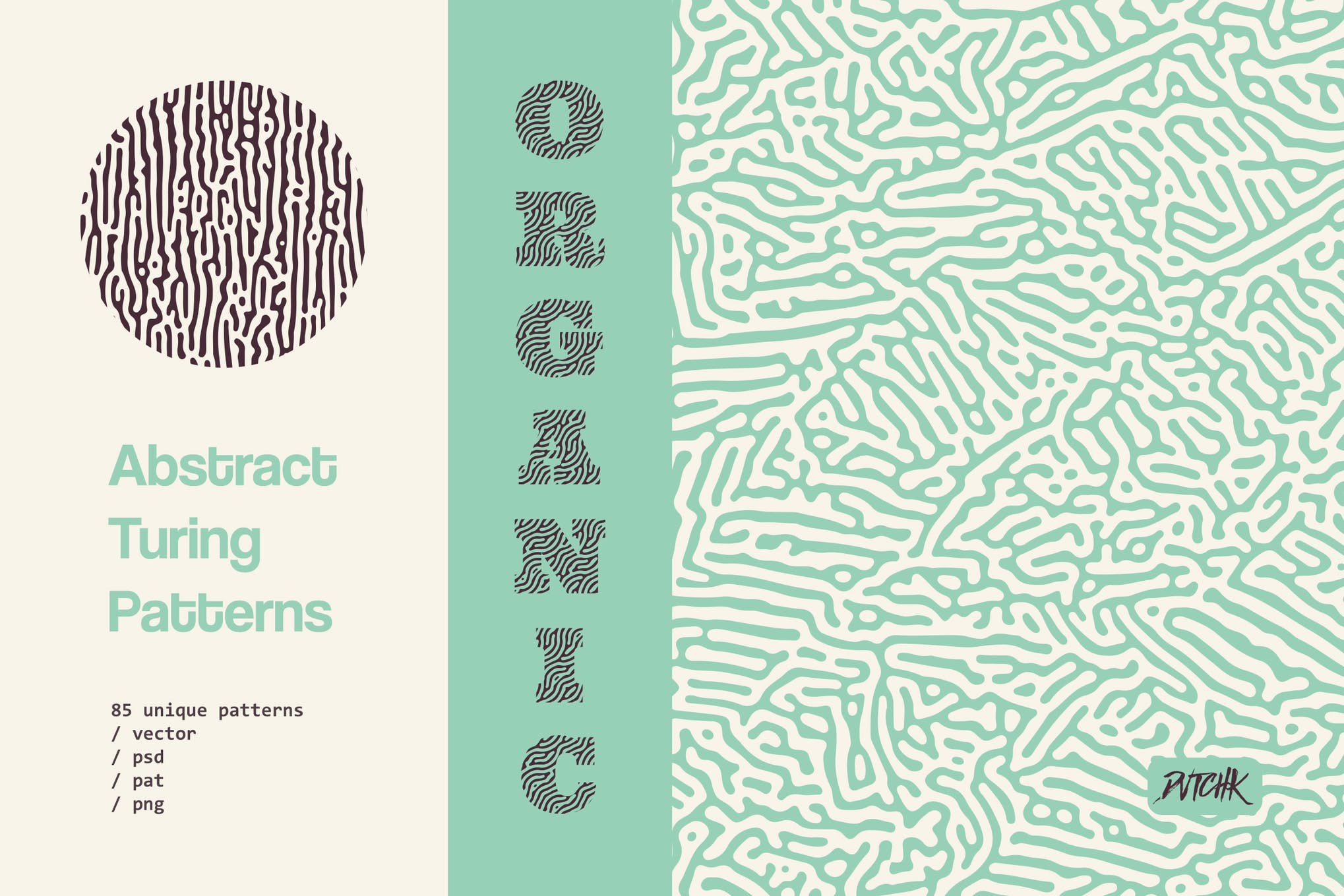 This bundle comprises 85 organic maze patterns for Photoshop and Adobe Illustrator that can be used for a variety of different projects. You'll love these patterns especially if you're a fan of abstract art. We recommend you try it out, and accentuate the look, and feel of your designs.
rt Deco Photoshop Patterns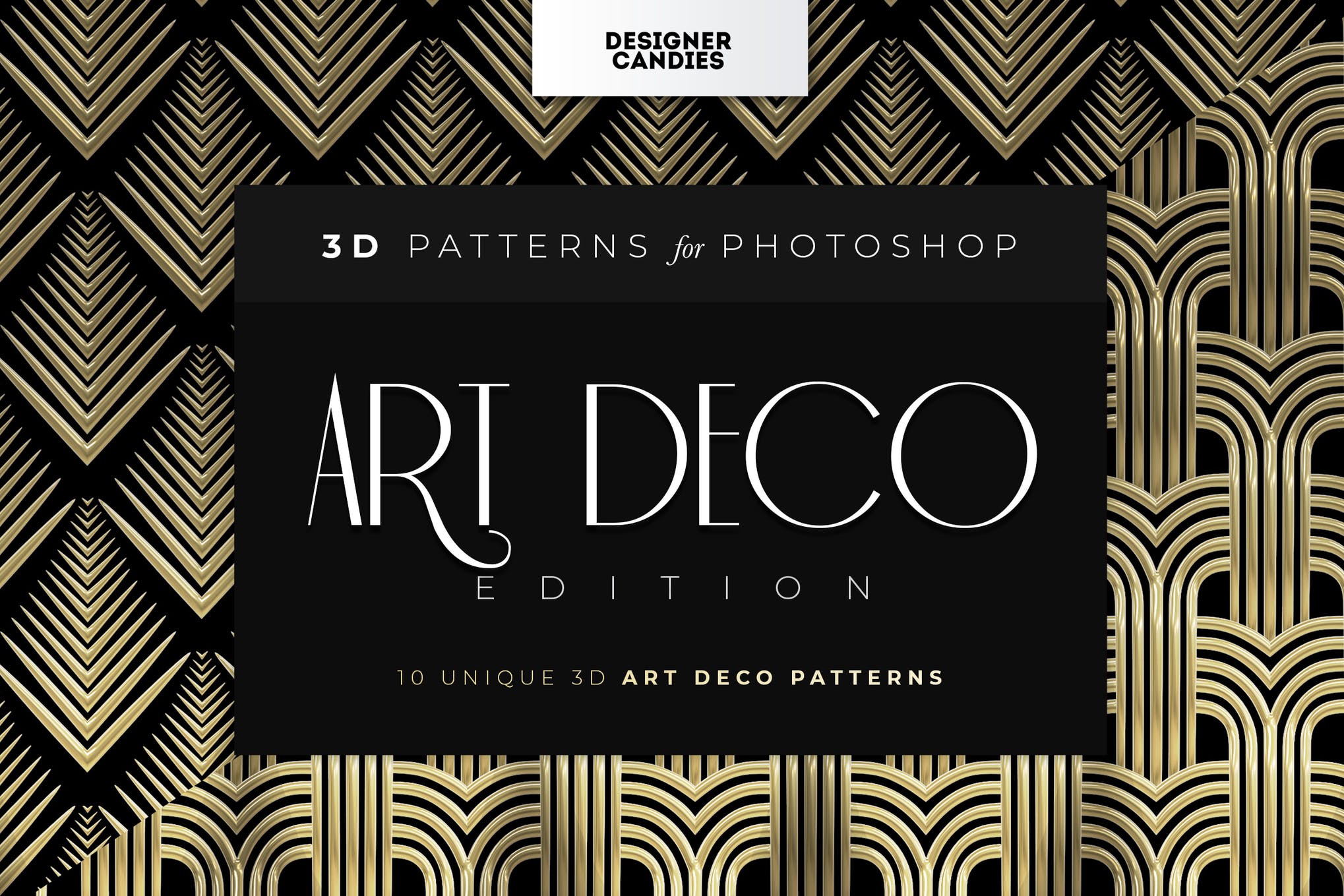 When looking for the best Photoshop patterns, this classic art deco collection is the real deal. The pack comprises 3D art deco patterns in black, and white, and gold color schemes. It's a fantastic high-resolution product that deserves to end up on your shortlist.
Crystal Photoshop Patterns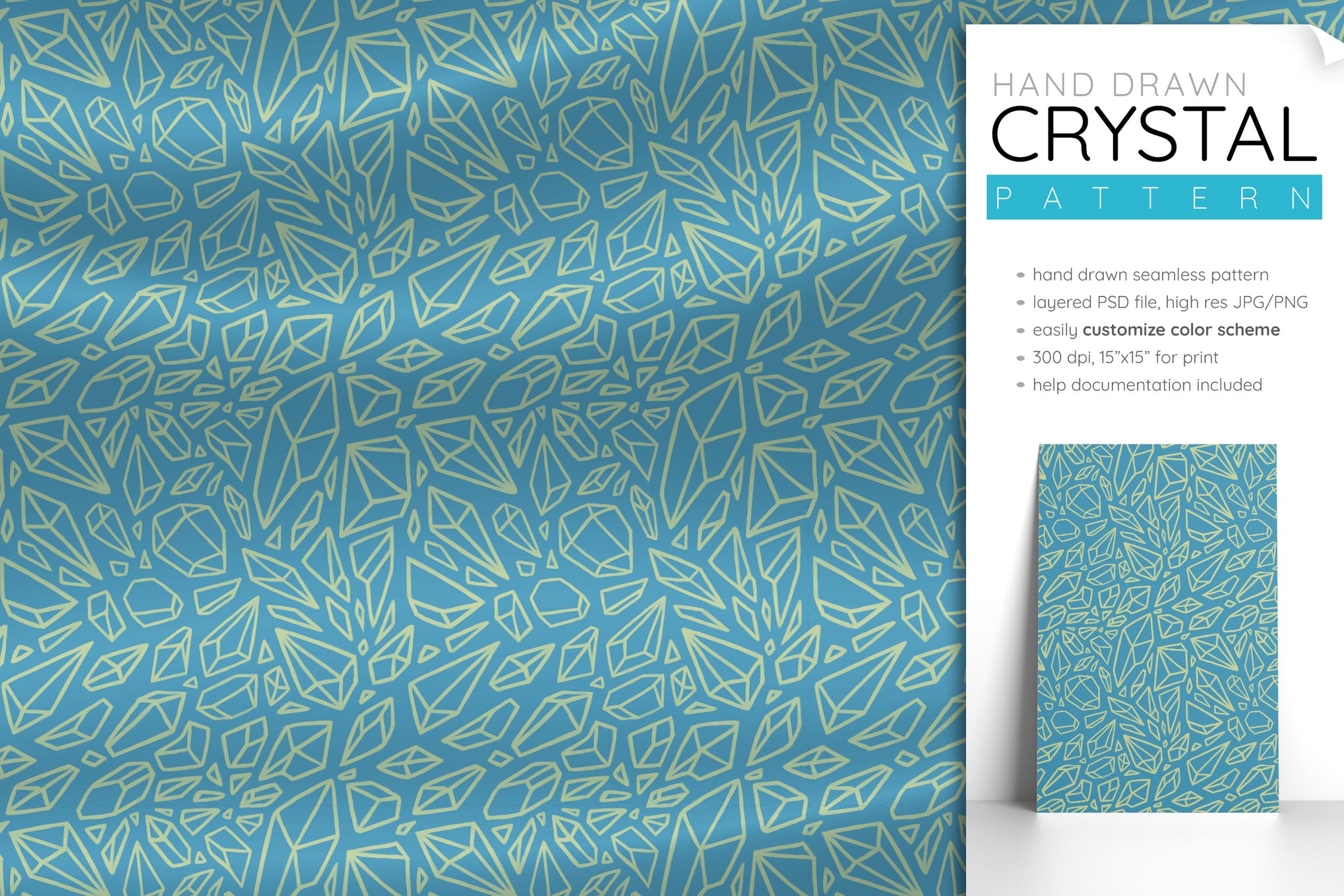 If you want to give a handcrafted look to your artworks, this bundle of crystal patterns is right up your alley. It consists of high-resolution, 300 DPI files, fully customizable in Adobe Photoshop, and can be used for digital scrapbooking, clothing designs, mobile covers, etc.
Floral Pattern Collection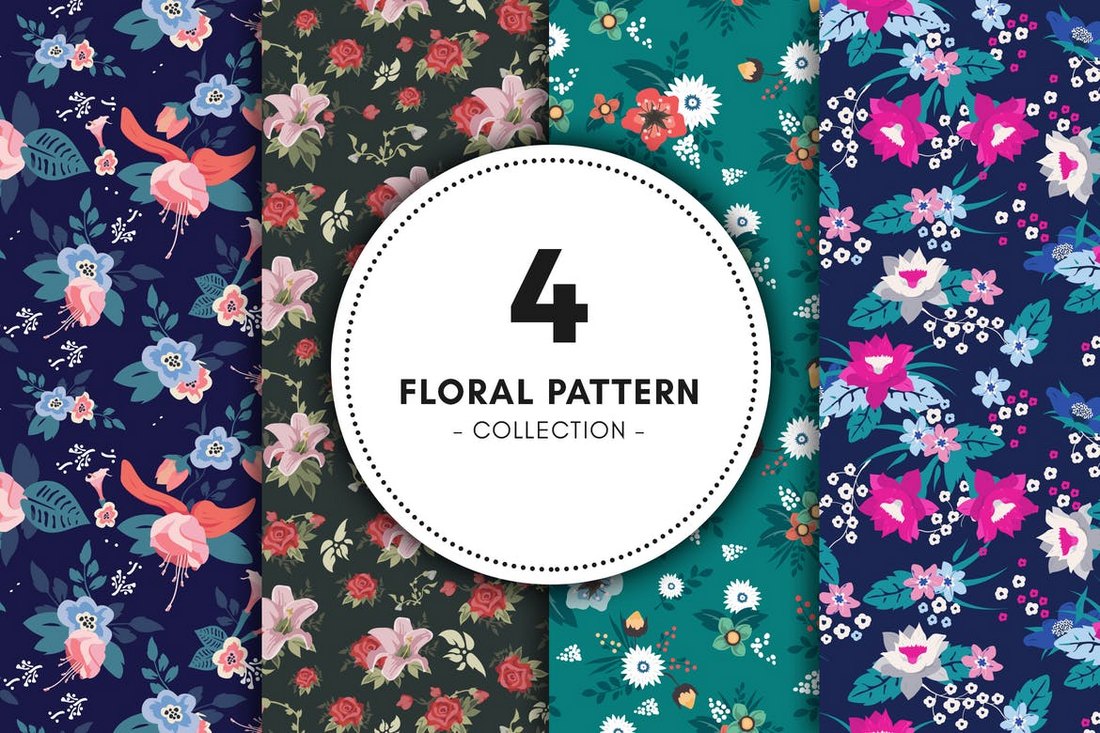 Everything looks prettier with flowers. This collection of floral patterns are perfect for beautifying your print designs such as greeting cards and invitations. The bundle includes 4 different patterns in AI, EPS, PNG, and JPG file formats.
Doodle Patterns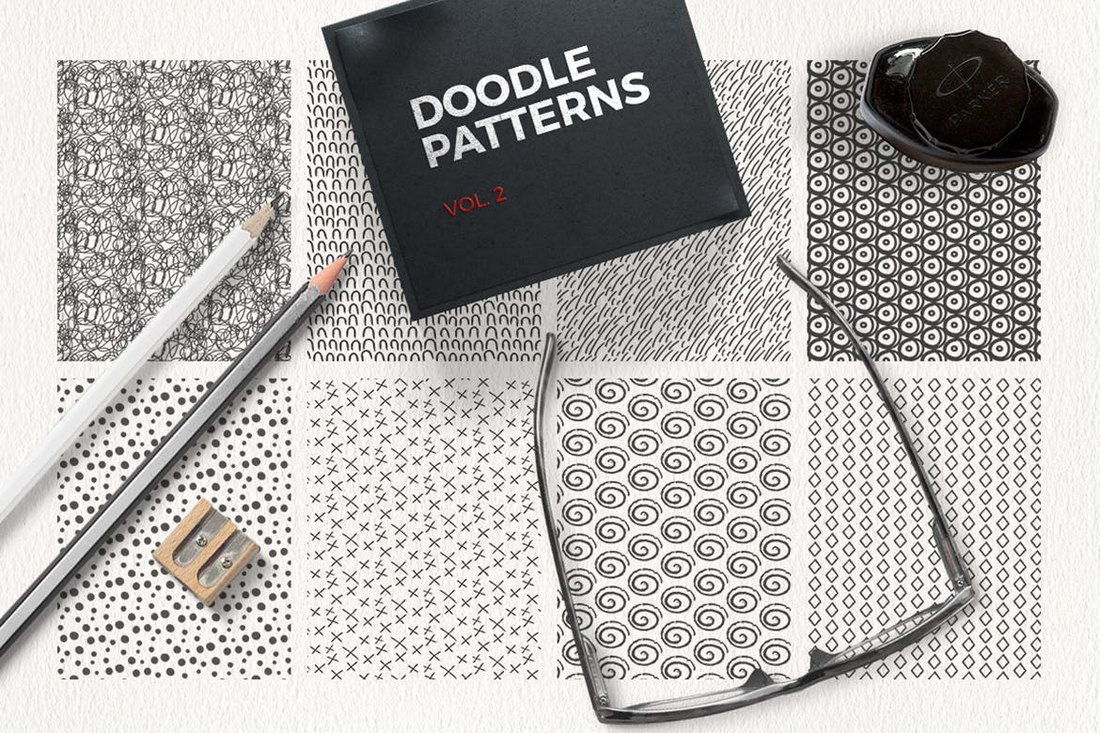 Doodle patterns are quite effective when it comes to creating backgrounds for minimalist designs, such as book covers, greeting cards, and business cards. This pack includes 8 handmade doodle patterns for adding a personal touch to your designs.
Free Heart Dot Photoshop Patterns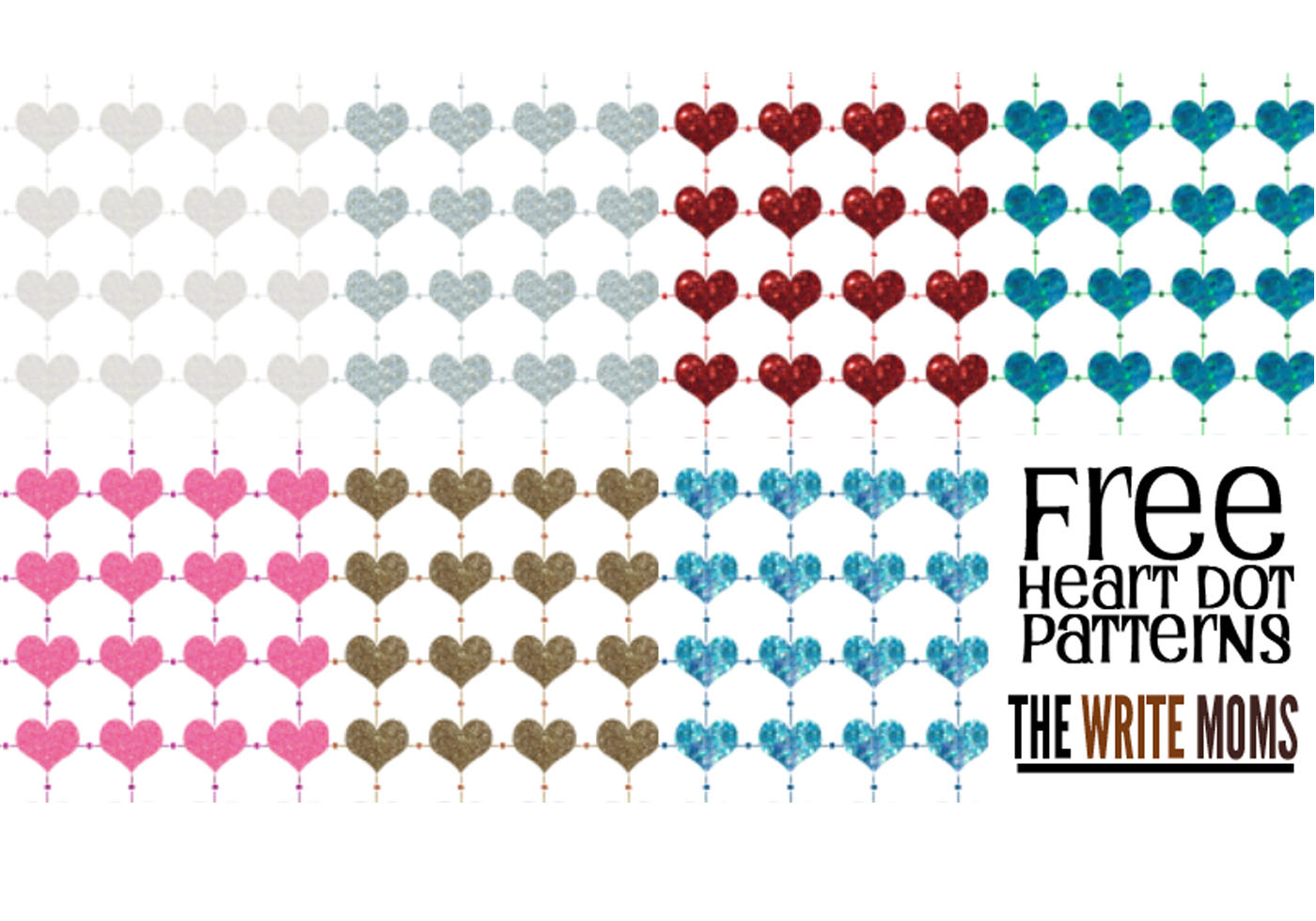 If you love all things shiny, and glittery, you're in for a treat. These heart dot patterns for Photoshop are great for a range of creative applications. The product can be used for free for both personal and commercial projects. Grab it now!
Free Stripes Photoshop Patterns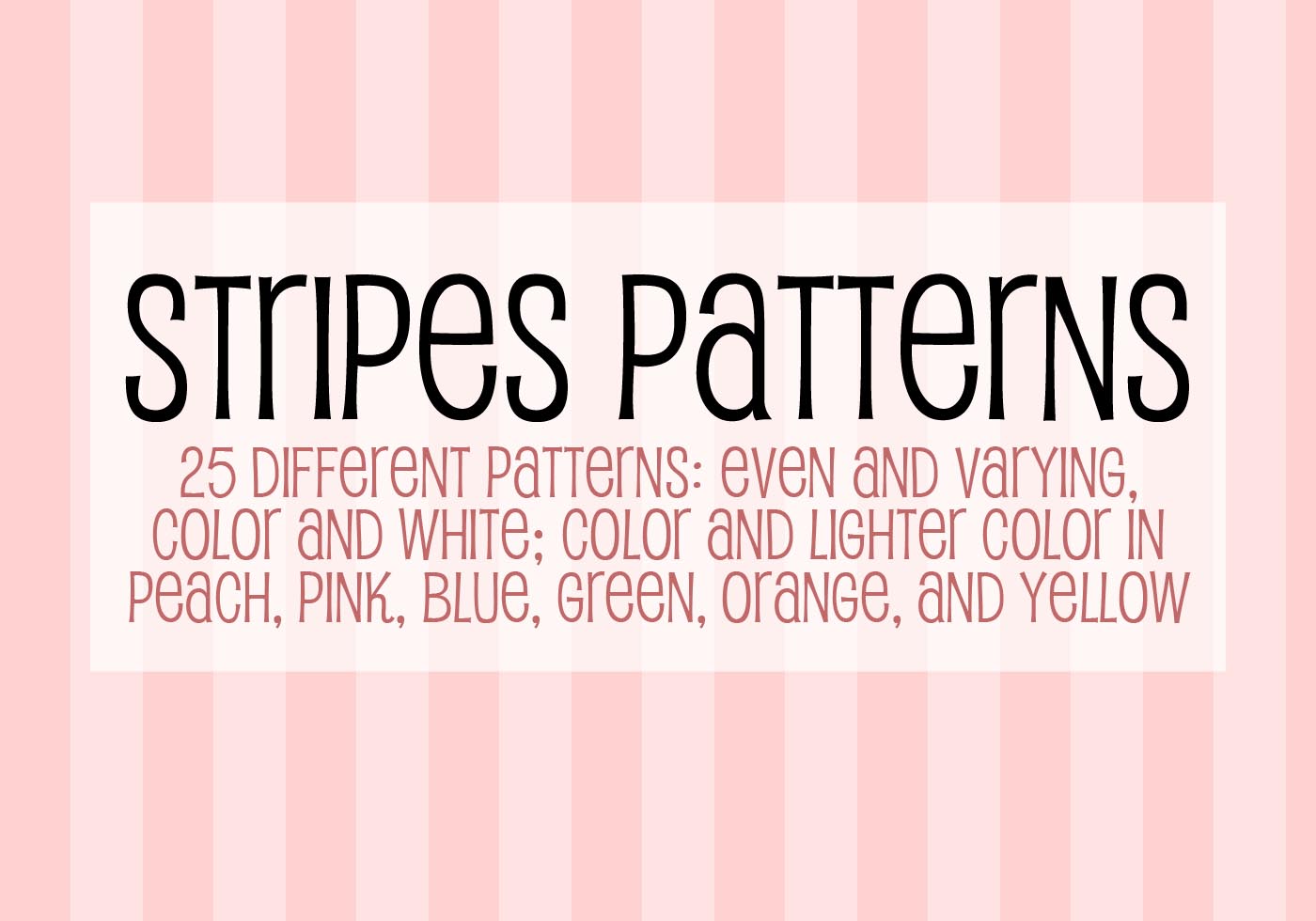 Minimal yet eye-catching, these striped patterns can be an asset for a pool of design projects. There are many color schemes to choose from, allowing you to get as creative as you'd like. This freebie is a must-have in a digital artist's toolkit.
Free Watercolor Forest Animals Photoshop Pattern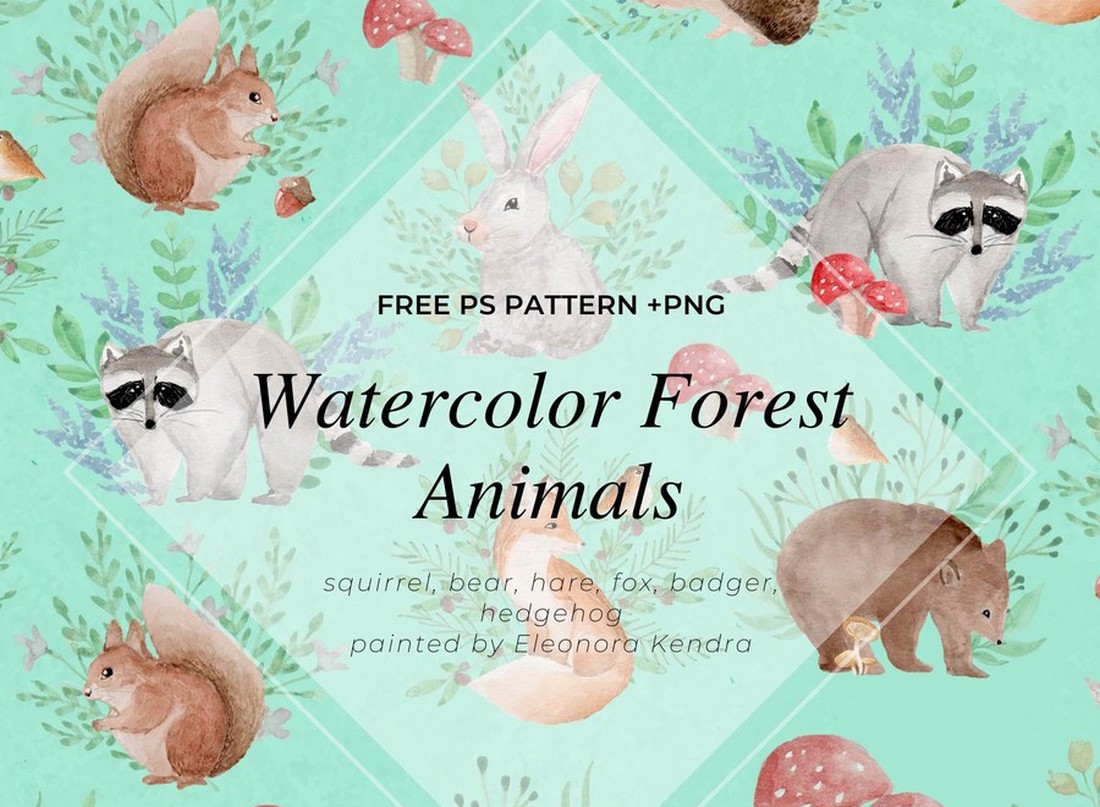 This Photoshop pattern features adorable illustrations of forest animals. You can download it for free to use with your various design projects, including commercial projects. It includes the Photoshop patterns files as well as PNG files.
Free Seamless Dog Pattern for Photoshop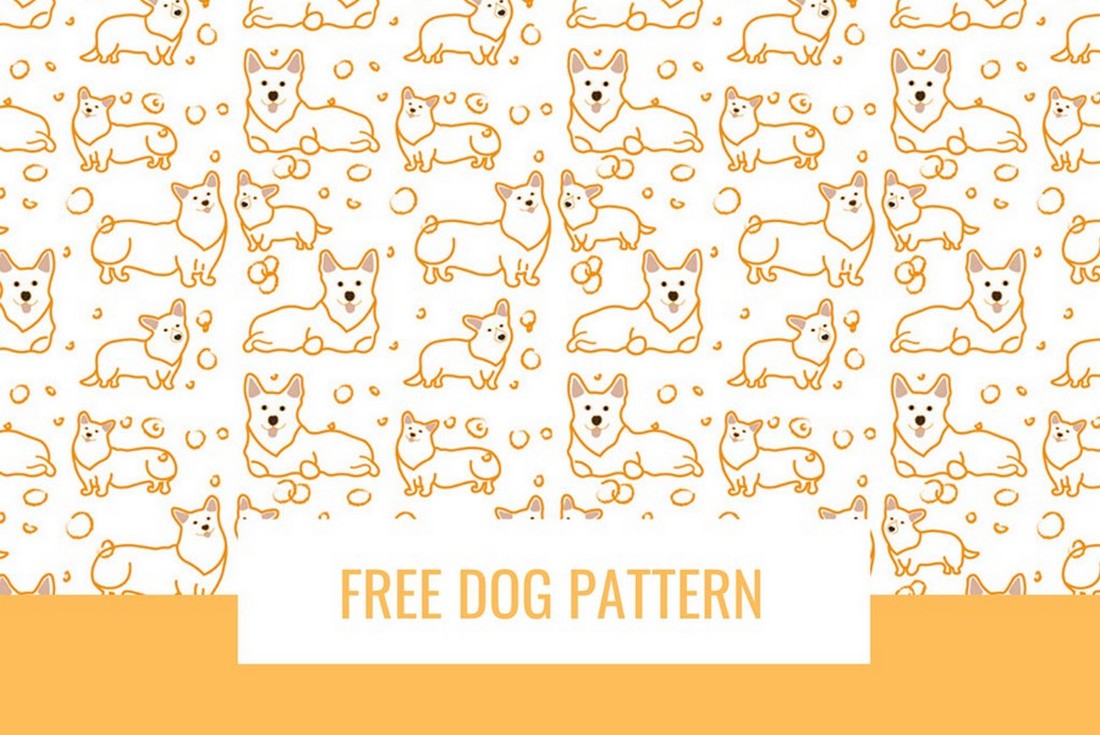 A cute seamless pattern of dogs. It's perfect for designing product packaging and gift wrapping as well as many other types of pattern designs. The pattern is free to download and you can use it for free with your personal projects.
Free Photoshop Pattern with Hearts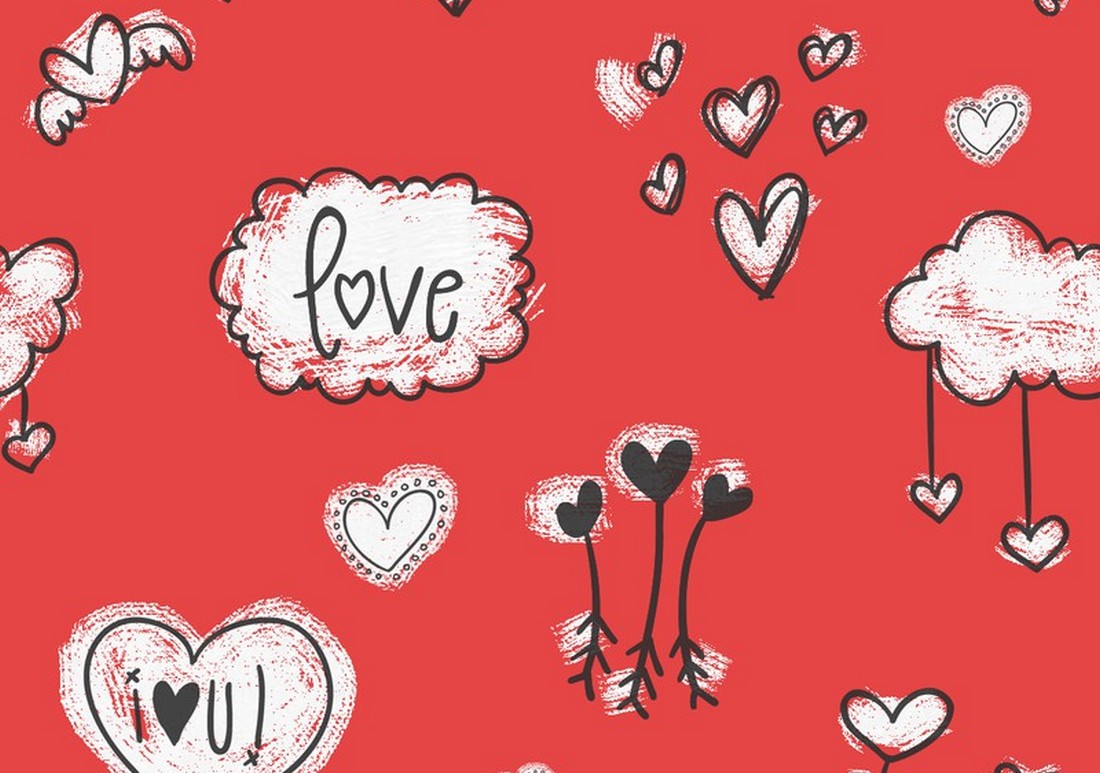 Perfect pattern for designing greeting cards, packaging, and backgrounds for all kinds of romantic designs. It will especially come in handy during Valentine's Day. The pattern is free to use with commercial projects.
Free Seamless Geometric Patterns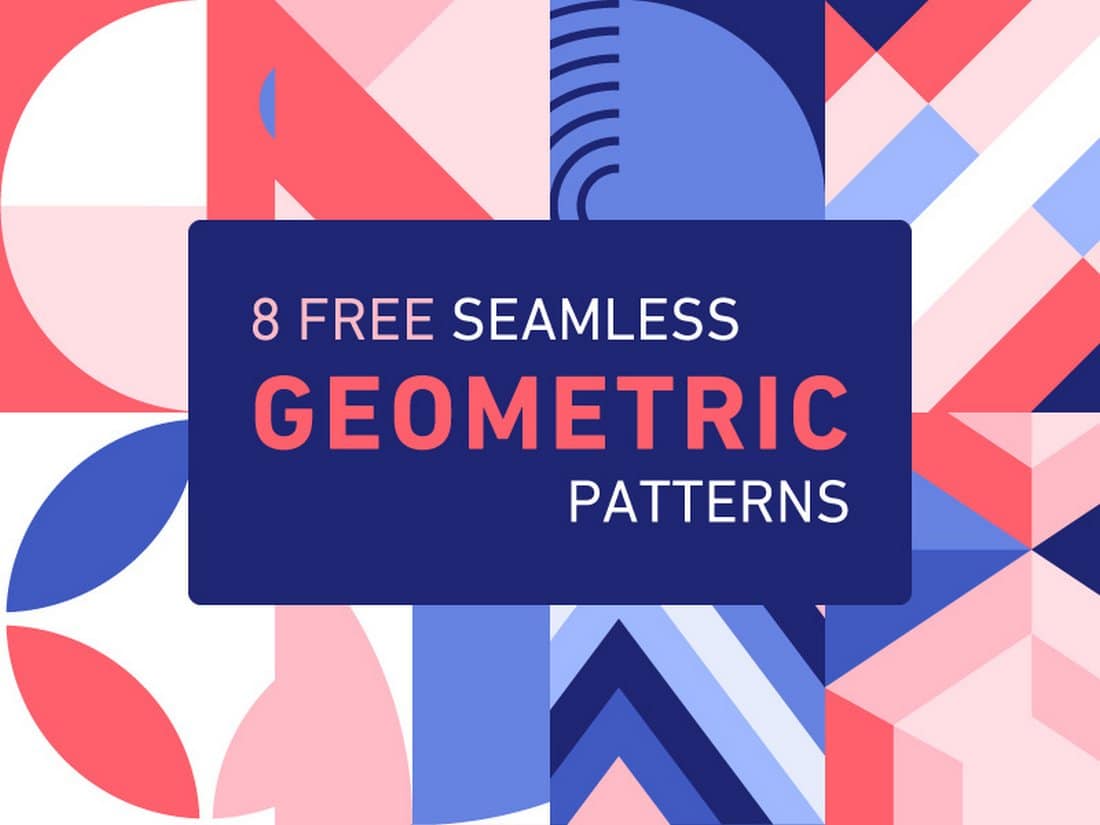 Geometric patterns are popular in many types of designs, including digital and print designs. This free bundle comes with 8 stylish patterns you can use to create all sorts of backgrounds and designs.
The patterns in this pack are available in both EPS vector file format and JPEG, allowing you to easily edit the files using a vector graphics editor to change its colors.
In addition to the EPS and JPEG file formats, the patterns also come in an Illustrator swatch file, which makes it so much easier to apply the patterns in your designs.
40 Circular Patterns Set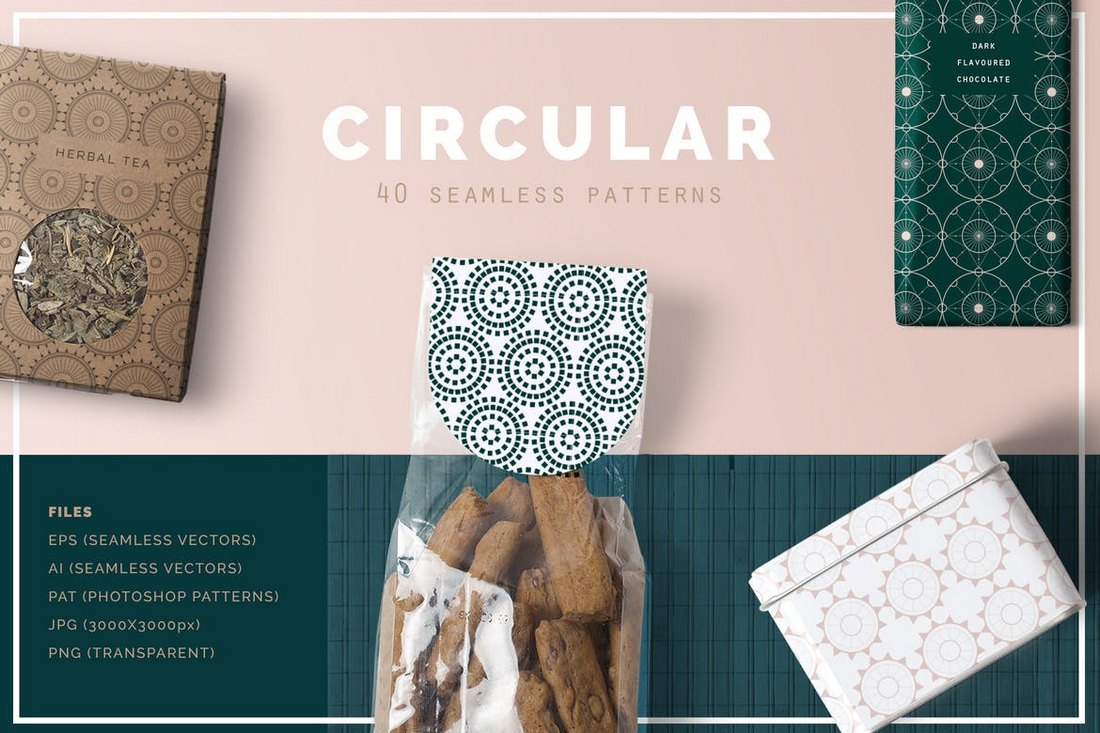 This bundle of patterns comes with unique patterns with circular shapes. These seamless patterns come in all sorts of designs and styles that make them suitable for professional and business designs.
200 Seamless Portugal Azulejo Tile Backgrounds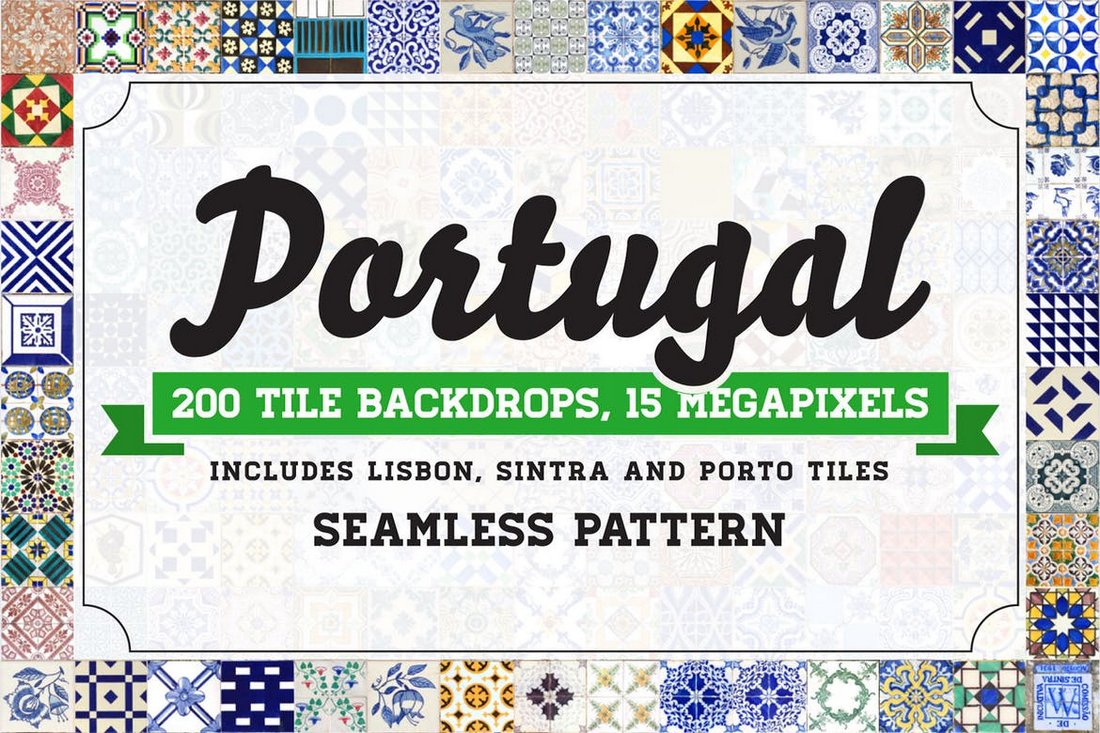 This is a collection of unordinary patterns that feature designs inspired by Portuguese Azulejo ceramic tile artwork designs. The bundle includes 200 seamless patterns in high-resolution JPG file format.
10 Free Colorful Geometric Patterns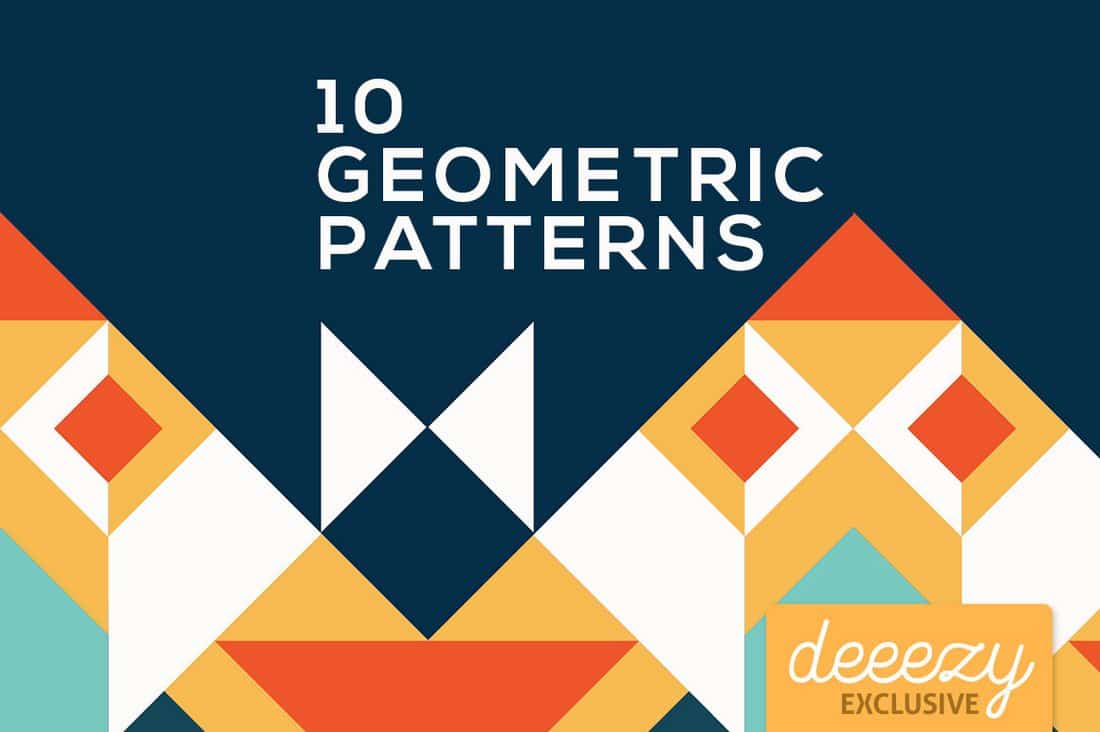 This collection features 10 stylish free geometric patterns you can use with various design projects. It includes a Photoshop patterns file for easily importing the patterns as well as in JPG file format.
8 Colorful & Vibrant Patterns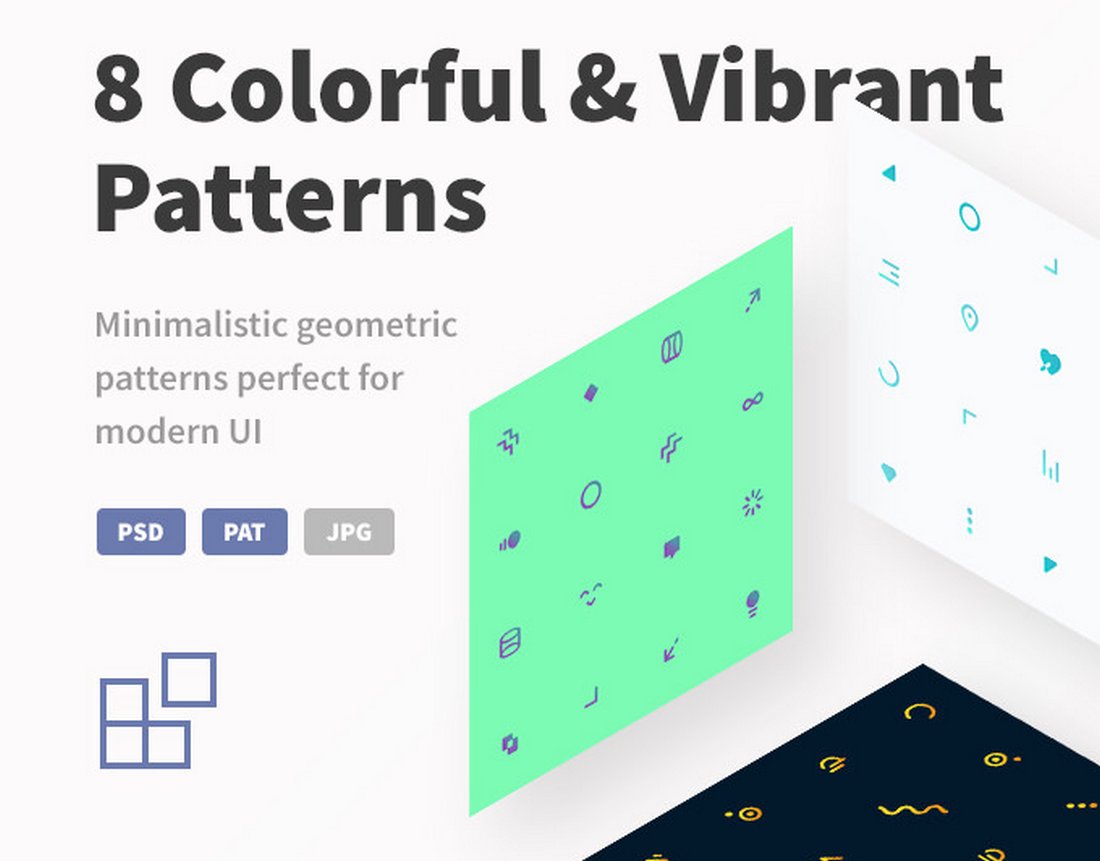 If you're looking for a simple and minimalist seamless pattern for a user interface, this free patterns pack will come in handy. It includes 8 seamless and minimal patterns in a Photoshop patterns file and in PSD and JPG file formats.
Spring Flowers Photoshop Patterns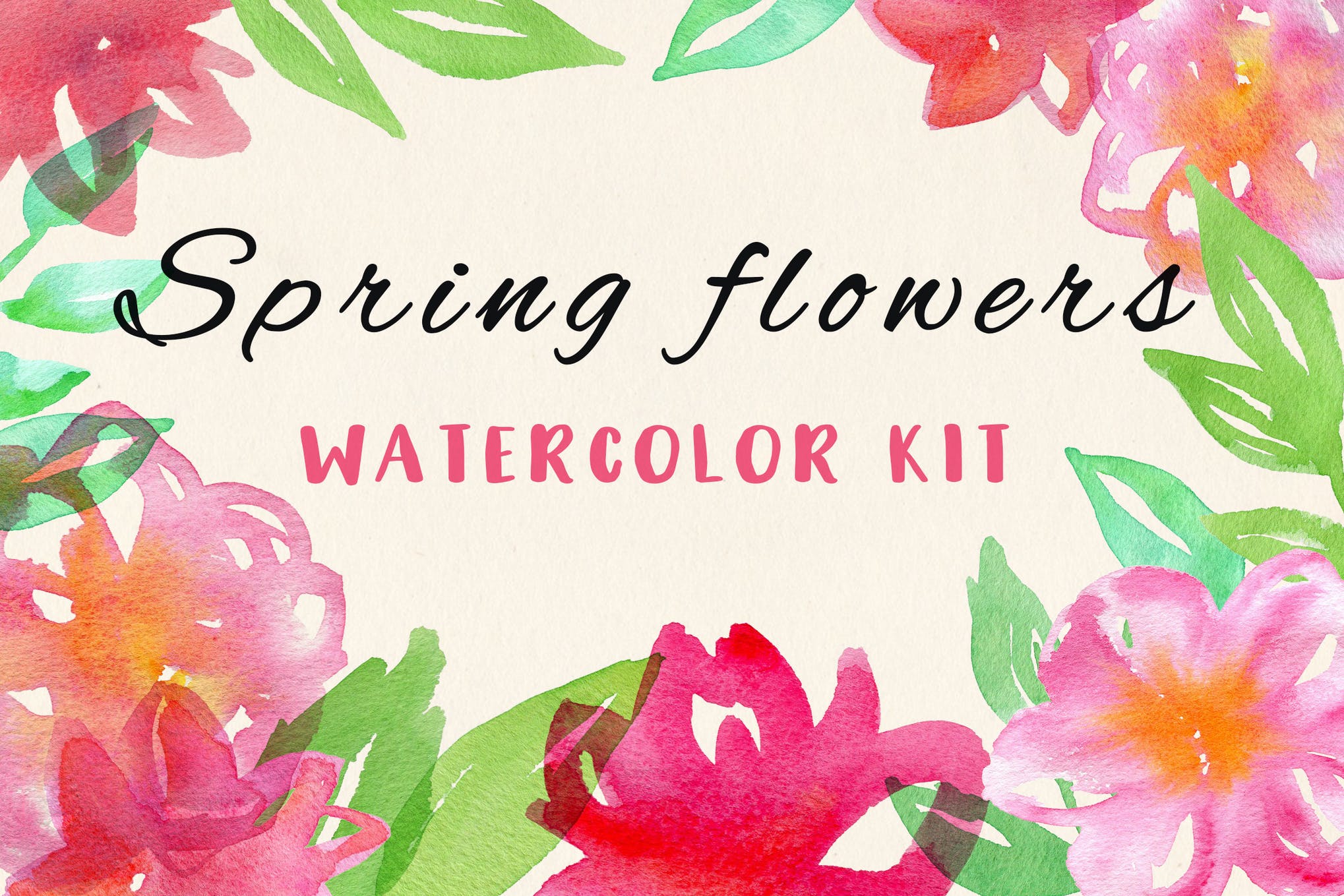 Bring the vibrant colors and joy of the spring season to your branding designs, websites, and clothing with this collection of premium Photoshop patterns and elements ready for you to use and edit however you please.
Free Abstract Tropical Patterns & Vectors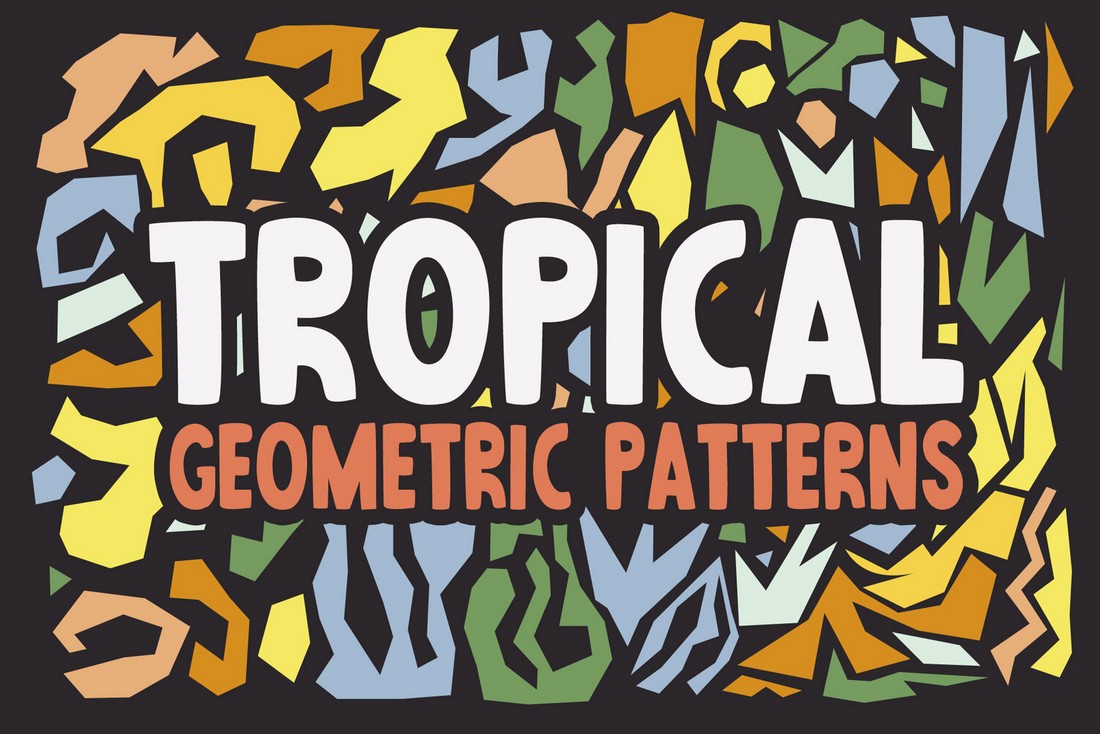 This is a free abstract pattern inspired by tropical designs. It features 28 minimalist patterns you can download and use for free. The patterns are available in Photoshop PAT format and in Illustrator vector file formats as well.
Read More Books – Seamless Pattern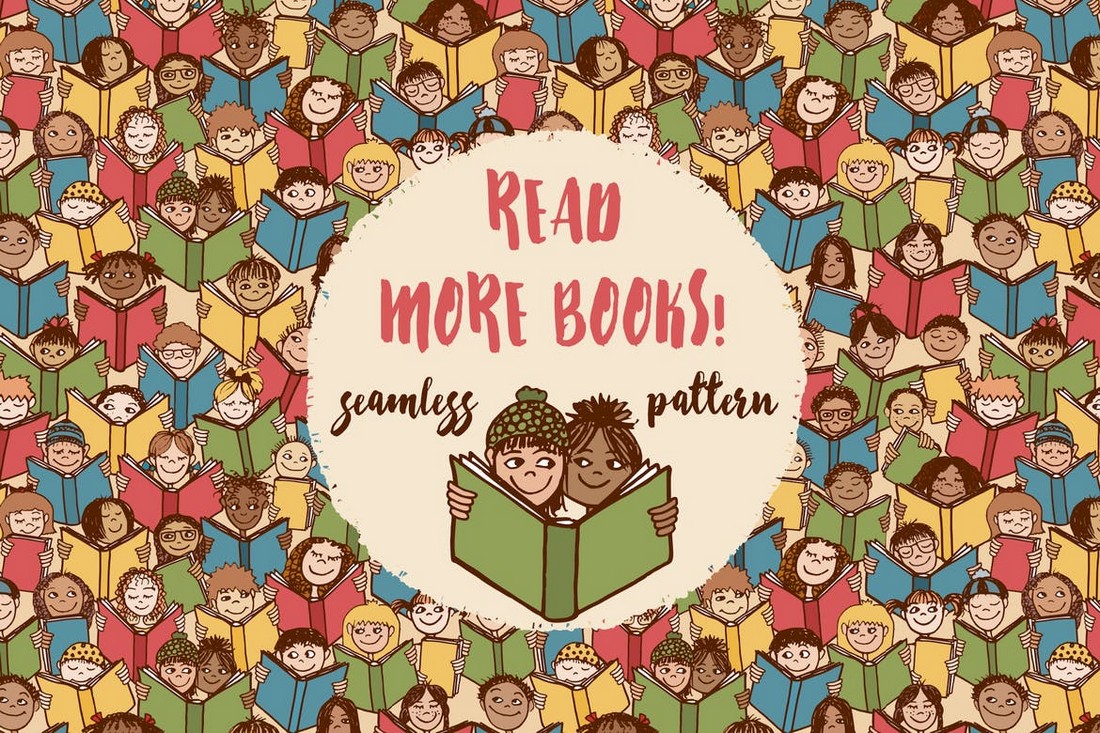 This seamless pattern features a set of beautiful illustrations of children reading books. It's ideal for making backgrounds and patterns for children's book covers, posters, and website designs. The patterns are available in multiple formats, including 90 PNG files of each child in the pattern.
Diverse Doodle Faces – Seamless Pattern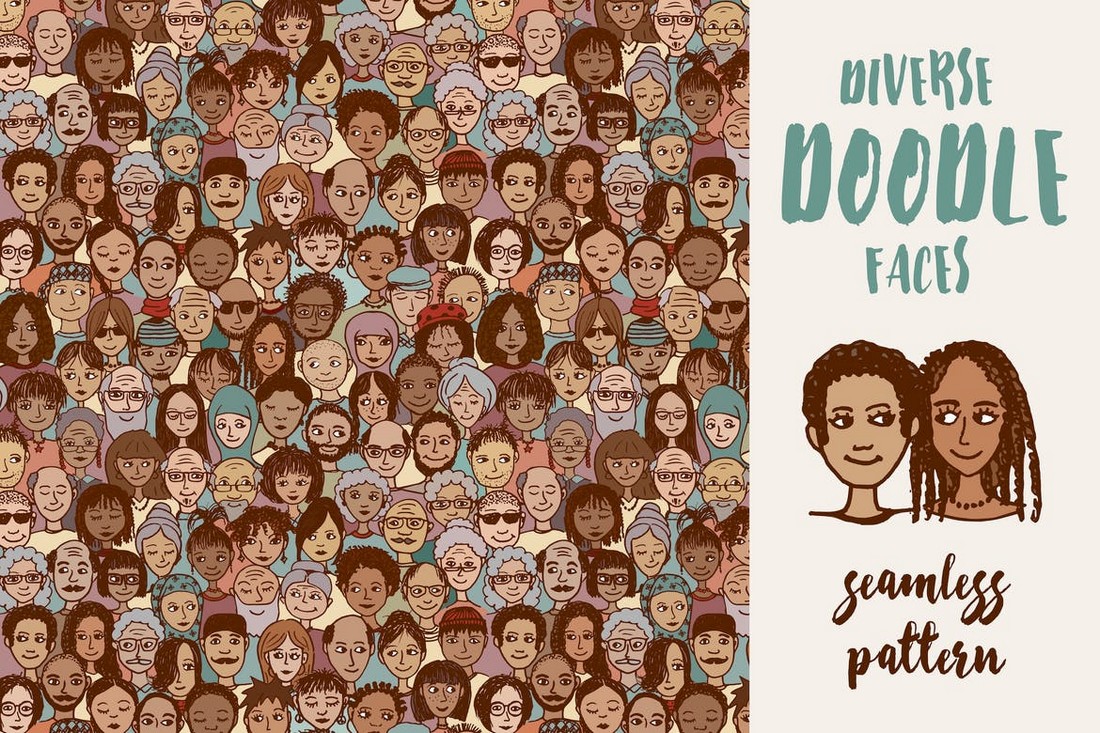 Diversity is an important part of modern-day designs. With this creative pattern of diverse faces, you can create a relevant background for your charity, non-profit, and many other types of designs. The pattern comes in SVG, EPS, and JPG file formats.
Tiki and Hawaiian Patterns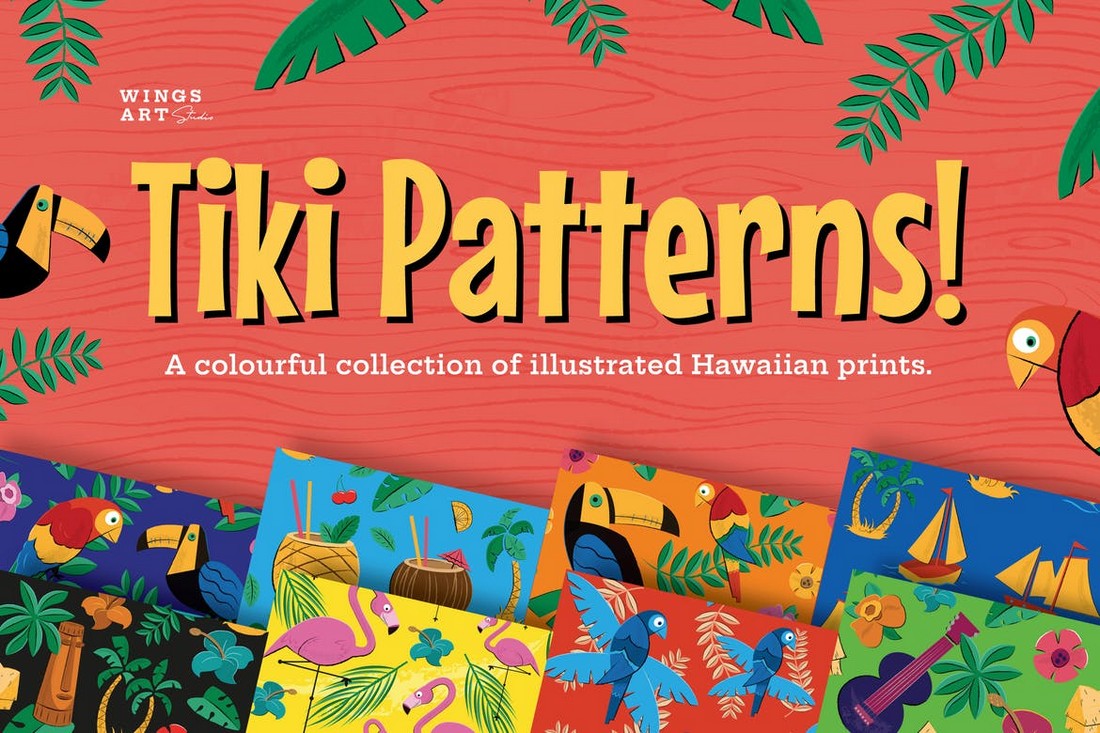 A collection of creative patterns inspired by Hawaiian culture. These patters come in Photoshop PAT pattern file format and Illustrator format. The bundle includes 8 different patterns full of tiki torches and coconut drinks.
Handmade Christmas Pattern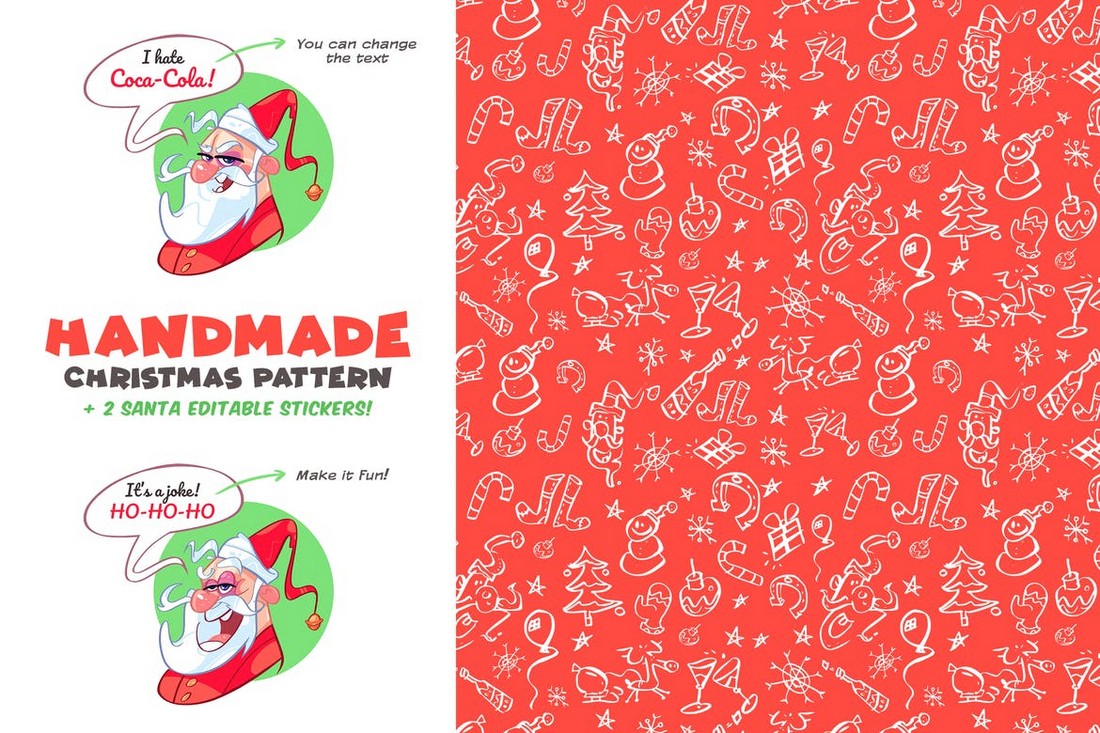 This handcrafted pattern is perfect for making backgrounds and designs for Christmas cards, flyers, and posters. The pattern is fully customizable using Adobe Illustrator and it comes in PSD file format too.
12 Colorful Seamless Flower Patterns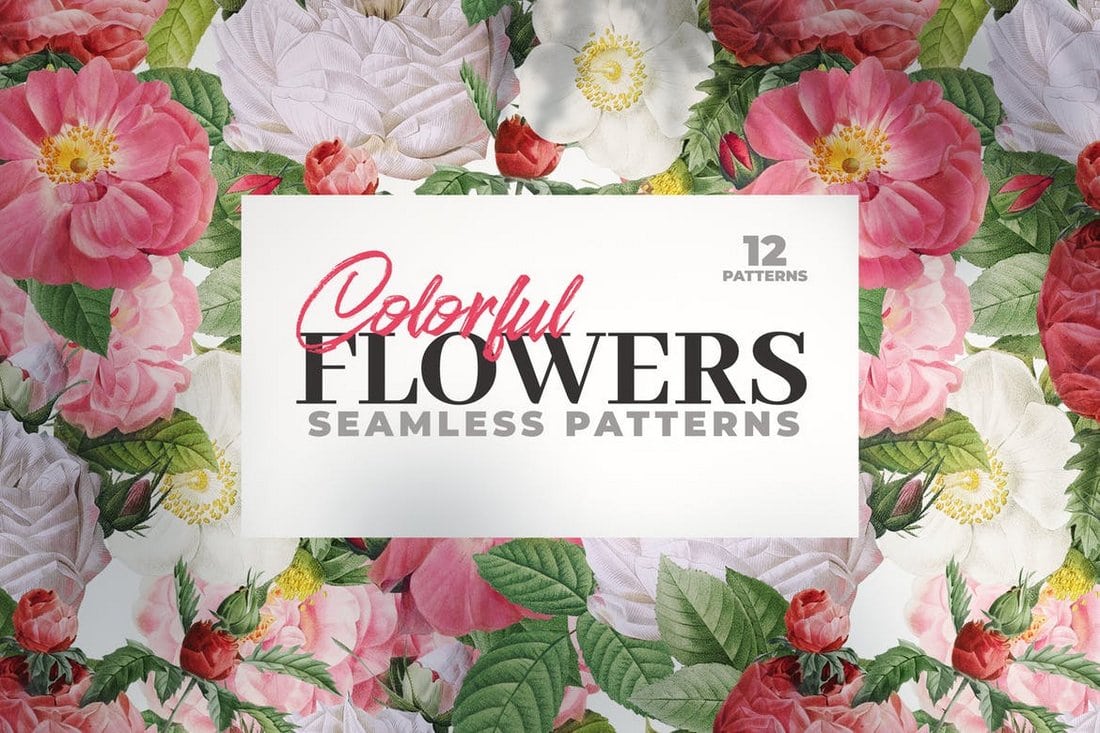 You can never get enough of beautiful flower patterns. Add this bundle of seamless flower patterns to your collection to use in your digital and print designs. It includes 12 patterns in Photoshop patterns file as well as PNG and JPG file formats.
100 Seamless Geometric Patterns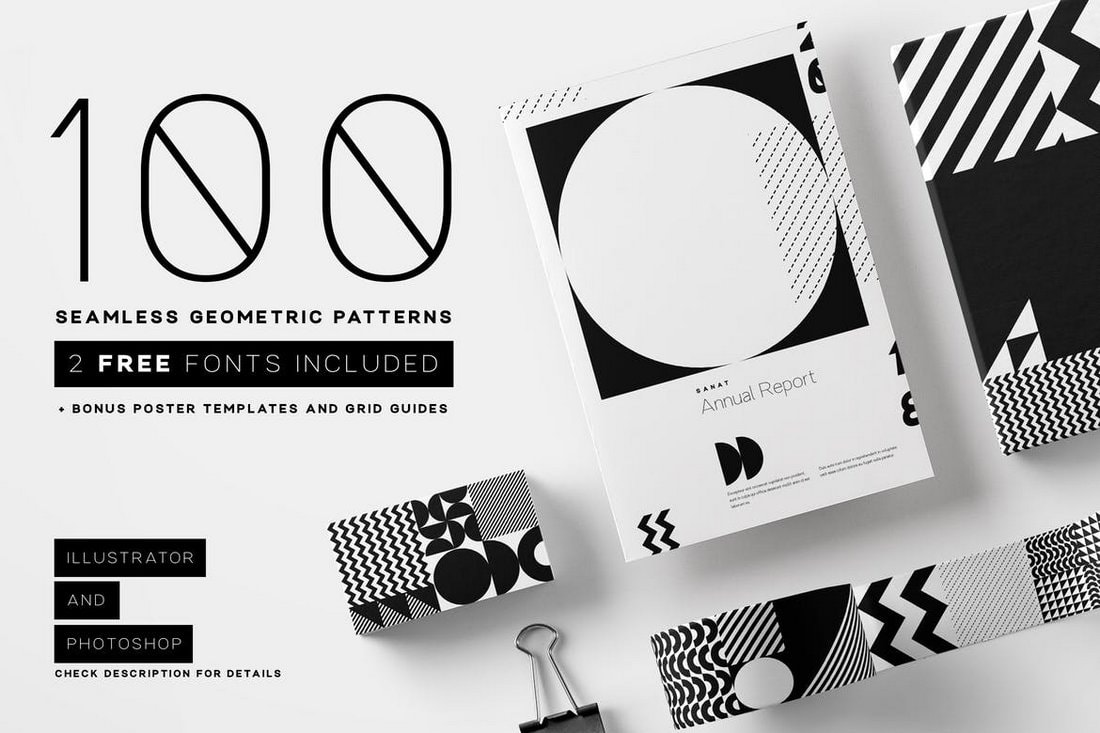 A useful bundle of seamless geometric patterns for minimalist designs. This pack comes with 100 seamless patterns in AI, PDF, and PNG file formats. It also includes 2 free fonts and 2 A4 size poster templates as well.
Watercolor Fruit Photoshop Patterns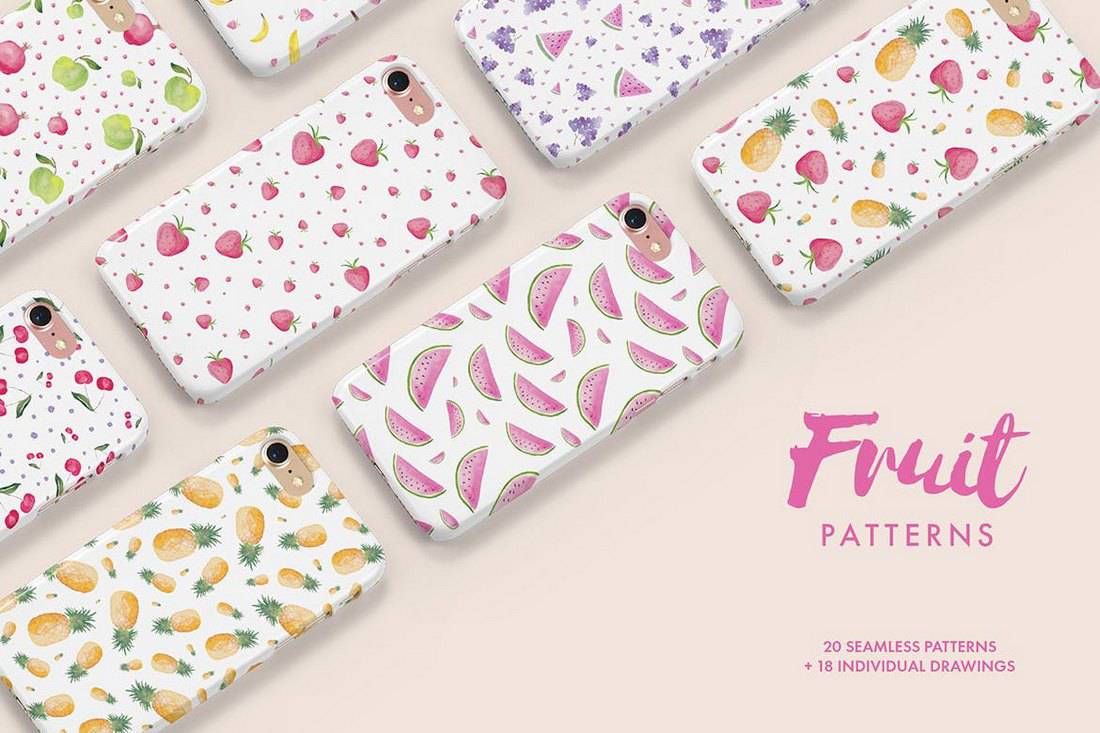 This collection of Photoshop patterns comes with multiple versions featuring transparent backgrounds as well as with original drawings used in the patterns. It includes 20 seamless pattern designs featuring cute fruit designs.
10 Food Photography Patterns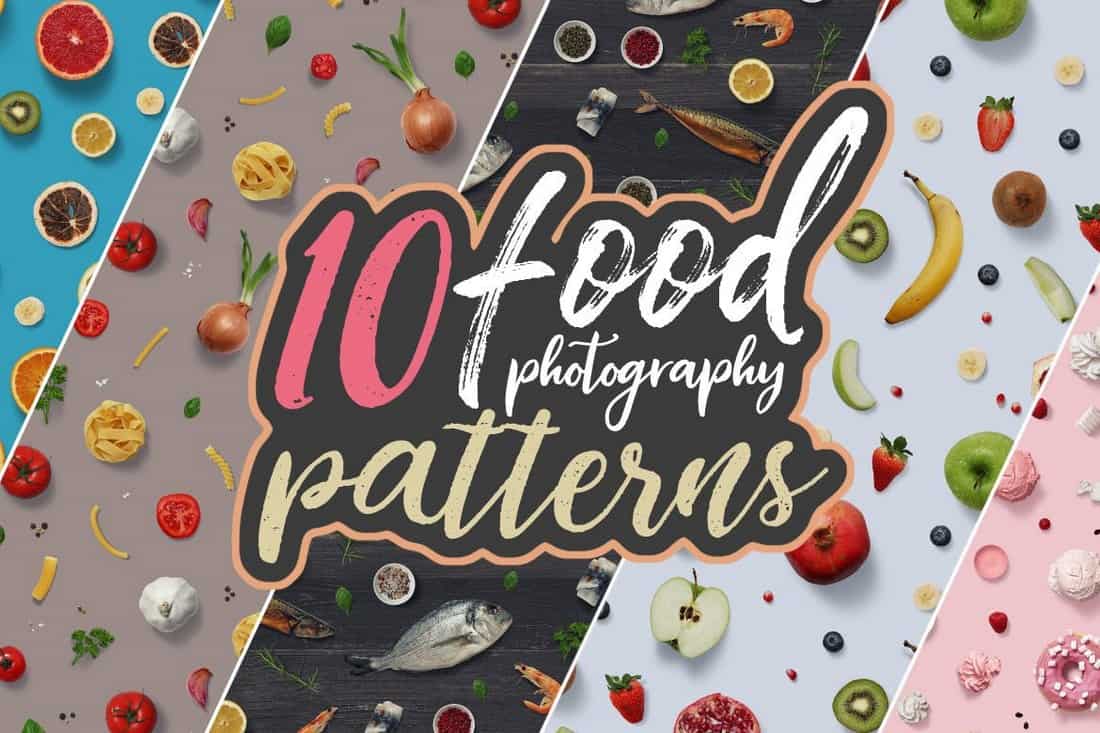 A collection of creative patterns featuring food photography. It comes with various styles of patterns you can use to design backgrounds, frames, and more. The patterns are available in PNG and Photoshop pattern files formats.
Free Watercolor Circus Vector Seamless Pattern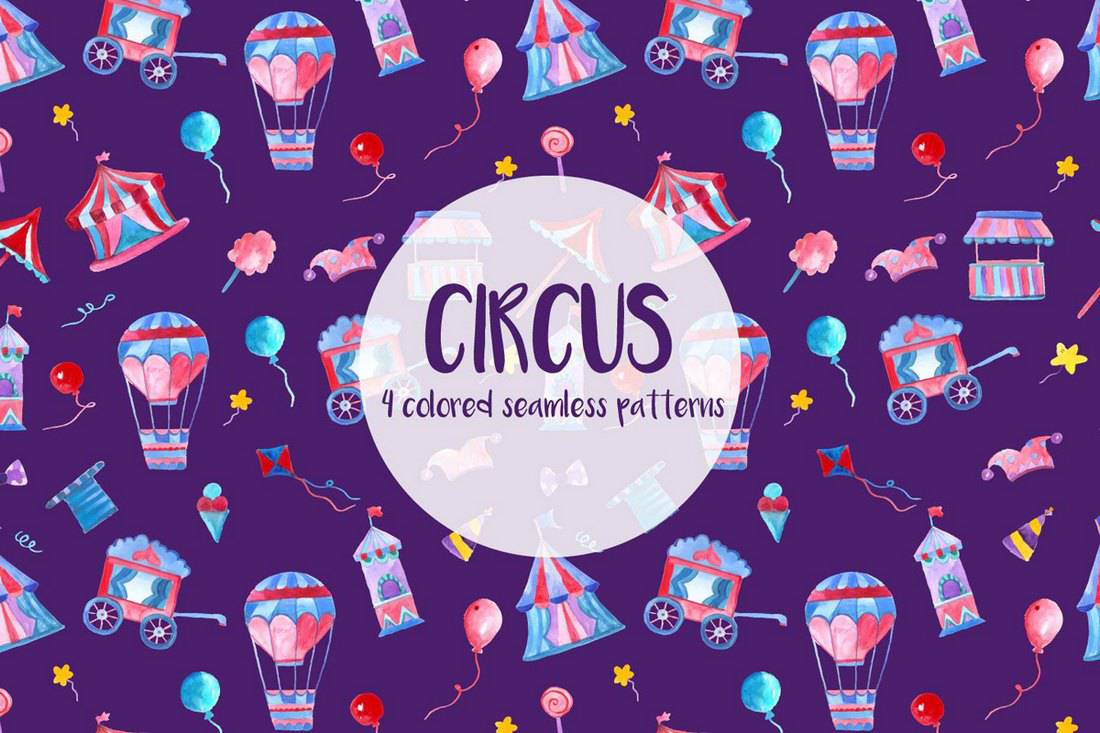 This free pattern features a beautiful kid-friendly design filled with a fun circus-themed pattern. It can be used to design all kinds of backgrounds, print designs, apparel, and much more.
Free Universal Geometric Vector Pattern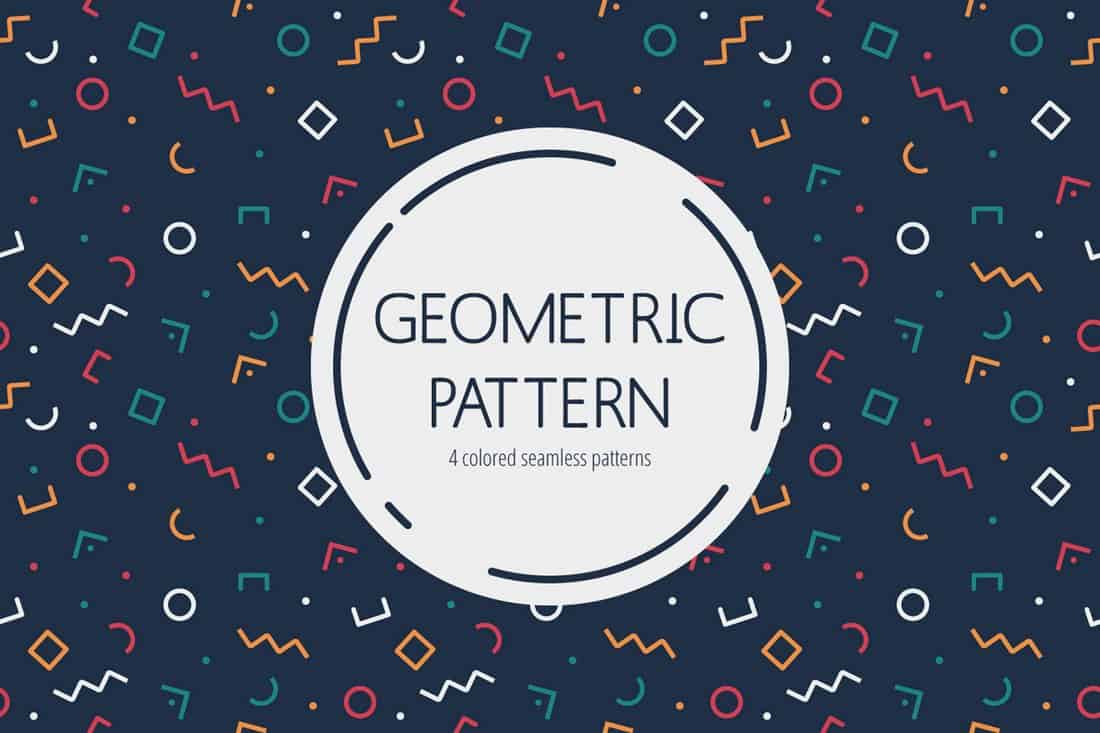 A creative and minimal free vector pattern featuring a geometric pattern design. This pattern file lets you easily customize it to change colors to use with all kinds of your print and digital design projects.
Hello Autumn Seamless Patterns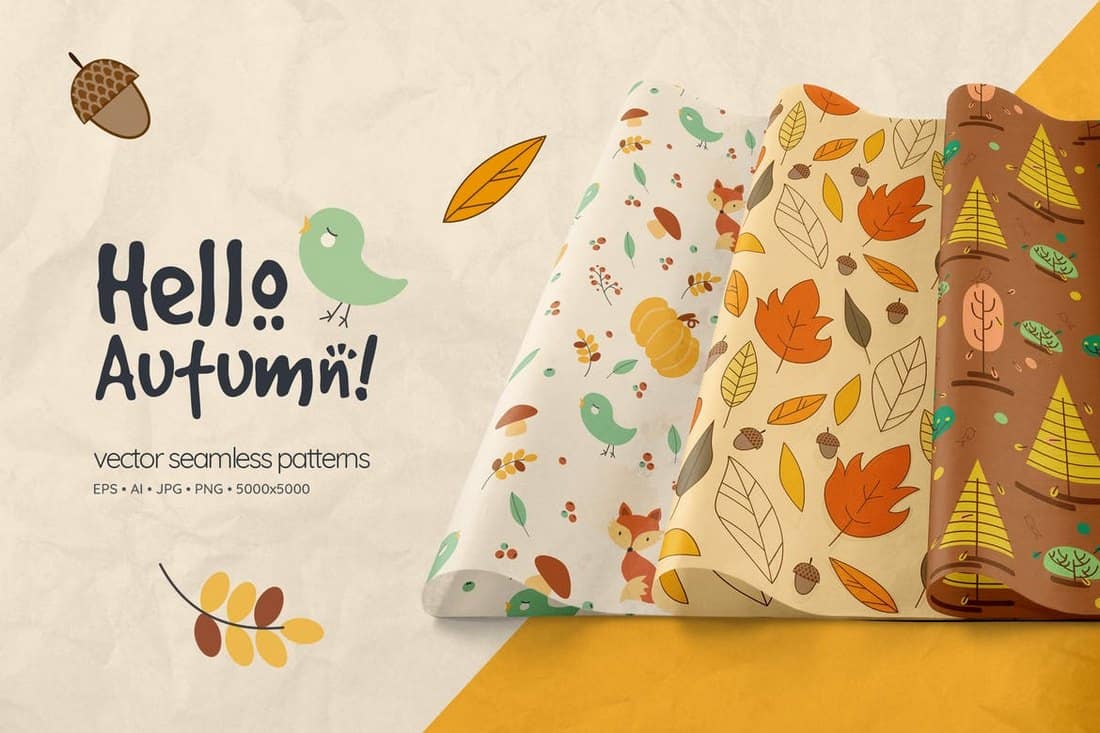 Another collection of seamless patterns featuring adorable autumn-inspired illustrations. These patterns are perfect for designing backgrounds, book covers, wrappers, and much more. It includes 3 vector patterns in AI, EPS, PNG, and JPG file formats.
lmost Mermaid Seamless Patterns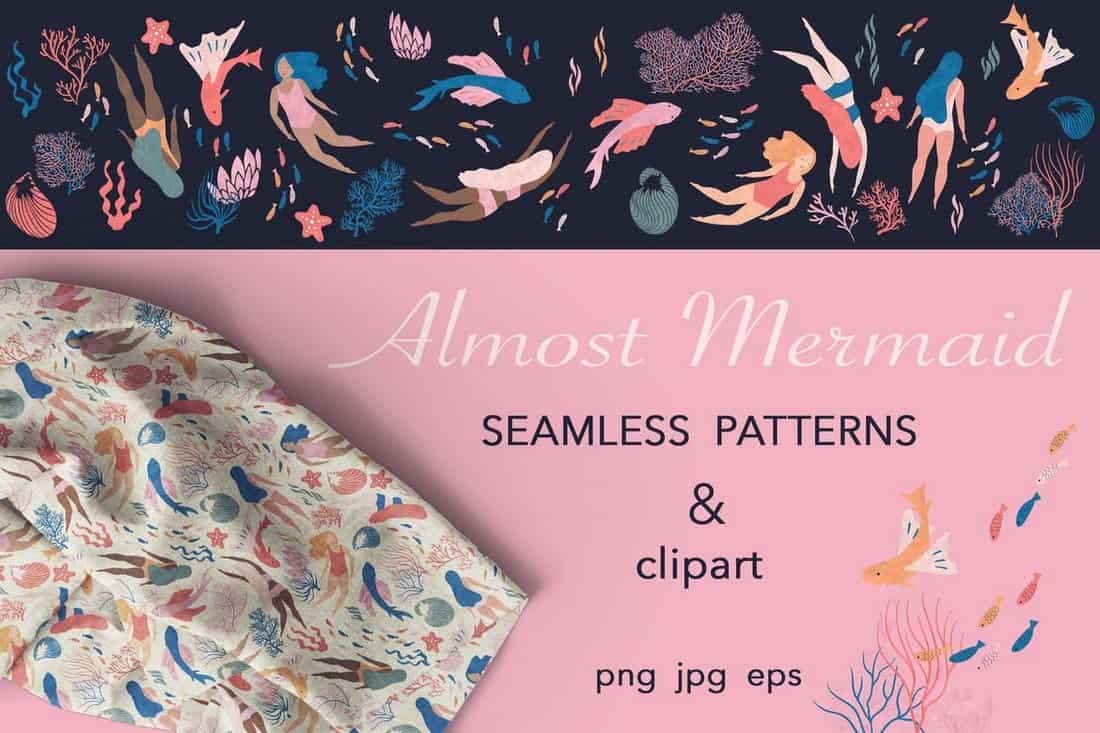 This pattern design is ideal for designing book covers, posters, and backgrounds for kids-related designs. The bundle includes 38 vector cliparts, 6 vector seamless patterns, 6 patterns with texture, and more.
Very Flowery – Free Photoshop Patterns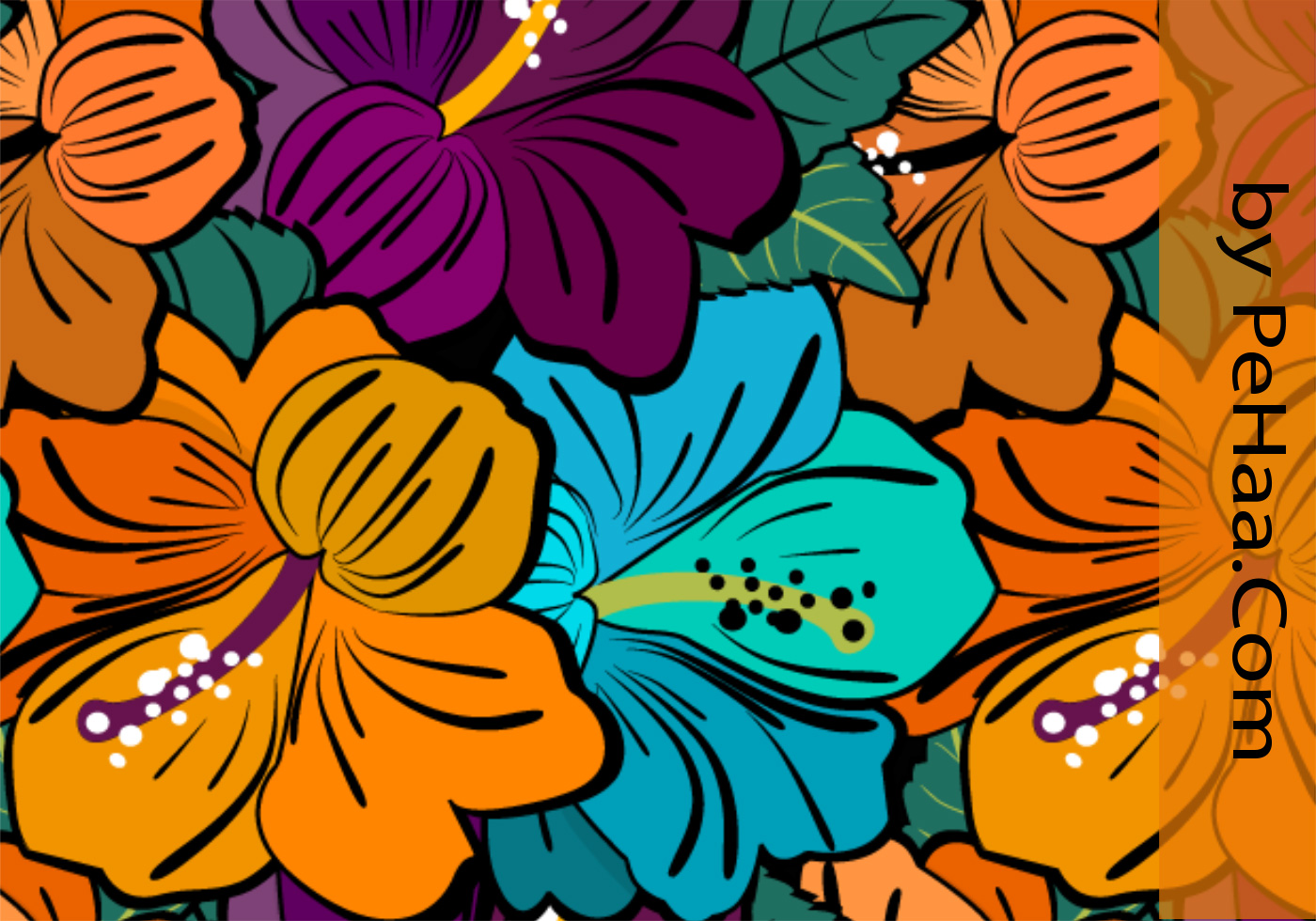 Check out Very Flowery, a gorgeous collection of hibiscus themed Photoshop patterns free for both personal and commercial purposes. Bring a unique, heartwarming aesthetic to the table by adding these patterns to your projects.
rtistic Dimension Abstract Patterns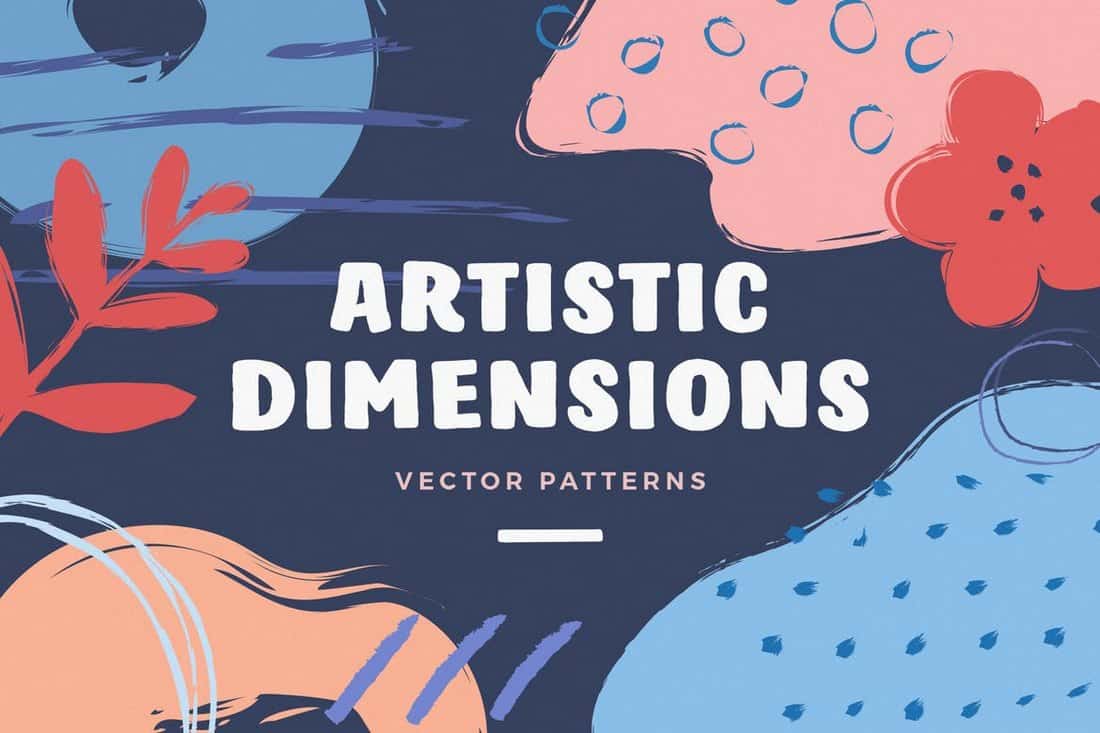 A collection of minimalist patterns featuring artistic designs. These patterns feature hand-drawn designs that are perfect for making minimal and clean backgrounds. It includes 24 seamless patterns and 50 abstract vector elements.
Photoshop Maps Patterns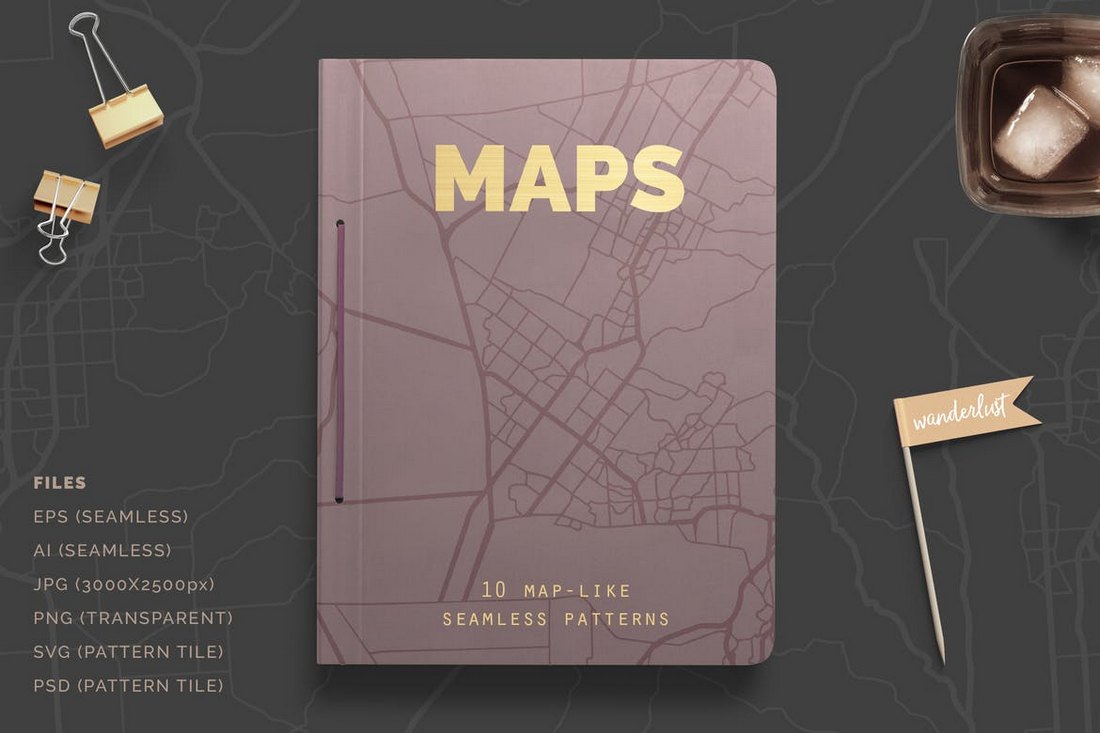 This is a set of unique patterns that are created to look like city maps. Even though they don't depict any real cities, the patterns certainly look real enough to attract anyone's attention. The pattern files are available in multiple formats, including PSD, AI, EPS, and PNG.
Dotted Circles Seamless Patterns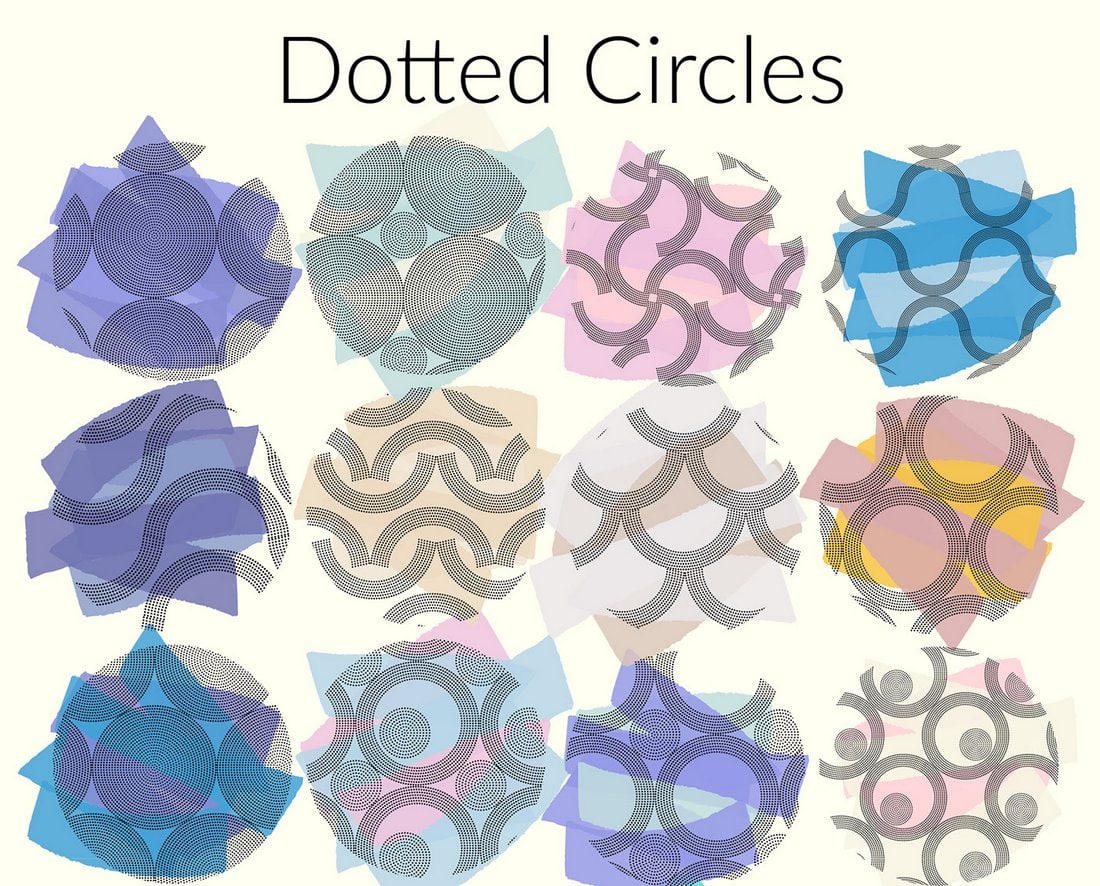 A set of stylish seamless patterns featuring dotted circles. This pack includes 16 patterns that are available in Photoshop patterns file and in JPG and PNG formats.
8 Free Geometric Patterns 2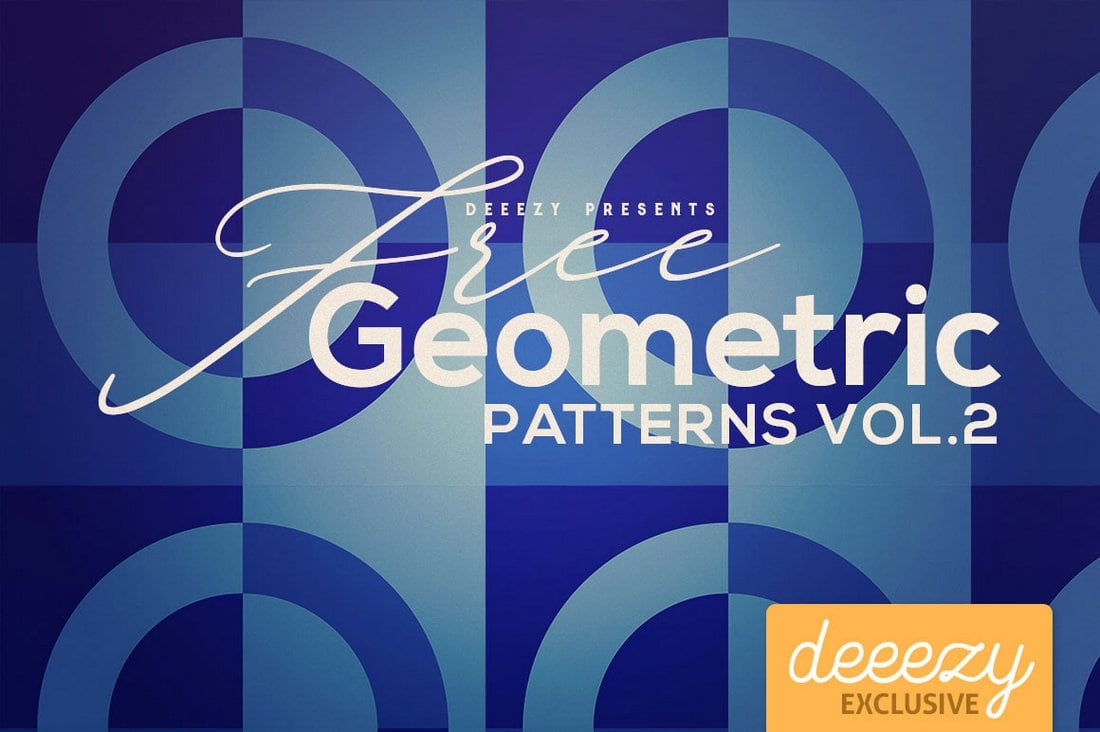 Download this bundle of patterns for free to create stylish geometric backgrounds. The pack includes 16 patterns in JPG format and 8 patterns in vector and PNG file formats.
Dot 13 Seamless Vector Patterns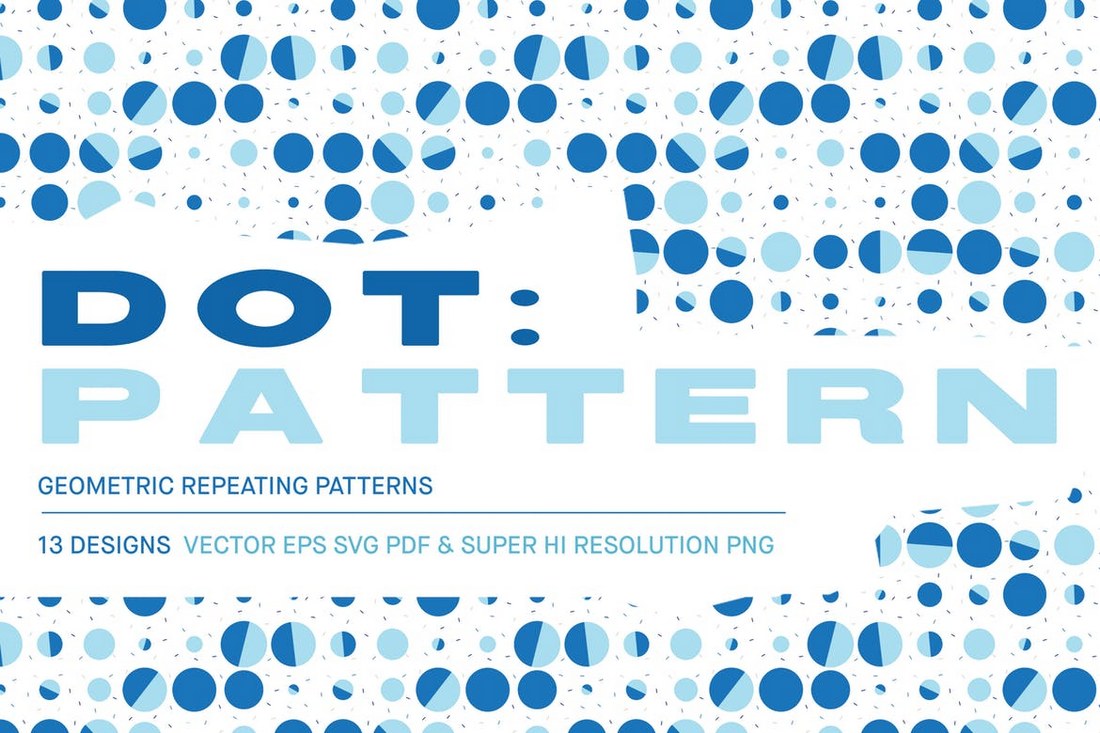 These beautiful geometric dot patterns include 13 different seamless pattern designs that you can edit with Illustrator, Photoshop, and even Sketch app. The pattern files are available in incredible resolutions at 13334 x 13334px.
100 Geometric Patterns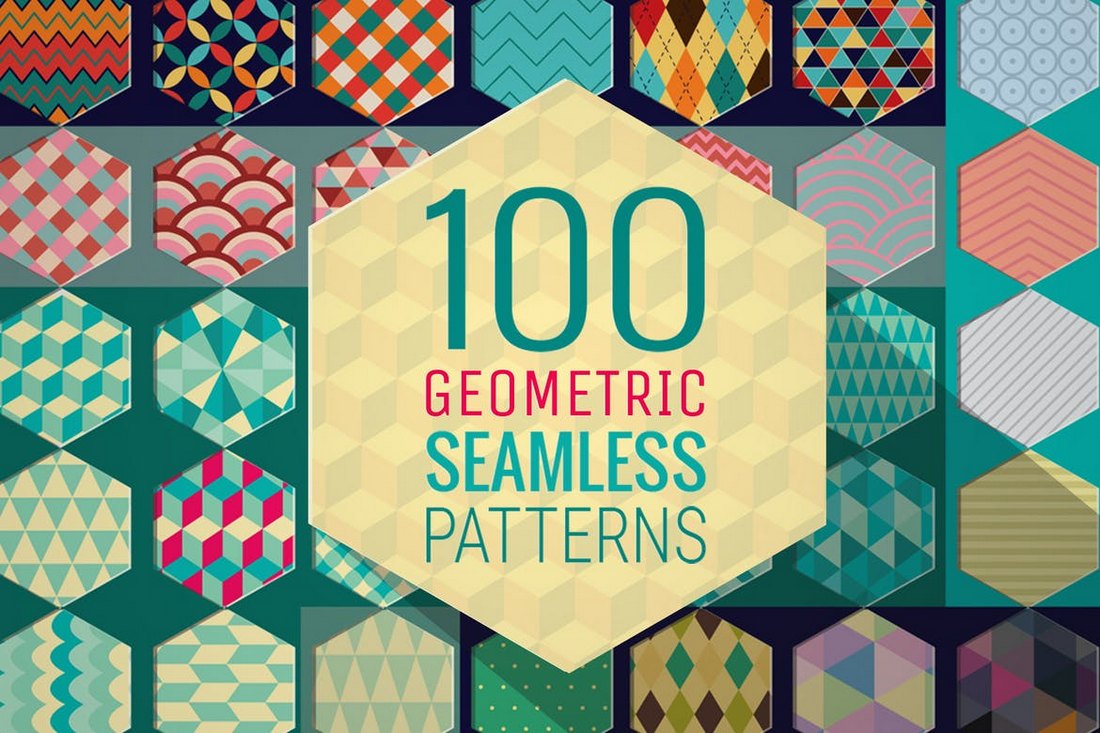 Why settle for less when you can get 100 patterns at once. This is a massive bundle of patterns that feature stylish geometric designs. It even includes pattern swatches in .PAT format for Photoshop and supports Illustrator as well. Patterns are also available in PNG and JPG formats.
Healthy Lifestyle Seamless Free Pattern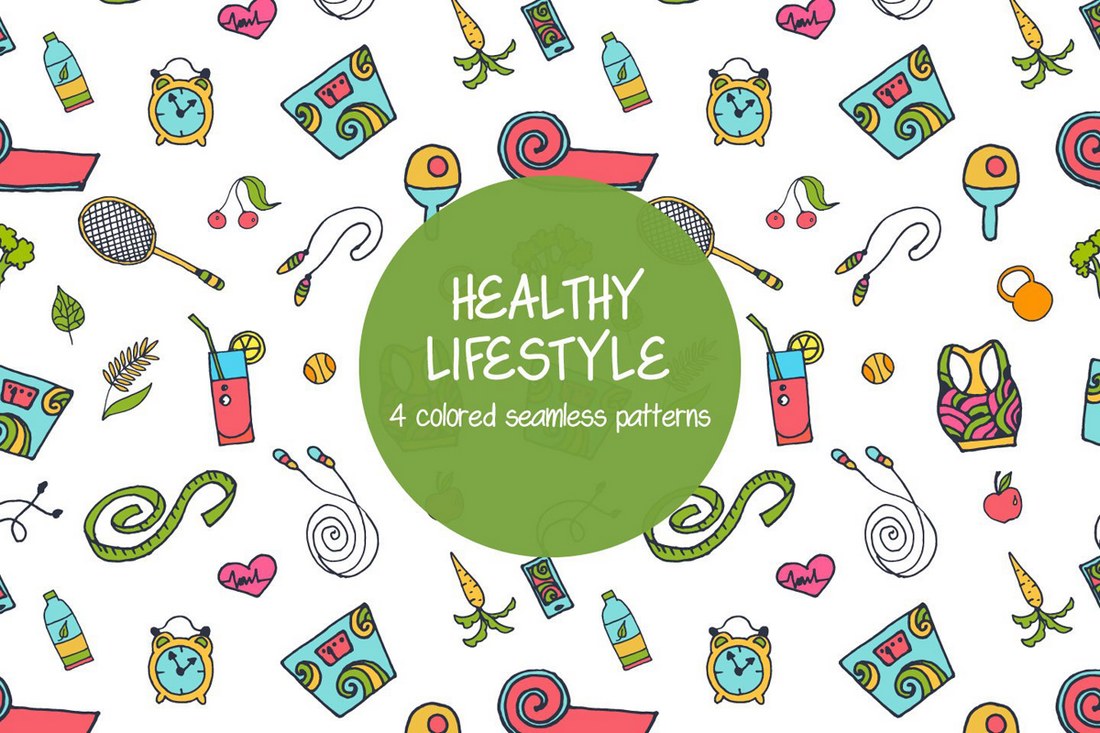 A set of creative and modern seamless patterns featuring illustrations of everyday lifestyle themed items. This pack includes 4 different patterns and you can download it for free to use with your personal projects.
City Life Free Vector Pattern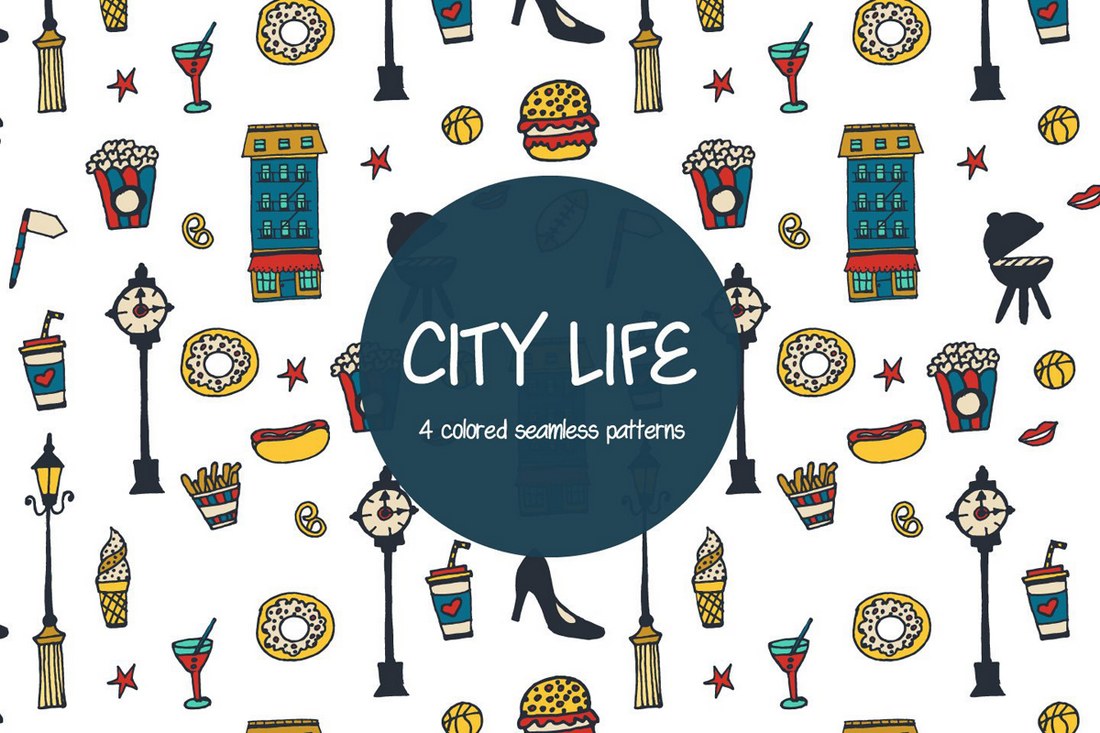 A collection of 4 colorful vector patterns that feature city-themed design elements. These patterns are perfect all sorts of design projects and for making your designs look extra adorable as well.
Hand Illustrated Line Patterns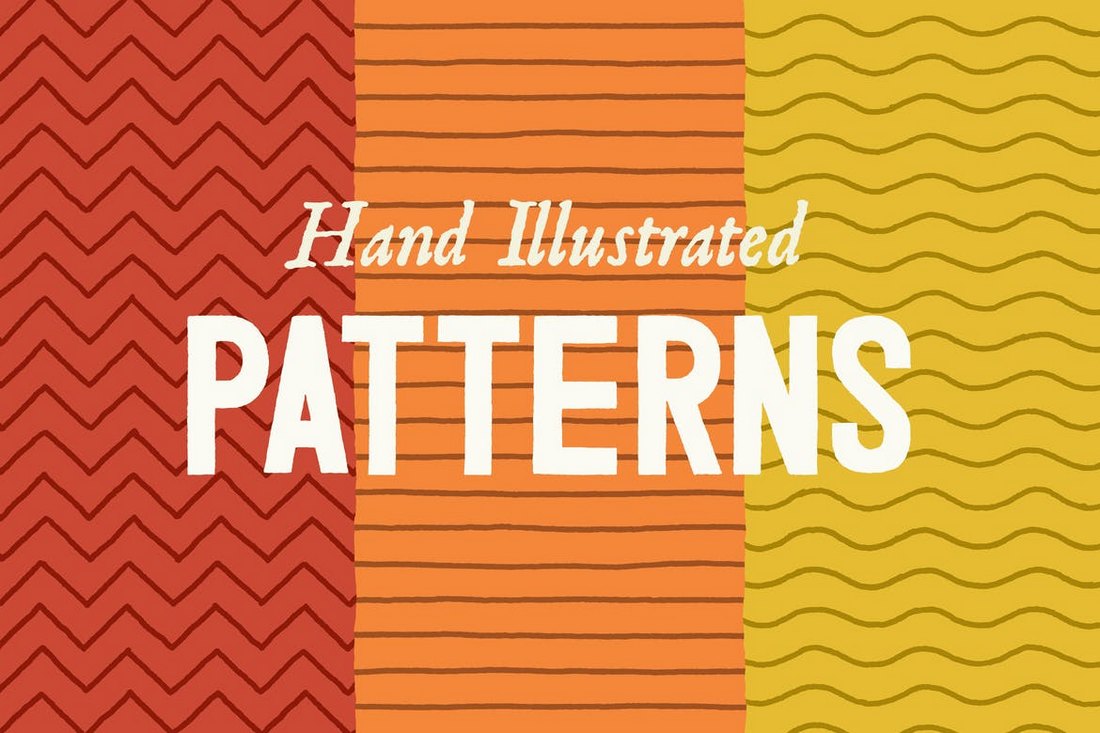 This collection of unique patterns feature 3 creative tileable pattern designs that come with stylish chevrons, waves, and straight lines designs. You'll also get reversed versions of these patterns in a separate file for mixing it up in different design projects.
Memphis Style Pattern Pack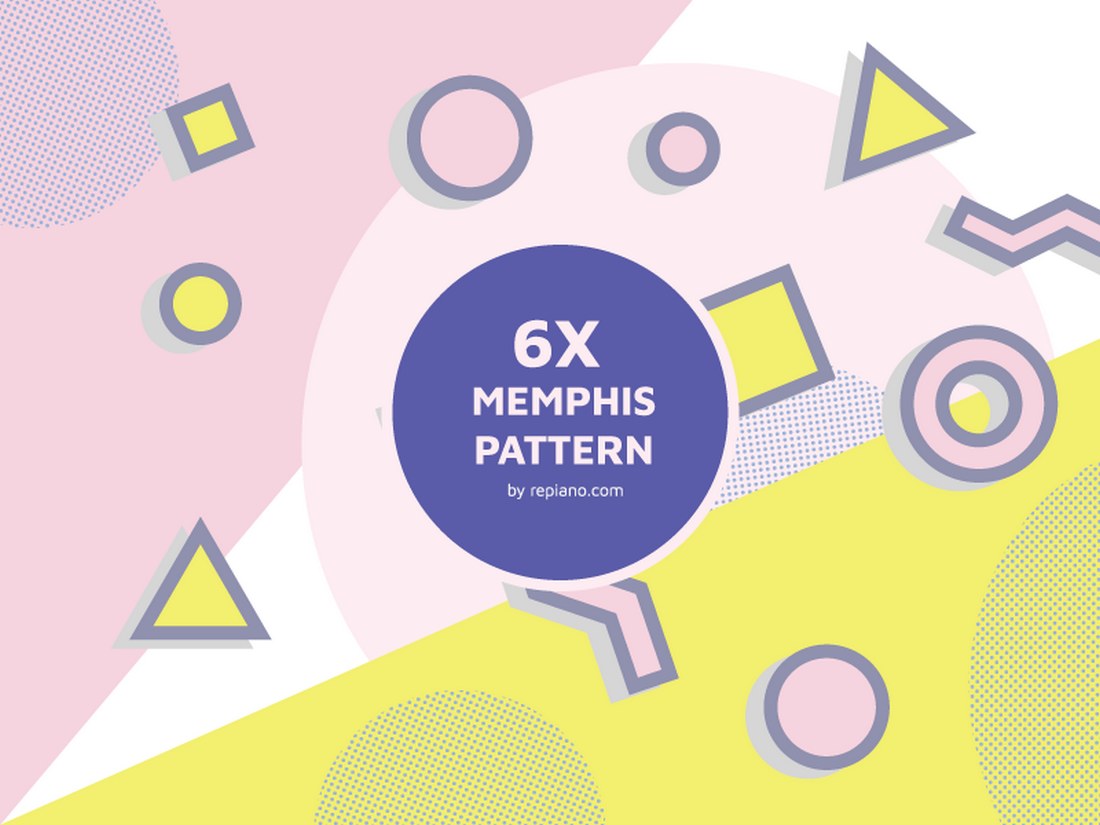 Inspired by the popular Memphis design trend, this pack comes with 6 different patterns featuring colorful Memphis style designs. You can use the patterns in personal projects with attribution to its author.
Camouflage Patterns Set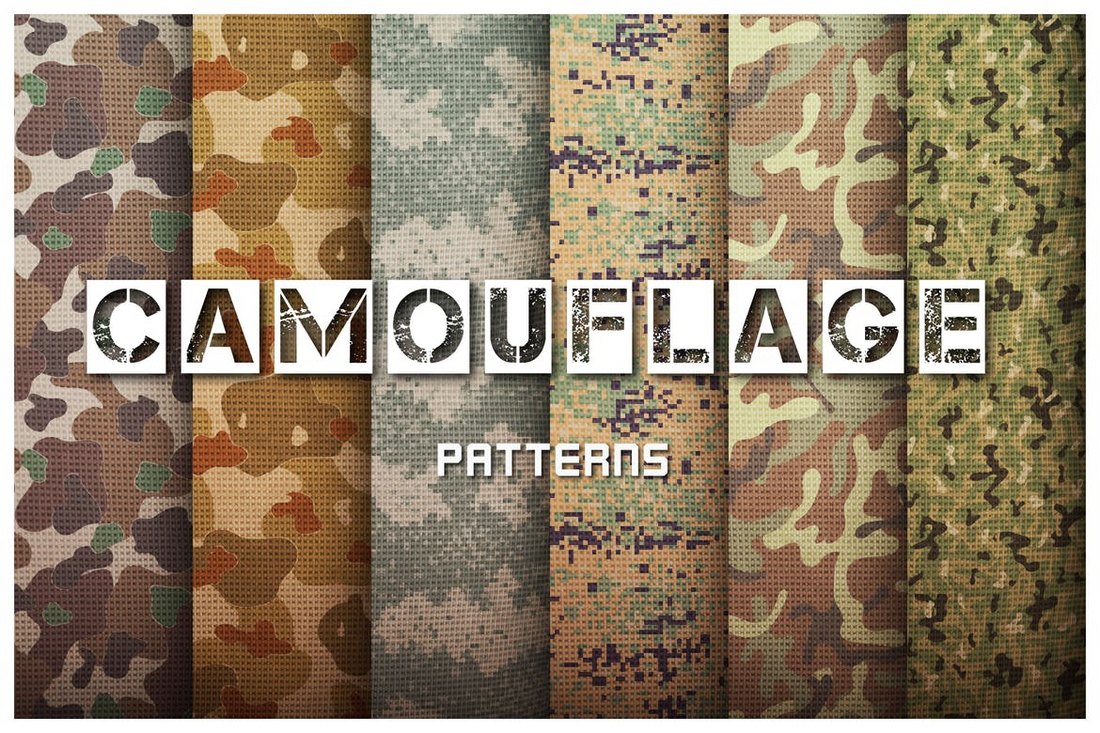 This collection of patterns feature unique camouflage designs that will add a modern creative touch to your designs. It comes with 38 different patterns in AI, EPS, and JPG file formats.
Indian Flowers Patterns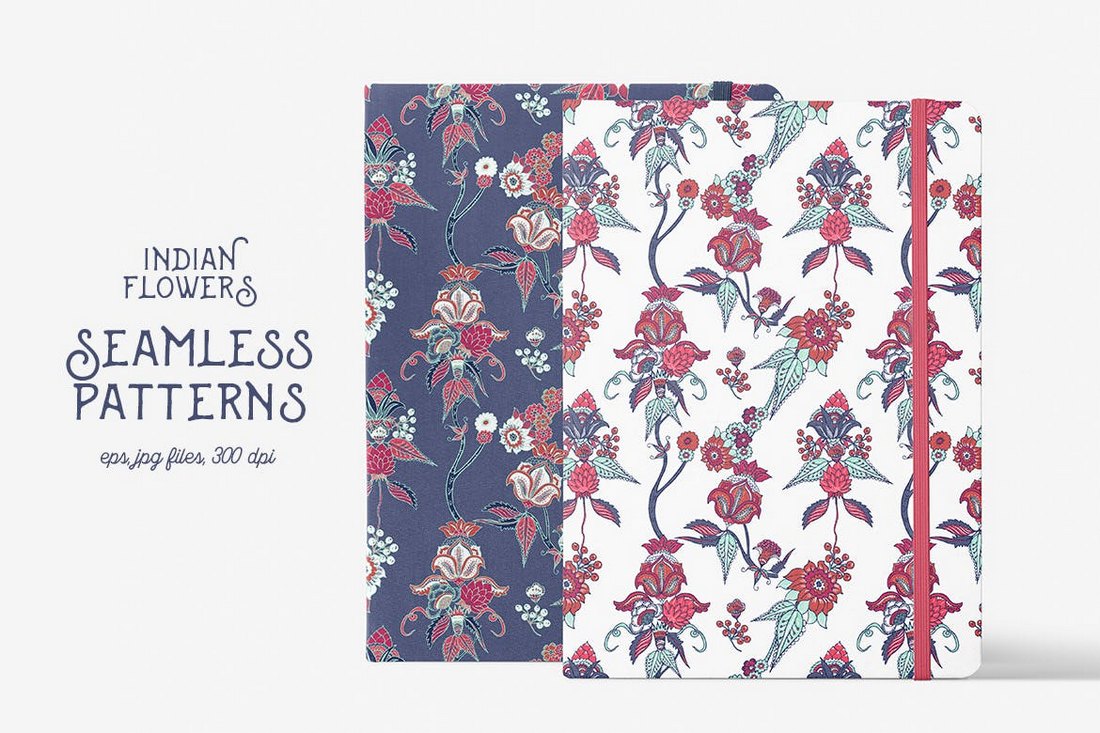 The beautiful flowers in these pattern files are inspired by traditional Indian designs. It includes 6 pattern swatches compatible with Photoshop, Illustrator, and Affinity Designer.
Micro Grids Seamless Pattern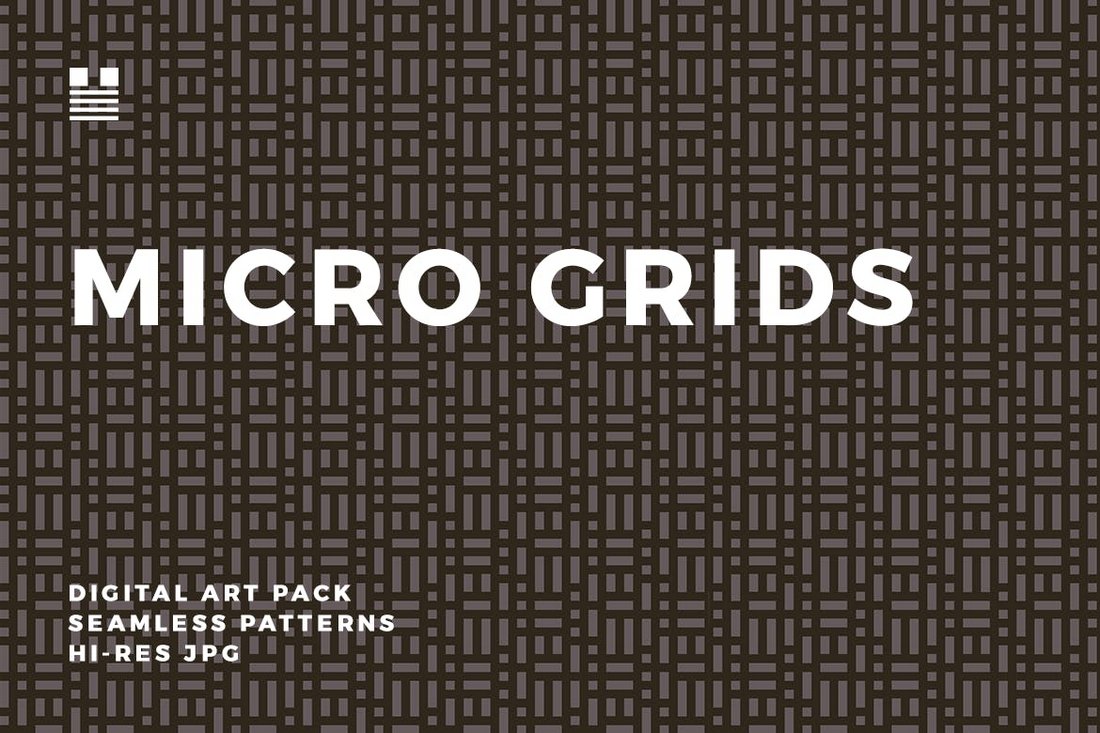 A different kind of pattern that features a seamless grid-style design. This pack comes with 6 tileable pattern designs in JPG format. They are quite perfect for designing tech and startup related backgrounds.
Free Artistic Photoshop Patterns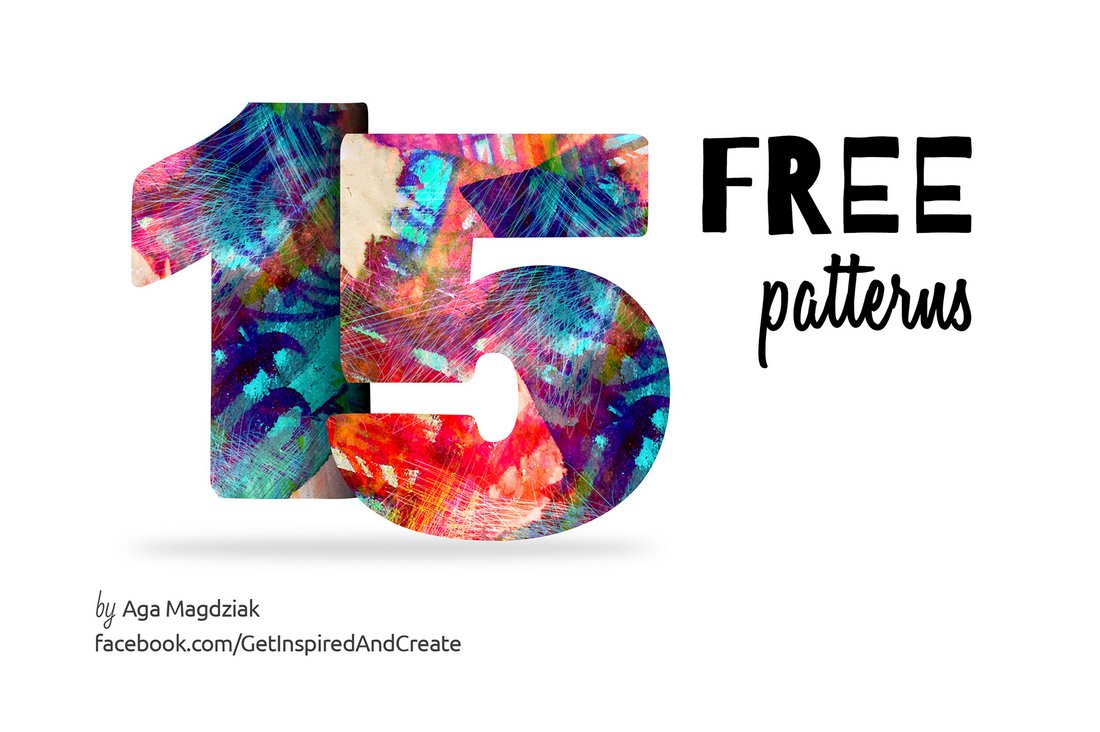 This collection of patterns feature a unique style of artistic design that will make your designs stand out from the crowd. The pack includes 15 different patterns.
Halloween Pumpkins Seamless Free Pattern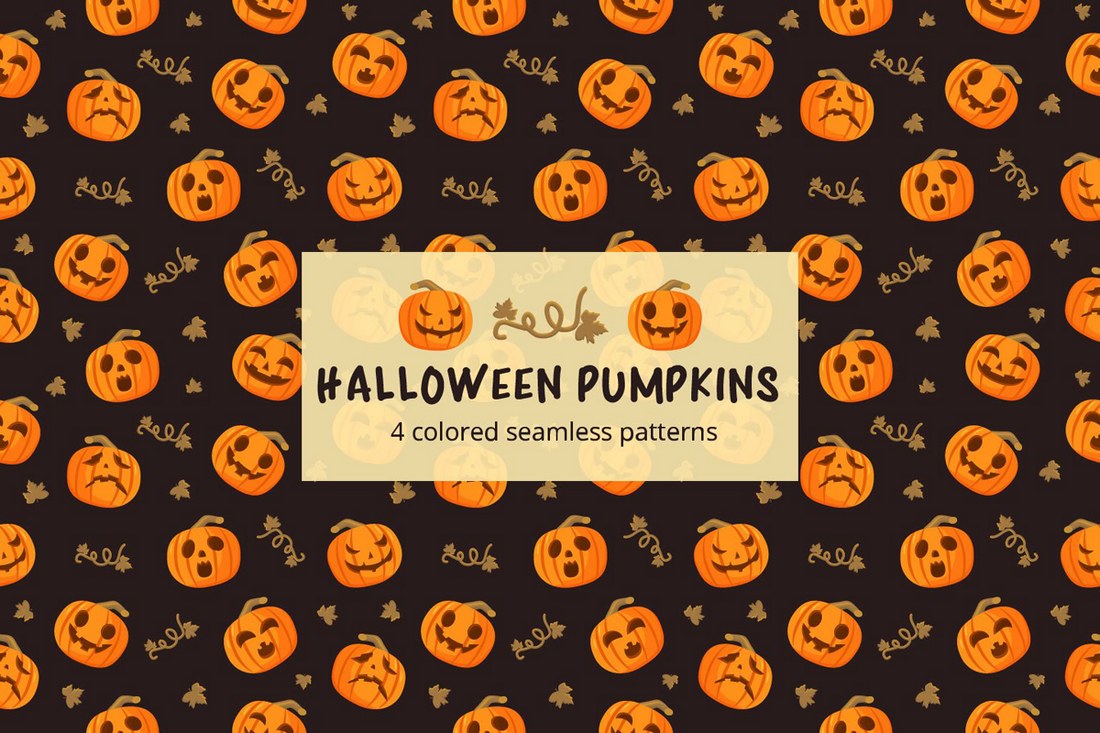 This free pattern features a Halloween-themed design filled with scary, sad, happy, and surprised pumpkins. It's also available in 4 different colors.
Simple As Milk Free Patterns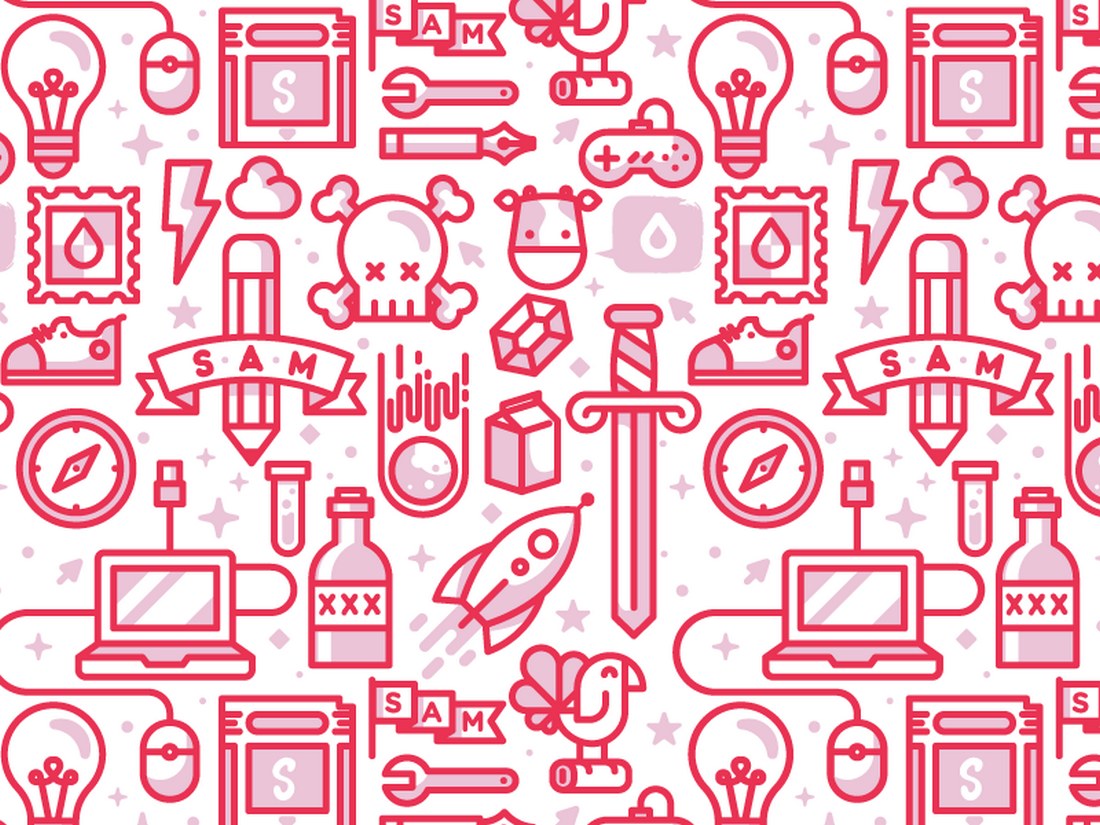 This collection of tileable patterns feature a flat design inspired pattern designs in several different colors. The only downside is the patterns can only be downloaded in low-resolution.
Watercolor Stripes and Patterns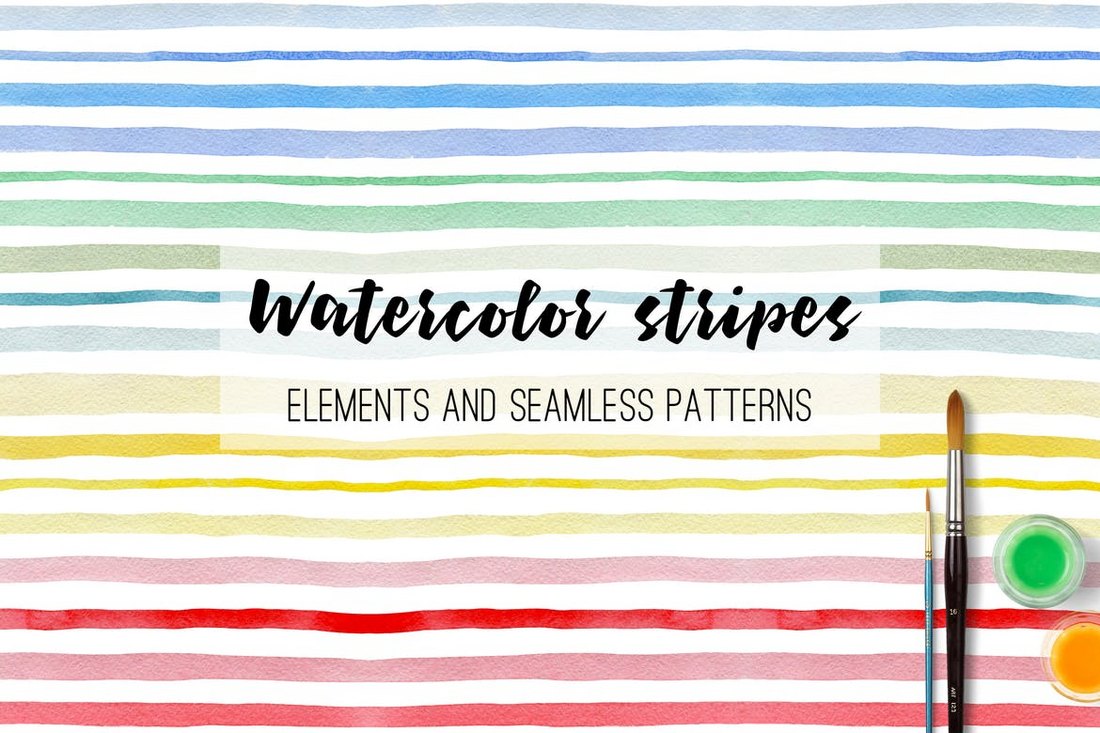 A set of watercolor patterns featuring striped designs. This bundle comes with 16 seamless patterns, 17 PNG pattern backgrounds, and much more. They are available in EPS, JPG, and PNG file formats.
8 Free Flower Photoshop Patterns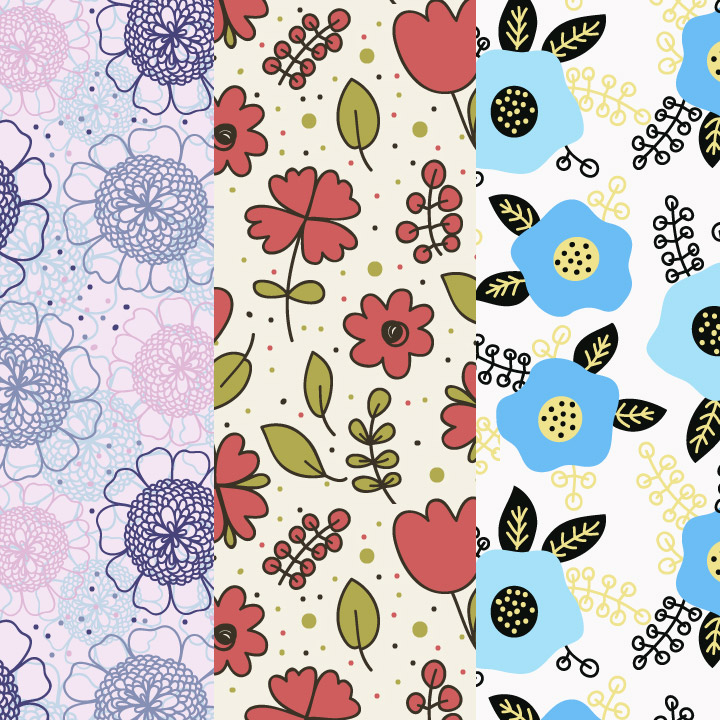 Looking for something cute and adorable? Feast your eyes on this bundle of eight pretty-looking floral patterns for Photoshop that you will surely fall in love with. A gold standard in the world of free Photoshop patterns!
Watercolor Wash Bundle Volume 1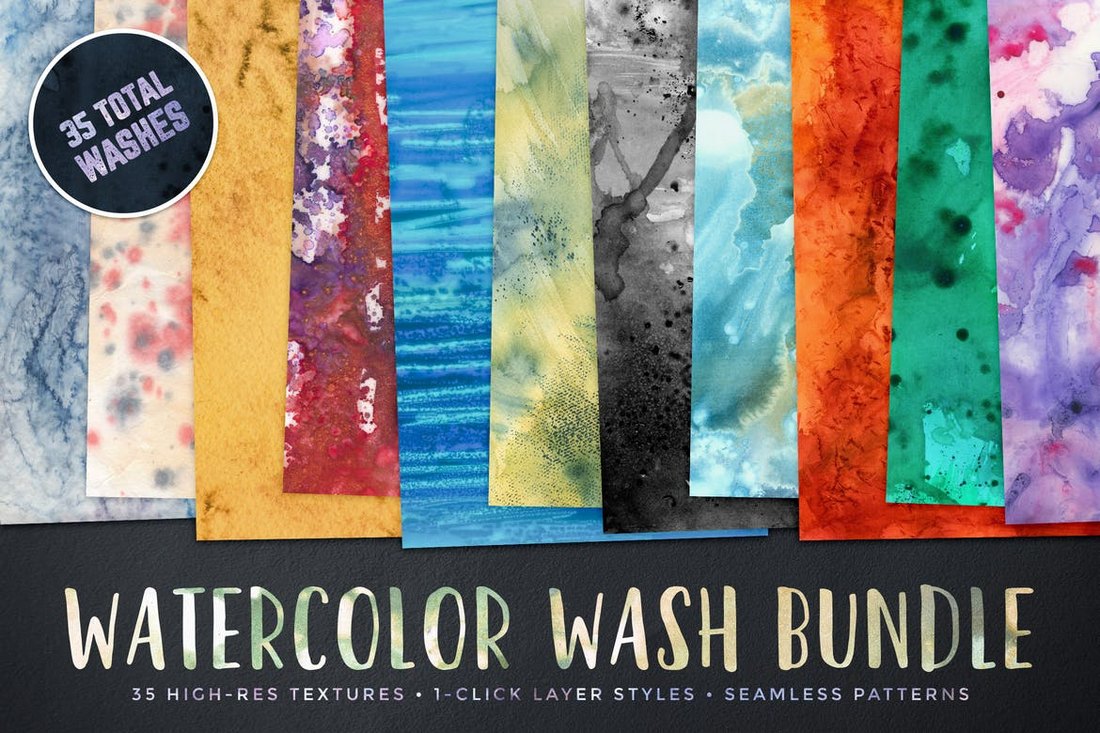 Another bundle of watercolor design elements. This pack includes lots of watercolor-themed designs, including textures, seamless patterns, and Photoshop layer styles.
Glitter Ombre Patterns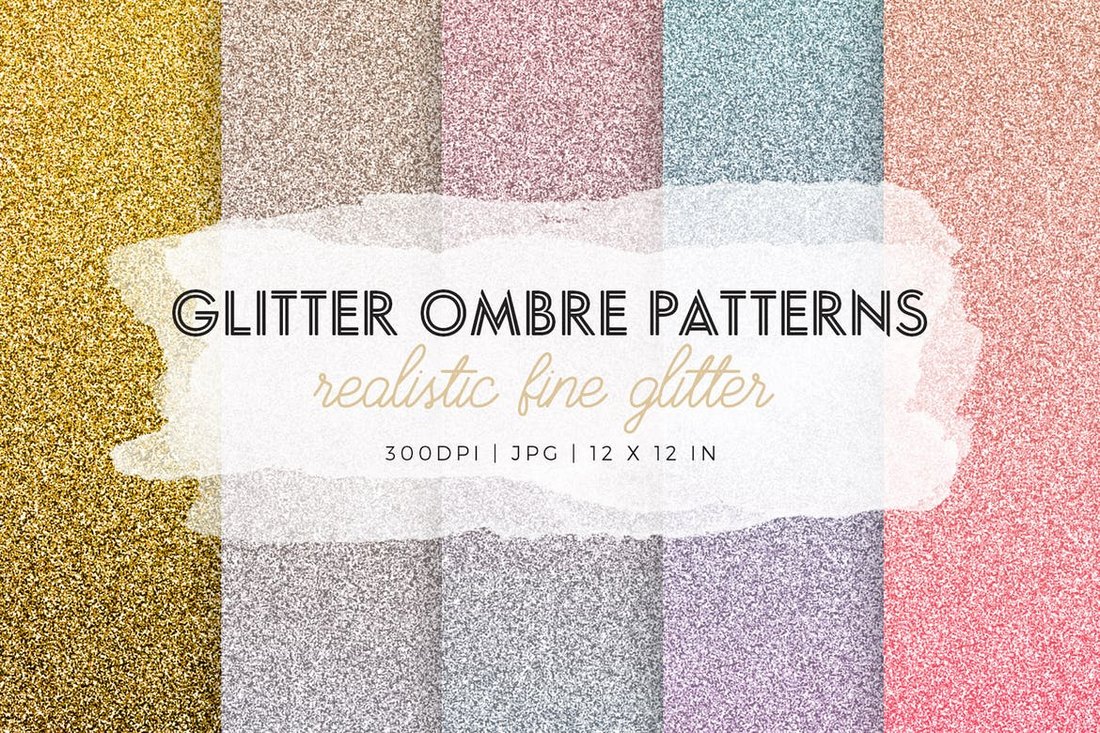 Give your greeting cards, flyers, and even text a glittery look with this pack of glitter patterns. It comes with 15 unique solid color glitter patterns in JPG file format.
Free Flower Pattern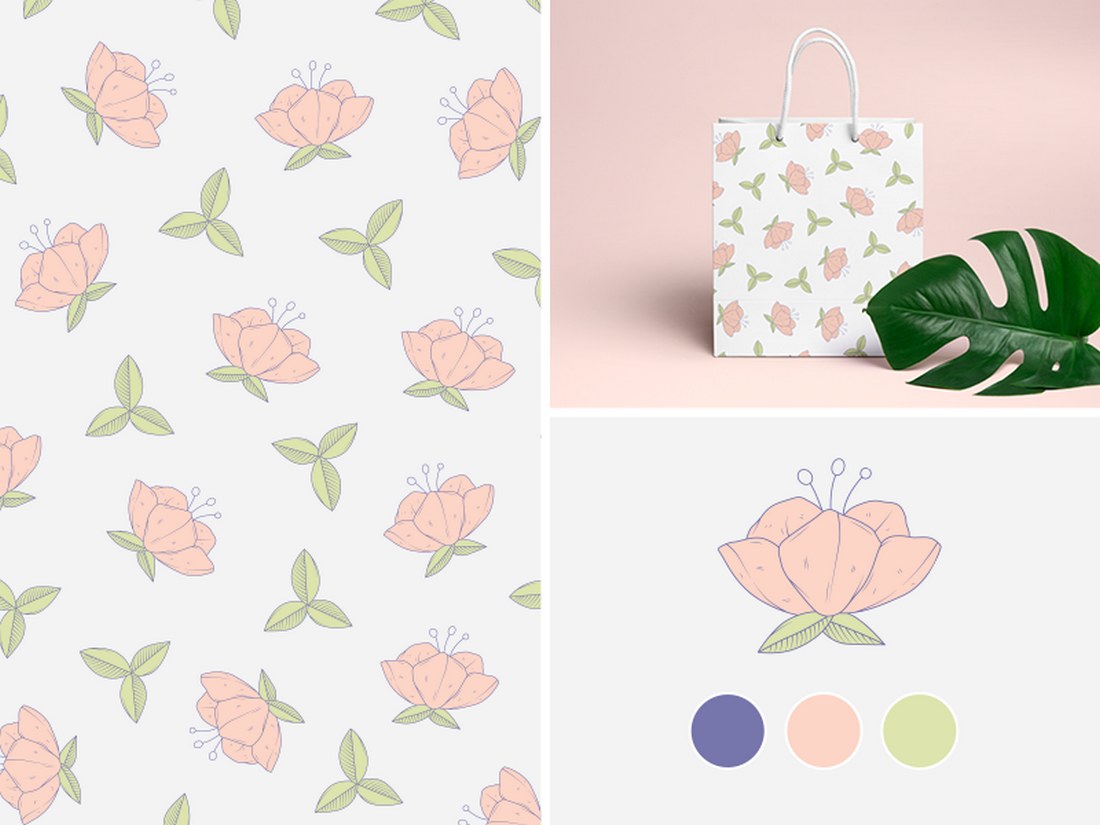 A beautiful free vector flower pattern. You can use this pattern to design a beautiful greeting card background or even a packaging design.
Free Paint Marble Patterns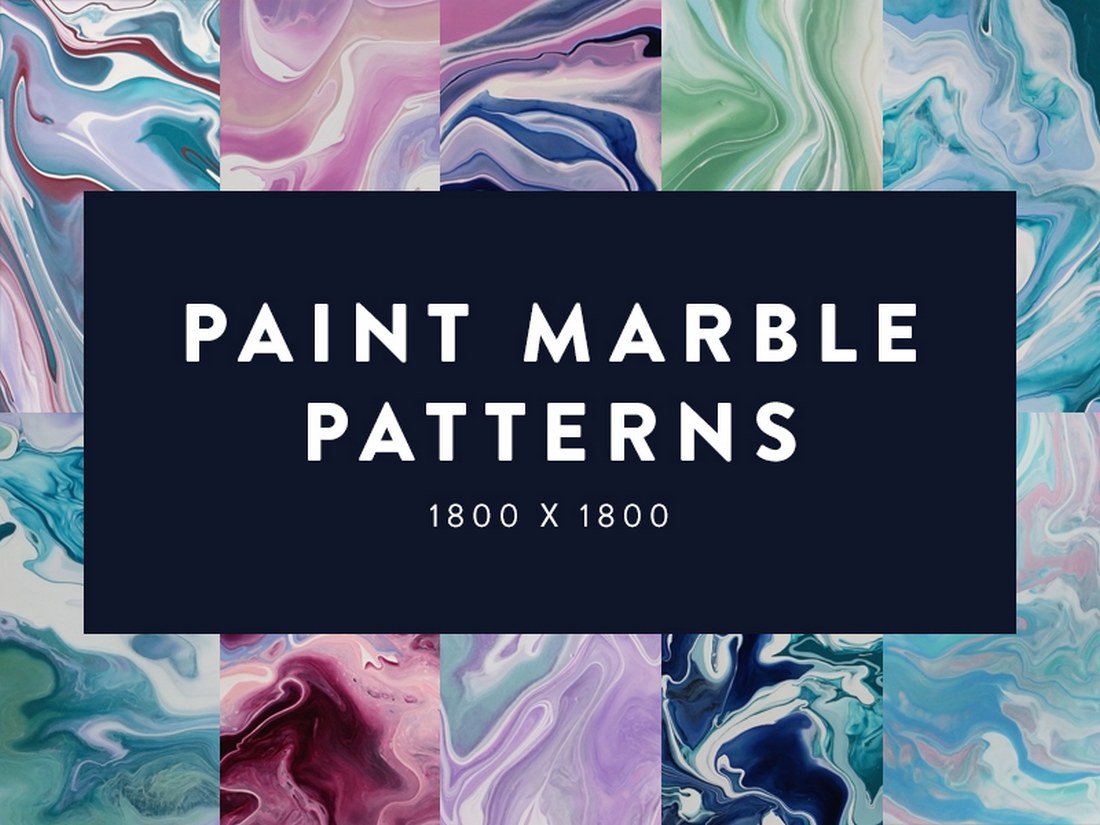 A set of paint marble patterns featuring unique designs. This collection comes with 10 different patterns you can download and use free of charge.
Modern Paisley Seamless Patterns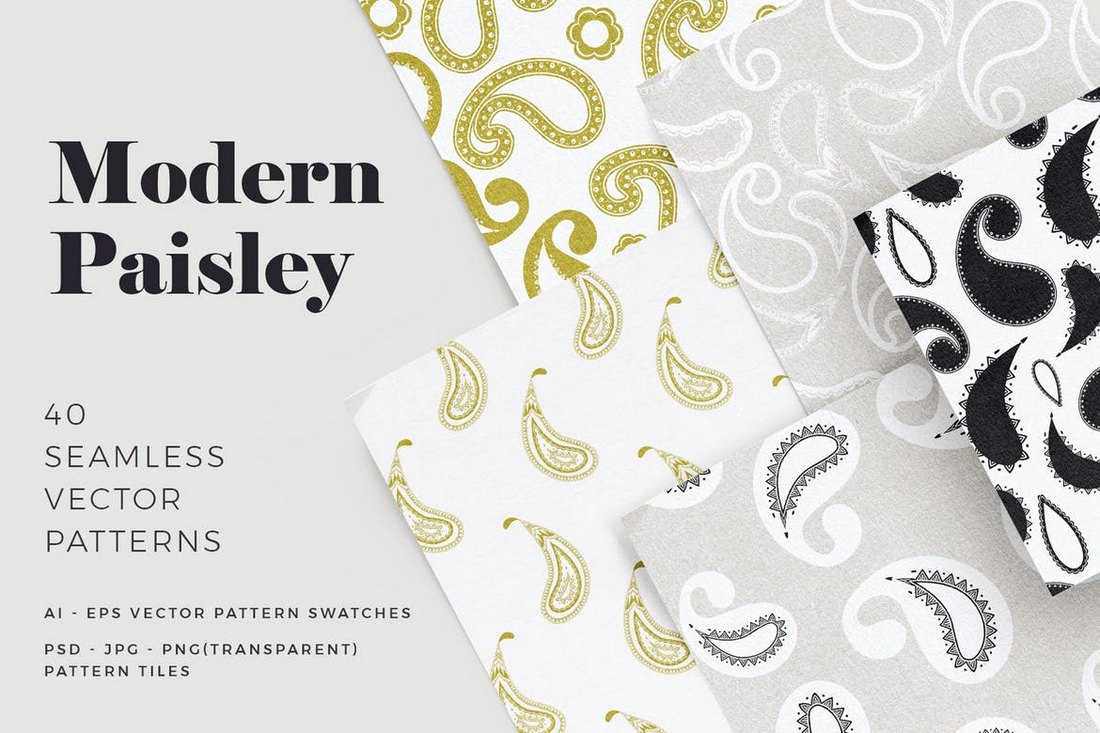 This bundle of patterns is ideal for creating backgrounds for luxury branding and high-end product promotions. It includes 40 seamless patterns with various ornamental shapes and designs.
Modular Photoshop Patterns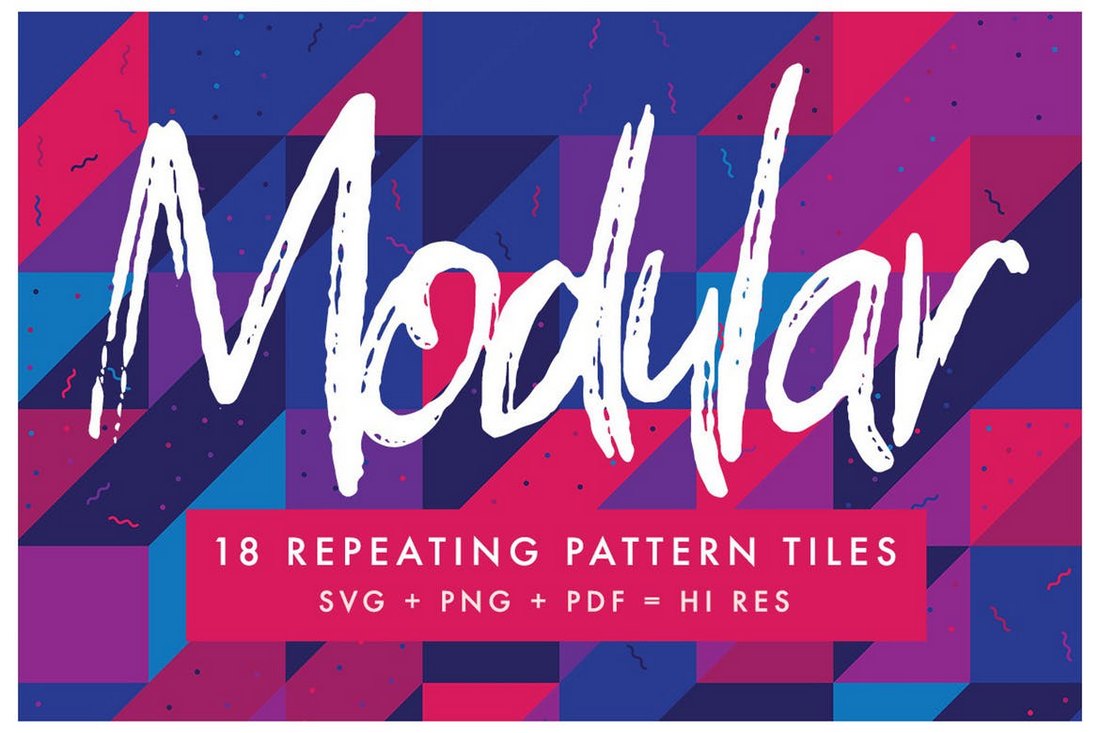 A set of creative patterns that feature geometric patterns and gradient colors. This pack includes 18 different patterns in PNG, PDF, and SVG file formats and in 20000 x 20000px resolution.
Watercolor Vision Vector Patterns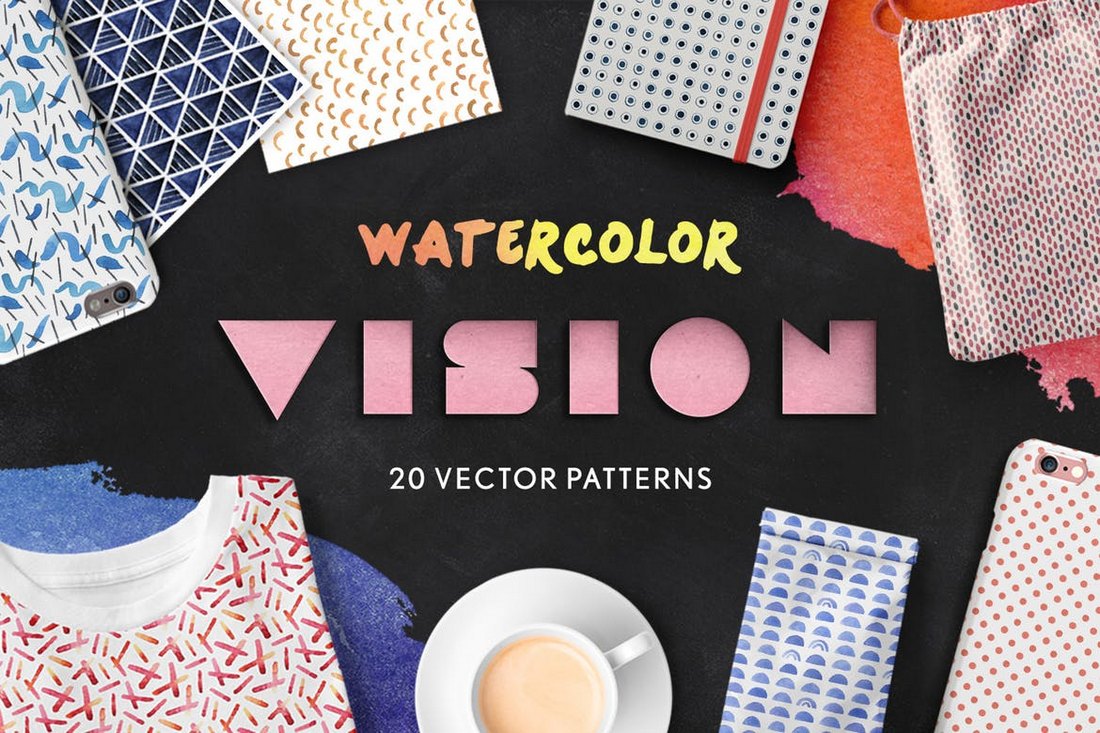 This is a collection of stylish vector patterns that comes with several styles of watercolor pattern designs. It's perfect for all sorts of designs from greeting cards to T-shirts and more.
Great Britain Vector Free Pattern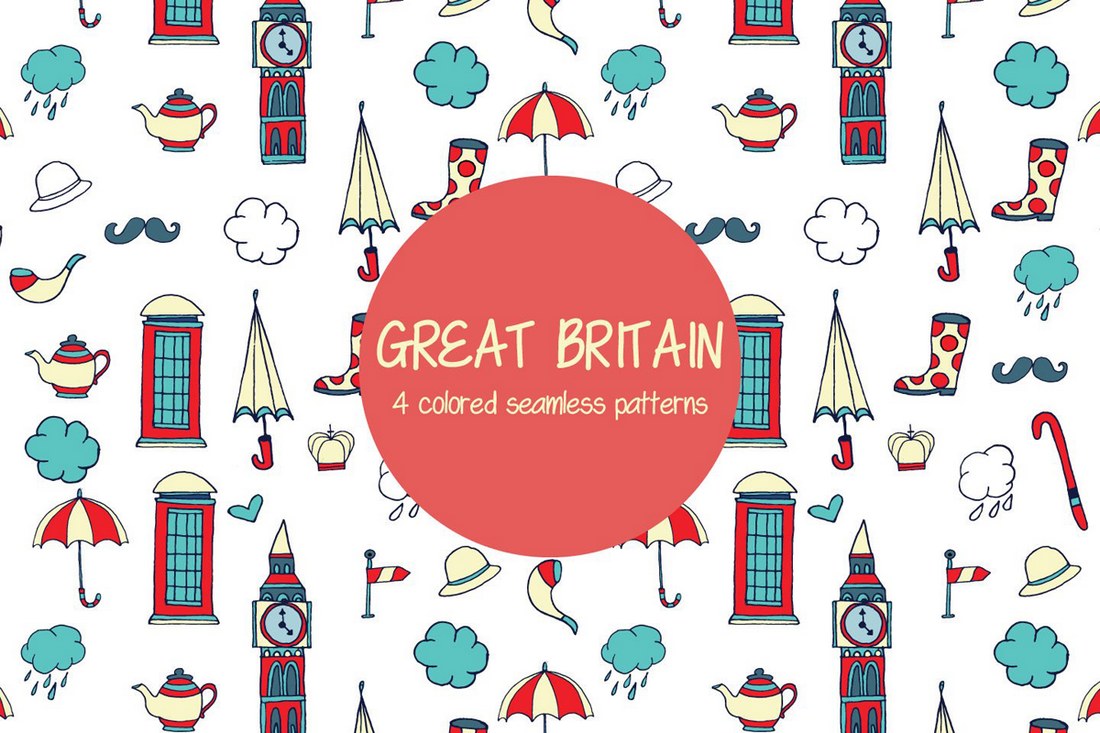 This creative pattern features beautifully illustrated elements inspired by Great Britain. The pack includes 4 colored patterns you can download for free.
Christmas Toys Illustration Vector Free Pattern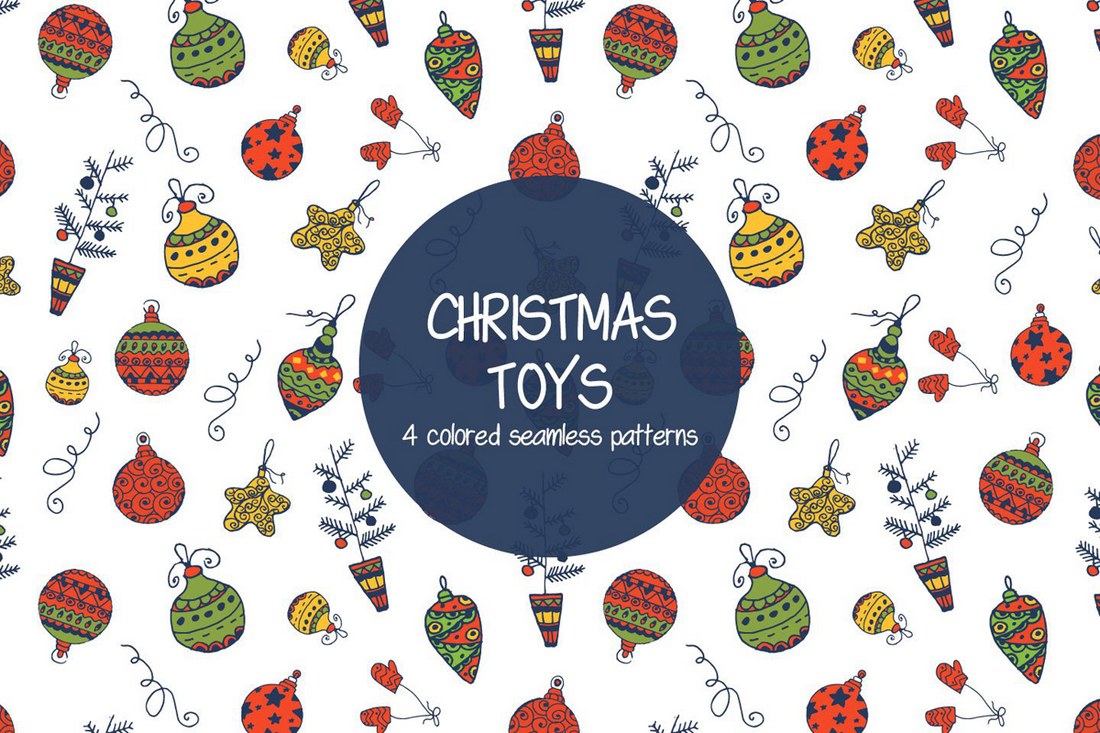 A collection of colorful patterns featuring Christmas-themed designs. These patterns will come in handy during the holiday season. It's free to download.
Unicolorous Seamless Floral Patterns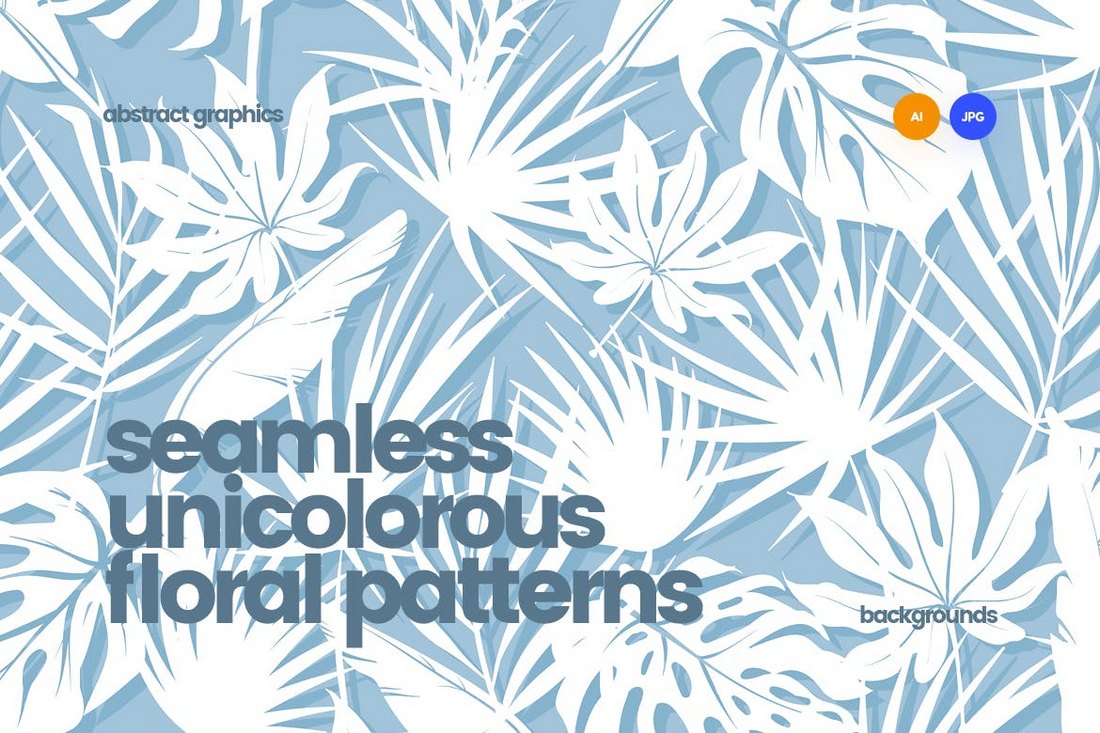 This set of patterns feature a unique floral design that will fit in nicely with your greeting cards, invitations, and many other print and digital designs. The bundle includes 10 different seamless patterns in AI and JPG format.
50 Geometric B&W Seamless Patterns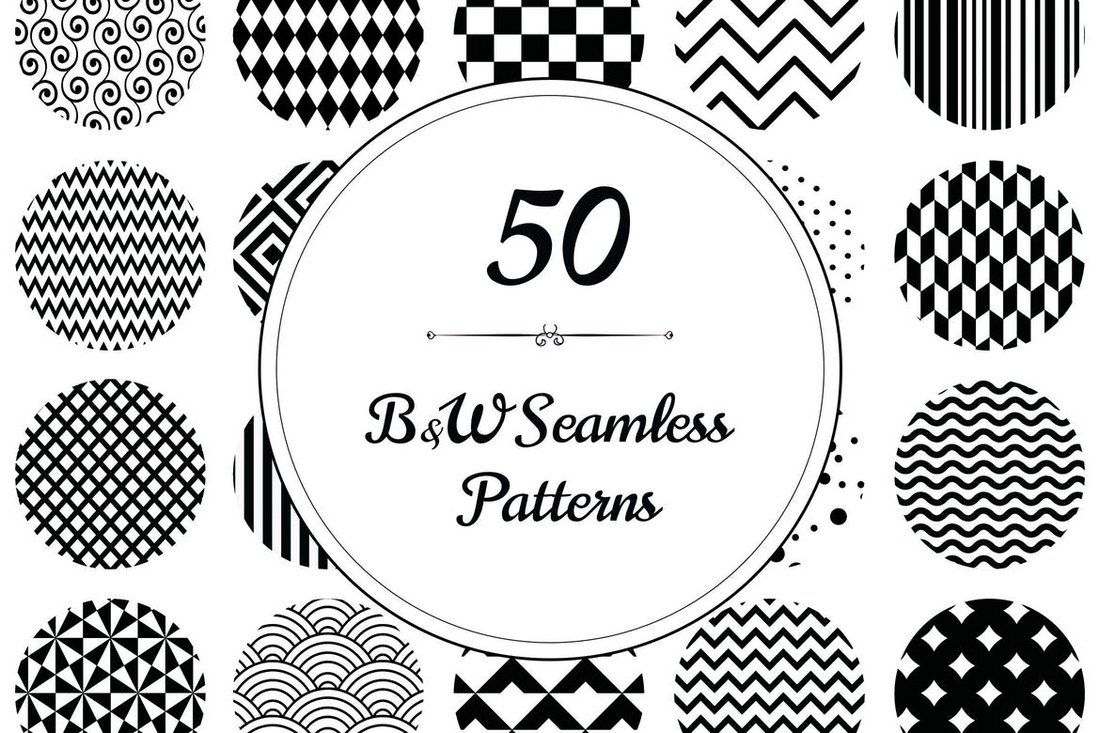 A set of minimalist seamless patterns featuring only black and white designs. This bundle includes 50 different patterns with different shapes and layouts you can use with all types of design projects.
Free Floral Photoshop Pattern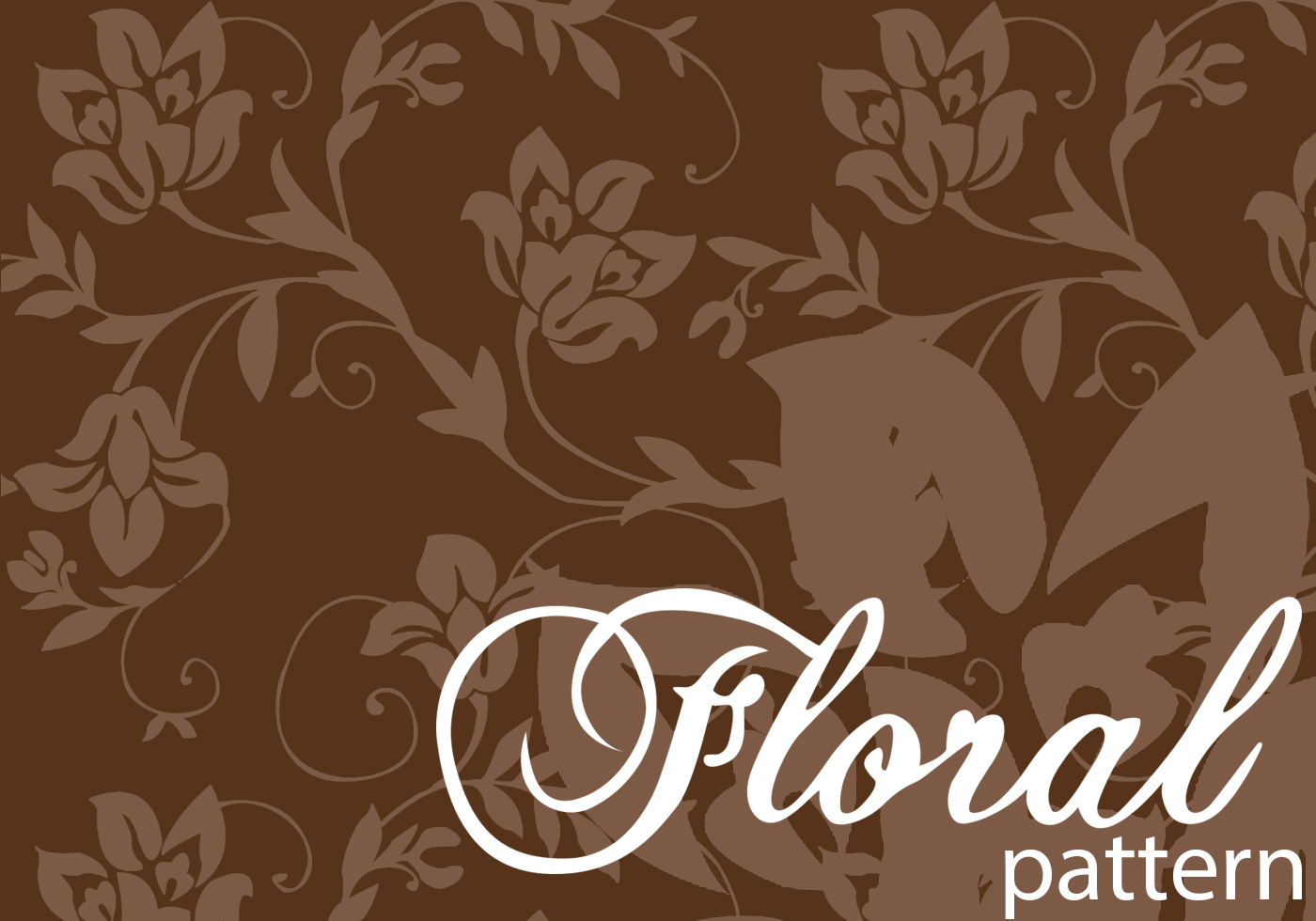 If you are looking for a minimal and elegant floral Photoshop pattern without spending a penny, consider this high-resolution option with a tileable and transparent background. It's worth having a closer look at!
If you're looking for a premade background, check out our geometric and polygon backgrounds collection.