Being able to access a library where you can download all kinds of media assets in one convenient place is a surefire way to supercharge your workflow.
If you're looking for such a resource to improve your productivity on a budget, Filmstock can be just what you need.
Filmstock features a massive library full of royalty-free stock video, video effects, sound effects, video templates, and so much more. There are resources on the platform for all kinds of creators, including video editors, content creators, social media influencers, and marketers.
Filmstock gives you unlimited access to the marketplace for a single monthly subscription. But is it worth your money? What are the benefits of using Filmstock? And who should use Filmstock? Let's find out.
What Is Filmstock?
Wondershare Filmstock is a marketplace for stock media such as video footage, high-resolution stock photos, sound effects, and music. It also features a large collection of video effects and templates you can use in video editing software.
Filmstock has an impressive library of unique resources that you won't find anywhere else.
You get unlimited access to all these resources for a single price when you subscribe to Filmstock. While there are other marketplaces that offer similar options, Filmstock does things differently.
Filmstock is specially geared towards freelancers, editors, and creators who mainly work with video content. And it has an impressive library of unique resources that you won't find anywhere else.
Filmora + Filmstock
Filmstock is part of the Wondershare family. This means the platform works harmoniously with Filmora. In fact, you can access the Filmstock library directly from Filmora without having to leave the app.
Filmora is a great app for editing videos. It's very beginner-friendly and lets you make cool videos, especially for social media, by adding special effects and filters with just a few clicks. Filmora is available on both Mac and Windows platforms.
Needless to say, if you're a fan of Wondershare Filmora, you'll get the most use out of Filmstock. It will allow you to instantly download and add video effects, templates, and stock media directly into Filmora projects to speed up your workflow.
Video Effects & Templates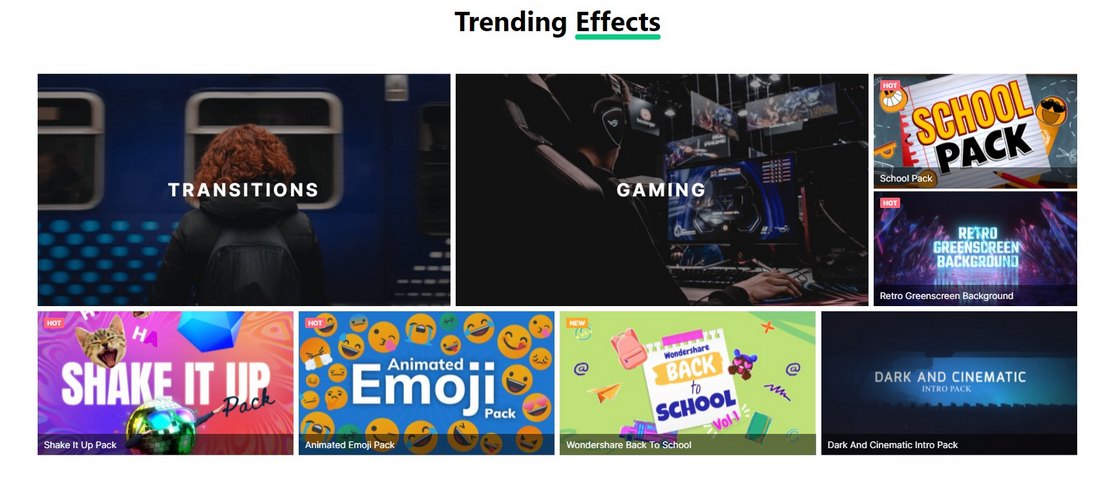 Filmstock has an entire category dedicated to video effects and templates. Here, you'll find everything from animated emoji reaction effects to video title templates and everything in between for all kinds of projects.
These effects are especially perfect for making trendy social media content that attracts younger audiences. They allow you to add special animations and cool elements to your videos with just a few clicks.
Most of the video effects on the platform are made just for Wondershare Filmora. If you have the latest version of the software and the Filmstock subscription, you can install effects and templates with just one click. There are also templates compatible with other video editing apps like Adobe After Effects as well.
High-Quality Stock Video Footage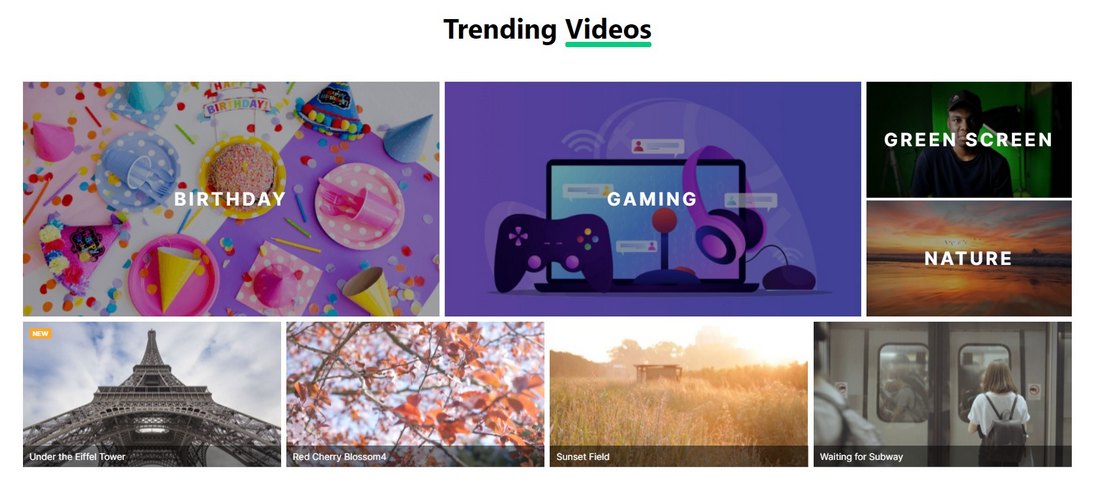 With more than 1.2 million stock video footage, Filmstock has one of the biggest media libraries available today. The video footage is available in 4K and HD resources, all royalty-free.
Whether you're making YouTube videos, Instagram promos, creative TikTok videos, or even producing films, you'll find stock footage in many different categories to suit all your needs on Filmstock.
mazing Music & Sound Effects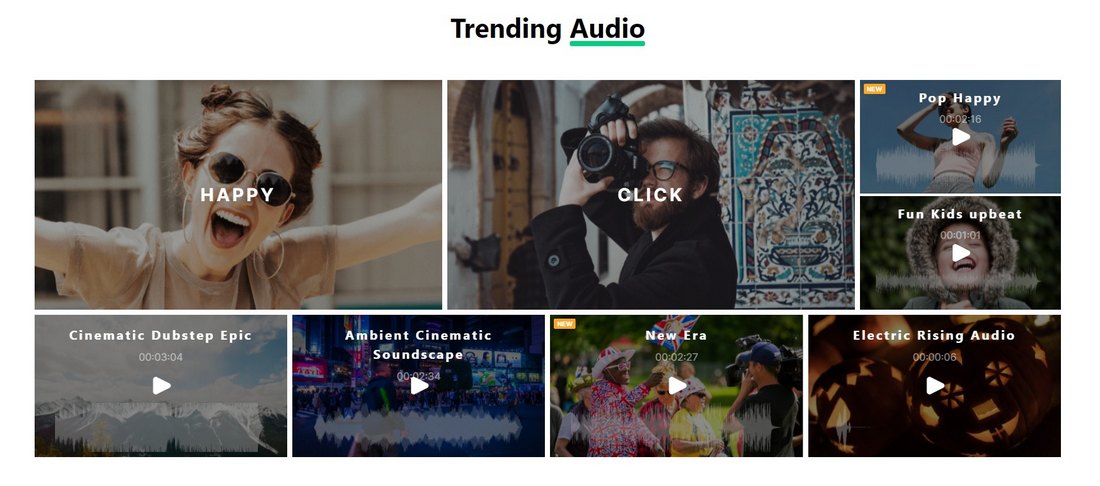 Of course, you can't produce great videos without sound effects and background music tracks. Filmstock has got you covered with a library of over 300,000 royalty-free sound effects and songs you can use in your projects.
Finding the right track for your video on Filmstock is also quite easy. For example, if you're looking for a retro music track, just type retro into the search bar and it will show you plenty of search results to choose the perfect track for your project.
8K Stock Photos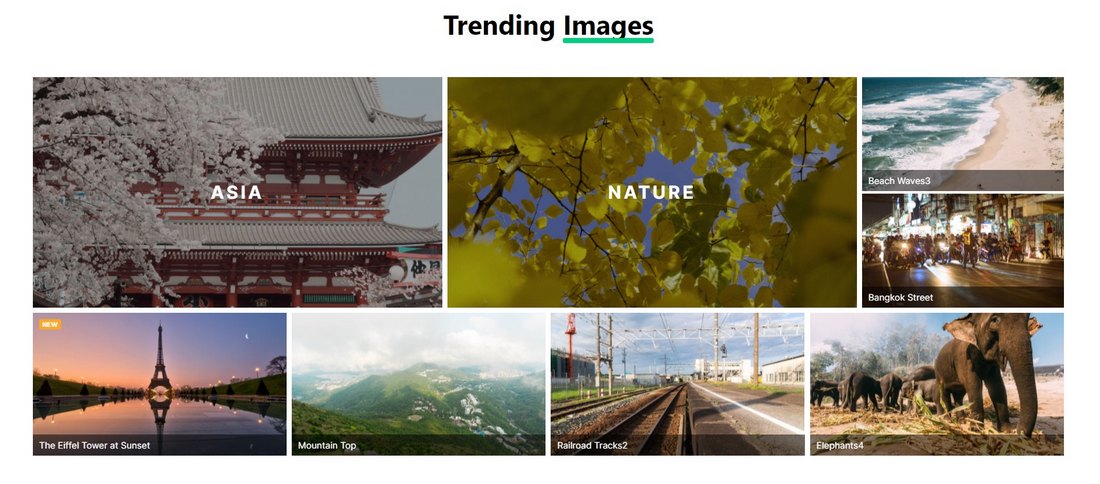 A media library wouldn't be complete without a collection of stock photos. Filmstock gives you access to a large collection of over 980,000 stock images. What's even more amazing is that many of the images are available in 8K resolution.
You can access the stock photo library with your Filmstock subscription. There are also media assets available at single-purchase options that you can download separately.
Free Templates & Resources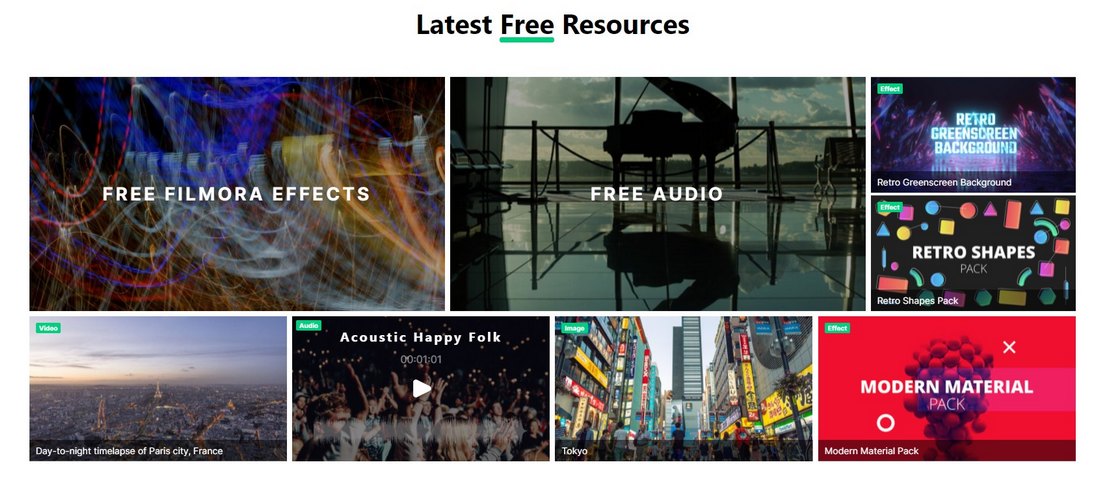 Even if you don't get a premium subscription, you can use Filmstock for free to download video effects, templates, and resources from its free downloads section.
This section includes effects and templates that are most useful to users of Wondershare Filmora. As well as other resources such as stock video and photos.
New free resources are added to this section every month and it's a great option to create projects on a budget. Even though the resources are free, they still live up to the Filmstock quality standards.
Pricing Plans
Filmstock offers several affordable pricing plans for you to access the media library. It's mainly available in 3 options:
Free Plan: With the free plan, you can access all the free resources available on Filmstock and use them however you like with the royalty-free license.Standard Plan: This subscription plan costs $9.99 per month and gives you unlimited access to all the media, effects, and templates with the Free and Standard licenses.Premium Plan: The premium subscription costs $49.99 per month and it offers unlimited access to all free and standard licensed content. As well as 50 downloads per month from Premium licensed assets.
When subscribing to the monthly plan, you can get a 34% discount.  Quarterly and annual plans also offer further discounted prices as well. In addition, there are single-purchase resources that you can buy separately.
Who Should Use Filmstock?
Wondershare Filmstock is a convenient and useful platform for all kinds of creators and designers. However, video editors, freelance designers, YouTubers, and social media users will get the most use out of Filmstock.
The incredible collection of unique media assets, effects, and templates make Filmstock completely worth the price.
With access to Filmstock, you can download video footage to create videos with stylish video effects. Then find royalty-free music tracks and sound effects for your videos. As well as stock photos for your design projects, all in one place.
If you already use Wondershare Filmora, getting the Filmstock subscription is a no-brainer, as it includes tons of resources made just for the video editing software.
The incredible collection of unique media assets, effects, and templates make Filmstock completely worth the price. You can explore the platform and see for yourself. Or create a free account and start downloading the free assets.
Did you miss our previous article…
https://www.tampawebdesign.org/?p=2711