There are many different types of fonts out there. One that stands out the most is geometric fonts. They are the fonts you look for when you want to create text with precision.
Geometric fonts have letter designs crafted to perfection. Featuring accurate designs that consist of shapes and lines made with proper measurement. They are a perfect example of professional fonts with creative designs.
If you're wondering what a geometric font looks like, you don't have to look far. In this post, we cover some of the best free and premium geometric fonts you can download and use in your projects.
Have a look and feel free to download any of these geometric fonts to craft more professional designs.
Lion Card – Handmade Geometric Font
Lion Card is a handmade geometric font guaranteed to grab eyeballs. It has an incredibly unique design that can be perfect for a range of creative branding and packaging projects. This colorful, and fun typeface comes with uppercase letters, numbers, and punctuation.
Moon Impact – Bold Geometric Geometric Font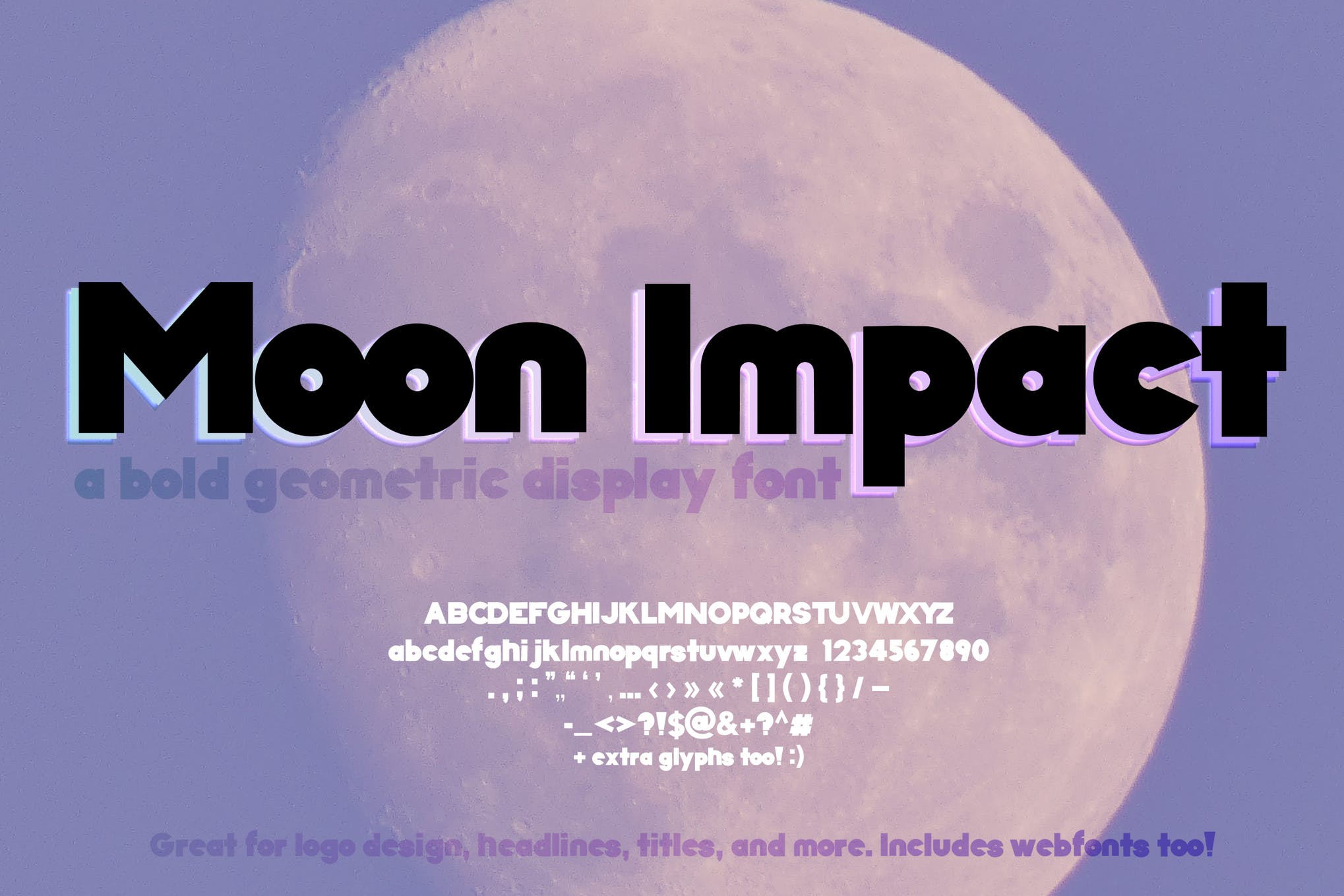 Moon Impact is a bold geometric font fitting to a pool of projects that involve creating logos, headlines, titles, and posters. It's a sleek typeface with a rounded appearance, and you'll surely have a great time working with it. Grab it now!
Decora – Geometric Art Deco Font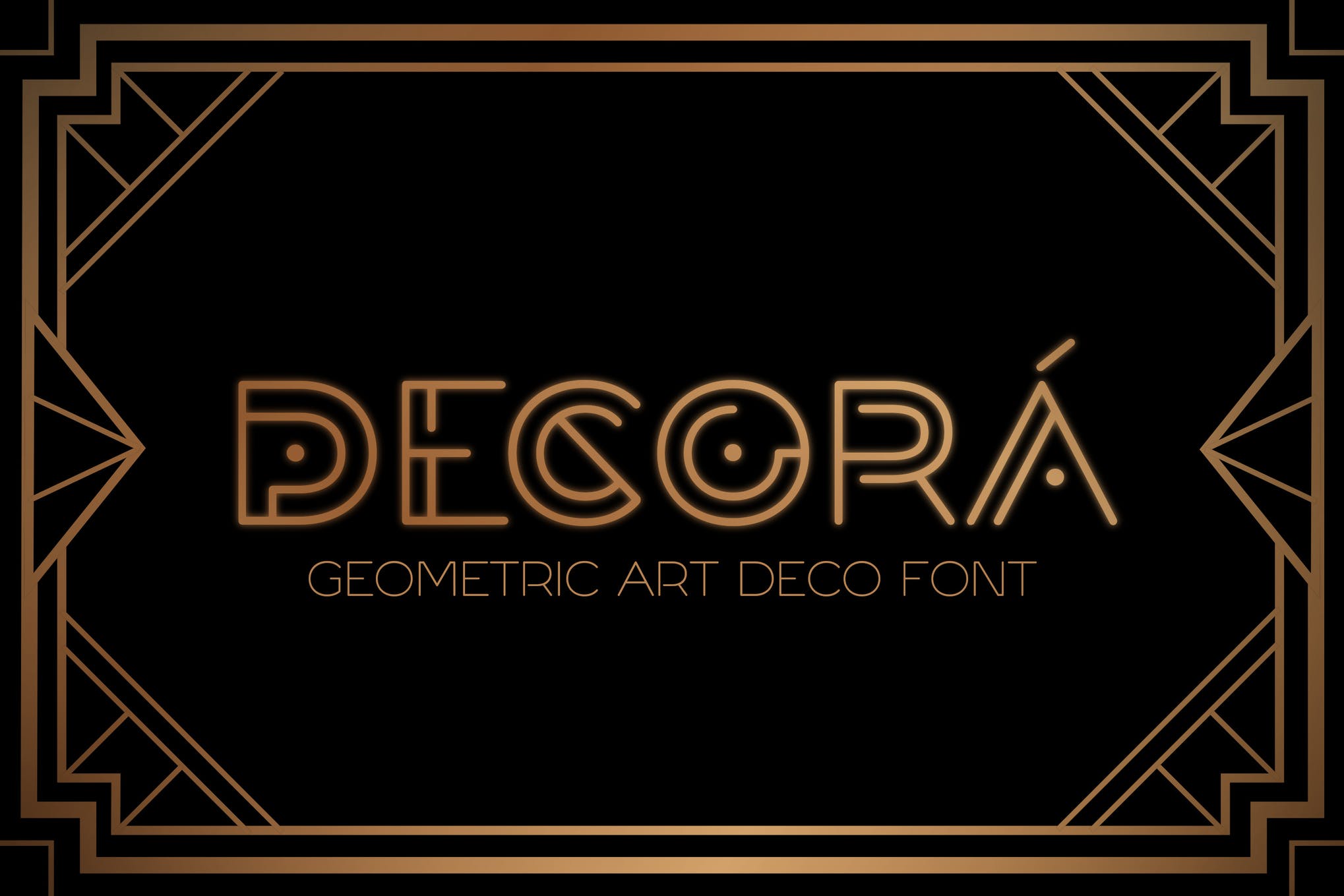 Taking inspiration from the 1920's Art Deco Movement, the creators of Decora have done an outstanding job designing a font that oozes luxury, and modern-day charm, whilst still upholding its vintage roots. It's a gold standard when it comes to the best geometric fonts available on the market today.
Lufga – Modern Geometric Font Family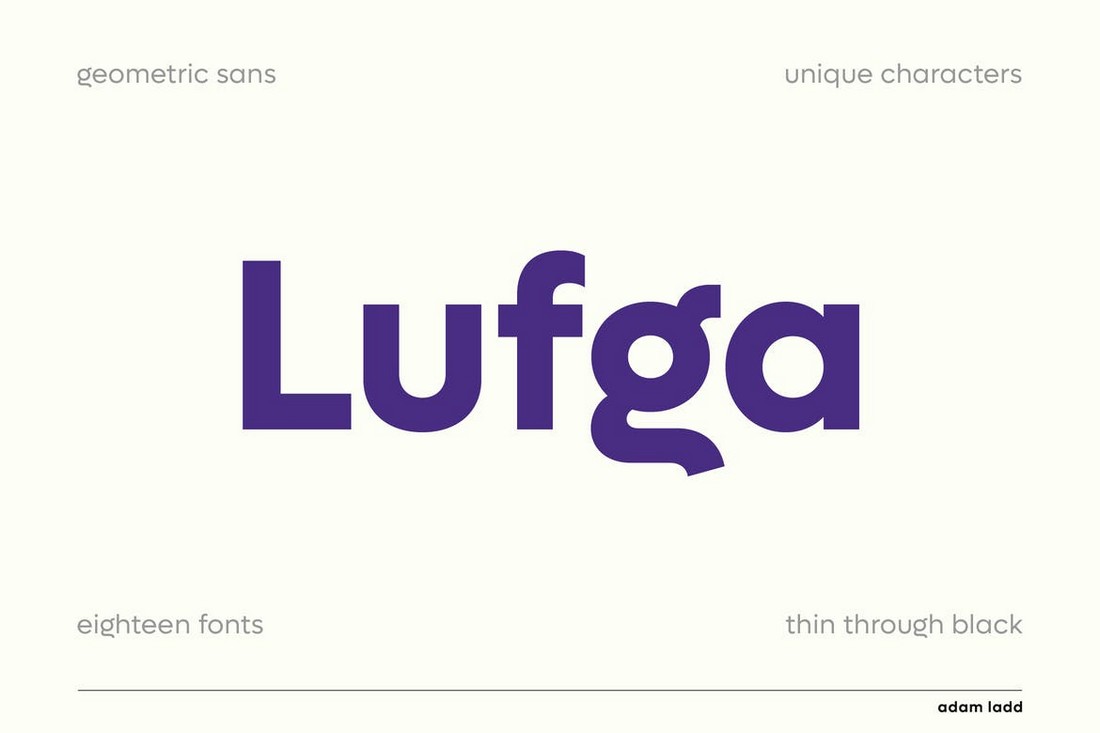 Lufga is one of the most unique fonts you'll ever find. Each character of this font is crafted to perfection with a geometric design. It's an entire family of fonts featuring 18 different variations ranging from thin to black weights as well as italics.
bro Sans – Geometric Sans Serif Font
Abro is a geometric font featuring an elegant design. It comes with a set of beautifully crafted characters featuring 3 different font weights. The font also includes more than 300 glyphs. And it's perfect for all kinds of luxury, lifestyle, and classy designs.
geo – Elegant Geometric Sans Font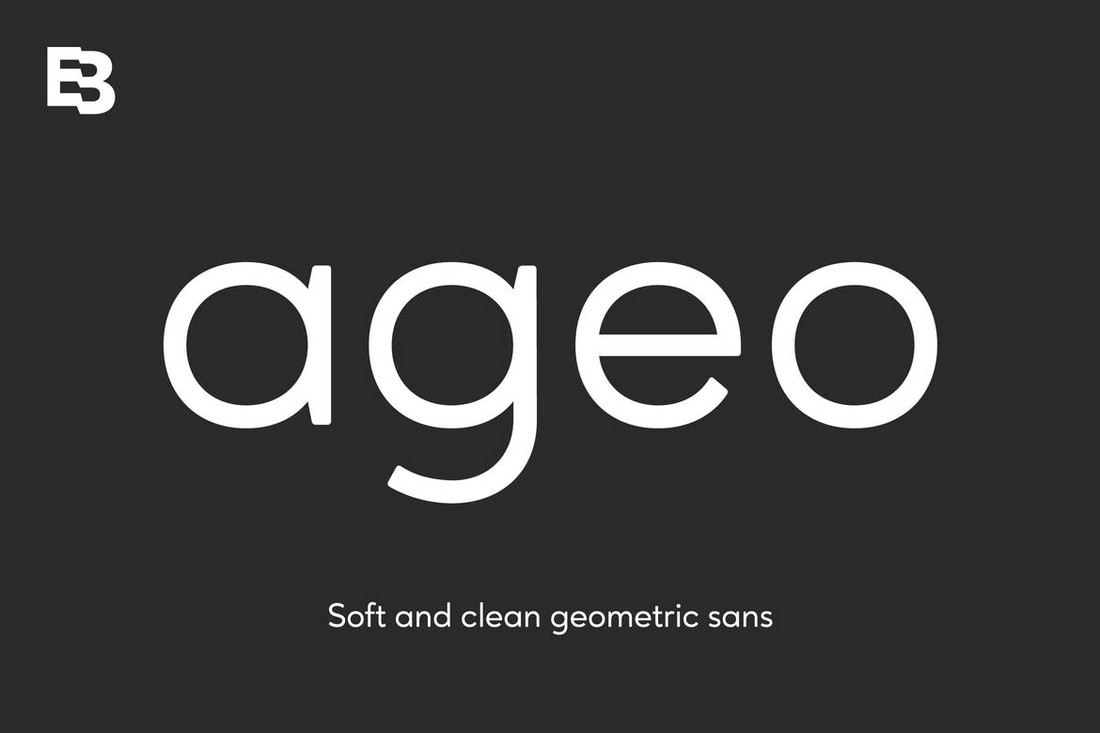 The clean-cut design of this sans-serif font is one of the features that sets it apart from the rest. Ageo is a geometric font you can use with various design projects. It's especially suitable for designing website headers, logos, business cards, and poster titles.
George Sans – Professional Geometric Font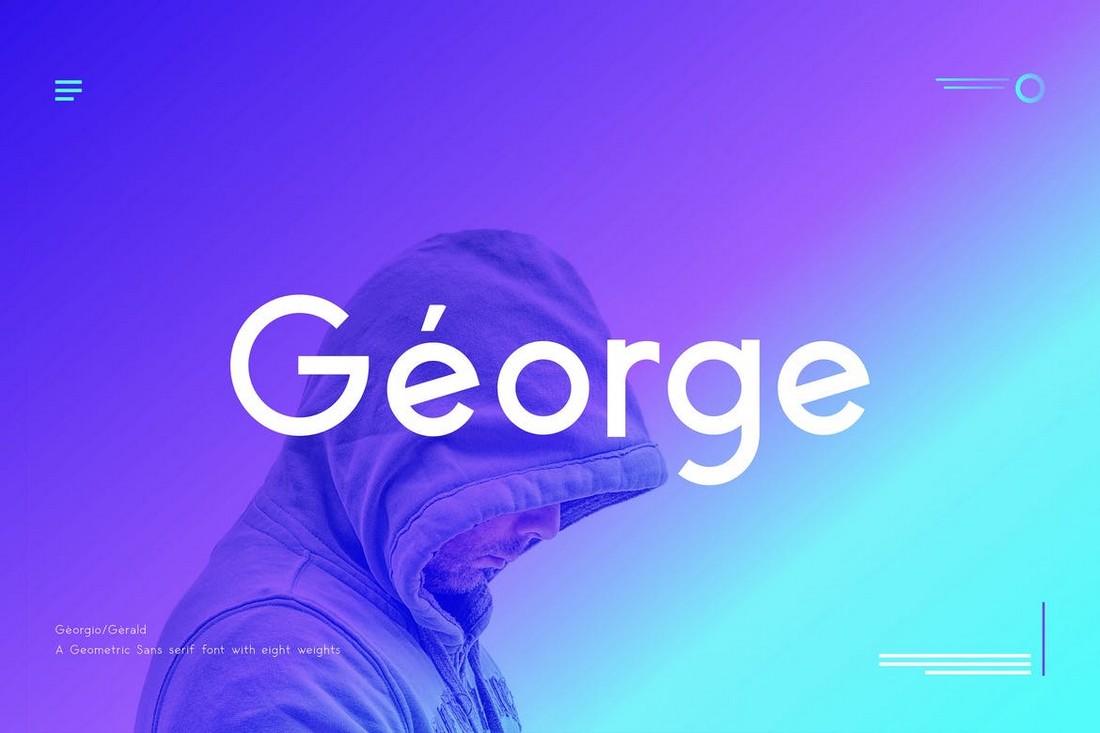 Whether you're designing a website header, social media post, or a poster, this geometric font will help add an elegant look to your creation. The clean-cut look of the letters makes it one of the most professional-looking fonts on our list. It comes with 8 different font weights and multilingual support.
Konnect – Geometric Font Family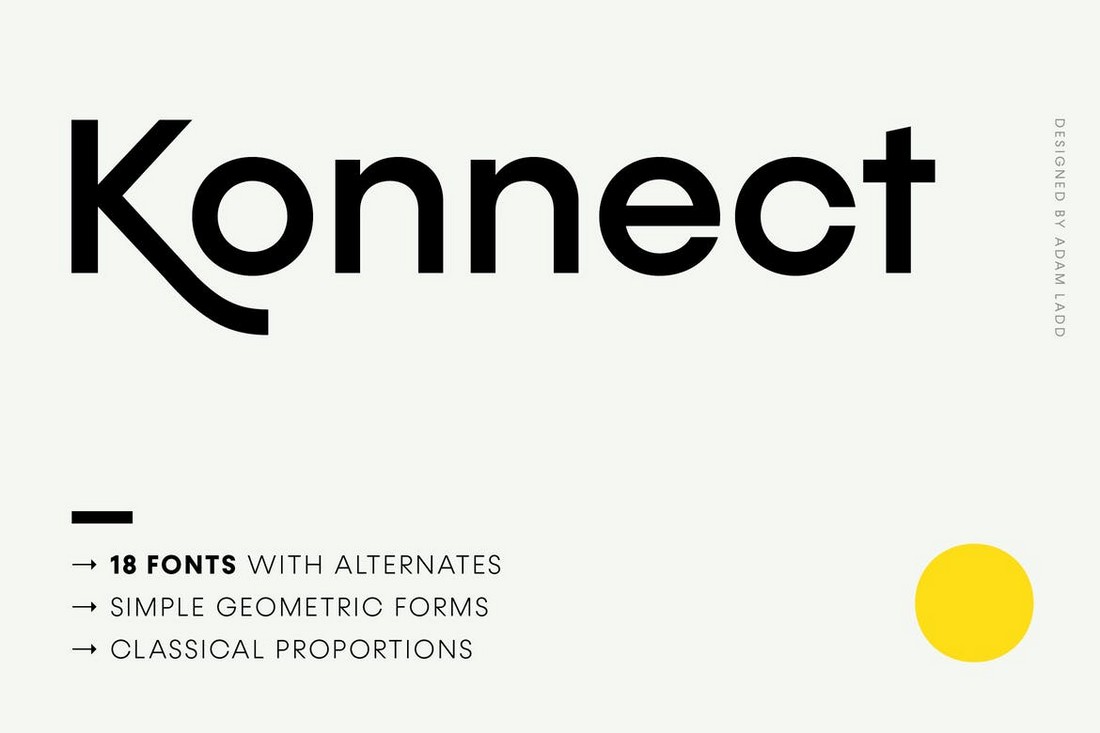 Konnect is a unique geometric font that finds inspiration from multiple generations of designs. It has a modern letter style inspired by a mix of classical and modern designs. It lets you choose from 18 different font weights that include lots of swashes and alternate characters.
Fonseca – Geometric Art-Deco Font Family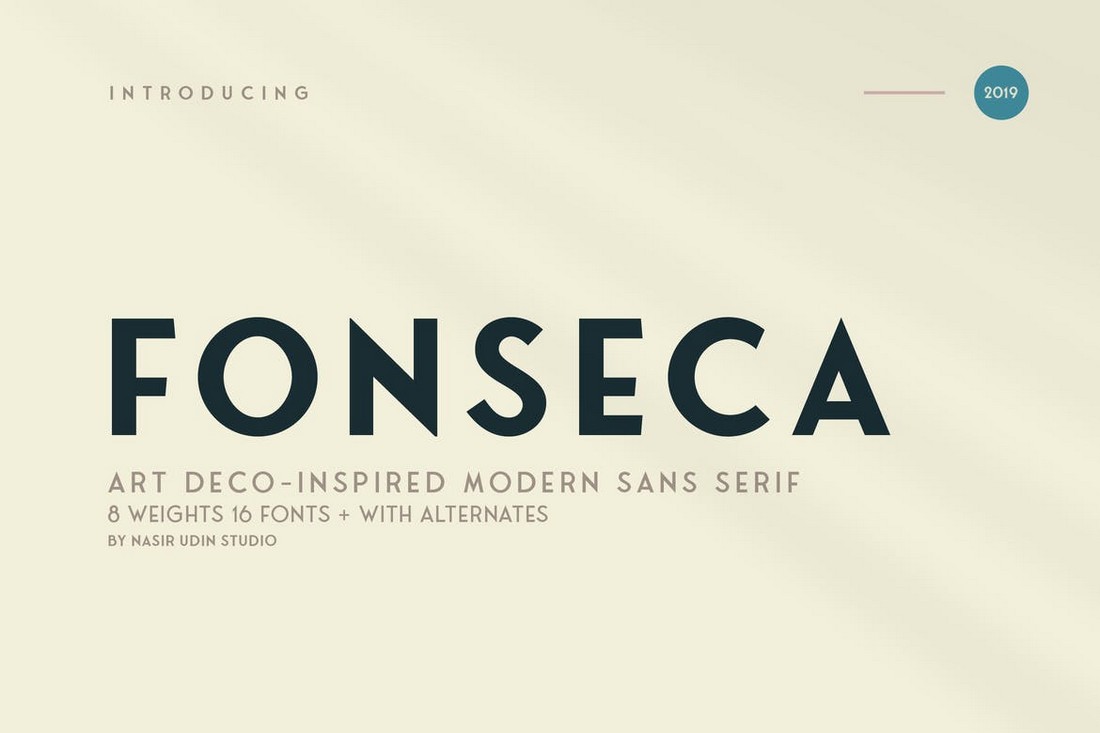 This modern geometric font finds its inspiration from art-deco style designs. It's a complete font family that features 8 weights, alternate characters, and over 300 glyphs. It will fit in great with luxury and high-end brand designs.
Modernia – Free Geometric Font
Modernia is a free geometric font with a bold and powerful design. The typeface can be used for a range of creative and professional applications and comes packed with uppercase characters, numerals, and seamless multilingual support.
Beepo – Free Geometric Font
Beepo is a quirky sans-serif font with a geometric design that stands out from the crowd. It offers a modern aesthetic, 6 weight variations, and a range of other amazing features that are rare to find in a freebie. It's a feature-rich resource that you'll be hard-pressed to pass up.
Fractul – Geometric Sans Font Family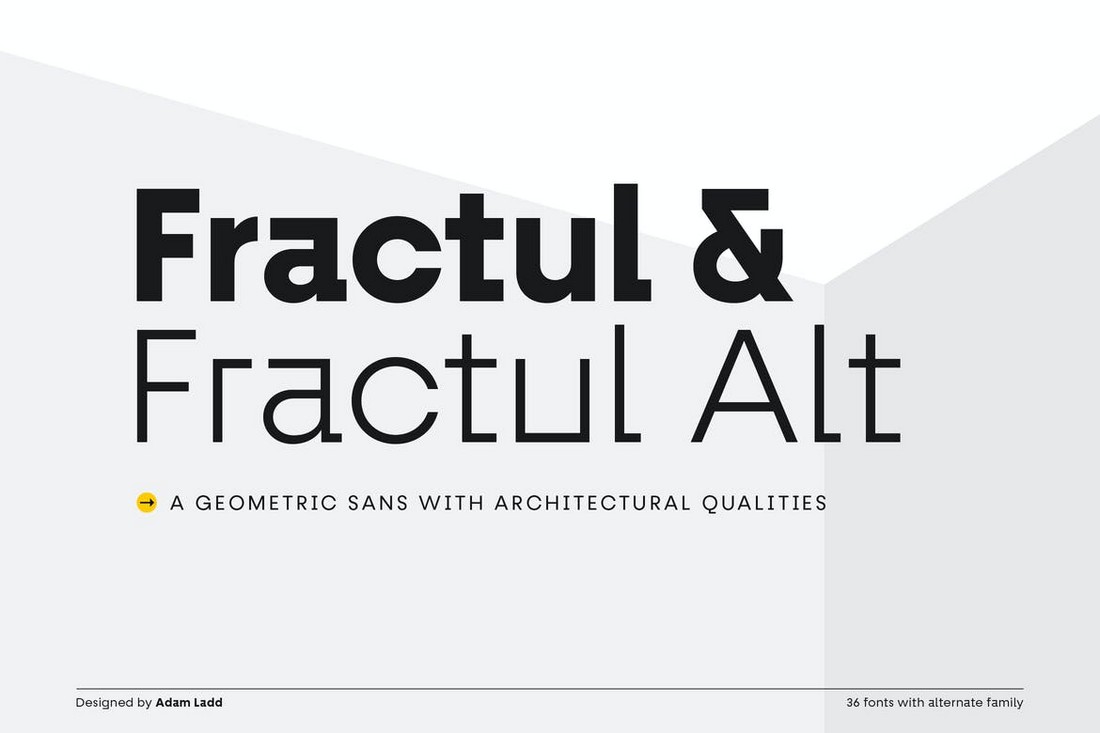 At first glance, this font looks a bit uncommon and weird. It has a unique style of letters that makes it look almost like pixelated letters. However, the font will go along great with your technology-themed designs. It's a complete family of 36 fonts featuring 6 different sets of stylistic alternates.
Spotnik – Free Geometric Font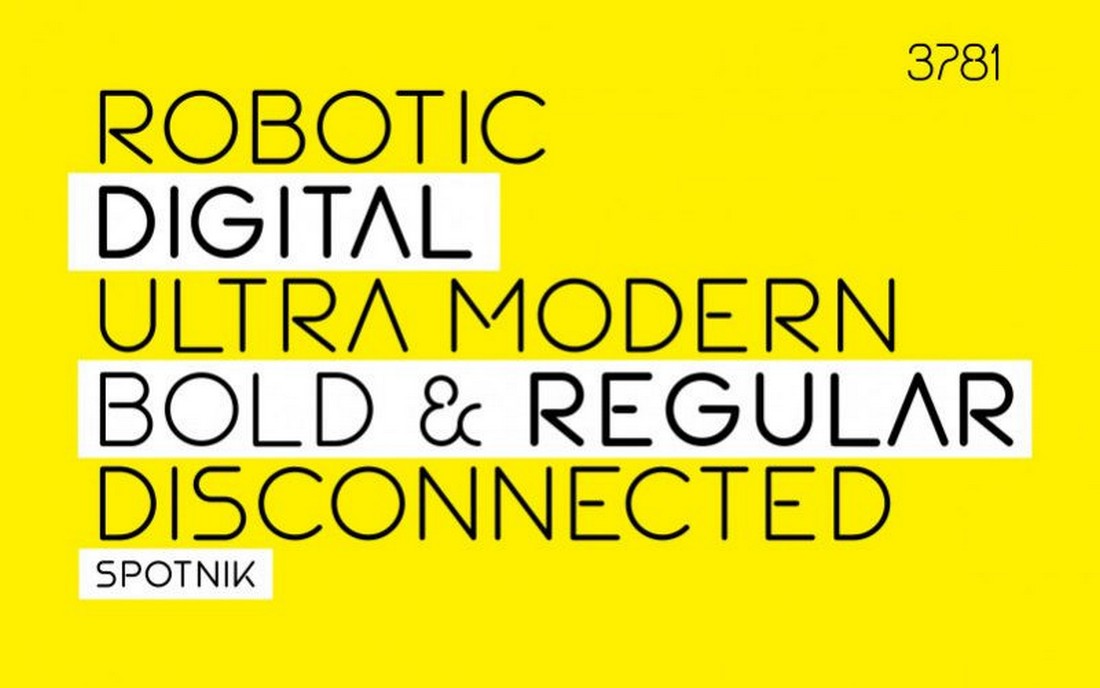 Spotnik is a free geometric font that comes with a futuristic and modern letter design. It has a very clean letter design that can add an elegant look to your creative designs. It's free to use with your personal projects.
dca – Free Bold Geometric Font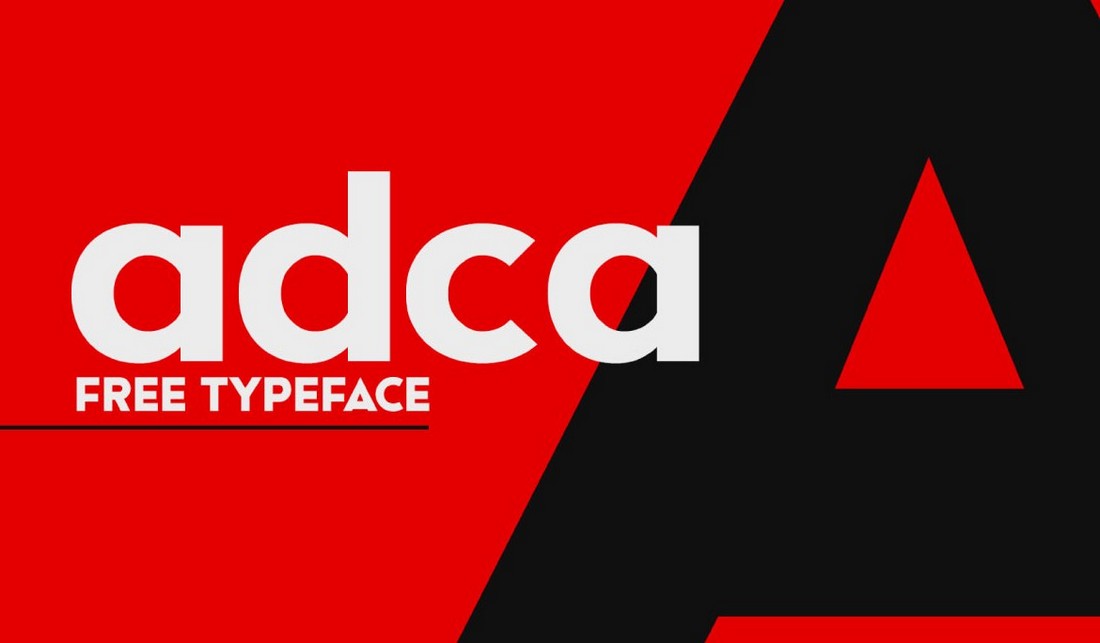 This free geometric font is just as good as a premium font. It not only features a modern geometric design, but it lets you use the font with both personal and commercial projects for free of charge.
Morro – Creative Geometric Figures Font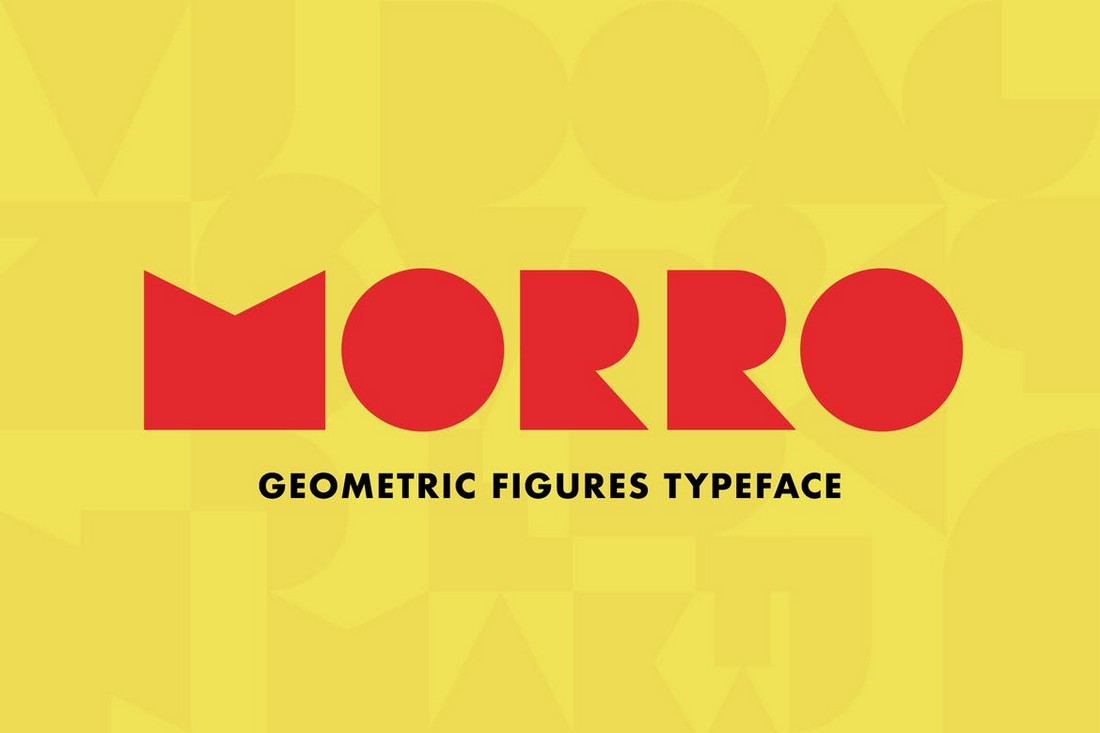 Morro is the perfect candidate for describing the true meaning of geometric font design. This font has a set of letters entirely made up of geometric shapes and figures. You can craft amazing logos and poster titles with this font. It's available in regular, shadow, and outline versions.
VISIA Duo – Natural & Outline Geometric Fonts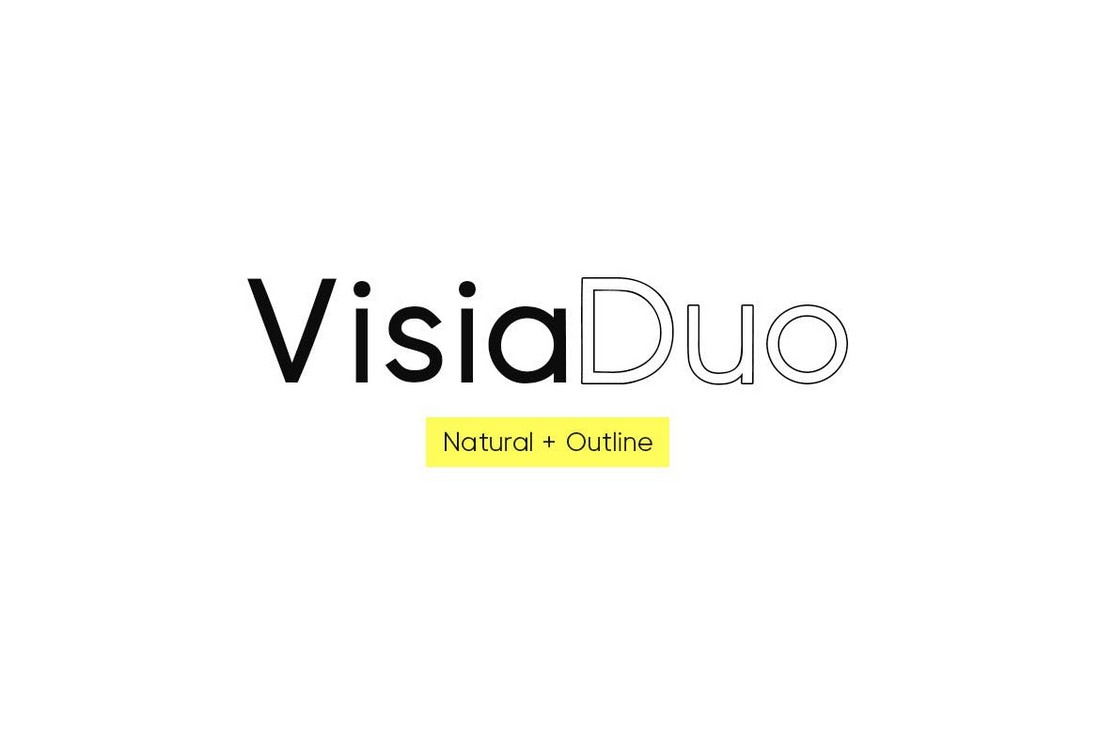 This pair of modern fonts are also crafted with a geometric design. The font comes in both regular and an online version. Each featuring 4 different weights, which makes it a total of 8 fonts. Put your creativity to work and use this font to craft beautiful modern designs.
GEOMETRICITY – Geometric Color Font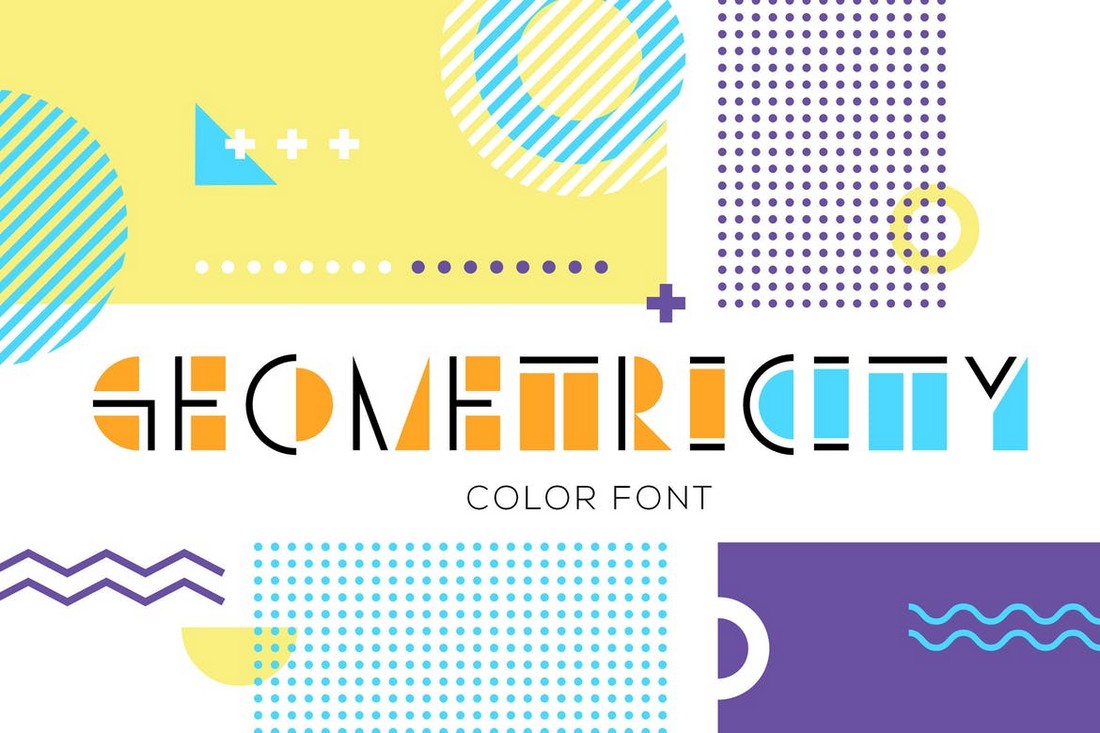 This is a geometric color font designed to add a bright and beautiful look to your various creative designs. The lettering of the font is crafted to match playful and casual designs. It's worth noting that this is an open-type SVG font. And it's only compatible with new software and browsers such as Photoshop CC and Microsoft Edge.
RNS Miles – Geometric Sans Font Family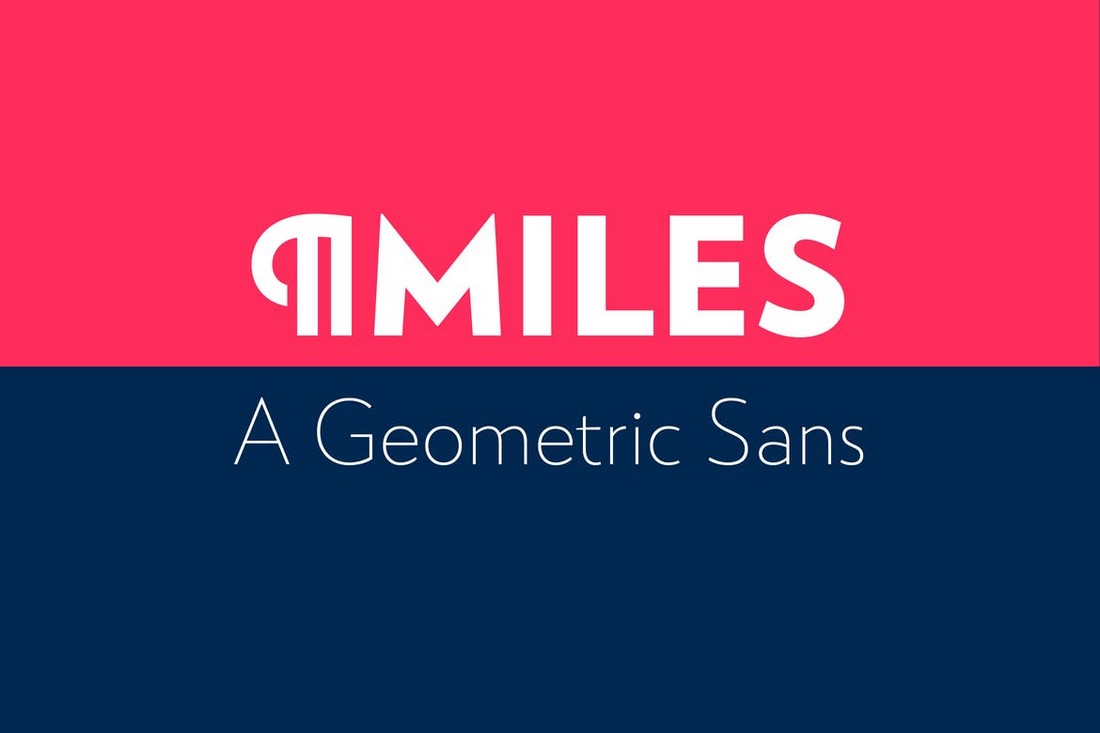 A bold geometric sans-serif font family that comes with a modern letter design. This font is ideal for crafting all kinds of business and professional work. It comes with 8 different font weights, italics, stylistic alternates, and multilingual support.
Visby CF – Clean Geometric Sans Serif Font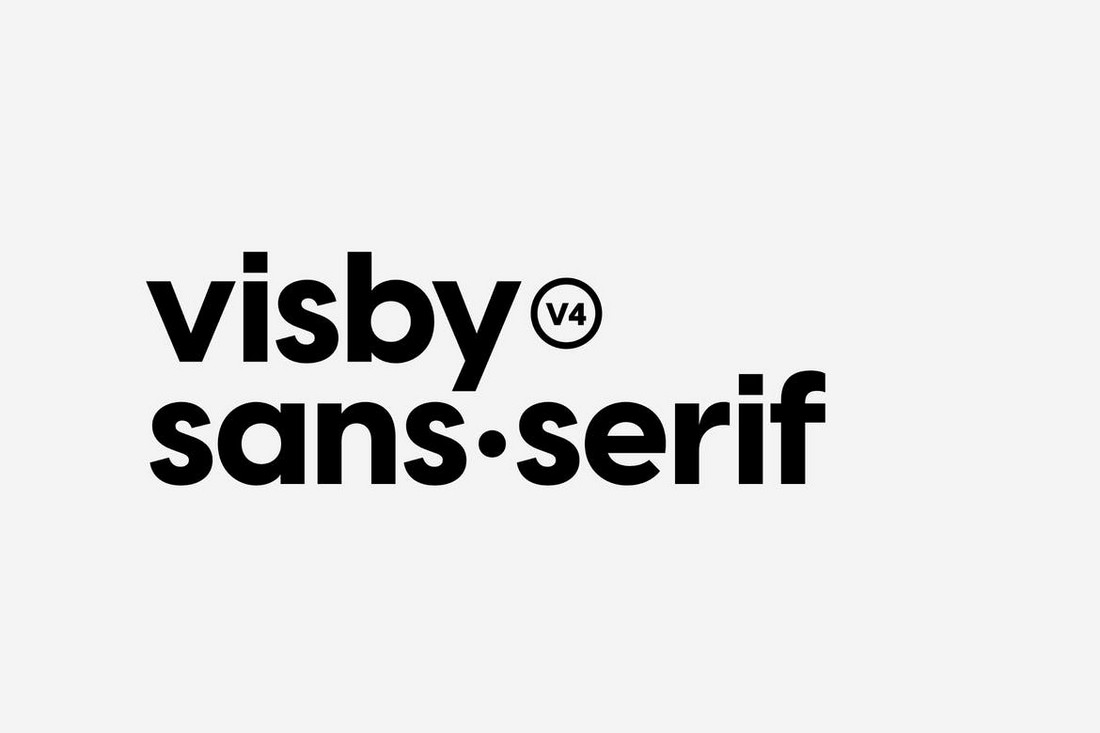 Featuring 8 different weights with obliques, Visby CF is a geometric font designed for professionals. It comes with a clean and minimal design that will surely add a professional look to your business and corporate designs. This font also includes both Latin and Cyrillic character sets.
Exterior – Free Geometric Outline Font
Exterior is a free geometric outline font that features an art-deco inspired design. The elegant look of its letters will surely help add class to your luxury projects. The font comes in 3 weights and it's free to use with commercial projects.
Daikon – Free Geometric Sans Serif Font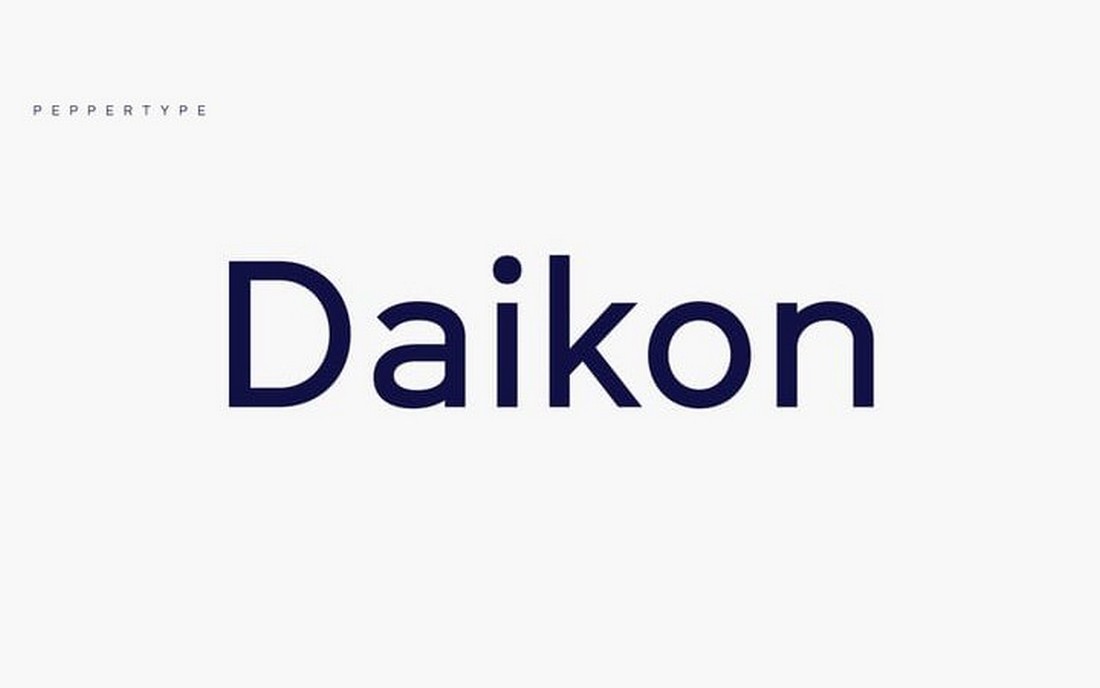 This clean geometric font is also free to use with your personal projects. It comes with a simple letter design that will fit in nicely with your business and corporate branding design projects.
Maximus Sans – Geometric Sans Family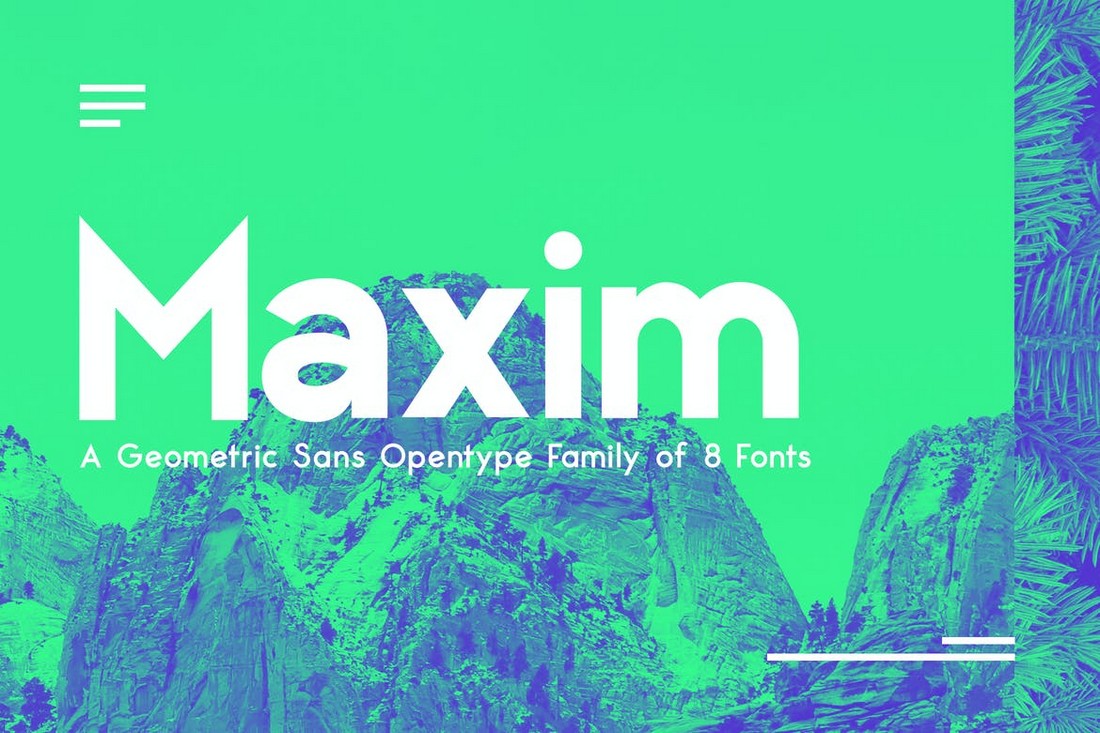 This font is clearly the perfect choice for designing a website header. It features a very modern and a clean design that will make your titles look crisp and clear. It's available in 8 different weights, which will allow you to craft different types of big and bold titles and subheadings.
valon – Creative Geometric Font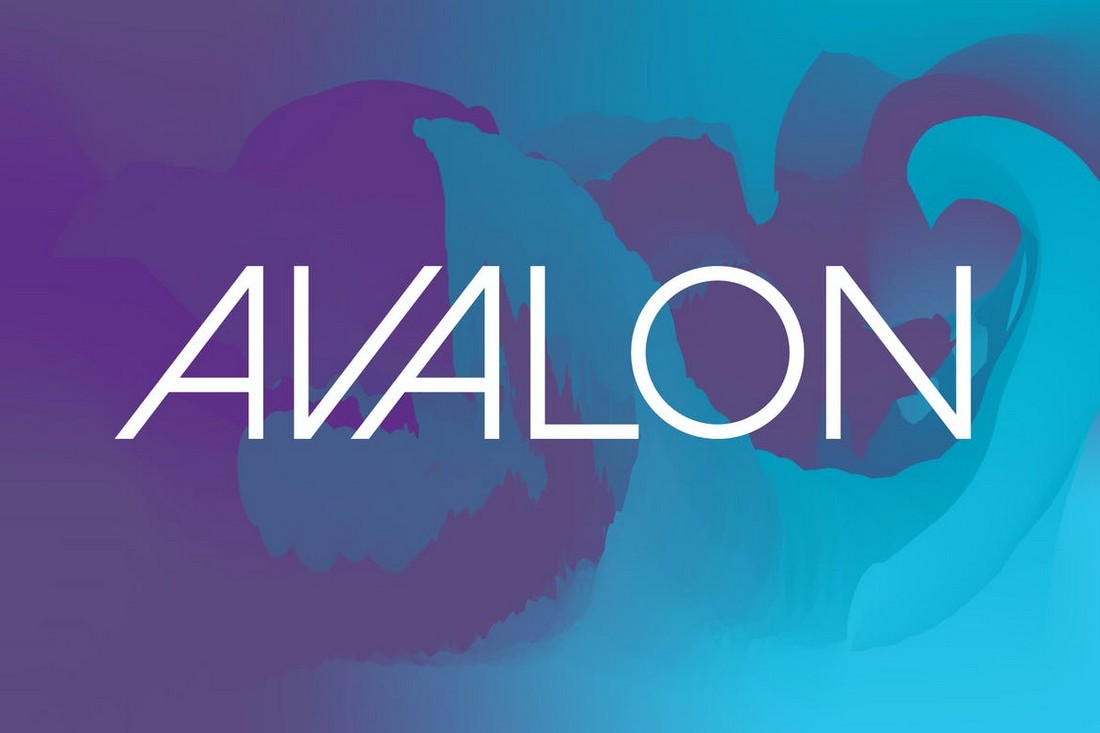 Avalon is a creative geometric font that features a design inspired by the logo of the late DJ artist Avicii. This logo seems like a tribute to the artist. Yet it provides a creative approach to designing your own logos, T-shirt designs, posters, and many other types of designs.
Simbox – Geometric Color Font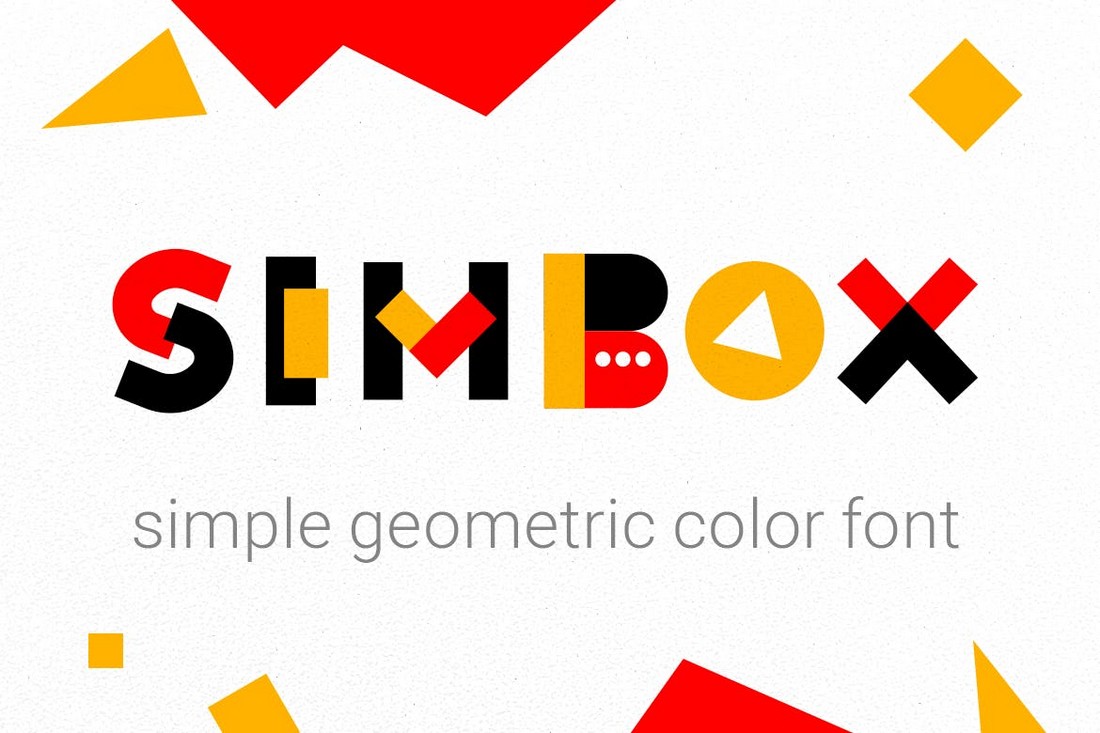 A yet another geometric color font to use with your fun and quirky design projects. This font features a very colorful set of letters that's ideal for designing posters and T-shirt designs. It's an all-caps font that comes in OpenType Font format.
Focus Grotesk – Geometric Sans-Serif Font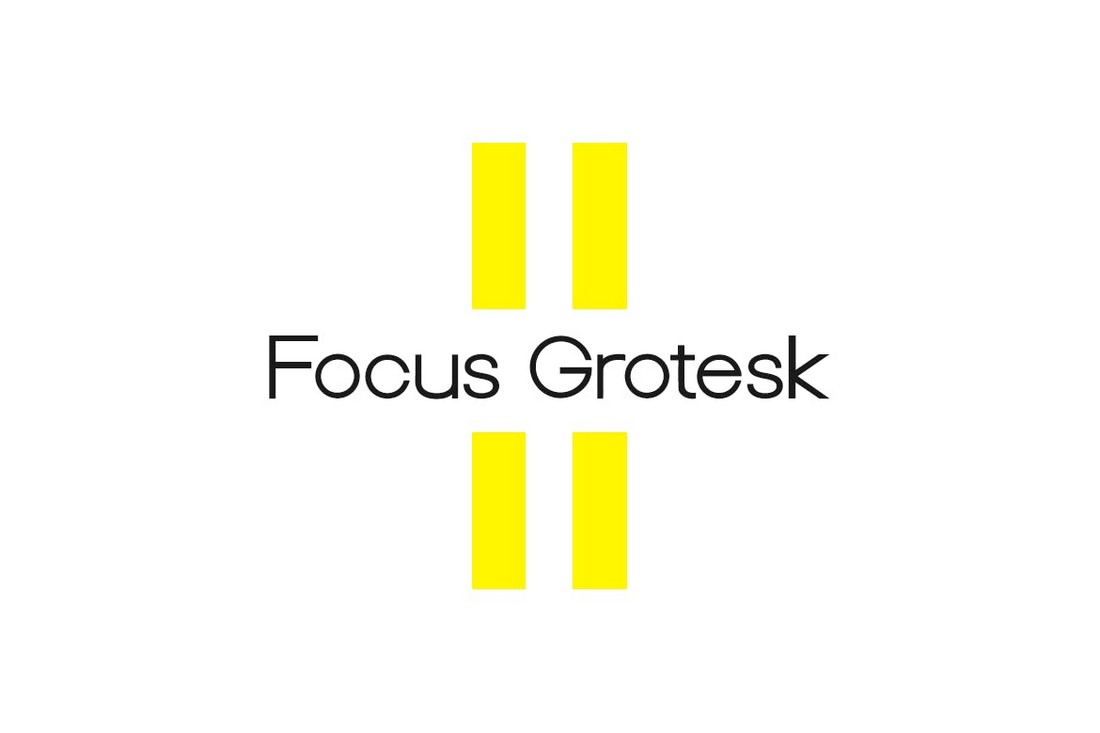 Use this font to design clean and minimal titles for your various print and digital design projects. The font features a simple geometric design that consists of 5 different weights and 5 italic versions of the fonts.
Spartan MB – Free Geometric Font Family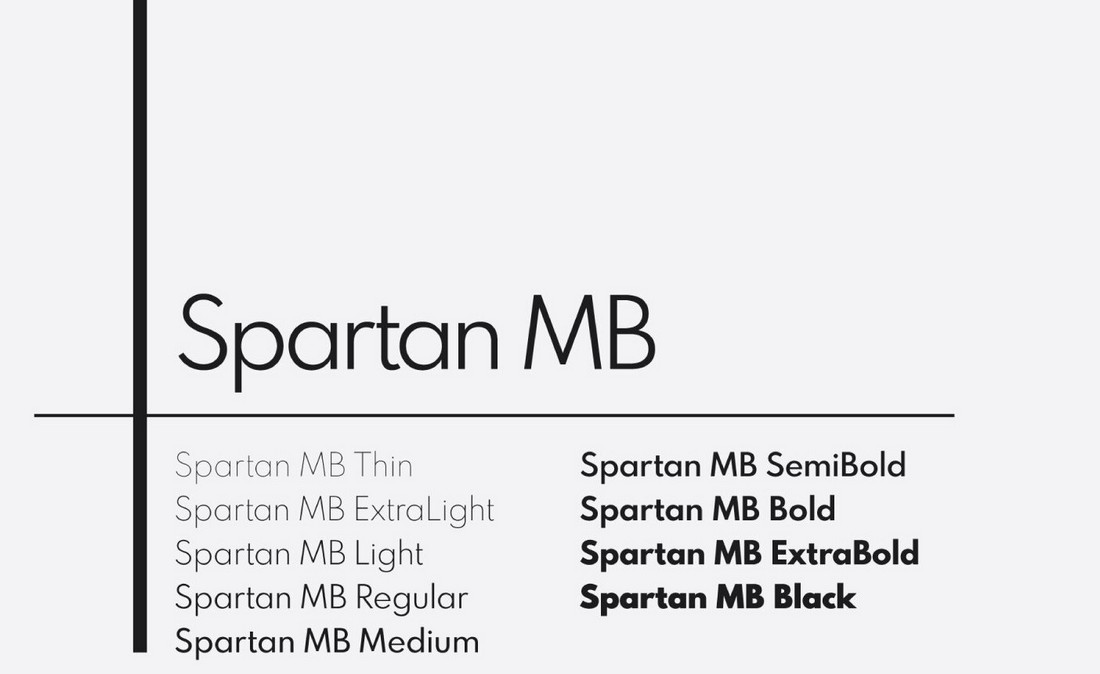 This is a complete font family that comes with 7 different font weights, all featuring modern geometric letter designs. The entire font pack is free to download and use with your personal and commercial projects.
LORE – Free Vintage Geometric Font
If you want to add a bit of vintage look and feel to your geometric letter designs, this font will come in handy. Lore is a free geometric font that comes with a set of all-caps letters. You can use it for free with commercial projects.
Organa Caps – Unique Geometric Font Family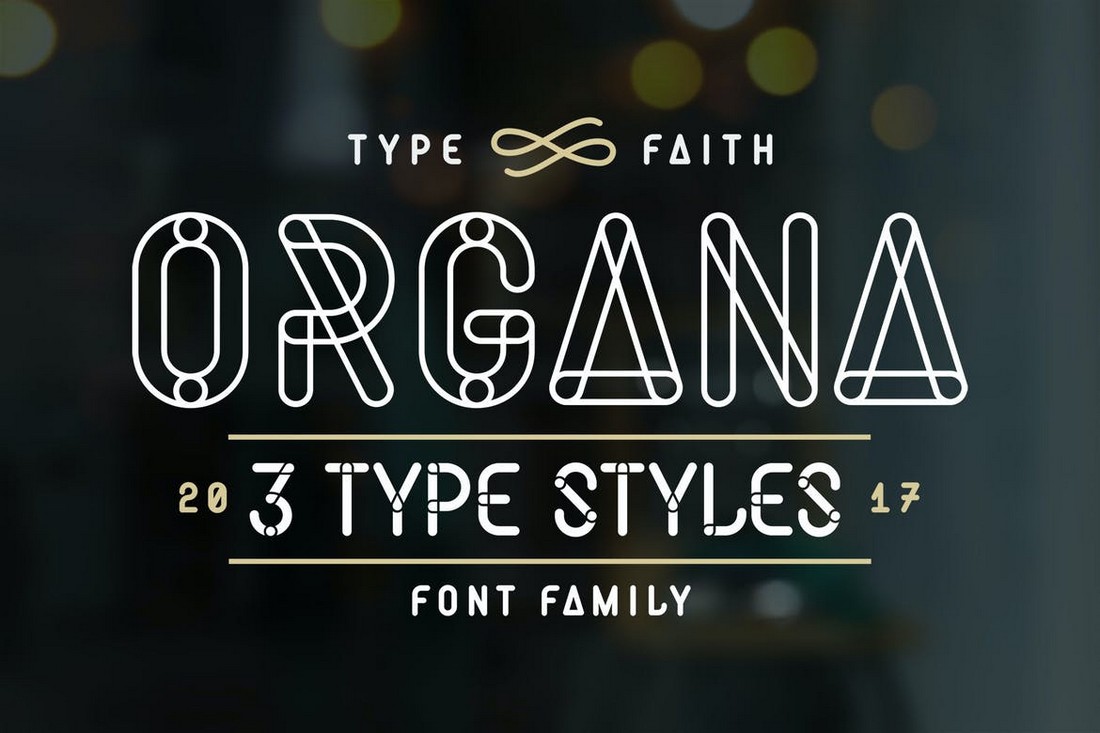 Organa is a geometric font that comes with a very unique design. It almost looks like a stencil font. The font actually comes in 3 different styles that uses geometric shapes and lines to add an uncommon look to titles and text. As mentioned in the name, this is an all-caps font.
Karomah – Modern Geometric Font
Karomah is a stylish geometric font that comes with a modern and creative letter design. It finds its inspiration from calligraphy and humanist designs. The font is ideal for making titles and headings for various creative projects.
Looking for more fonts? Check out our best modern serif fonts collection for more great font downloads.
Did you miss our previous article…
https://www.tampawebdesign.org/?p=10324